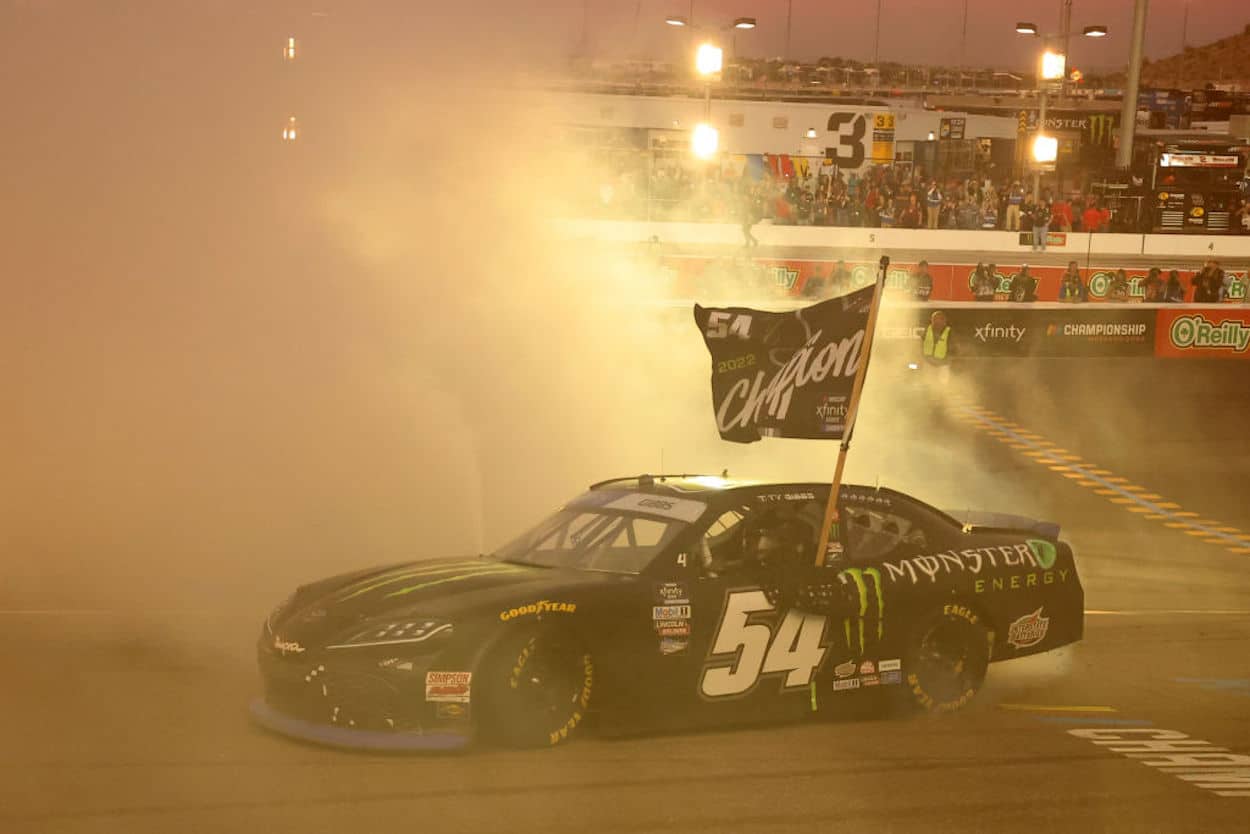 Ty Gibbs Proved Beyond a Shadow of Any Doubt That He Was Ready for Move to the NASCAR Cup Series
While stepping up to the NASCAR Cup Series is certainly a challenge, it's safe to assume that Ty Gibbs will be up to the task.
The 2022 NASCAR season couldn't have been more of a rollercoaster ride for Ty Gibbs. And that's probably putting it mildly.
Performance-wise, it was everything the 19-year-old grandson of legendary team owner Joe Gibbs could've ever wanted. But beyond the wins and the trophies, Ty Gibbs' season was marred with controversy — often of his own making — and ended in tragedy with the loss of his father, Joe Gibbs Racing vice chairman Coy Gibbs, just hours after he won the Xfinity Series championship at Phoenix Raceway.
While Gibbs hasn't spoken publicly since his father's passing, he was in the news again on November 15 when Joe Gibbs Racing announced that the company is promoting him to a full-time NASCAR Cup Series ride in 2023 when he'll replace Kyle Busch in the organization's four-driver lineup.
Gibbs, who will campaign the No. 54 — his number in the Xfinity Series — instead of Busch's No. 18, is slated to make his official JGR Cup debut at next year's Daytona 500. Although there's a segment of the population that believes Gibbs needs a second full year of Xfinity Series racing to smooth out some of his rough edges before going full-time in the sport's premier division, this simply isn't the case. 
Up next, we'll look at three reasons why the teenager from Huntersville, North Carolina, is Cup-ready.
Ty Gibbs owns an impressive body of work in the Xfinity Series
As the old adage goes: The numbers don't lie. If that's true, Ty Gibbs did more than enough to solidify his Cup Series credentials in 2022. 
His seven Xfinity Series race wins, 10 stage wins, and 990 laps led were second only to Noah Gragson — his bitter rival and the driver he edged for the championship. Gibbs also recorded 23 top-10 finishes — 16 of them top-fives — to trail only Gragson and AJ Allmendinger in those categories.
Of course, Gibbs was no stranger to Victory Lane in the Xfinity Series even before the season began. As a part-time Xfinity driver in 2021, Gibbs posted four wins in 18 starts — good enough to convince his grandfather that he was prepared for a jump to full-time Xfinity Series competition in 2022.
Typically, when a driver enjoys back-to-back multiple-win seasons in the Xfinity Series, the next logical step in their career progression is Cup, so nothing about Ty Gibbs' move up next season is atypical. Instead, it's to be expected.
Ty Gibbs stepped up to the plate when it mattered most
Ty Gibbs' impressive numbers alone are enough to justify his promotion to the Cup Series with his grandfather's organization. But arguably just as important as the full body of work is how Gibbs rose to the occasion in the biggest race of his life — the season-ending Championship 4 race at Phoenix, where he competed straight up for the title against three JR Motorsports drivers.
Unlike some other occasions during the season when Gibbs put himself — and others — in compromising positions on the race track, Gibbs drove a nearly perfect race in the Arizona desert, where he led 125 of 200 laps from the pole and withstood a furious challenge in the second half of the event from JR Motorsports teammates Noah Gragson and Justin Allgaier to come the champion.
Altogether different from the previous weekend at Martinsville, where Gibbs wrecked teammate Brandon Jones to win in controversial fashion, the youngster stayed out of trouble at Phoenix after expressing great remorse in the days leading up to the race about punting his teammate on the final lap at Martinsville.
Although this wasn't the first time in 2022 that Gibbs had apologized for running into someone, his regret seemed sincere enough — and he made sure not to go out and make a similar mistake at Phoenix, where the stakes couldn't have been any higher and where he was under an intense microscope of scrutiny for his actions a week earlier. Gibbs' clean driving at Phoenix didn't go unrecognized, even garnering praise from rival team owner Dale Earnhardt Jr., despite Earnhardt Jr.'s disappointment that a JR Motorsports car was unable to prevail.
Ty Gibbs proved to be a quick study as Kurt Busch's sub
The biggest curveball of Ty Gibbs' 2022 season, at least on the race track, came his way in late July when 23XI Racing — an affiliate of Joe Gibbs Racing — tabbed him to step in for Kurt Busch in the Cup Series race at Pocono.
Busch, who had suffered a concussion in qualifying, didn't know until the morning of the race that he would be unable to compete, so Gibbs' appointment to 23XI's No. 45 car couldn't have come on shorter notice.
Despite being at a clear disadvantage as a result of having no prior seat time in a Cup car, Gibbs finished a respectable 16th at Pocono and went on to record seven top-20 finishes in his 15 starts as a sub for the veteran Busch.
This experience will serve Gibbs well when he goes full-time Cup racing next season for JGR, but, more importantly, it proved that he's capable of holding his own at the sport's highest level.