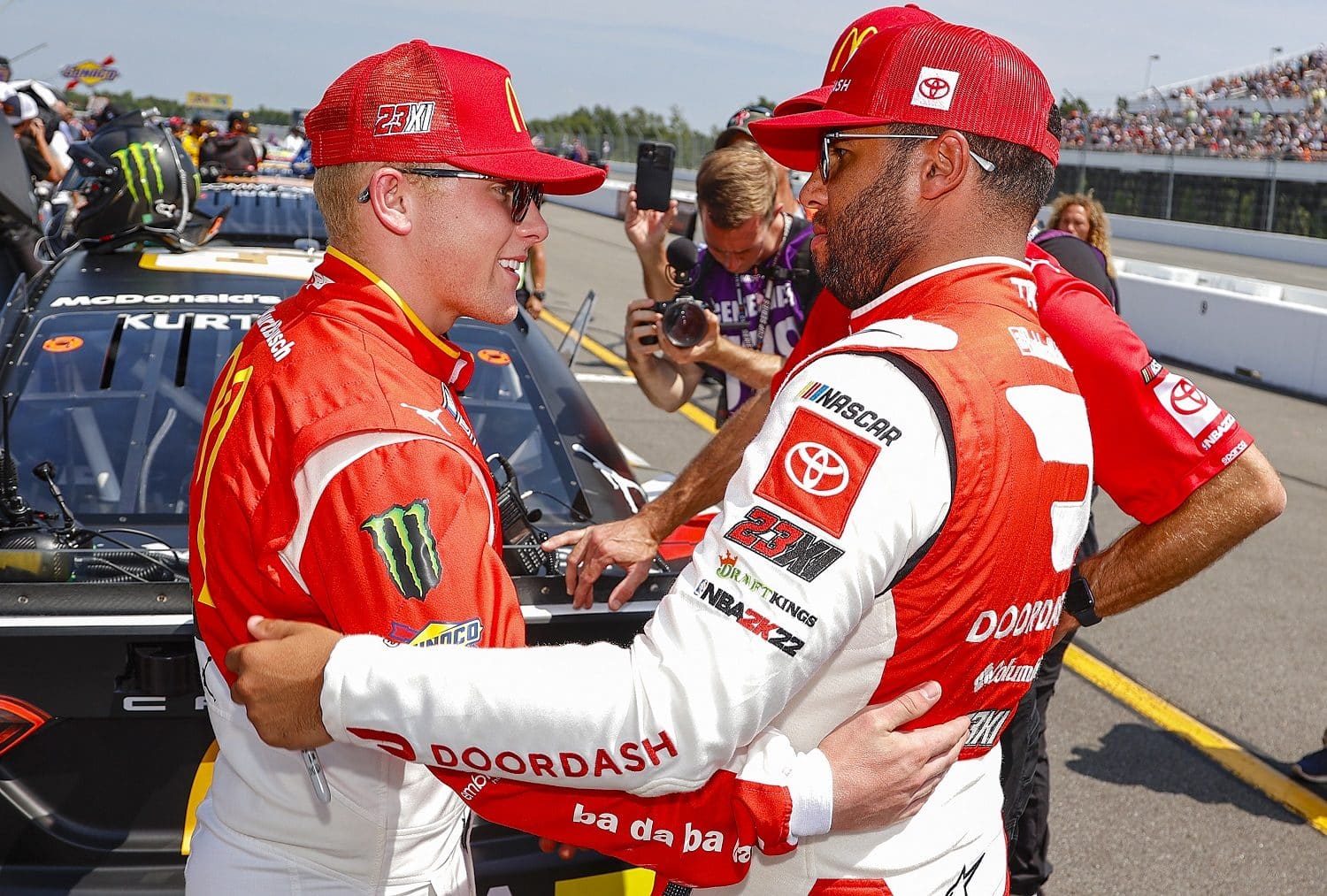 Ty Gibbs Driving the No. 45 Toyota at Pocono Isn't Proof of a JGR Conspiracy
Put your suspicions to rest. Ty Gibbs driving the No. 45 Toyota isn't part of some crazy scheme.
Ty Gibbs is the next Joe Gibbs Racing full-time driver in the NASCAR Cup Series. The only question is whether that comes in 2023 or '24. In the grand scheme of things, then, Sunday at Pocono is a meaningless debut.
Oh, it's an interesting twist, to be sure. But it's meaningless. It's not greasing the way for him to slide into Kurt Busch's car next year while 23XI Racing awaits Tyler Reddick's arrival. And it's not a warning shot to Kyle Busch to back down in contract negotiations.
All it is at the end of the day is confirmation that stuff happens.
NASCAR did not clear Kurt Busch to race at Pocono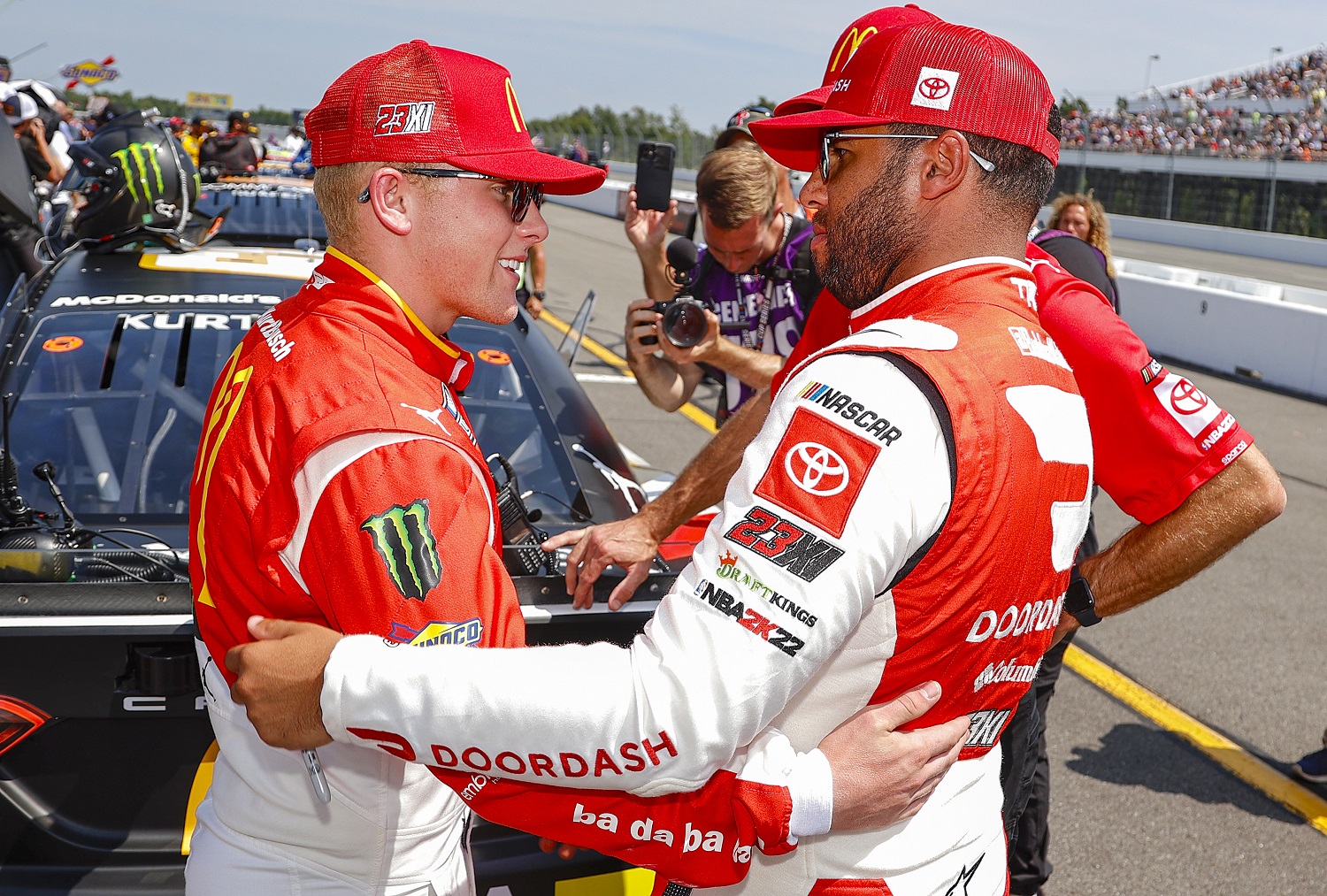 Ty Gibbs, who lost an intense and entertaining dual with Noah Gragson hours earlier, was already on his way home late Saturday when his team summoned him back to Pocono Raceway.
The change in itinerary was necessitated by Kurt Busch's crash in the 23XI Racing No. 45 Toyota during NASCAR Cup Series qualifying on Saturday. Busch lost control of his car coming out of Turn 3 and slammed the back end hard into the SAFER barrier on the outer wall.
NASCAR called Busch to the infield care center Sunday morning for further evaluation and determined it could not let him race because of "concussion-like symptoms," according to the driver.
However, NASCAR also took the step of granting Busch a waiver that will allow him to compete in the playoffs if he qualifies. The move was necessary because the rules normally require drivers to attempt to compete in all 26 regular-season races to be eligible for the playoffs.
Why did they choose Ty Gibbs to replace Kurt Busch at Pocono?
The choice of Kurt Busch's replacement for the NASCAR Cup Series race at Pocono is where the assorted conspiracy theories started cropping up early Sunday afternoon. The best explanation for why Ty Gibbs got the call is a simple one: Who else could 23XI Racing and Toyota summon?
Joe Gibbs Racing and 23XI Racing are the only two Toyota teams in the top NASCAR series, so the pool of past and present drivers with connections to the teams and the manufacturer is small. The fact that 23XI lacks an Xfinity Series team doesn't help. Narrow it further by considering only drivers with experience in the new Next Gen car (and living near Pocono Raceway), and the list of candidates is non-existent. The closest candidate to serve as "Plan B" may have been John Hunter Nemechek, who drove a Ford for the whole 2020 season and races now in a Toyota truck.
Roush Fenway Keselowski Racing found itself scrambling after a COVID-19 diagnosis in mid-week sidelined Chris Buescher for the June 5 race at World Wide Technology Raceway. Normally, RFK and Ford would have summoned a replacement from the Xfinity Series, but those drivers were competing 2,000 miles away in Portland, Oregon, that weekend.
Instead, RFK called upon truck series star Zane Smith, and he finished 17th to cap a chaotic week that looks easy in retrospect compared to the last 24 hours for 23XI.
Fans were already suspicious of the connection between JGR and 23XI
Novice NASCAR fans and people who hate Bubba Wallace were apocalyptic earlier this month over the announcement that the teams of Joe Gibbs Racing driver Christopher Bell and 23XI Racing competitor Bubba Wallace were swapping some members of their pit crews, ostensibly to improve the performance of both.
Their objections were misguided. Teams across all three national NASCAR circuits form technical alliances with bigger teams so that they don't have to do their own heavy lifting on engine development and other costly aspects of competing.
To that end, JGR has been training and assigning the pit crews for both Toyota outfits for two seasons. Lending Ty Gibbs to 23XI Racing is a quantum leap beyond that, but there's nothing untoward to the arrangement.
Even if he happened to win a race while subbing for Kurt Busch, Gibbs is ineligible for the Cup Series playoffs. So, there's no benefit there for him or his grandfather's organization. And though 23XI satisfies sponsor obligations and collects owner points based on Gibbs' result, Busch doesn't collect driver points that he may very well need to squeeze into the playoffs. So, 23XI isn't pulling a fast one, either.
Like Sportscasting on Facebook. Follow us on Twitter @sportscasting19 and subscribe to our YouTube channel.
Got a question or observation about racing? Sportscasting's John Moriello does a mailbag column each Friday. Write to him at [email protected].