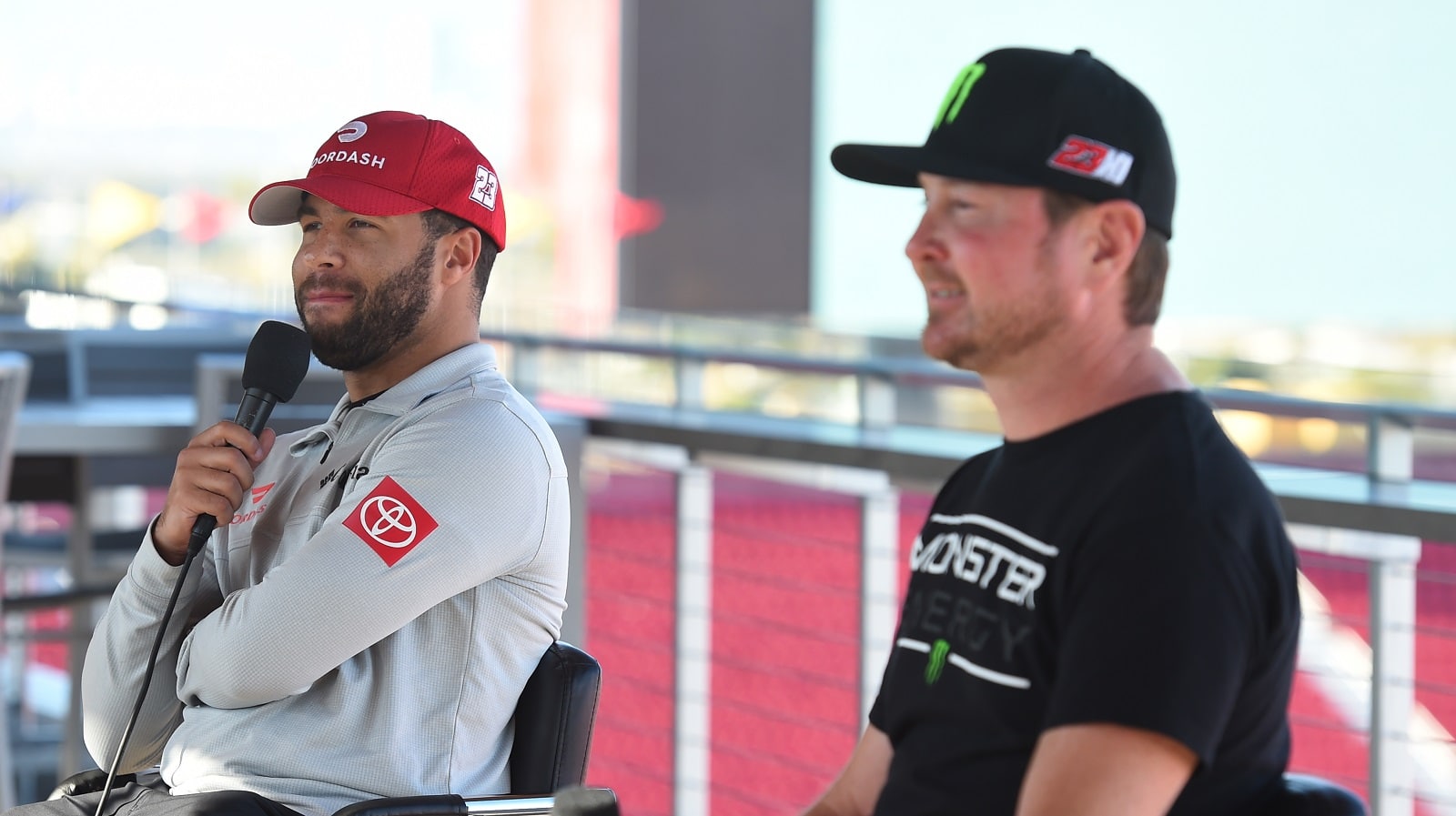 What Does Kurt Busch's Jordan Jumpman Wrap at Kansas Mean for Bubba Wallace at 23XI Racing?
It will be Kurt Busch rather than Bubba Wallace driving the Jordan Brand Toyota at Kansas this weekend.
It'll be the same Kurt Busch as usual on the track Sunday at Kansas Speedway. However, the 23XI Racing No. 45 Toyota that NASCAR fans see will carry a distinctly different look from any of his 768 previous Cup Series starts.
It's the debut of a wrap scheme that the newest 23XI driver presumably will trot out from time to time, and it has raised questions about what it means for Bubba Wallace, the original driver on Michael Jordan's team.
Kurt Busch will be promoting the Michael Jordan Jumpman brand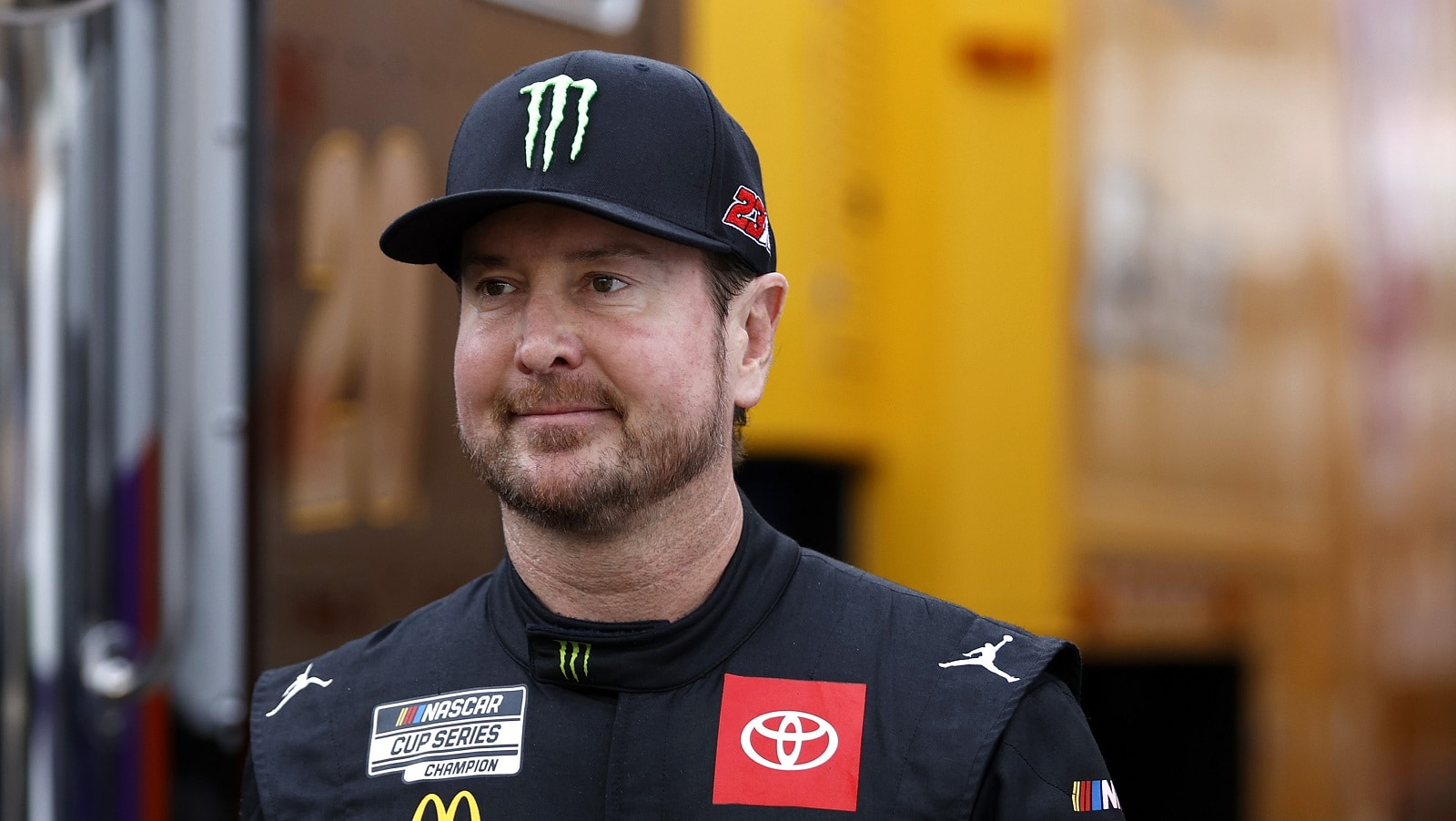 Longtime partner Monster Energy has been the primary sponsor of Kurt Busch's car for two-thirds of the NASCAR Cup Series races this season, with McDonald's and two others covering the rest. While Monster Energy and McDonald's are easily recognizable, Busch will be repping a brand on Sunday that sports fans also know quite well.
Busch's No. 45 Toyota at Kansas Speedway is emblazoned with the iconic Jumpman logo so closely associated with all-time basketball great Michael Jordan.
The paint scheme carries components from the Air Jordan 3 line of basketball shoes from 1988. The "black cement" elephant print featured on the shoe dominates the car. The Jumpman logo and the car number on the doors will be red. Fans won't need binoculars to pick it out of a crowd.
Whether he will stand out in the crowd performance-wise remains to be seen. Busch is coming off 31st place at Dover and 28th at Darlington. He is mired in 21st place, three spots and eight points ahead of teammate Bubba Wallace.
Kurt Busch is partners with Bubba Wallace and Michael Jordan on different levels
Kurt Busch came to 23XI Racing last offseason after Chip Ganassi Racing ceased NASCAR operations. That made him a teammate of Bubba Wallace, the original 23XI driver. It also made him a partner of sorts with team owner Michael Jordan, who signed Busch as an endorser for Jordan Brand, the Hall of Fame hoopster's billion-dollar Nike affiliation.
It's difficult to think of an American athlete more closely associated with a brand than Jordan and Nike. The Air Jordan product line has been one of the greatest marketing successes of the past 50 years, and Jordan has signed numerous athletes to promote his brand. Busch is only the second driver (Denny Hamlin was first) to make the cut.
Sponsorships mean everything in NASCAR, so it's only natural for Jordan to use one of the 23XI cars to remind the world that his shoes are still on store shelves. However, it raises the question of whether this weekend's wrap on the No. 45 was out of necessity.
Fellow 23XI driver Bubba Wallace's list of sponsors is long and comes largely from the "A list" of partners. It includes McDonald's, Wheaties, Door Dash, and Dr Pepper, and there's little question that he would have a paying primary sponsor on his car every race even if the season was 50 weeks long.
Busch brought Monster Energy with him from his Chip Ganassi days and has a piece of the 23XI arrangements with McDonald's and MoneyLion. Throw in a couple of smaller deals, and he, too, seems to be covered for the season, maybe even without Jordan Brand.
What does Kurt Busch's Jumpman car wrap mean for Bubba Wallace?
In 48 races over two seasons with 23XI Racing, Bubba Wallace has never had Jordan Brand as the primary sponsor on the No. 23 Toyota. Now that teammate Kurt Busch is rolling out that presence at Kansas this weekend, some fans are wondering if they should be reading something between the lines.
Has Wallace fallen out of favor with Michael Jordan and team minority owner Denny Hamlin? Is 23XI playing favorites because Busch has four top-10 finishes in 2022 to Wallace's one?
It will disappoint Wallace's detractors, but the answer is a firm "no." Busch's Jumpman scheme is entirely about his endorsement arrangement with Jordan Brand, negotiated when he came to 23XI in the offseason.
Meanwhile, Wallace has his own deal with Columbia Sportswear, a competitor in the apparel business. That precludes him from making Jordan Brand a primary race sponsor. However, Jordan has other ways to throw extra money in Wallace's direction. When the No. 23 ran with a cereal sponsorship at Fontana in February, it was a direct result of Wheaties enlisting Jordan for another in its line of commemorative boxes.
Even without Jordan's help, Wallace could run the remainder of this season outside the top 20 and he'll still have a full set of sponsors. That means maximum job security in the near term.
Like Sportscasting on Facebook. Follow us on Twitter @sportscasting19 and subscribe to our YouTube channel.
RELATED: A Jolt of Reality: Kurt Busch Is the Last Full-time NASCAR Driver To Race Against Dale Earnhardt