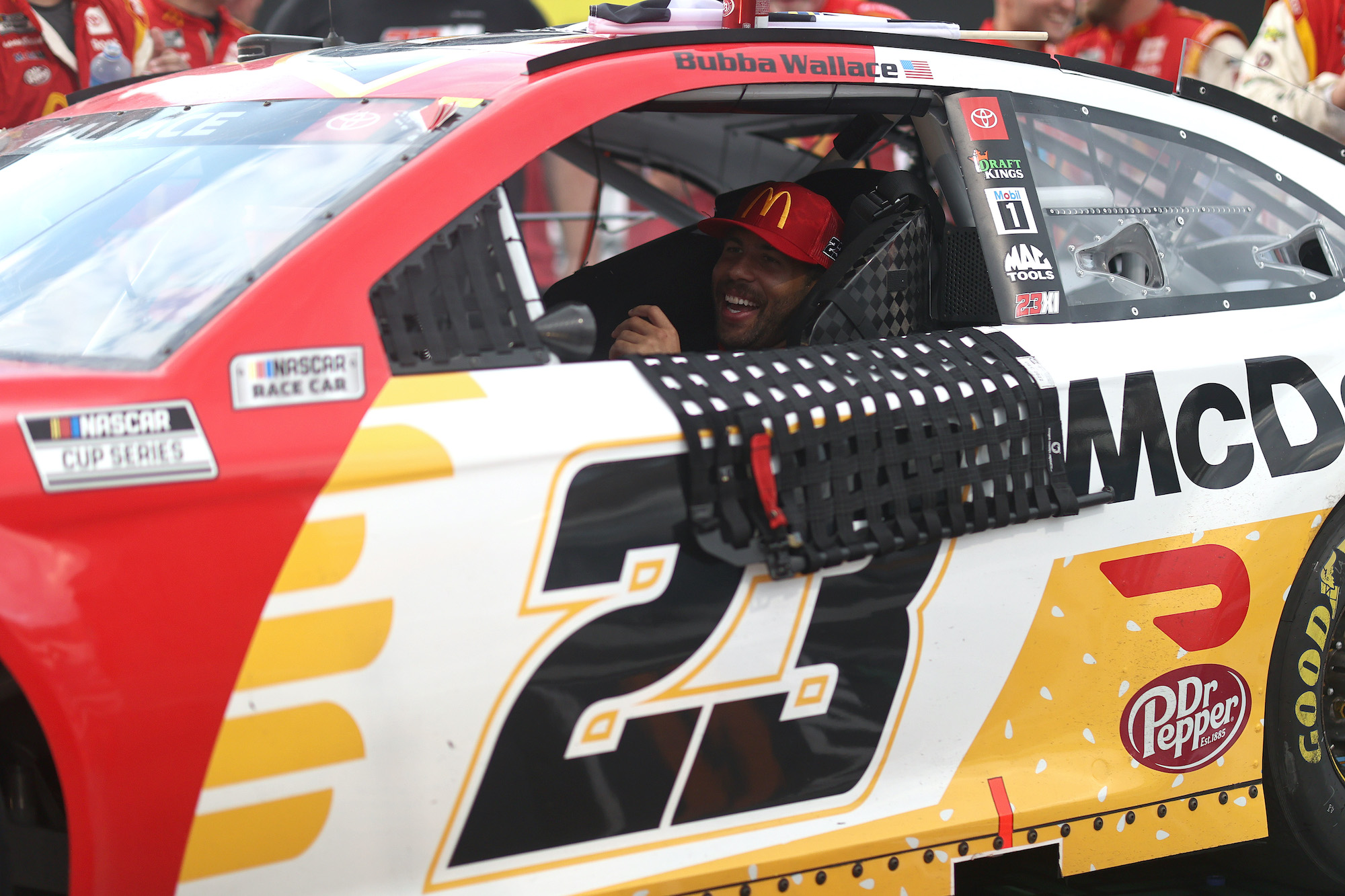 Bubba Wallace Reveals Location of Talladega Race-Winning Car and the Surprising Amount It Took to Get It in His Possession
Bubba Wallace discussed Talladega with reporters, including last year's win, the car's location, and how much it costs for him to get it in his possession.
Bubba Wallace made history last October at Talladega, becoming the first Black driver to win a NASCAR Cup Series race since Wendell Scott did it more than 50 years earlier. 
This week before the series returns to the 2.6-mile circuit for the first time since that historic victory, Wallace visited with the media about last year's race, including the car, where it is now, where it's going to be, and the surprising amount it took to get it in his possession.
Bubba Wallace earns first Cup Series win at Talladega
Bubba Wallace already had a memorable moment at Talladega in 2020 when the garage unified behind him and walked his car down pit road before the June race. Then October 2021 happened. 
Wallace, who had already developed a reputation as a solid superspeedway racer, including a couple of runner-up finishes at Daytona, closed the deal at Talladega, holding off the field in the final laps before the rains came, to win his first Cup Series trophy and drive into the history books.  
The driver later admitted the first victory in 23XI Racing organization history was a huge relief because he knew the high expectations of team co-owners Denny Hamlin and Michael Jordan.
During an interview last year, Wallace candidly admitted around the halfway point of the season, his struggles on the track turned to negative thoughts, and he seriously questioned his future with the team.
"Man, we're going to run 15th to 20th. We're going to end up here," Wallace told Brandon Marshall on the I Am Athlete-NASCAR podcast. "And then that quickly switched over to counting how many races I had left on my contract. Simple as that. I said I don't know what MJ's and Denny's vision is, but I know they're winners."
Bubba Wallace and Denny Hamlin talk about the car, its location, and the price tag
The sophomore season for Wallace with 23XI Racing has been a struggle. Outside of another runner-up finish at the season-opening Daytona 500, the 28-year-old and his team have labored, not scoring any other top 10s. This week the driver visited with reporters about hoping to change the team's luck at the upcoming race. The conversation also naturally drifted back to last year's win, and included discussing the car's current location, what it's taken to get it in his possession, and the surprising price tag that accompanied it.
"I text Denny, and I was like, 'Hey man, I'd like to have this car.' And he was like, 'Man, I'm a collector of race-winning cars too, so I can't say no,'" Wallace said. "So we had to ship it off to the Hall of Fame. I think it's there for another month or two and then it comes back. I don't know where the hell I'm going to put it. I don't have any room at the house." 
When Wallace does officially have the car in his possession, he'll have more than a few stories to share about it, including the surprising amount he didn't have to pay.
"I've learned from Joe (Gibbs) — it's very important to drivers to have cars that are sentimental to them, so I would never charge my driver for a car that meant a lot to him," Hamlin said. 
Wallace noted in that same conversation that he did ask Kyle Busch for one of his race-winning trucks, but the amount was out of his price range.
Favorite in return to Talladega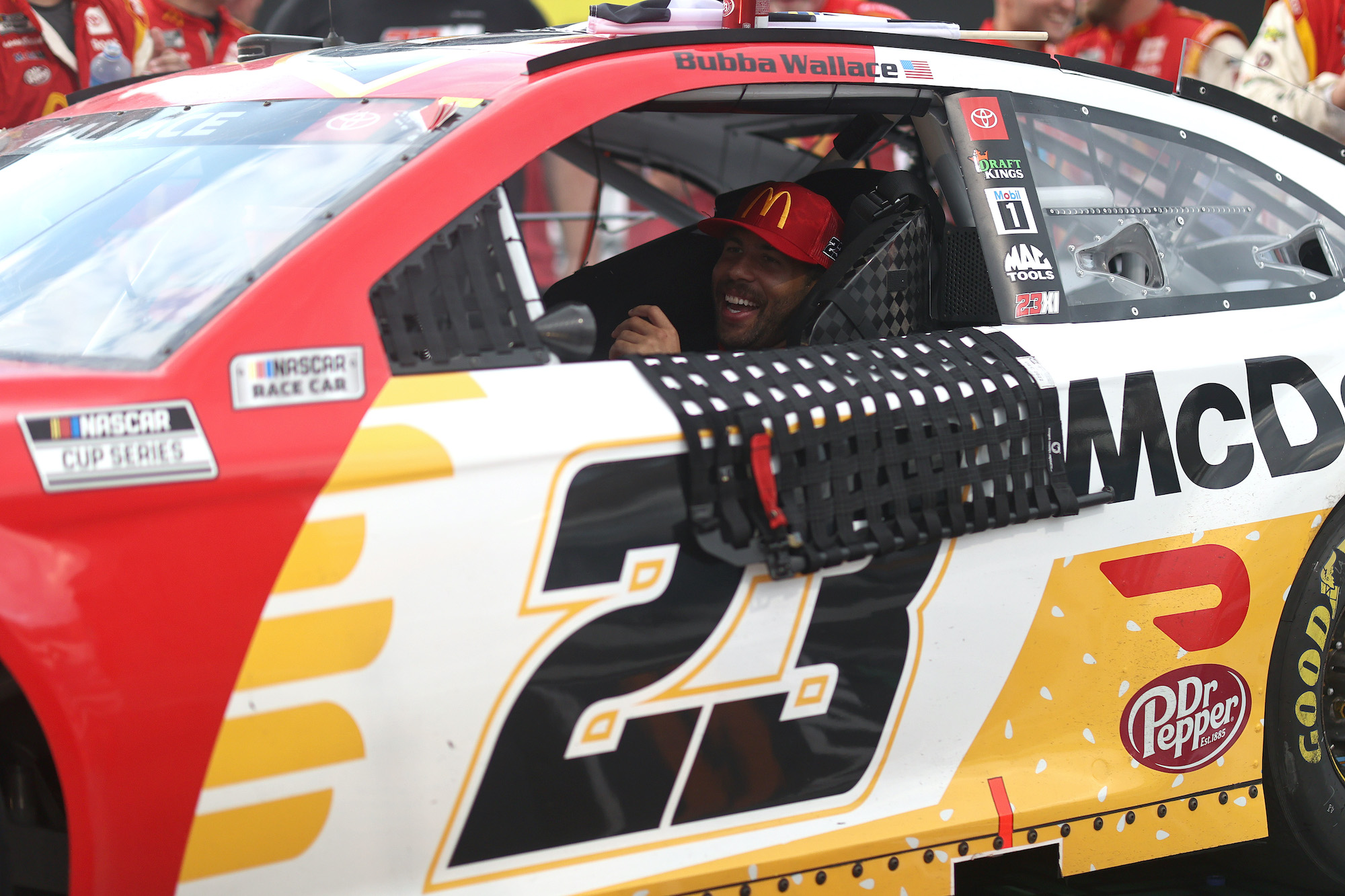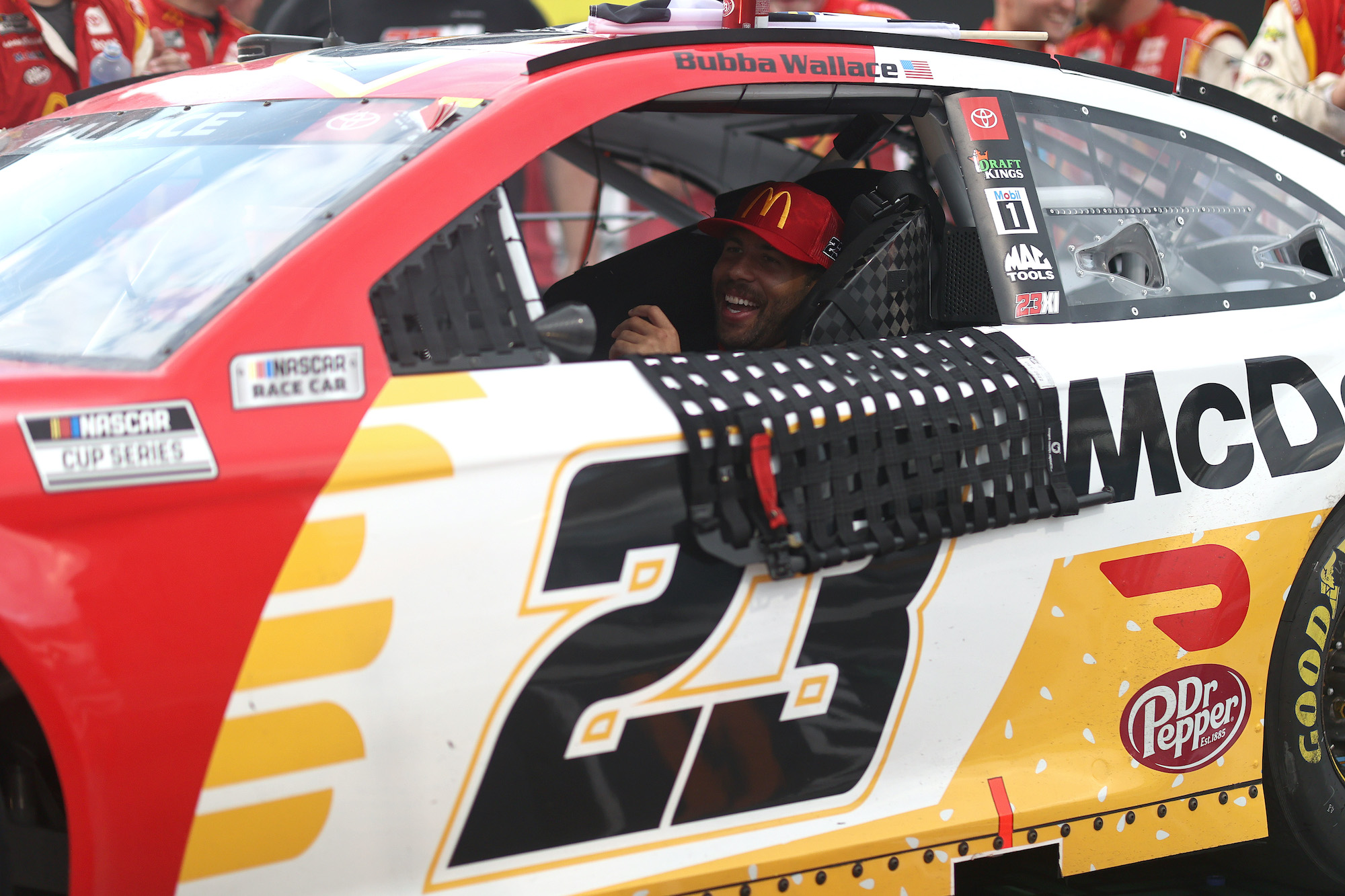 This weekend, many believe the 23XI Racing driver might be able to win again. He's the favorite at Talladega and it's not just because of what he did last October.
Dating back to the 2021 August race at Daytona, Wallace has been the best driver on superspeedways, with a pair of runner-ups at Daytona and his win at Talladega. He's become a model of consistency on restrictor-plate tracks.
Now would be as good a time as any to collect his second Cup trophy. He'll have room for the trophy. The car is another story.
Like Sportscasting on Facebook. Follow us on Twitter @sportscasting19.