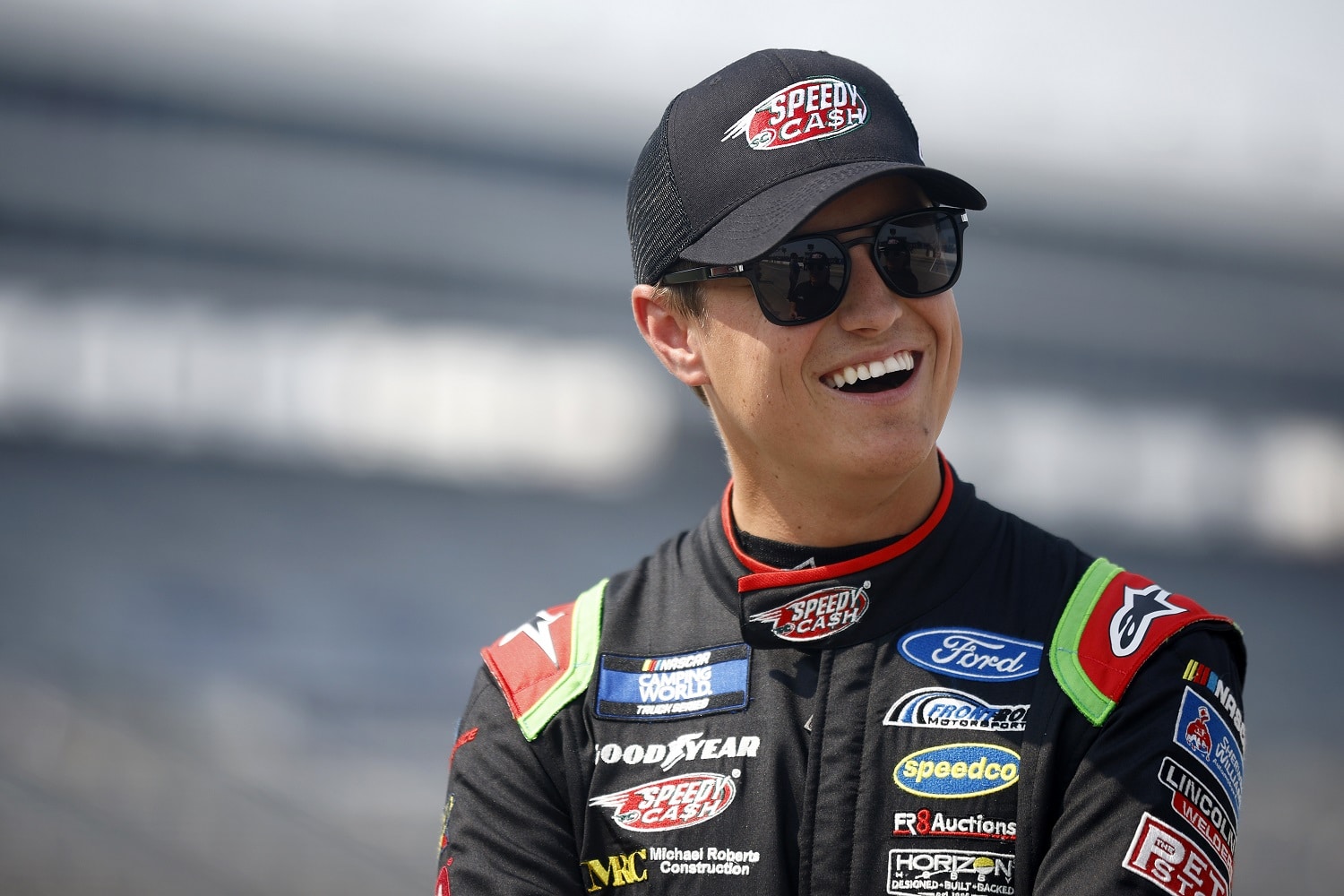 Zane Smith Is in the Right Place at the Right Time for a Potentially Career-Changing Audition
Zane Smith will sub for Chris Buescher in the No. 17 Ford in this weekend's NASCAR Cup Series race.
Chris Buescher isn't Wally Pipp, nor is Zane Smith the next Lou Gehrig. But Buescher's bit of misfortune sets Smith up for an audition that can accelerate his path to a full-time job driving in the NASCAR Cup Series.
It's what he does once he gets to the big circuit that will determine whether he lasts as long in the Cup Series as Gehrig did at first base for the Yankees. If it does pan out, he can thank a bit of inconvenient scheduling by NASCAR.
Zane Smith will fill in for Chris Buescher in the No. 17 Ford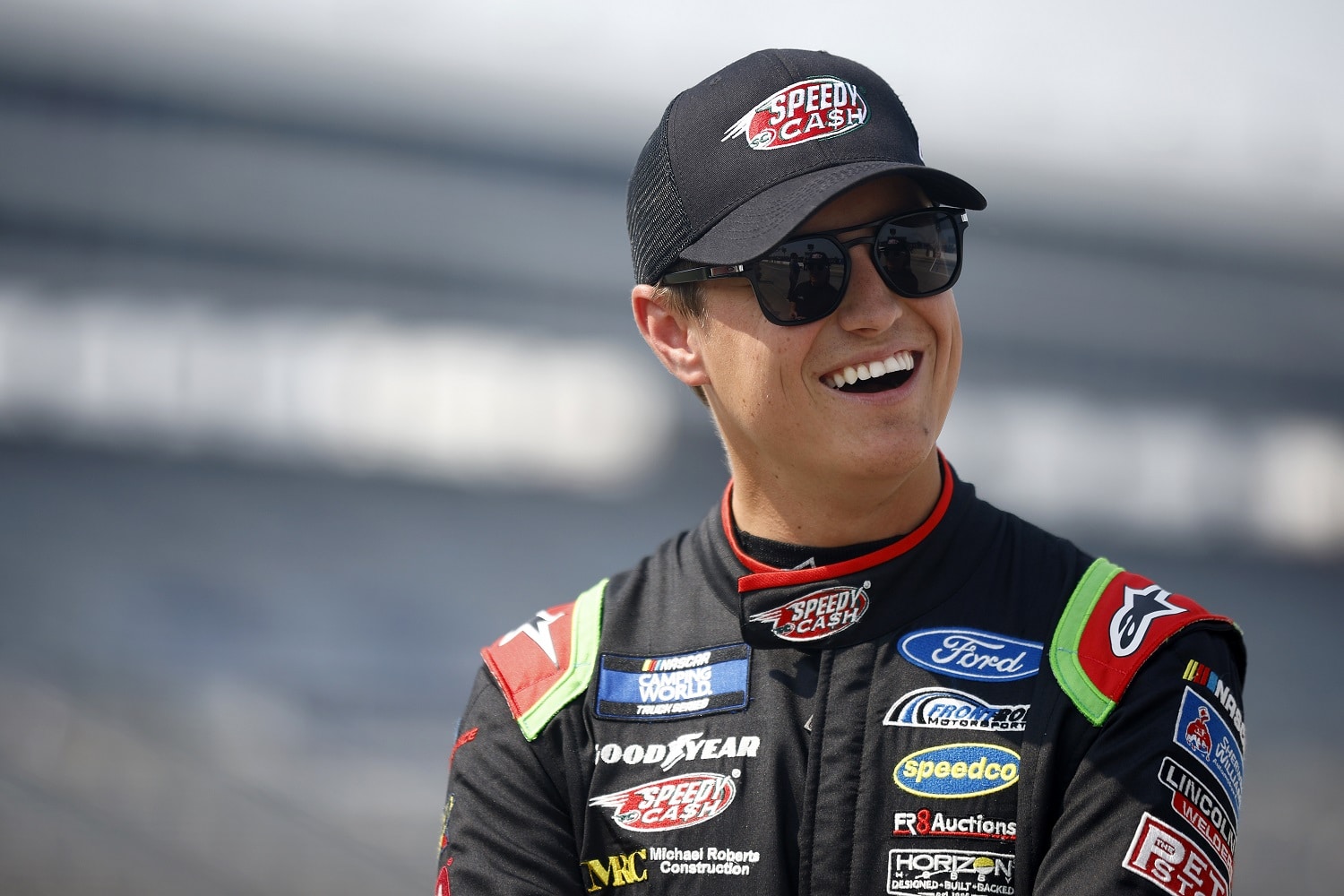 Roush Fenway Keselowski Racing disclosed on Thursday that driver Chris Buescher has tested positive for COVID-19, taking him out of the lineup for the Enjoy Illinois 300 on Sunday at World Wide Technology Raceway.
RFK Racing will turn to Zane Smith as the replacement in the No. 17 Ford for the 15th race of the NASCAR Cup Series season. It will mark Smith's debut at the highest level in stock car racing. The team's announcement said Buescher expects to return to the lineup next week for the road race at Sonoma.
Buescher's diagnosis is the latest setback for RFK Racing. His best finish this season has been seventh place at Atlanta, and he's 21st on the points list. Teammate and new RFK Racing co-owner Brad Keselowski is mired in 30th place because of the 100-point penalty assessed by NASCAR over an equipment violation.
Sunday's opportunity is great for Zane Smith and deserved
Zane Smith will turn 23 years old four days after his NASCAR Cup Series debut. He has already assembled a nice resume.
Smith finished second in the 2018 ARCA Menards Series, then scored seven top-10 finishes in 10 appearances for JR Motorsports in the Xfinity Series the following season. He has been full-time in the Camping World Truck Series the past three seasons, winning six times in 55 starts.
This season, Smith has three wins and five other top-10 results in 10 races. He is third in points but would be leading if not for a disqualification at Las Vegas in the second race of the season. Smith dropped from second to 36th place after the postrace inspection turned up lug nuts that NASCAR said did not conform to the rules.
He can thank NASCAR's scheduling for the opportunity
Zane Smith has run on the St. Louis track previously in the truck series and is a highly regarded Ford prospect. He reportedly was closing in on a deal to drive for Chip Ganassi Racing before that outfit exited NASCAR at the end of last season.
He can thank NASCAR's scheduling for what could be a difference-making audition.
All three national series are in action this week, but not at the same site. The Cup Series and the trucks are running at World Wide Technology Raceway, but the Xfinity Series is competing at Portland International Speedway for the first time. Normally, a Cup Series team in need of a replacement would look to the Xfinity Series for a replacement. But the distance between St. Louis and Portland makes that impractical, so the gig has fallen into Smith's lap.
Kaulig Racing finds itself in a somewhat comparable situation. Xfinity Series leader AJ Allmendinger is scheduled to drive the team's Cup Series second car. Since he can't be in two places at once, Ben Rhodes will practice and qualify the car on Saturday, and Allmendinger will commute in time to take over on Sunday for the race.
Additionally, NASCAR has altered the format of the Xfinity race to all but eliminate the need for green-flag pit stops since many of the crews will be working one or both races in St. Louis. Going to Portland, a new venue, may have seemed like a good idea when NASCAR built the 2022 season schedule. But it has the potential to affect the outcome of the race and potentially the season standings with little overall benefit.
All stats courtesy of Racing Reference.
Like Sportscasting on Facebook. Follow us on Twitter @sportscasting19 and subscribe to our YouTube channel.