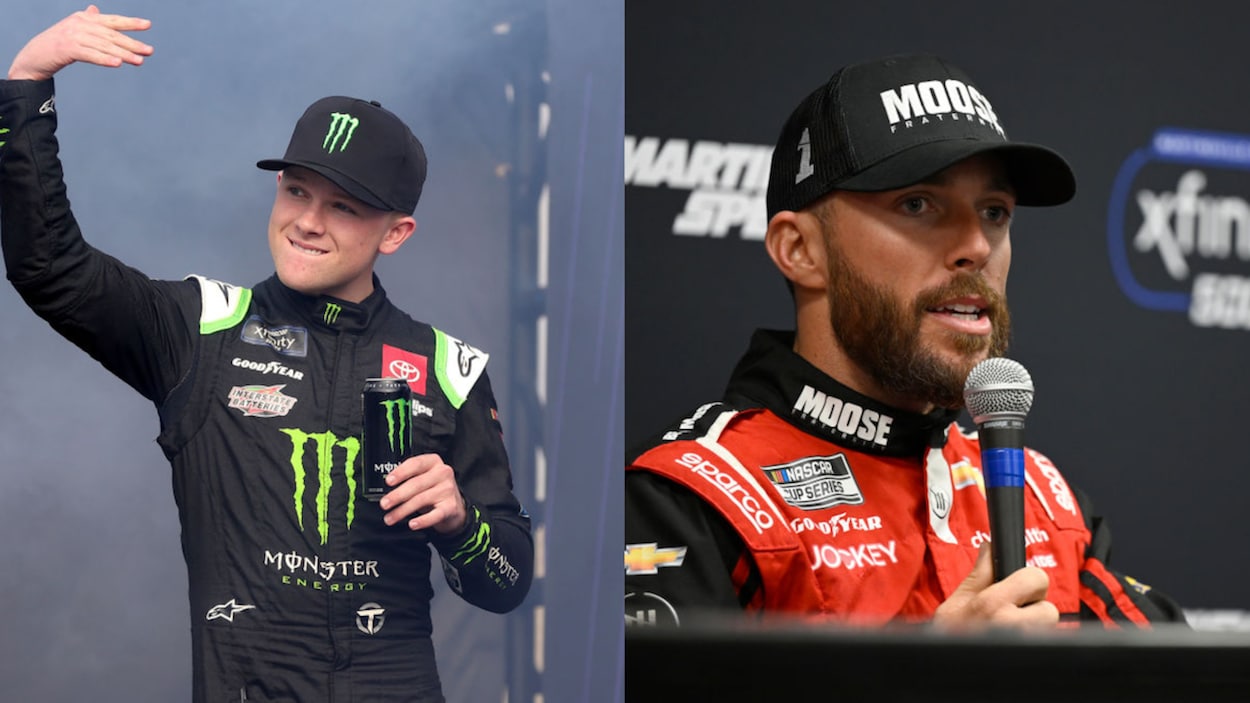 It's Not Fair to Condemn Ty Gibbs' Controversial Last-Lap Martinsville Move and Condone Ross Chastain's
Ross Chastain is being praised for his last-minute move at Martinsville. So why did Ty Gibbs's aggression earn a negative reception?
One was widely hailed as a blockbuster move that might even be the greatest driving display in NASCAR history. The other was universally denounced as a cheap shot worthy of a penalty from NASCAR — or, at the very least, a stern rebuke from those who witnessed it.
So why is Ross Chastain's go-for-broke last-lap maneuver in Sunday's NASCAR Cup Series race at Martinsville Speedway being mostly condoned while Ty Gibbs' similarly aggressive maneuver in Saturday's Xfinity Series race is being broadly condemned?
In short: The outcome.
In Gibbs' case, a teammate got wrecked because Gibbs simply wasn't going to settle for finishing second. In Chastain's case, he passed five cars — and, in doing so, punched a ticket to the Championship 4 — by riding the outside wall and never lifting in the third and fourth turn. However, in that instance, no one hit anything — besides Chastain willfully bouncing his Chevrolet off the concrete barrier multiple times.
But is outcome alone the basis on which a maneuver should be judged? Should intent also have something to do with it? We'll discuss this in greater detail shortly. But first, a little background.
Both Ty Gibbs and Ross Chastain brought major baggage into Martinsville
Ross Chastain and Ty Gibbs, though a decade apart in age and competing in different series, have at least one common trait: They're both extremely aggressive race car drivers. So extreme that over the course of the 2022 season, they've each made quite a few enemies.
Those who Chastain has angered most notably include Denny Hamlin, Martin Truex Jr., Kyle Busch, and Chase Elliott. In the case of Hamlin and Truex, Chastain has wrecked both of them twice, prompting Hamlin to all but guarantee retaliation somewhere down the road.
Then there's Gibbs, the controversial 19-year-old hot shoe whose boss is none other than his grandfather — NASCAR Hall of Fame team owner and three-time Super Bowl-winning coach Joe Gibbs. Those who've had their proverbial feathers ruffled by Gibbs at some point in 2022 include Noah Gragson, Sam Mayer, Ryan Sieg, John Hunter Nemechek, and, most recently, Brandon Jones.
Given the lengthy list of adversaries that both Chastain and Gibbs have built this year, it's fair to say that both could benefit from some serious reputation repair. In fact, their seasons have virtually mirrored each other in the sense that they've both played the role of central villain in their respective division. So, clearly, reputation can't be the reason why Gibbs' Martinsville move was chastised while Chastain's was mostly applauded.
After all, Gibbs' record of wrongdoings is no lengthier than Chastain's. And one could even argue that Chastain's transgressions are more egregious than Gibbs' for the simple fact that he's a decade older, has been driving a lot longer, and should theoretically know better. Gibbs is still a teenager who, despite possessing incredible talent, is still wet behind the ears in many ways.
Reactions to Ty Gibbs' move vs. Ross Chastain's differed sharply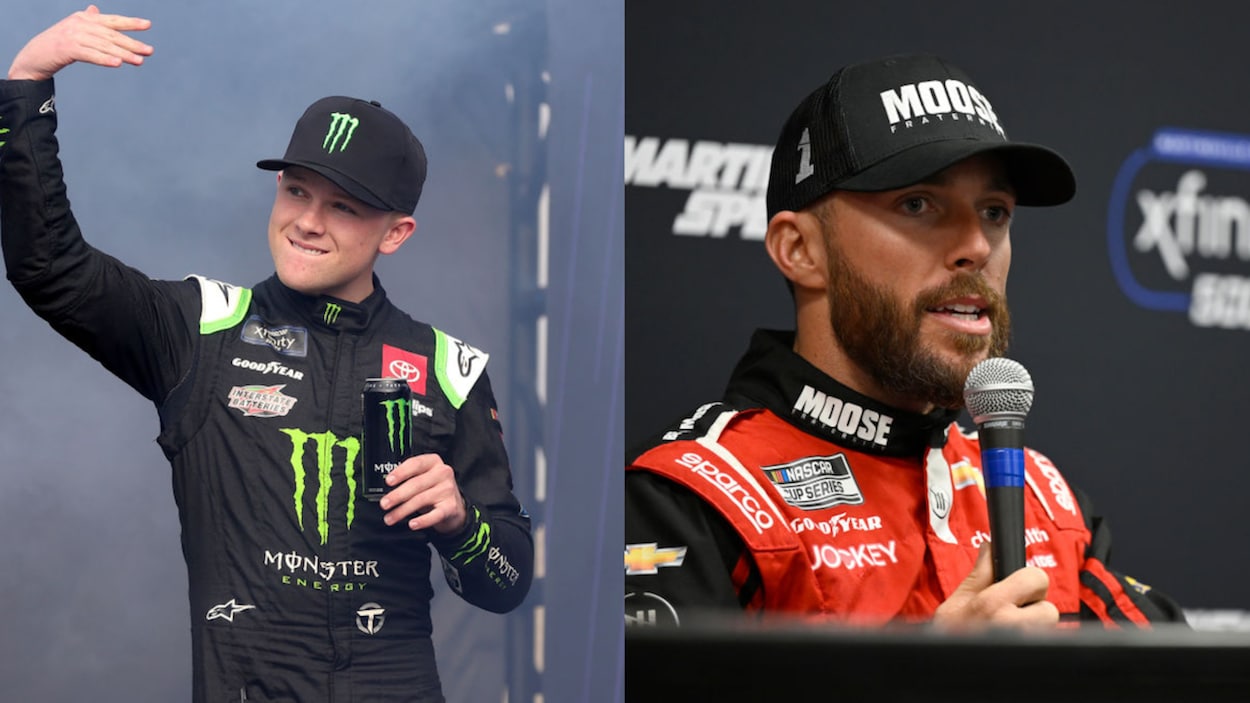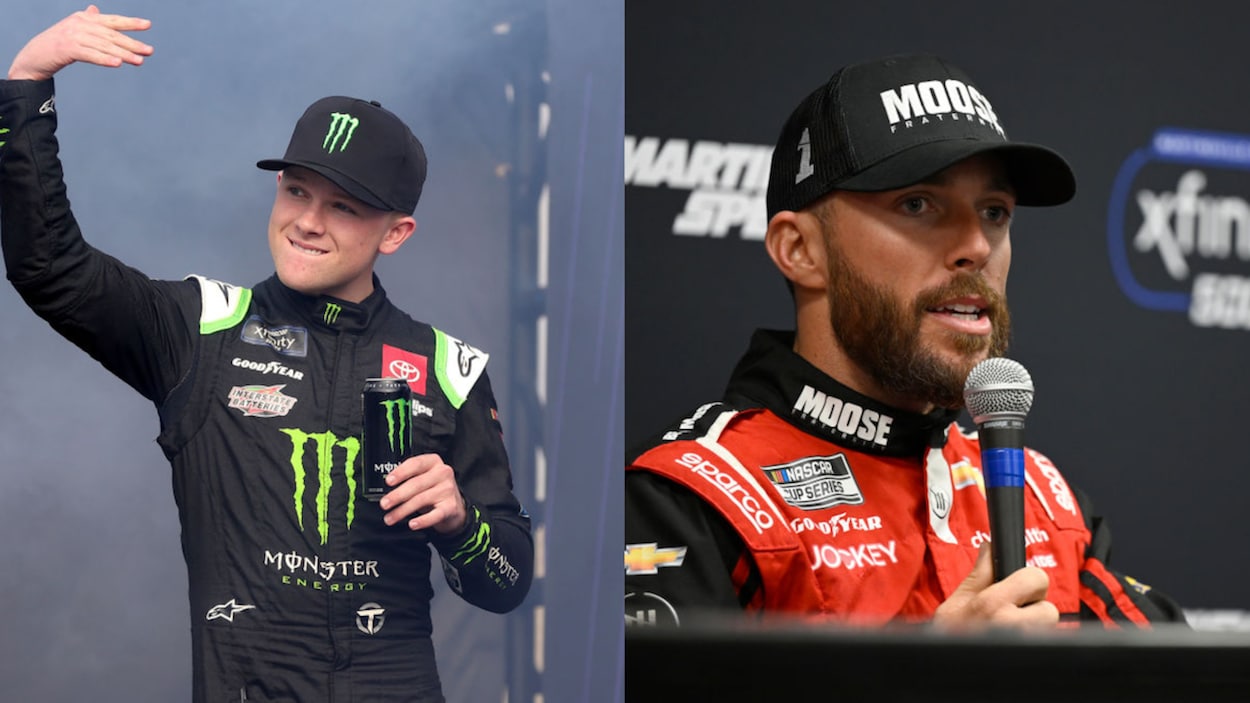 So why is Ross Chastain being worshiped like some kind of folk hero for deliberately driving his car into the wall in turns 3 and 4 on the final lap at Martinsville while Ty Gibbs is being demonized for punting teammate Brandon Jones on the last lap of Saturday's Xfinity Series race?
Bear in mind that had Gibbs not gotten up on the wheel and challenged Jones for the win, he could have and likely would have been accused of blocking so a teammate could make the Xfinity Series' Championship 4. Instead of acting as a buffer for his teammate, Gibbs went for the win and bumped Jones entering Turn 1 on the final lap, sending Jones for a solo spin into the wall.
Gibbs won the race, but his decision cost JGR the chance to have two cars in the Championship 4, and he was greeted with a loud chorus of boos upon exiting his race car on the frontstretch. Meanwhile, up in the TV booth, NASCAR on NBC announcers Steve Letarte and Jeff Burton immediately criticized Gibbs.
"It's one thing to get moved out of the way by your teammate; it's a whole other thing to get wrecked by him," Burton said. "I was thinking the same thing," Letarte responded. "Coming with one lap to go, to get absolutely turned around, it's going to be hard to swallow for the driver of the 19 [Jones]. … I'm just not impressed. It doesn't take much of a race car driver to run another guy over from behind. It's one thing to hit him in the door or the quarter panel if it's contested, but this right here is squared up bumper to bumper. Unimpressed. Hit him so hard it buckled [Gibbs'] hood."
Roll the tape forward one day, and the same announcers who were throwing bricks at Gibbs were salivating at Chastain's daring display. "Oh my goodness!" Burton exclaimed. "I have never." Letarte was just as giddy. "I couldn't even process what I was seeing," the former crew chief said. "It was a once-in-a-lifetime, a once-in-a-generation-type move." And while the announcers were oohing and aahing like fan-boys, the fans in attendance issued an equally passionate approval by cheering loudly when Chastain emerged from his race car.
It's wrong to judge an aggressive move solely on the basis of the outcome
While the fans and the announcers approved of Ross Chastain's aggressive move, not everyone was impressed. "We probably need to make sure it doesn't happen again," Joey Logano told SiriusXM NASCAR Radio on pit road after the Cup race. "I don't think it's quite a good thing, and it's very dangerous bouncing around the wall like that. All it takes is the car to lift up one time, and it's in the catchfence. We should probably make a rule to make sure it doesn't happen again, because now you've opened the box. Now everybody has to do it on the last lap, so you've got to do something about it."
Pressed by interviewer Claire B. Lang on whether he believed Chastain's move was truly dangerous, Logano left nothing open to interpretation. "Yeah, it's very dangerous doing that," the 2018 Cup Series champion said. "All it takes is one step to go wrong there."
Logano couldn't be more correct. Just imagine if someone had been running up next to the wall just ahead of Chastain when the Trackhouse Racing driver went for broke by never lifting off the throttle in turns 3 and 4. Chastain's car looked like it had been shot out of a cannon compared to the drivers in front of him, and understandably so. By staying in the gas, he was likely running about 40-45 mph faster than those just ahead. Imagine if another car had been directly in his path. 
The result would've been a major multi-car wreck on the last lap of one of the season's most important races, and the driver or drivers who Chastain rear-ended may well have suffered a serious injury — especially when you consider that two drivers have been sidelined with a concussion this season on the heels of a heavy impact to the rear of their Next Generation race car.
No, as outside-the-box and video-game-like as Chastain's move might have been, it carried a significant risk to those around him. Gibbs' move a day earlier culminated in someone crashing, but it was actually far less dangerous than Chastain's. So does Chastain really deserve an "atta boy" while Gibbs gets crucified for driving recklessly?
Heck, no. The intent here should matter just as much as the outcome. You can't reasonably celebrate what Chastain did and simultaneously point the finger at Gibbs. Both drivers have a checkered past. And in both cases at Martinsville, the aggressor was willing to do whatever was necessary to advance his cause. Even if it meant potentially putting someone else in harm's way.
Have thoughts on this topic? Keep the conversation rolling in our comments section below.