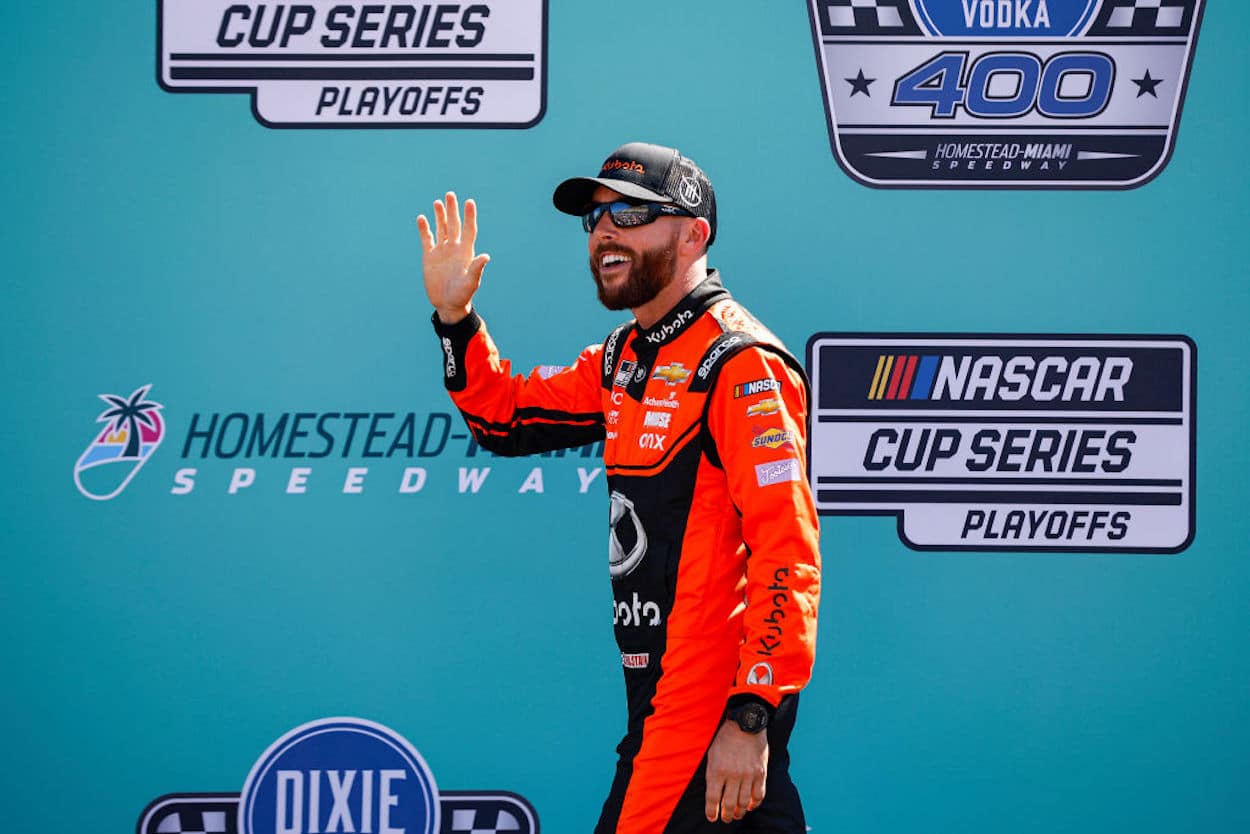 A Calmer, Gentler Ross Chastain Is Growing Up Right Before Our Eyes, and a Huge Reward Could be Waiting
At the start of the season, Ross Chastain seemed to rub just about every driver he encountered the wrong way. During the playoffs, though, things are a bit different.
During the NASCAR Cup Series' regular season, Ross Chastain became public enemy No. 1 in the Cup garage by running into other drivers with regularity and racing with the kind of reckless disregard that will quickly put one on the bad side of their fellow competitors.
For a while, it seemed like Chastain was rubbing someone the wrong way just about every week as he appeared to struggle to manage his newfound speed — speed that he'd never consistently enjoyed in the Cup Series before joining Trackhouse Racing ahead of the 2022 season.
Other drivers' disdain toward Chastain appeared to be building to a crescendo around the time the playoffs began, when Kyle Busch candidly declared during a press conference at Daytona that there was "no way, no chance" that Chastain's rivals would give him the benefit of the doubt in the final weeks of the season with a championship at stake. 
Then, Busch added: "I don't think people are paying him back yet, just because they're waiting for the right time."
Ross Chastain made no friends in the regular season
Ross Chastain's first career Cup Series victory — at Austin, Texas' Circuit of The Americas road course in late March — came at the expense of AJ Allmendinger and Alex Bowman, whom Chastain wiped out simultaneously on the last lap by sending Allmendinger for a spin into Bowman's path while the three drivers raced hard for the lead and the win. Allmendinger was terse and clearly less than happy when questioned after the race if he expected Chastain to run into him, but Allmendinger made it known that he wasn't surprised by the contact, which you can watch in the video below.
Then there was Dover in early May when Chastain spun Martin Truex Jr. while battling for a position in the top five on the final lap. Then came World Wide Technology Raceway, aka Gateway, in June, where Chastain seemingly hit everyone and everything but the pace car — angering veterans Denny Hamlin and Chase Elliott in the process. Although Chastain was apologetic after the race, that was no consolation to Hamlin, whose race was ruined by Chastain's no-holds-barred approach.
"We all have learned the hard way," Hamlin said in a televised postrace interview with FOX Sports' Jamie Little. "And we've all had it have to come back around on us, and it will be no different [for Chastain]."
In an odd twist, Chastain later wrecked both Hamlin and Truex again — this time at Atlanta on July 10. And just as he did at Gateway, Hamlin hinted at possible retaliation for Chastain somewhere down the line.
"Everyone has a different tolerance level, certainly, but you guys know I've reached my peak," Hamlin told reporters (h/t Matt Weaver) after the race.
Chastain's latest dustup of any significance took place at Richmond in August when his No. 1 Chevrolet sent Kyle Busch's No. 18 Toyota for a spin — leading Busch to bluntly and somewhat comically declare after the race that he'd been "chastain'd."
Ross Chastain has changed for the better in the playoffs
Eight races into the playoffs and with just one race remaining in the Round of 8, Ross Chastain is positioned well to advance to Phoenix and be one of the four drivers who will compete straight up for the NASCAR Cup Series title on November 6.
Heading into Sunday's elimination race at Martinsville, he's second in the standings — best among drivers still looking to clinch a berth in the Championship 4 — and holds a modestly comfortable points cushion over the first driver on the wrong side of the cutline. That driver, coincidentally, is Denny Hamlin.
So will this be the week that Hamlin, Chase Elliott, Martin Truex Jr., Kyle Busch, or anyone else Chastain has run into this year get their revenge? NASCAR sent a pretty loud message concerning retaliation by recently suspending Bubba Wallace one race for deliberately wrecking Kyle Larson at Las Vegas in the opening race of this round. But that was on a much larger, much faster track than Martinsville — a flat .526-mile paperclip-shaped oval where retaliation is generally deemed more acceptable (unless you're Matt Kenseth in 2015).
It's also worth noting that Chastain has, for the most part, kept his nose clean during the playoffs, which has been one of the biggest keys to him now being on the cusp of clinching a berth in the Championship 4. In fact, this past weekend at Homestead, Chastain and AJ Allmendinger put on quite the show while jockeying for second place in the final laps. Only, unlike at COTA back in the spring, no one wrecked, and it was just clean, competitive racing.
"I was having a good time. That's the way it's supposed to be," Allmendinger told Frontstretch.com moments after climbing out of his car and briefly shaking hands with Chastain on pit road. "Believe me, I've had an issue with how he's raced [in the past], but that was fun as s*** right there." 
Given how Chastain has managed not to ruffle any feathers in the playoffs — and the fact that NASCAR has cracked down on payback — will Chastain be able to evade the retribution that many believe he is due?
That remains to be seen. But what's pretty obvious is that Chastain has toned down his aggression considerably in the playoffs. And his reward might just be the biggest prize of all — a championship.
Have thoughts on this topic? Keep the conversation rolling in our comments section below.