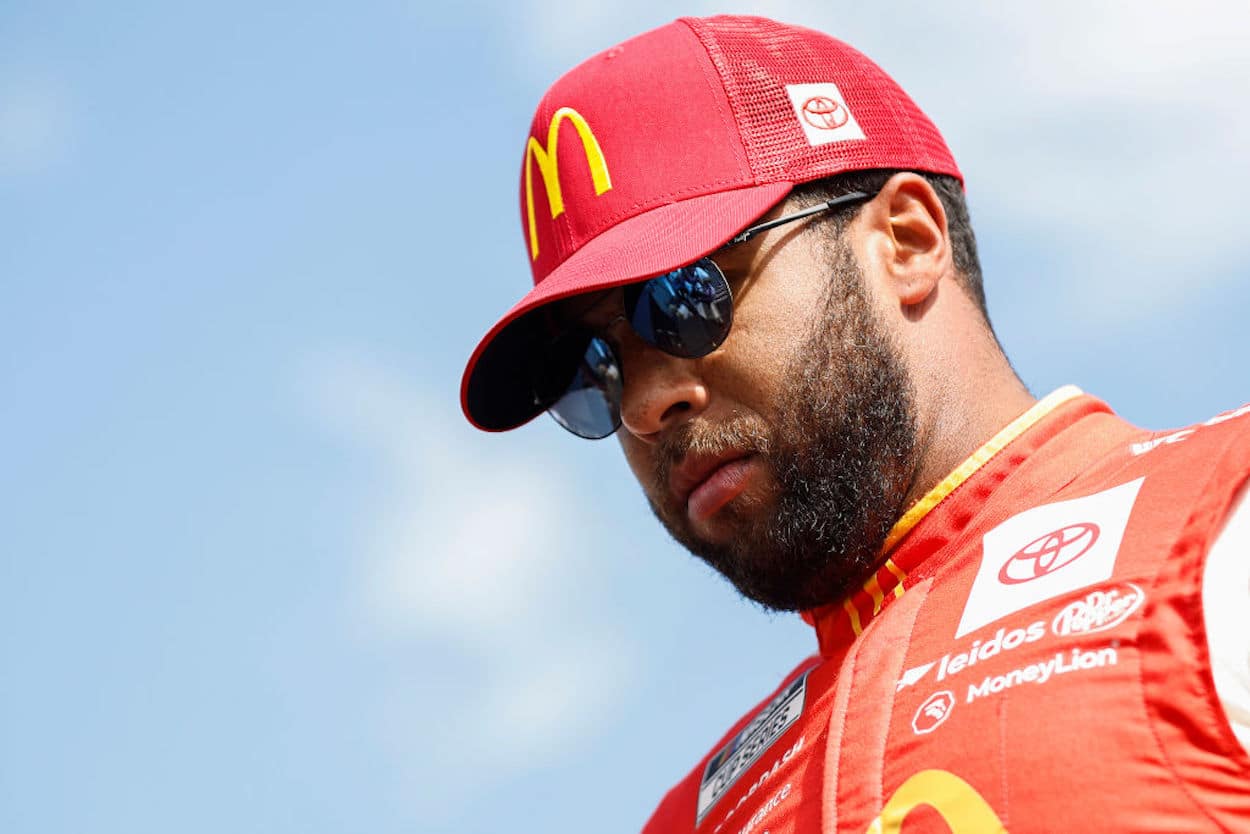 Let This Weekend Away from the Race Track Be a Painful Lesson that Bubba Wallace Never Forgets
When Bubba Wallace sees John Hunter Nemechek driving his car on Sunday, you know it's going to sting.
This week, everyone from Kyle Petty to Dale Earnhardt Jr. to Pope Francis has offered an opinion on NASCAR's one-race suspension of Bubba Wallace.
OK, not Pope Francis, but you get the idea.
The bottom line: Wallace's ill-advised decision to intentionally wreck Kyle Larson this past weekend at Las Vegas Motor Speedway has garnered quite the reaction — as did the way NASCAR chose to penalize the 23XI Racing driver.
So was the penalty too harsh? Not harsh enough? Just about right?
This is what we'll discuss next.
Precedent didn't need to play a role in Bubba Wallace's penalty
With penalties, the first thing everyone always wants to talk about is precedent. In other words: How has NASCAR ruled on similar situations in the past?
The problem with giving too much priority to precedent is that NASCAR makes up the rules as it goes. Always has. Always will.
Take, for example, the so-called "100 Percent" rule, which basically states that every driver must race to the fullest extent of their abilities at all times so as to not alter the outcome of a race by deliberately giving less than 100 percent effort.
When Cole Custer turned his car into a barricade for other cars on the final lap of the recent Round of 12 elimination race on the Charlotte Motor Speedway ROVAL, NASCAR reacted harshly by fining Custer $100,000 and docking him 50 drivers points along with indefinitely suspending his crew chief, Mike Shiplett, and fining Shiplett $100,000 as well.
The No. 41 team's radio transmission in that race suggested that Custer was deliberately blocking other cars to ensure that Stewart-Haas Racing teammate Chase Briscoe advanced to the next round of the playoffs (which ultimately happened).
Yet, just a few weeks earlier, when Tyler Reddick admittedly passed on the opportunity to attempt a pass on race-leading teammate Austin Dillon in the final laps of the regular season finale at Daytona, NASCAR was perfectly OK with Reddick giving less than 100 percent effort to ensure that Dillon won the race and made the playoffs.
So what's the difference between Reddick's actions and Custer's actions? In short: Not much. Yet NASCAR couldn't have ruled any differently in the two situations.
So to suggest that precedent should have been the determining factor in the Bubba Wallace penalty is pure hogwash. Sure, there have been times over the years when NASCAR has suspended a driver for wrecking another driver intentionally (see Matt Kenseth at Martinsville in 2015 and Kyle Busch at Texas in 2011). 
But there has been plenty of other occasions — such as just a few weeks ago when William Byron clearly spun Denny Hamlin under caution at Texas — that NASCAR ultimately decided not to suspend the guilty driver.
So let's forget precedent and look at the Bubba Wallace-Kyle Larson incident on its own merits. Did NASCAR do right in suspending Wallace for one race?
NASCAR parking Bubba Wallace was the best way to send a message
Naturally, opinions on the Bubba Wallace penalty have run the gamut. Some, like Kyle Petty, say the penalty wasn't steep enough and that NASCAR should have parked Wallace for not just this weekend's race at Homestead-Miami Speedway but for the rest of the season.
Others, like Petty's NASCAR on NBC colleague Dale Earnhardt Jr., say a steep points penalty and fine on Wallace and his team would have made more sense than a suspension. 
And, of course, you have the armchair quarterbacks and wanna-be-pundits on Twitter and other social media platforms who say NASCAR shouldn't have penalized Wallace at all — or that NASCAR should have suspended the 29-year-old Mobile, Alabama native for life.

We can argue all day about whether the punishment for Wallace's misdeed fit the crime of deliberately turning Kyle Larson's Hendrick Motorsports Chevrolet into the wall at an alarmingly high rate of speed, but there's no reason for me to further belabor my point. I believe NASCAR's penalty on Wallace was darn near perfect for one simple reason: There's nothing — and I do mean nothing — a driver despises more than having to watch someone else drive their race car.
Case in point: Remember back in 1996 when Dale Earnhardt broke his sternum and collarbone in a violent crash during the summer race at Talladega Superspeedway? The following weekend, the Cup Series was set to go to Indianapolis Motor Speedway for the Brickyard 400 — then considered the second biggest race on the Cup calendar.
But Earnhardt, battling intense soreness from his injuries suffered the previous weekend, reluctantly agreed to hand over the wheel to a relief driver after running just six laps at Indy. It was a difficult but necessary decision that the seven-time Cup champion and his team had to make for his own safety, but for Earnhardt, the pain of getting out of his race car in the middle of a race and watching someone else get in it seemed to far supersede the pain he was feeling in his chest and neck areas. 
"Dadgum, it's hard to get out of there, Jerry," Earnhardt said to pit reporter Dr. Jerry Punch of ESPN (as documented in an old Youtube clip) moments after climbing out of his iconic black No. 3 car. "This is my life right here."
Punch's follow-up commentary after interviewing Earnhardt summed up everything the NASCAR world had just witnessed from its top star.
"Boy, an emotional Dale Earnhardt," Punch said. "You will never see that. This man loves and lives to race." As does any driver worth their salt.
Bubba Wallace sitting at home on Sunday will hurt worse than anything
If you've ever questioned Bubba Wallace's passion for racing, witness his press conference after finishing second at the 2018 Daytona 500. Emotional to the point of almost being unable to talk, Wallace explained just how much nearly winning the sport's most prestigious race meant to him.
"I just try so hard to be successful at everything I do," said a tearful Wallace, who had just made his first start as the full-time driver of Richard Petty Motorsports' No. 43 car. "My family pushes me each and every day, and they might not even know it, but I just want to make them proud." 
This is why it's pure nonsense to think that a hefty fine and/or points penalty on Wallace for his handling of the situation at Las Vegas would have stung like a suspension. Reality is that with Wallace being out of the playoffs, a points penalty would have been virtually meaningless. I mean, does it really matter if he finishes 20th or 25th in the standings? Please.
As for a fine, well, Wallace is no different than most of the drivers he races against on Sundays. That is, he's a millionaire many times over. Even the most robust of fines wouldn't have put a dent in Wallace's bank account.
No, there was only one way for NASCAR to send a message to Wallace and the rest of the field that it won't tolerate one driver putting other drivers' safety in jeopardy through a blatant act of retaliation. That way was a suspension, be it for one race or multiple races.
So, when Wallace is sitting at home eating potato chips on Sunday while watching John Hunter Nemechek drive his car, you can rest assured he'll feel the pain of his careless decision from a week earlier. Because there's nothing a driver hates more than seeing someone else making laps in their car.
Have thoughts on this topic? Keep the conversation rolling in our comments section below.