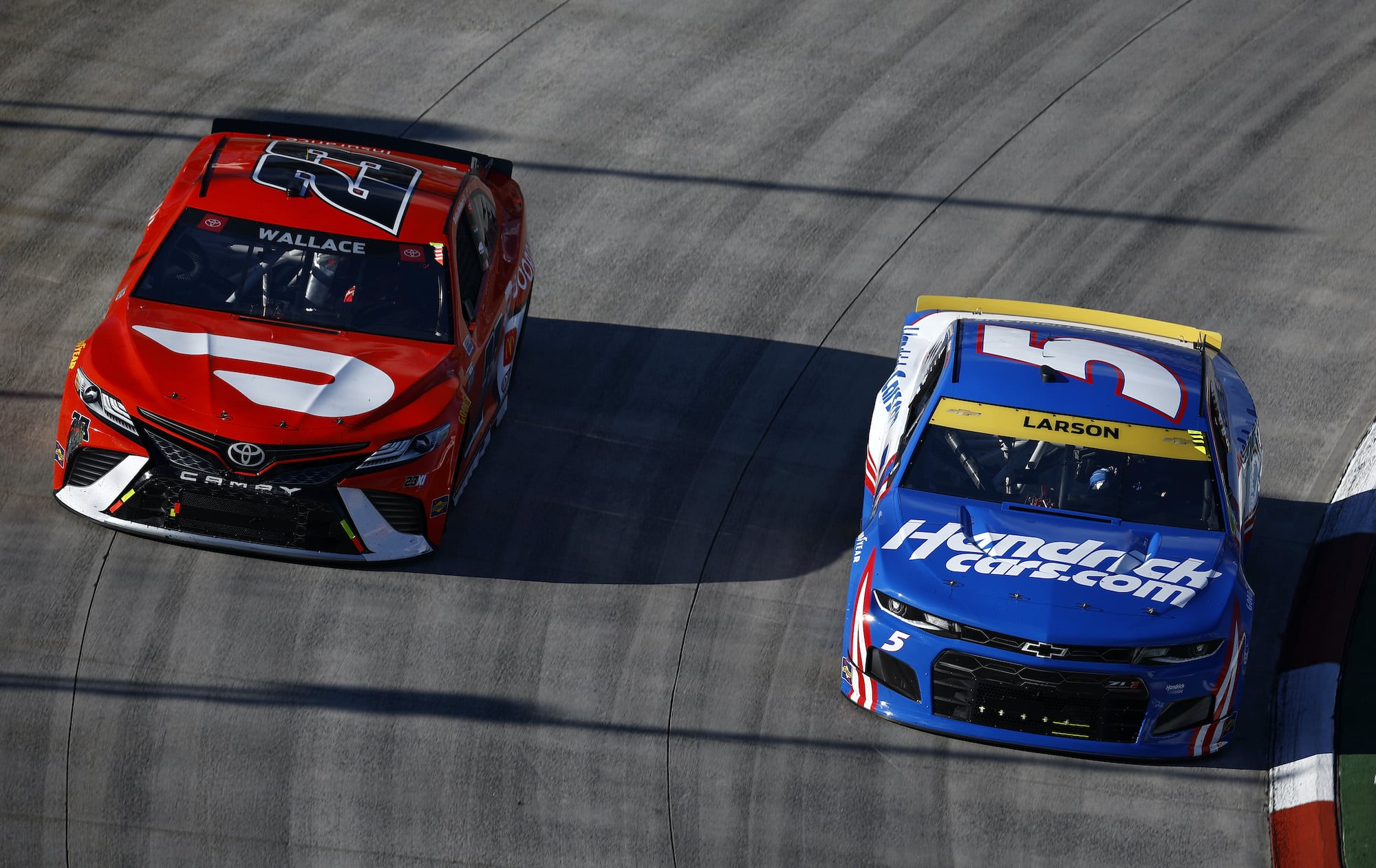 Kyle Larson Admits Bubba Wallace Expressed Anger at Him in the Past on a Couple of Occasions by Flipping Him Off
Kyle Larson admitted to reporters that he and Bubba Wallace had several incidents in the past where the 23XI Racing driver expressed his anger in a much more conventional way.
Kyle Larson and Bubba Wallace have been in the headlines this week after the on-track incident at Las Vegas Motor Speedway that the 23XI Racing driver turned into a physical altercation on the infield grass. With such a rapid escalation, many fans wondered if the pair had some sort of history.
Moments after the confrontation, a reporter asked the Hendrick Motorsports driver that question and he candidly admitted to a couple of other times when he was on the receiving end of Wallace's anger that was displayed in a much more conventional way.
Bubba Wallace confronts Kyle Larson after wrecking him
After dominating Stage 1 of the NASCAR Cup Series race at Las Vegas, leading 29 laps, Bubba Wallace cruised to the stage victory. On the subsequent restart, the No. 45 car dropped back early in the run and found himself racing Kevin Harvick for fifth place. 
With a run from behind, Kyle Larson stayed low and made it three-wide going into Turn 3. The Stewart-Haas Racing driver dropped back, allowing Larson to race Wallace for the position. It didn't last long. 
Exiting Turn 4, Larson's car slid up the track, and its momentum ushered the 23XI Racing car up into the outside wall. Wallace bounced off the fence and drove directly into the right rear of the No. 5 car, which resulted in both driving up the track into the wall, the HMS car collecting Christopher Bell in the process. 
Several minutes later, Wallace exited his wounded car and walked straight toward the HMS driver on the infield grass. When he arrived, he shoved Larson multiple times, the diminutive driver not putting up a fight. Wallace was eventually escorted away.
Larson recalls previous incidents where Wallace gave him bird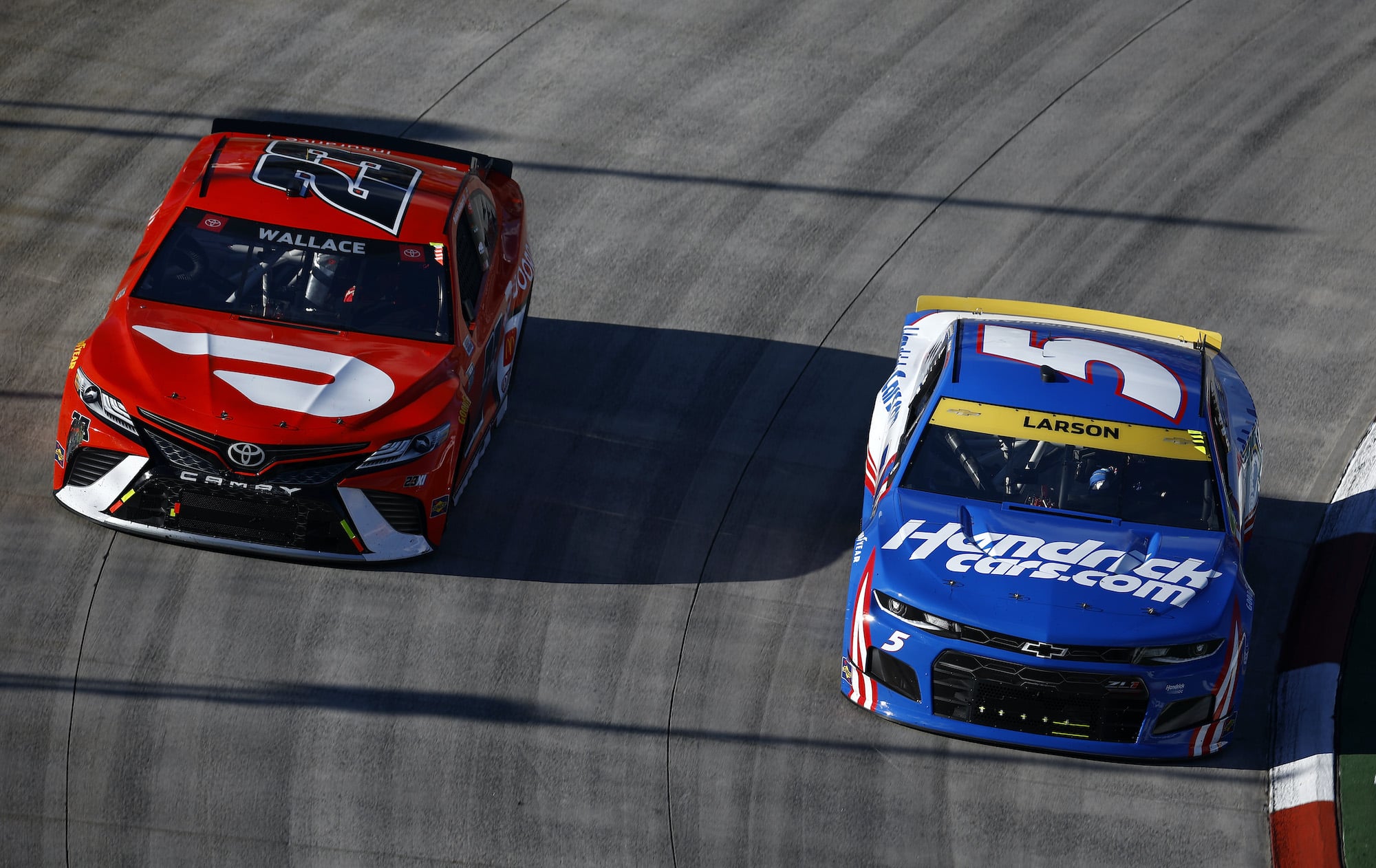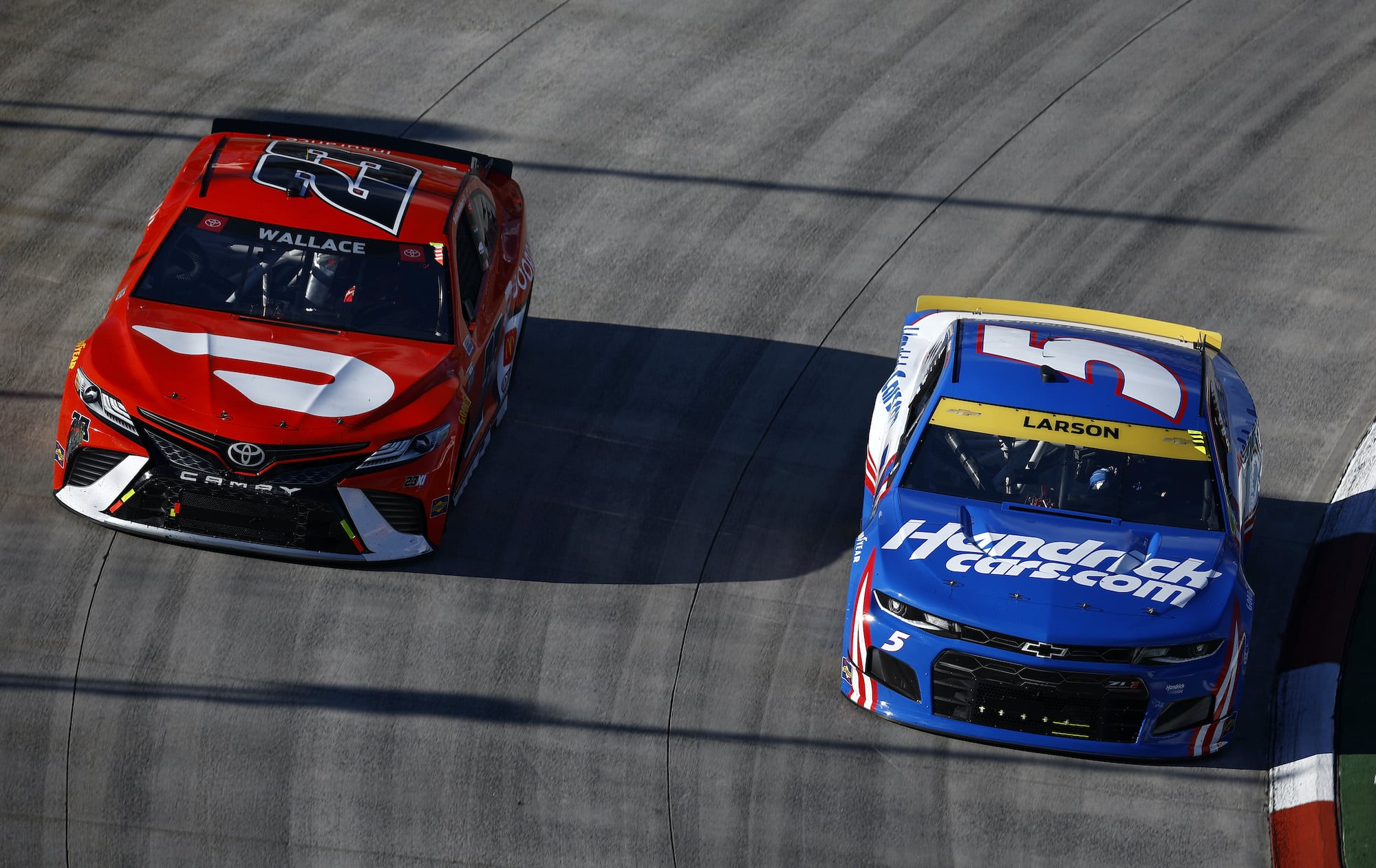 After the incident, Larson met with the media to discuss the chaotic moments just minutes before. When one reporter asked if Wallace's aggressive response surprised him, he made an interesting admission.
"No, no, it didn't," Larson said. "I saw him coming over — there was a big screen in front of where I was stopped — so seeing him walking over, so I figured we were going to have some sort of chit-chat. I would rather him have done that rather than just tear up both of our cars. His day wasn't over. These cars are tough. He obviously had a fast car. It is what it is."
Moments later, SiriusXM NASCAR Radio's Claire B. Lang asked if he had any on-track history with the 23XI Racing driver. 
"We've had a couple," the HMS driver said. "Nothing really here lately, I don't think. I've gotten the middle finger from him a couple of times. I mean, he had a fast car and felt like me getting him into the wall was ending his day. He ended both of ours. It is what it is. I would have been frustrated as well I just don't think that I would have hooked him down the straightaway, especially with everything that's been going on here lately with injuries and such."
Pair have a history together
Kyle Larson and Bubba Wallace have a history. They have been friends for years since they made their way up through the racing ranks in the Drive for Diversity Development Program. 
The two, part of a group that plays golf, saw their friendship face adversity a couple of years ago when Larson used a racial slur. Minutes after saying the word, Larson texted Wallace to apologize. They talked on the phone the next day. 
"I think everyone can learn something from what has happened these past few weeks," Wallace said at the time. Their friendship was restored.
Wallace's words ring true as much now as they did then. 
Have thoughts on this topic? Keep the conversation rolling in our comments section below.