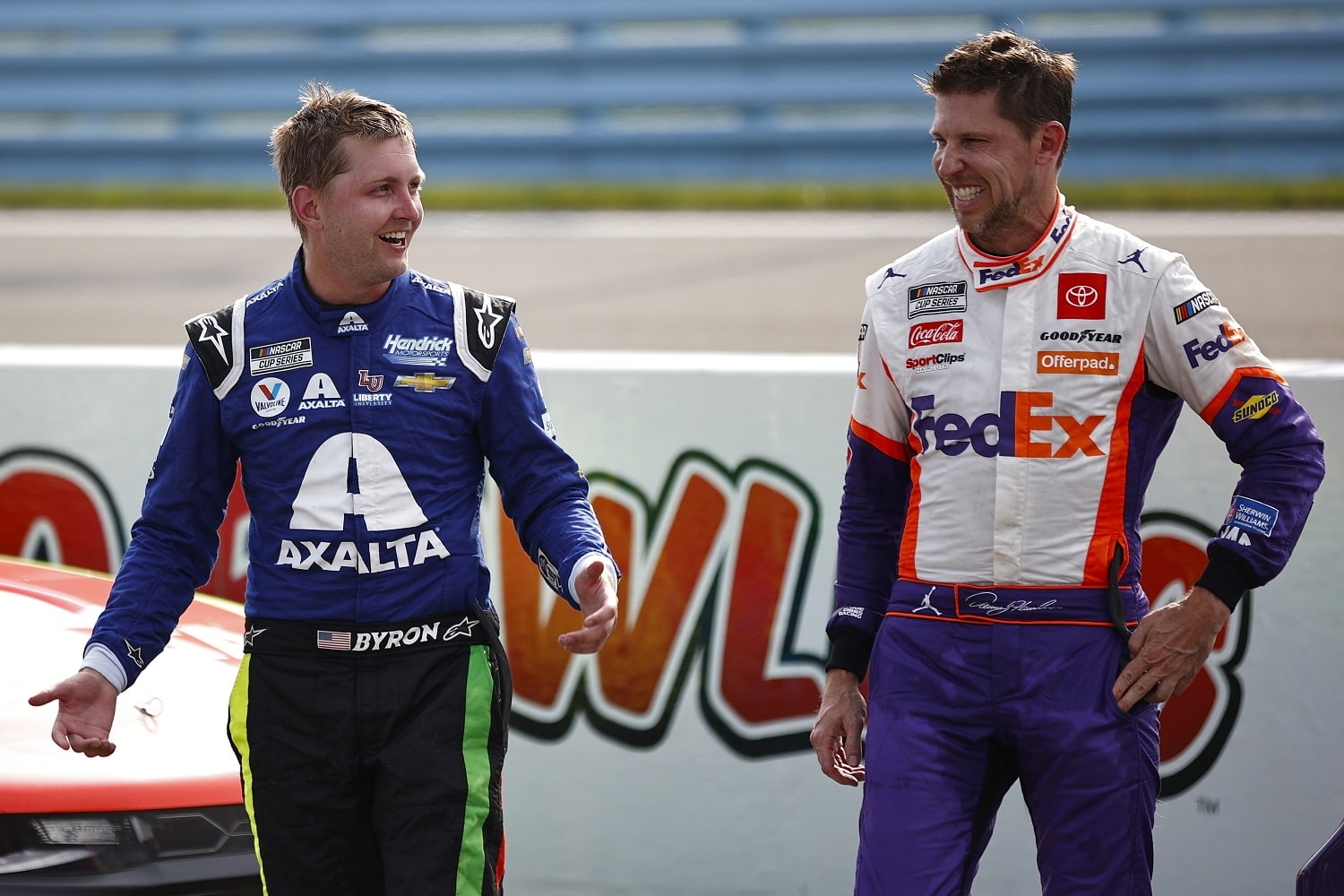 Denny Hamlin Goes to War With Not 1 but 2 Hendrick Motorsports Drivers
Denny Hamlin's anger with William Byron quickly made some forget that the Toyota driver's day started with a skirmish with Kyle Larson.
Denny Hamlin vs. William Byron apparently has become the new hot NASCAR Cup Series playoff feud, but how soon we all forget. Byron wasn't even Hamlin's first subject of animus in the race that wouldn't end at Texas Motor Speedway. Heck, he wasn't even the first Hendrick Motorsports driver to set off the driver of the No. 11 Toyota.
It's going to be a long remaining road to the Championship 4.
Denny Hamlin picked a fight with Kyle Larson
The NASCAR Cup Series playoff race at Texas Motor Speedway was tough on everyone, including the 12 drivers still alive in the title hunt. Tires popped like champagne corks on New Year's Eve, and lightning struck too close to comfort, extending a day that was already too long.
By the time it was over, only six playoff drivers cracked the top 10. Three landed in the bottom eight. It was the craziness that made us forget the first bit of craziness: Denny Hamlin railing at Kyle Larson for no apparent reason.
With Stage 1 winding down, Hamlin came charging hard behind Larson, nudging the No. 5 Chevy enough the make the car loose. Larson recovered, kept the lead, and earned the stage win for 10 race points and a playoff point.
Curiously, Hamlin seemed to blame the contact on Larson, whom he apparently found culpable for driving straight and fast.
"I'm not lifting on the next one," Hamlin told his team on their radio.
Denny Hamlin adds a fresh feud to his lengthy list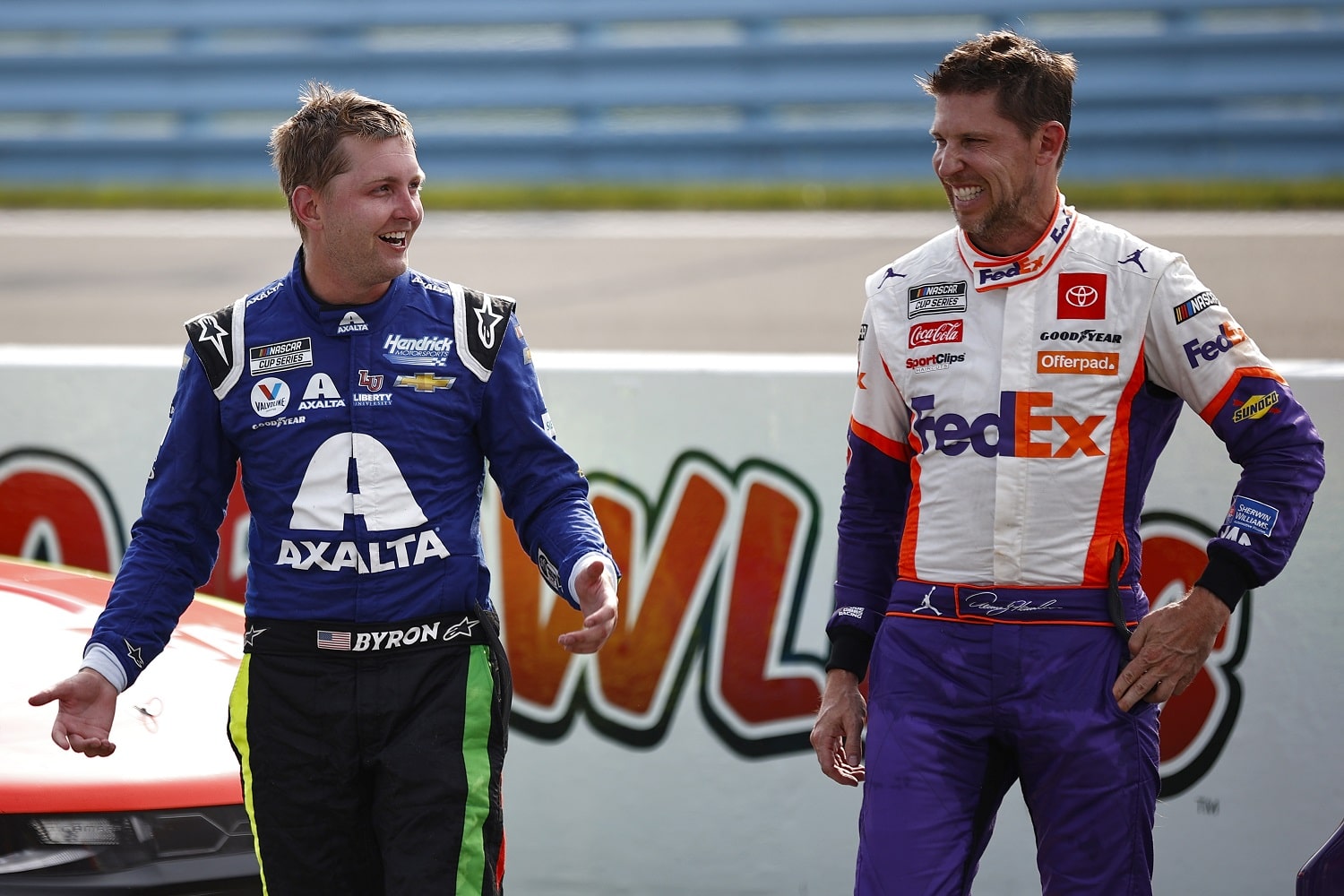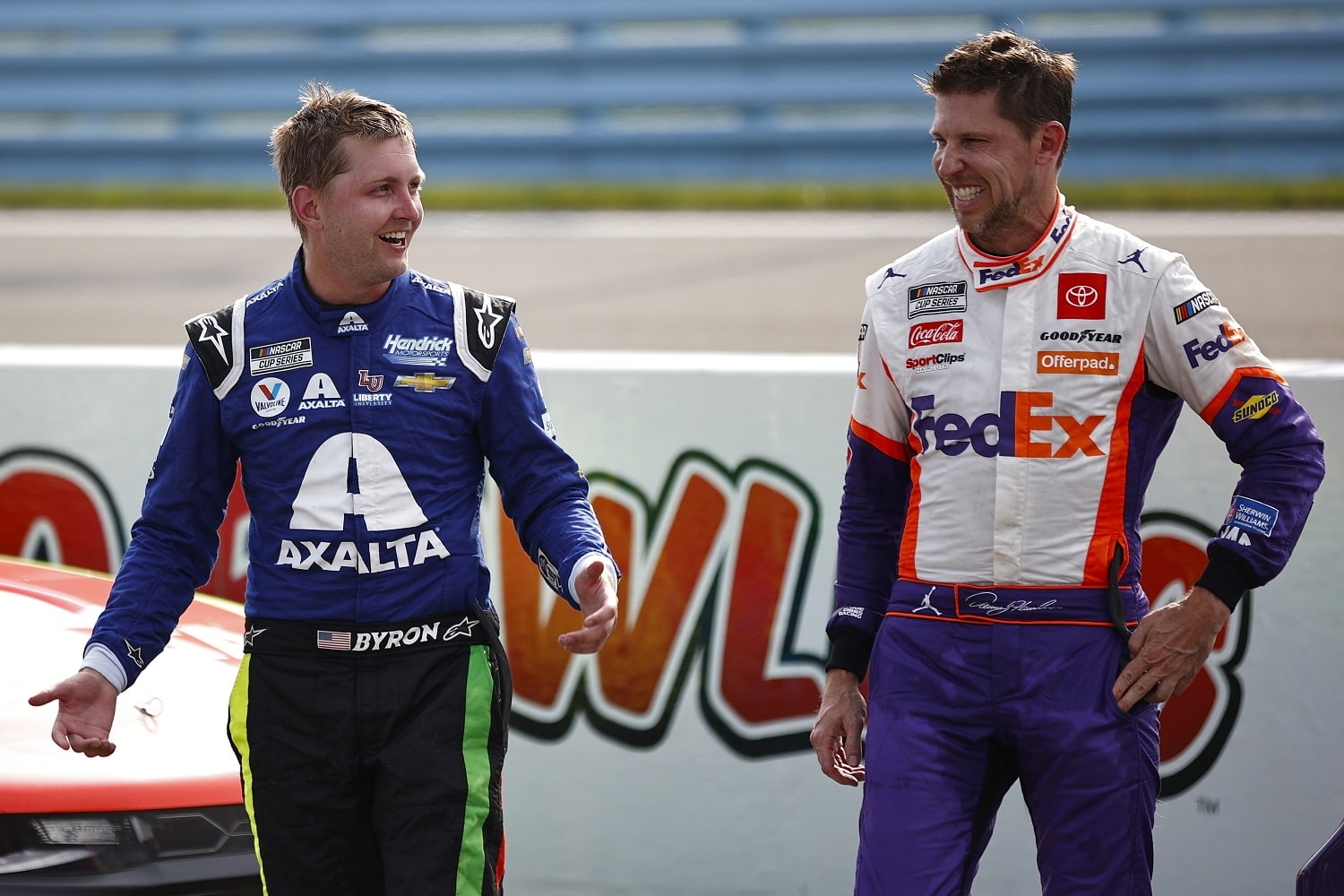 A driver like Denny Hamlin, who's been around a long time, is bound to make enemies over the course of 608 starts. It's sometimes hard to tell whether a feud (or even a supposed feud) is over. But Hamlin went ballistic last summer when Chase Briscoe shoved him off the Indianapolis road course, and he's had well-documented issues this year with Ross Chastain.
Deciding early in the day at Texas Motor Speedway that Kyle Larson belongs on the list of guys he doesn't like meant that Hamlin was at odds with at least a quarter of the current playoff field. But he is nothing if not an overachiever (unless you're counting series championships), so the driver of the FedEx car now also has William Byron in his sights.
"I'll just add it to the list of guys when I get a chance," Hamlin said of Byron. "They're going to get it."
It should be worth remembering, however, that Larson and Byron drive for Hendrick Motorsports. Like them, teammates Alex Bowman and Chase Elliott remain in the thick of the playoff action, so Hamlin would do well to keep an eye on whichever HMS cars out of the playoffs … assuming Chastain doesn't get him first.
The beef with William Byron might be legitimate
William Byron and Denny Hamlin made contact under green and yellow flags on Sunday at Texas Motor Speedway.  It was the latter that NASCAR will presumably go back to take another look at before the Cup Series playoffs resume at Talladega next weekend.
The yellow flag had just come out because a tire went down on Martin Truex Jr.'s car. Byron ran up on the back of Hamlin's car, sending him spinning through the infield grass. However, the car emerged undamaged. With the yellow still out, Hamlin began harassing Byron, bumping the rear of his car.
Hamlin expressed disbelief over the radio regarding Byron's action, saying it merited sending him to the back of the field. For their part, NASCAR officials said afterward they missed the incident while focused on Truex.
Hamlin promised over the radio he'd apply his own justice later in the race, but that never happened.
Byron may have had a legitimate beef about Hamlin running him up the track and into the wall earlier, but that happened under the green. Brushing another car under the caution is a whole different matter, and Byron did himself no favors by conceding immediately after the race, "I went to go show my displeasure."
We likely haven't heard the last of this.
Like Sportscasting on Facebook. Follow us on Twitter @sportscasting19 and subscribe to our YouTube channel.
Got a question or observation about racing? Sportscasting's John Moriello does a mailbag column each Friday. Write to him at [email protected].