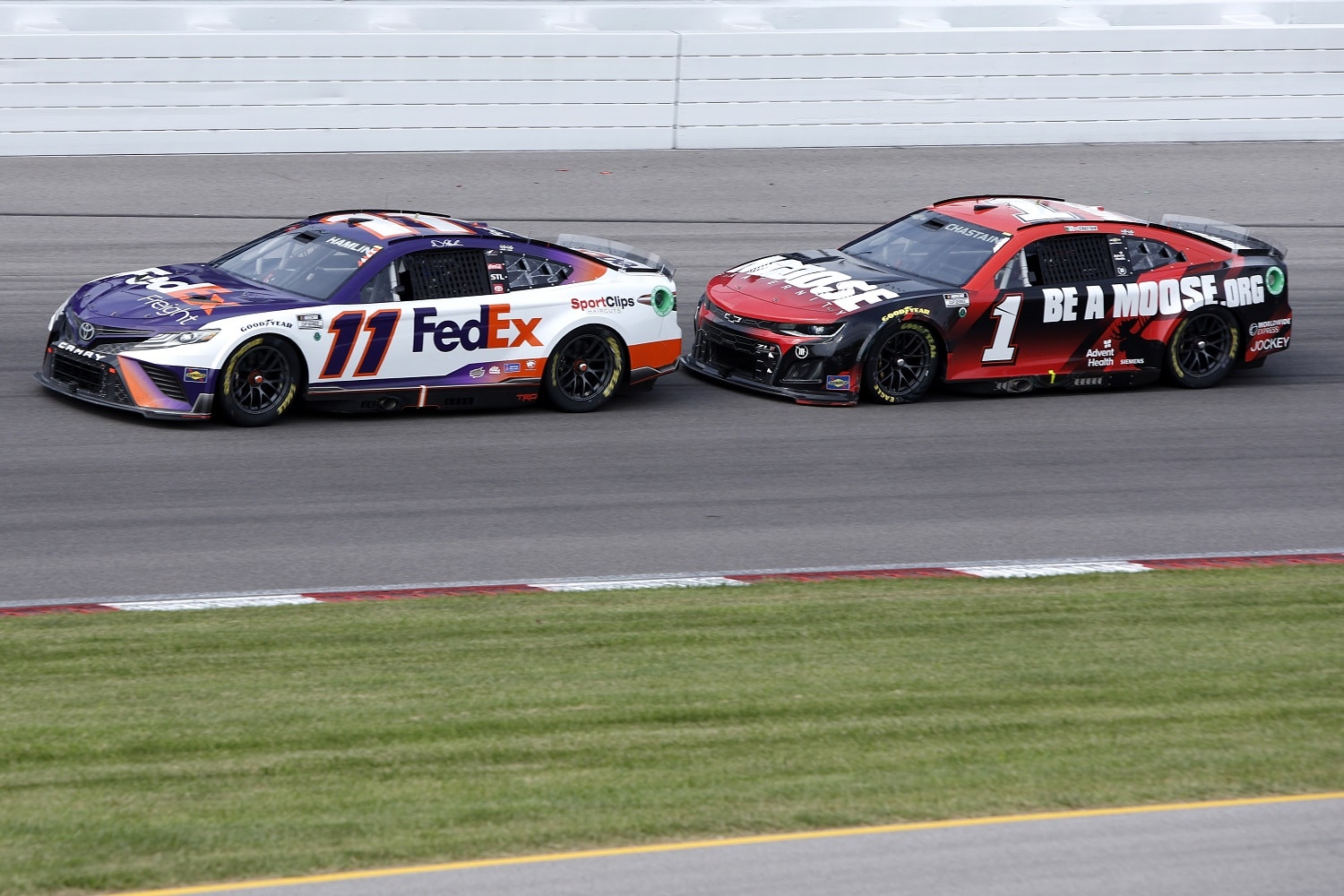 NASCAR Feuds to Keep In Mind as the Cup Series Playoffs Begin
Ross Chastain is in the middle of several unresolved NASCAR feuds headed to Darlington, but he isn't alone.
Sixteen playoff drivers have too much happening to worry about settling old scores. So, that leaves more than 20 others who don't have to give a rat's tush about maintaining decorum and would be more than happy to renew NASCAR feuds in payback for past behavior.
Right?
Wrong. Realistically every driver in the NASCAR Cup Series, whether he's in the playoffs or not, may want to tidy up loose ends from past incidents before a three-month break. Hell, you only need to recall last season at the Roval, where Kevin Harvick focused on Chase Elliott instead of his job.
With that in mind, here are NASCAR feuds to remember as the 10-week playoff series kicks off:
Chase Elliott vs. Kyle Larson is a non-starter in the NASCAR feuds universe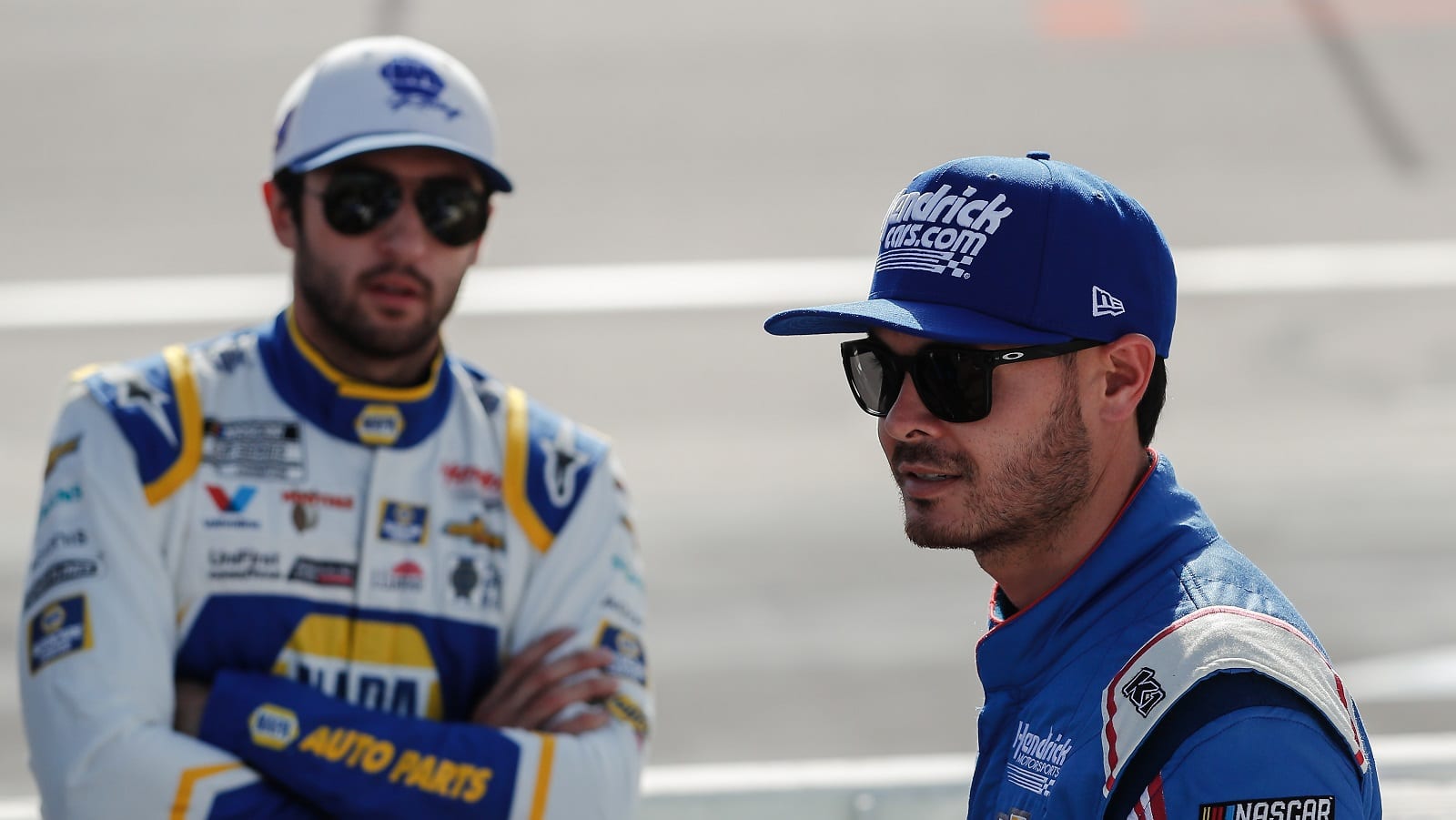 As much joy as it would bring to those who dislike Hendrick Motorsports, and especially 2020 NASCAR Cup Series champion Chase Elliott, this is one feud that won't play out between now and Phoenix.
Oh, Elliott and Kyle Larson may have issues that turn the white-flag lap of the Championship 4 into the greatest 22 seconds of the NASCAR century, but the HMS teammates are undoubtedly under strict orders to behave. Still, that doesn't change the fact that the final restart at Watkins Glen reminded everyone that Larson pulled a bush-league move at Fontana when he walled the No. 9 Chevy.
Simply put, this is a fight that isn't going to happen. If Larson gets into it with any playoff driver, it's likely to be Christopher Bell. Their bruised feelings go back to last year's Watkins Glen race.
William Byron and Joey Logano return to Darlington
If any animosity between playoff drivers is going to show up right out of the box, William Byron vs. Joey Logano would be the candidate.
Logano flat-out shoved Byron out of the way late in the regular-season race at Darlington and went on to the victory. Fairness dictates noting Byron's tires were more worn out than Will Smith's welcome at the Oscars. However, that doesn't mean Logano needed to decide the shortest distance between two points was a straight line through the back of the No. 24 Chevy.
Logano could have made a clean pass in the final two laps instead of sentencing Byron to 13th place. Byron, normally too mild-mannered for his own good, fired F-bombs in Logano's direction afterward, putting their relationship on the NASCAR feuds radar.
Byron has scored one top-10 finish in 14 races since. One must wonder whether pent-up anger will get the better of him if another disappointing day tempts him to do the unthinkable should he cross paths with the No. 22 Ford late in the opening playoff race.
Brad Keselowski vs. Austin Dillon is an oldie among NASCAR feuds
This one has gotten a whole lot more fun to think about in the past 72 hours. Brad Keselowski and Austin Dillon are candidates to go after each other on any day ending with "Y," but Dillon suddenly has more at stake than the driver of the No. 6 Ford by virtue of winning his way into the playoffs at Daytona.
They most recently tangled at New Hampshire as the No. 3 Chevy came up the track under a caution to side-swipe Keselowski, who escalated the shoving match. However, their hostility dates to Michigan in 2021.
Not unlike last weekend at Daytona, Dillon was in need of a win last season with time running out on the regular season, and he brought a strong car to Michigan International Speedway. As the pair crossed the line nearly side-by-side to pick up some Stage 2 points but with Keselowski to the outside, Dillon came up the track believing he had cleared Keselowski. The No. 2 Ford absorbed relatively minor damage and went on to ninth place, but Dillon destroyed his own car on the outside wall in the penultimate regular-season race of the year.
Dillon is probably a short-timer in the 2022 playoffs anyway, but don't underestimate Keselowski's willingness to send him out on a sour note.
Ross Chastain vs. everyone not named Ross Chastain
The Sportscasting.com editors told me to keep this article under 10,000 words, which requires overlooking 12 or 15 of the NASCAR feuds enveloping Ross Chastain, the driver of the Trackhouse Racing No. 1 Chevy.
Chastain has made big progress in 2022 with his first two Cup Series victories, but he has made so many enemies along the way. Literally anyone aside from teammate Daniel Suarez is a candidate to do the honors. But should he find himself out of the running to transfer into an ensuing playoff round, then Denny Hamlin becomes the betting favorite to go after Chastain.
They've had dust-ups throughout the season, including at Gateway, Atlanta, and Pocono. Hamlin has continued to accuse Chastain of not respecting other drivers. Chastain frequently comes off as smug in interviews, and his "I've got to get better" faux apologies sound insincere.
One scenario that's been rattling around my mind is Chastain, Hamlin, Chase Elliott, and Kyle Larson forming the Championship 4 field at Phoenix. In that case, the aforementioned Elliott-Larson scenario on the final lap takes a back seat to the other possibilities.
Chastain launching Kyle Busch into Elliott at the All-Star Race seems like a distant memory now. A month after that, though, Chastain spun Elliott out at Gateway, and Elliott delivered a less-consequential tap later on.
Larson and Chastain tangled somewhat mildly at Sonoma. But when Larson's spotter suggested cooperating with Chastain seven races later to challenge the leaders, Larson practically laughed out loud. So, there's something going on there.
Regardless, Chastain is advised to channel his inner Linda Blair and keep his head on a swivel.
Like Sportscasting on Facebook. Follow us on Twitter @sportscasting19 and subscribe to our YouTube channel.
Got a question or observation about racing? Sportscasting's John Moriello does a mailbag column each Friday. Write to him at [email protected].