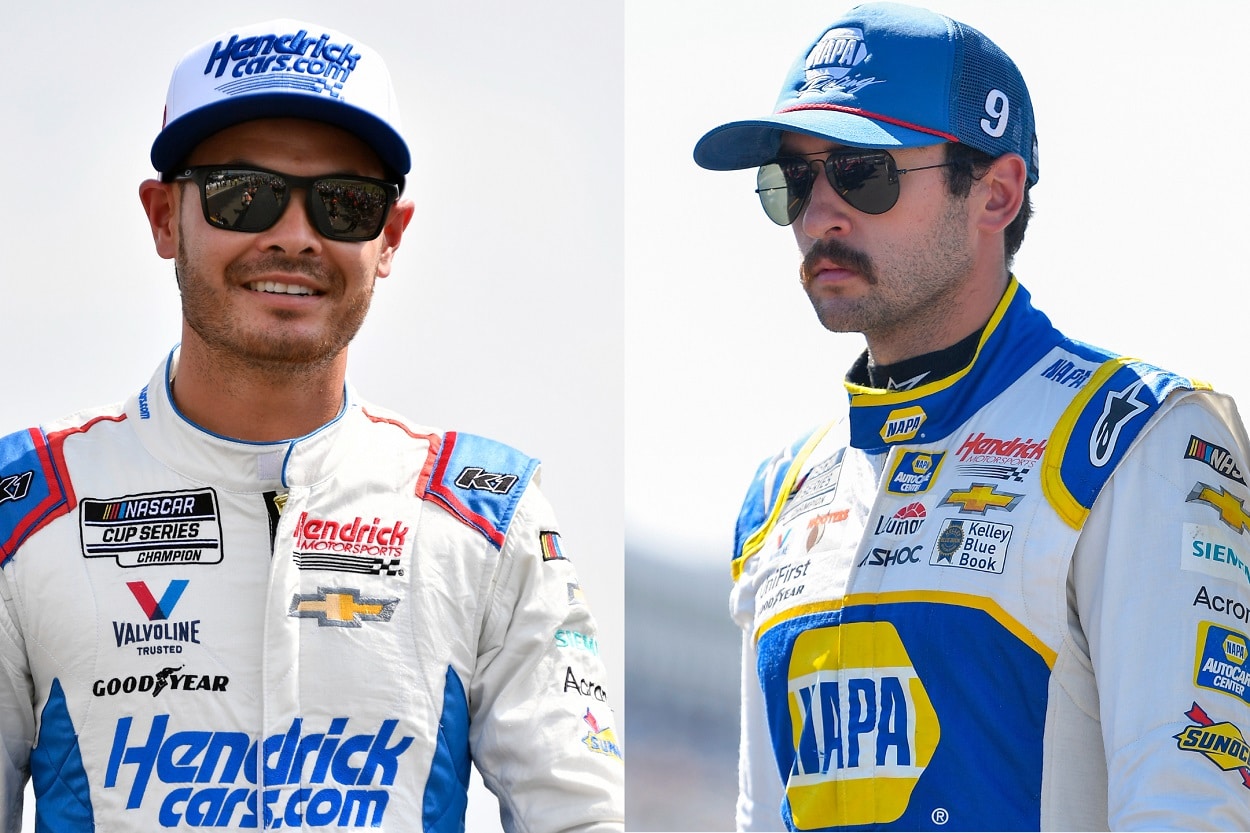 Kyle Larson-Chase Elliott Bad Blood Adds a New Element of Intrigue to the NASCAR Playoffs
The Kyle Larson-Chase Elliott spat could liven up the NASCAR Cup Series Playoffs.
Hendrick Motorsports teammates Kyle Larson and Chase Elliott added another layer to their complex relationship Sunday at Watkins Glen International, and it could set up one of the more exciting championship battles in recent memory.
Elliott and Larson lined up side-by-side on the front row for what would be the final restart of the day at the road course in upstate New York with five laps left in the event. As the leader, Elliott chose the outside lane for the restart, while Larson filled in on the inside lane.
They led the field into Turn 1 when Larson locked up his tires, slid across both lanes in the turn, and effectively pushed Elliott from the racing surface. Larson managed to keep the lead he had stolen from his teammate en route to his second win of the season and the second that came at the expense of NASCAR's four-time defending most popular driver.
Kyle Larson and Chase Elliott had a run-in earlier this season
Larson also won at Auto Club Speedway in the season's second race. He led 28 of the 200 laps in that race but walled Elliott on the frontstretch with 21 laps to go when Elliott had a run on the outside with a chance to take the lead. Elliott spun out shortly thereafter because of damage from the incident and finished 26th after he had climbed back from being a lap down earlier in the race.
"I had no clue that he was even coming," Larson said in his post-race press conference at Fontana. "I hate that I ended his day after they worked so hard to get back on the lead lap and back into contention for the win, but just an honest mistake."
Larson said the Watkins Glen tussle was not so much of a mistake.
"It's just part of racing at road courses, especially this year, it seems like," he said in his celebratory TV interview on the frontstretch. "Again, not proud of it, but we did what we had to do."
Elliott, meanwhile, chose his words exceptionally carefully in his post-race interviews. He repeatedly congratulated Larson and the No. 5 team on their win and refused the many invitations to take shots at his teammate. However, his body language suggested he was plenty upset.
Were they not teammates, this would likely be a situation similar to what Elliott endured with Kevin Harvick a year ago. Elliott and Harvick made contact late in the night race at Bristol Motor Speedway, which caused Elliott to have a flat tire. He then returned to the track and intentionally ran in front of Harvick to allow Larson, ironically, to drive around Harvick and grab the win.
Harvick then punted Elliott in retaliation three weeks later at the Charlotte Motor Speedway Roval, which was the end of their feud.
Being teammates muddies the Larson-Elliott feud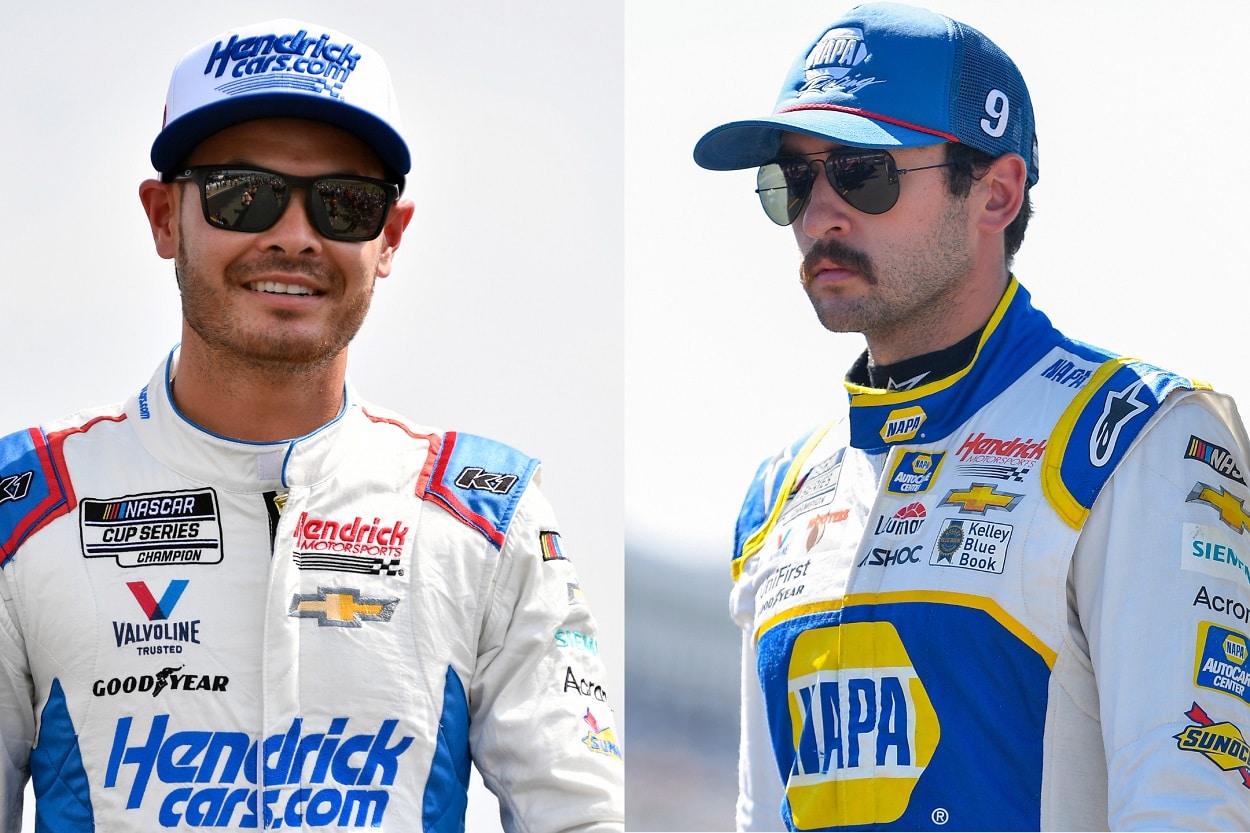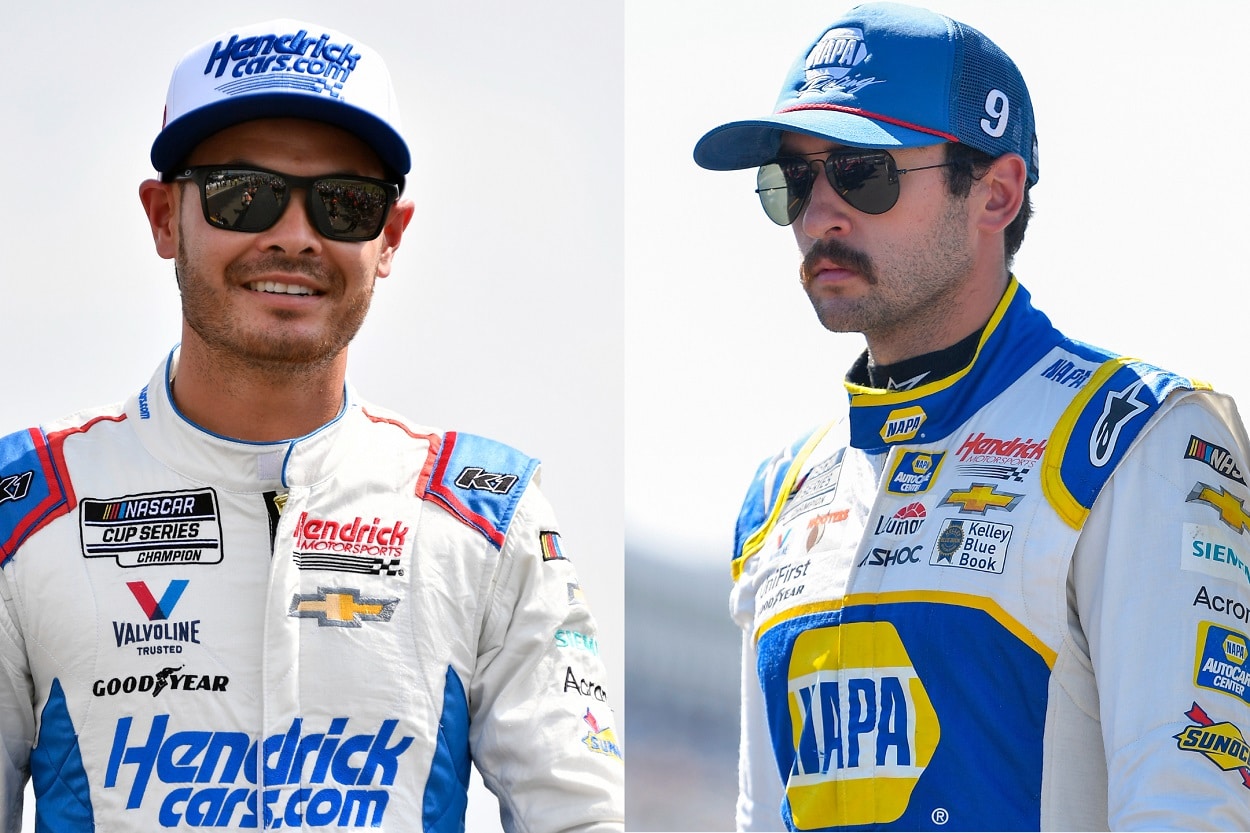 Things are a little more complicated this time, given Elliott and Larson are teammates. Team owner Rick Hendrick likely wouldn't stand for Elliott to go out and blatantly wreck Larson and potentially end his chance at the 2022 Cup Series championship.
That means the best Elliott might be able to do in terms of retaliation is allow this simmering feud to last through the rest of the season. He will likely race Larson harder than most drivers would with a teammate, and perhaps he could similarly muscle Larson out of the way on the final lap for a victory.
In addition, Elliott and Larson would currently be the top two seeds in the NASCAR Playoffs and favorites to reach the Championship 4 for the season's final race at Phoenix Raceway.
Sure, there is a lot of racing yet to take place between now and the title-deciding race. Still, a reasonably likely scenario exists that Elliott and Larson could be the two drivers battling for the championship late in the race at Phoenix.
That would be way more interesting than the typical teammate title bouts that are tame, at best. Both drivers in those situations typically race hard but are extra careful not to disturb the other's race.
Perhaps this could be similar to 2018 when Martin Truex Jr. vowed to prevent Joey Logano from winning the championship, except Elliott would actually make contact with Larson given a chance, while Truex let Logano pass by late at Homestead-Miami Speedway without incident. Maybe Elliott could take some cues from how Daniel Hemric ripped the Xfinity Series title from Austin Cindric a year ago.
A championship battle among HMS teammates would likely be a letdown any other year, especially after the parity of this regular season. But the bad blood brewing between Elliott and Larson might just make that the most compelling conclusion to this year's championship story.
Stats courtesy of Racing Reference
Like Sportscasting on Facebook. Follow us on Twitter @sportscasting19 and subscribe to our YouTube channel.