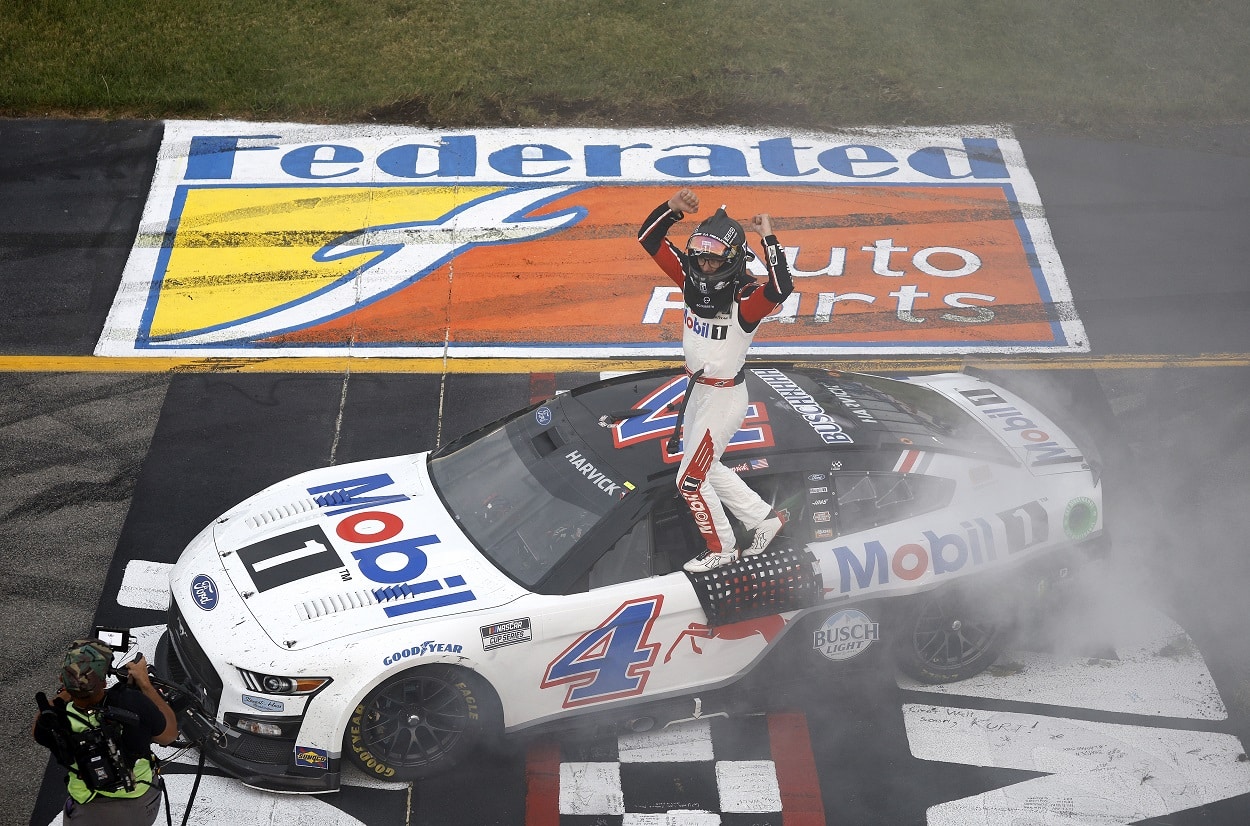 Kevin Harvick's Resurgence Doesn't Make Much Sense Given the Overall State of Stewart-Haas Racing
Kevin Harvick's resurgence is a little strange, given how the other Stewart-Haas Racing drivers have performed recently.
Kevin Harvick is back in championship contention, even though the rest of the Stewart-Haas Racing operation appears nowhere close.
Harvick not only pulled his season from the ashes with back-to-back wins the last two weeks at Michigan International Speedway and Richmond Raceway, but he did so while the other three SHR cars flounder.
Aric Almirola finished eighth Sunday at Richmond, but no SHR driver has otherwise finished better than 20th in the two races Harvick has won. Almirola was 34th at Michigan after an early race crash. Chase Briscoe ran 20th at Michigan and 23rd at Richmond, while Cole Custer's dreadful season continued with 31st- and 26th-place finishes, respectively.
Stewart-Haas Racing has struggled for the better part of two years
Those recent results continue a downturn SHR has experienced since Harvick won a series-high nine races in 2020 and narrowly missed the Championship 4.
All four SHR cars qualified for the NASCAR Cup Series Playoffs that season, but everything since has been a struggle. Harvick reached the playoffs on points in 2021, and Almirola won at New Hampshire late in the regular season to salvage what had been a brutal season up to that point. Briscoe and Custer both finished beyond 20th in points.
This year Almirola and Custer will need miracle wins at either Watkins Glen International or Daytona International Speedway to reach the playoffs with two races left in the regular season. Harvick was in a similar position until he pulled off the improbable with his victory at Michigan.
The performance dropoff at SHR is somewhat confusing since it began a year before NASCAR introduced the Next Gen car model for competition this season. Sure, the organization lost veteran winner Clint Bowyer to retirement and brought on Briscoe as a rookie, but Custer, Almirola, and Harvick were all more competitive before the 2021 campaign.
The only four-car organization that runs Fords in the Cup Series had at least three cars reach the playoffs from 2018-20. Still, Almirola's New Hampshire win and Briscoe's win in the spring race this season at Phoenix Raceway are the only trips an SHR car had made to Victory Lane since the start of the 2021 season before Harvick broke through at Michigan.
Kevin Harvick's career stats compare to all-time greats
Granted, Harvick is a future Hall of Famer and likely a first-ballot inductee at that. Maybe he is one of a select few drivers who can elevate their team's performance beyond what anybody else could accomplish with the same equipment.
His career stats are strong evidence for that point. He is now tied with Kyle Busch for ninth on the all-time Cup Series wins list with 60 career victories. Harvick has won at least one race in 18 of his 22 seasons, including 12 of his last 13.
He has also finished third or better in the final points standings a remarkable seven times in the last 13 seasons since 2010, including his 2014 championship.
Harvick is unlikely to have much help from his teammates in the playoffs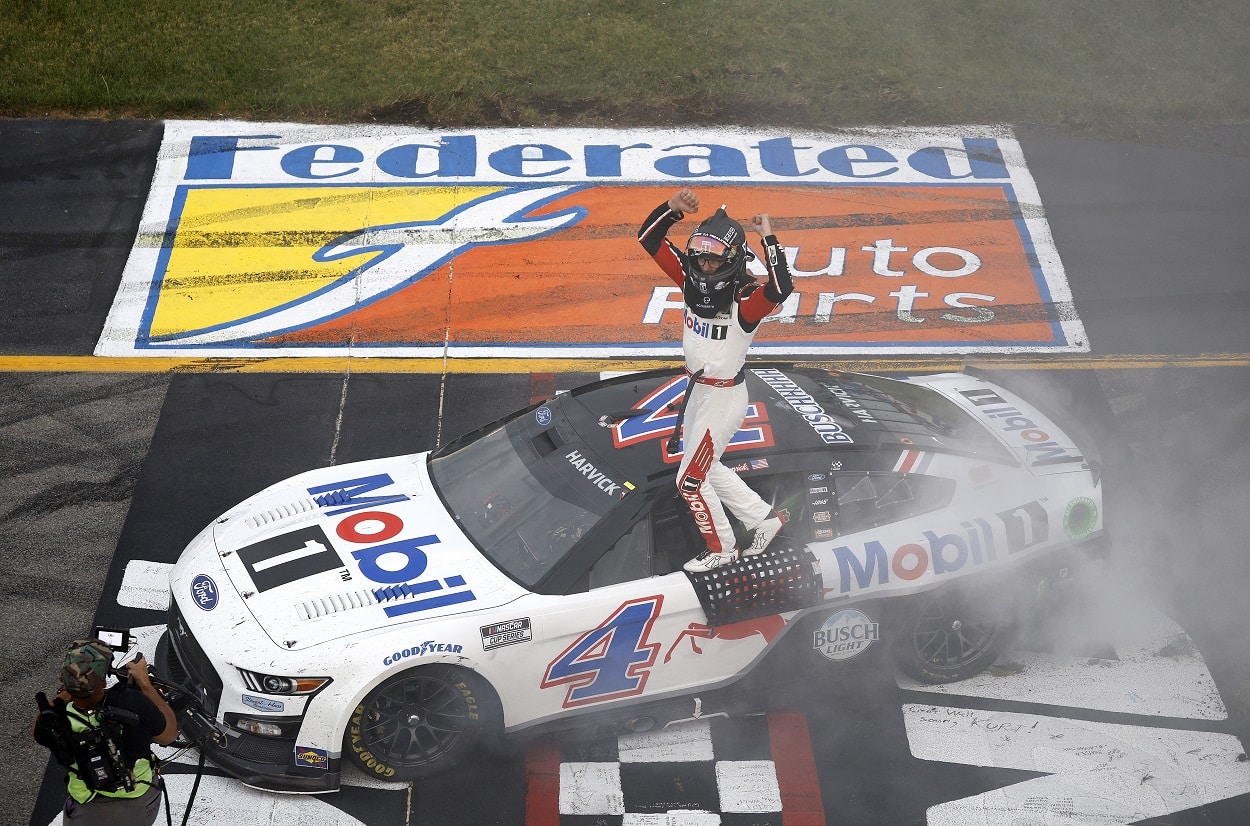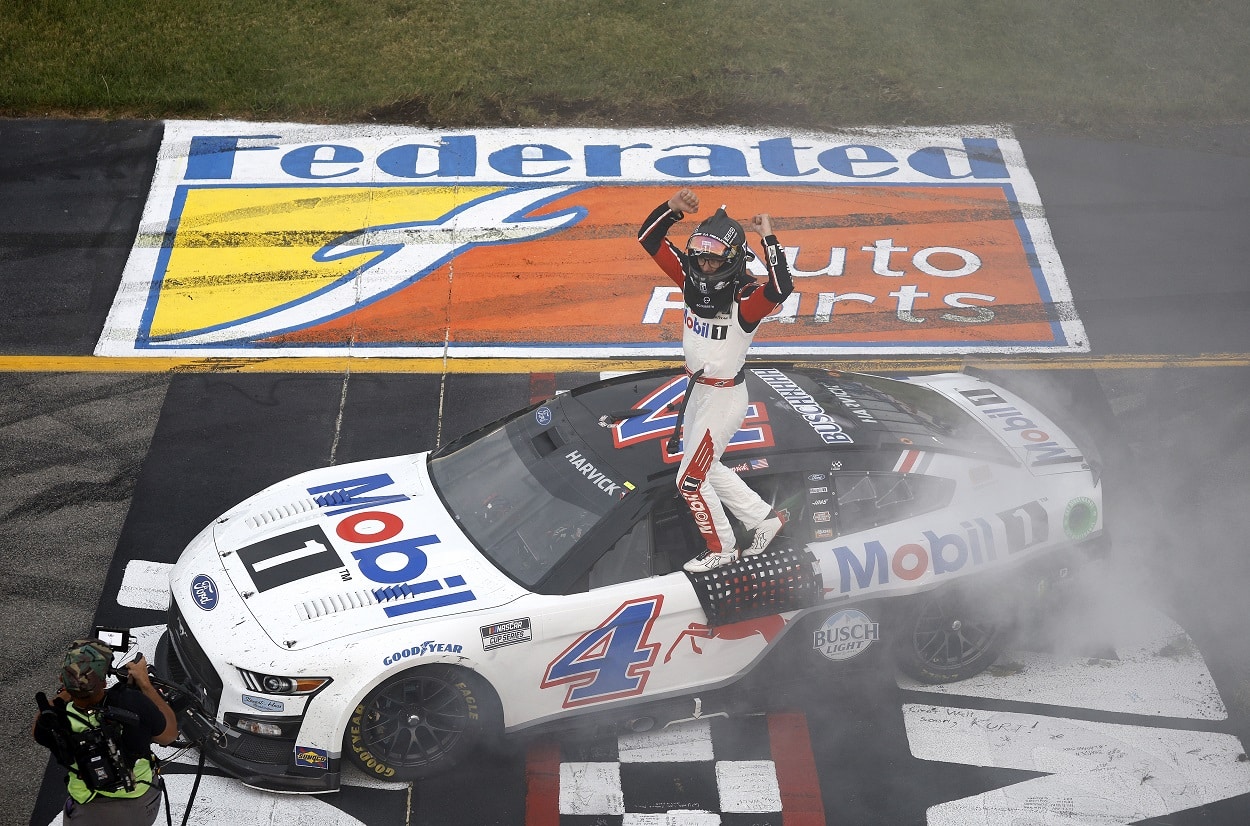 It is still uncommon for one driver to rise above the rest at a large Cup Series operation. For example, Chase Elliott was the only Hendrick Motorsports driver to populate the win column in 2018 with three victories, but the other three HMS drivers had a combined 26 top-10s that season and three of the four made the playoffs.
There are still 12 races left this season, but the three SHR drivers outside Harvick have compiled 13 top-10 finishes among them. Also, Almirola and Custer have combined to lead only nine laps this year.
Harvick and the No. 4 team have been impressive the last two weeks as the first team to win back-to-back races in the inaugural season of the Next Gen car and the first since Kyle Larson won three in a row during the 2021 playoffs on his way to his eventual first career title.
The difference is that Larson was the championship favorite for much of the season, as he dominated the regular season and playoffs a year ago. Harvick now has as good of a chance as any to reach the Championship 4 with the 10 playoff points he has accumulated the last two weeks.
He would begin the playoffs seeded eighth if the standings remain static through the final two races of the regular season with teammate Briscoe in 10th, but Briscoe has failed to post a top-10 result in 10 consecutive races.
Harvick will have a chance to win his second championship this year, but he will likely have to continue to strive for it without the benefit of teammates around him at the front of the field.
Stats courtesy of Racing Reference
Like Sportscasting on Facebook. Follow us on Twitter @sportscasting19 and subscribe to our YouTube channel.