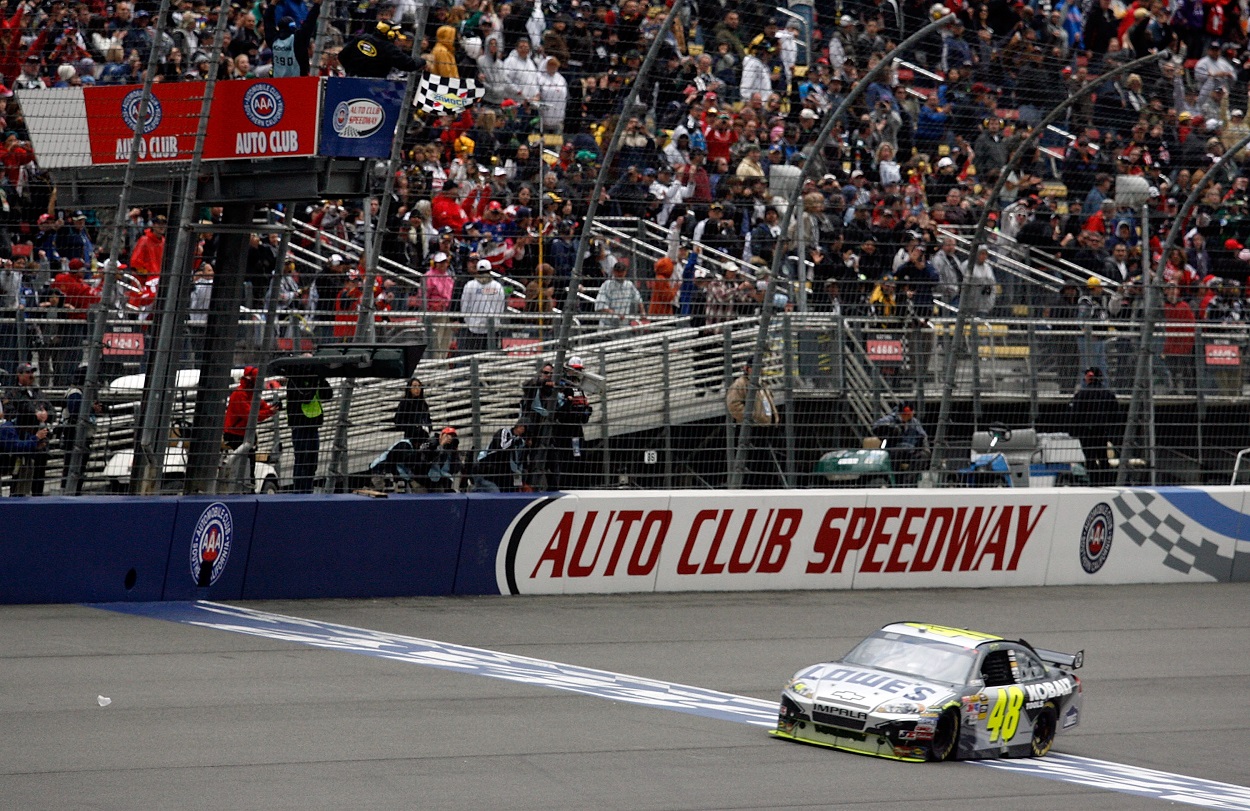 Who Has the Most NASCAR Cup Series Wins at Auto Club Speedway?
A brief look at the NASCAR Cup Series drivers with the most victories at Auto Club Speedway.
Originally named California Speedway, the two-mile track now known as Auto Club Speedway holds a special place in NASCAR history.
Just a few months after the construction of the D-shaped oval was first announced by Roger Penske in the spring of 1994, then-NASCAR president Bill France Jr. announced that a Cup Series race would take place on the asphalt course upon completion, marking the first time NASCAR had committed to a race on a track that wasn't yet built.
Construction of the track, which is located in Fontana, California, about 50 miles east of Los Angeles, was completed in late 1996, and Penske driver Paul Tracy became the first to test the superspeedway in January 1997.
Just over five months later, the track hosted its first NASCAR Cup Series race, the California 500, which Jeff Gordon won. "The Rainbow Warrior" actually won two of the first three Cup Series races at the track and three of the first eight. But those were his only three wins at Auto Club Speedway, half the number of the driver with the most.
Jimmie Johnson owns the most NASCAR Cup Series wins at Auto Club Speedway with six
Including Gordon's inaugural victory at Auto Club Speedway in June 1997, there have been 33 NASCAR Cup Series races run on the two-mile track. After holding just one race on the track for the first six years, the superspeedway hosted a pair of 500-mile Cup Series races from 2003-2010 before reverting to a single race in 2011. The race is now also 400 miles instead of 500. No race was run in 2021 due to COVID-19 restrictions in California.
Of the 33 Cup Series races run at Auto Club Speedway, 18 different drivers have taken at least one checkered flag. Only six drivers have won two or more races on the asphalt course, four of whom won three or more times, including those three of Gordon's 93 career Cup Series wins. Kyle Busch has won there five times, and Jimmie Johnson holds the track record with six victories on the oval.
His first came in 2002 with a .62-second victory over Kurt Busch, and his last came in 2016 with a .772-second overtime win over Kevin Harvick.
Every NASCAR Cup Series winner at Auto Club Speedway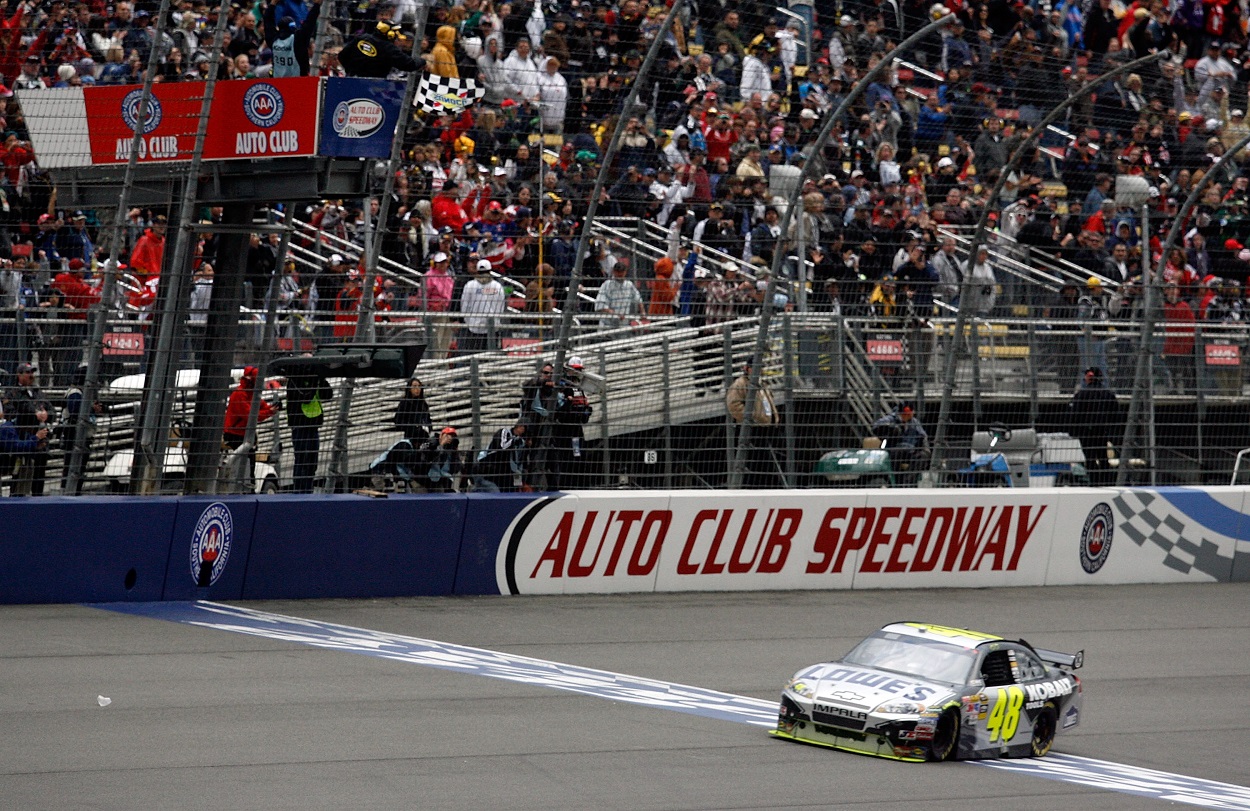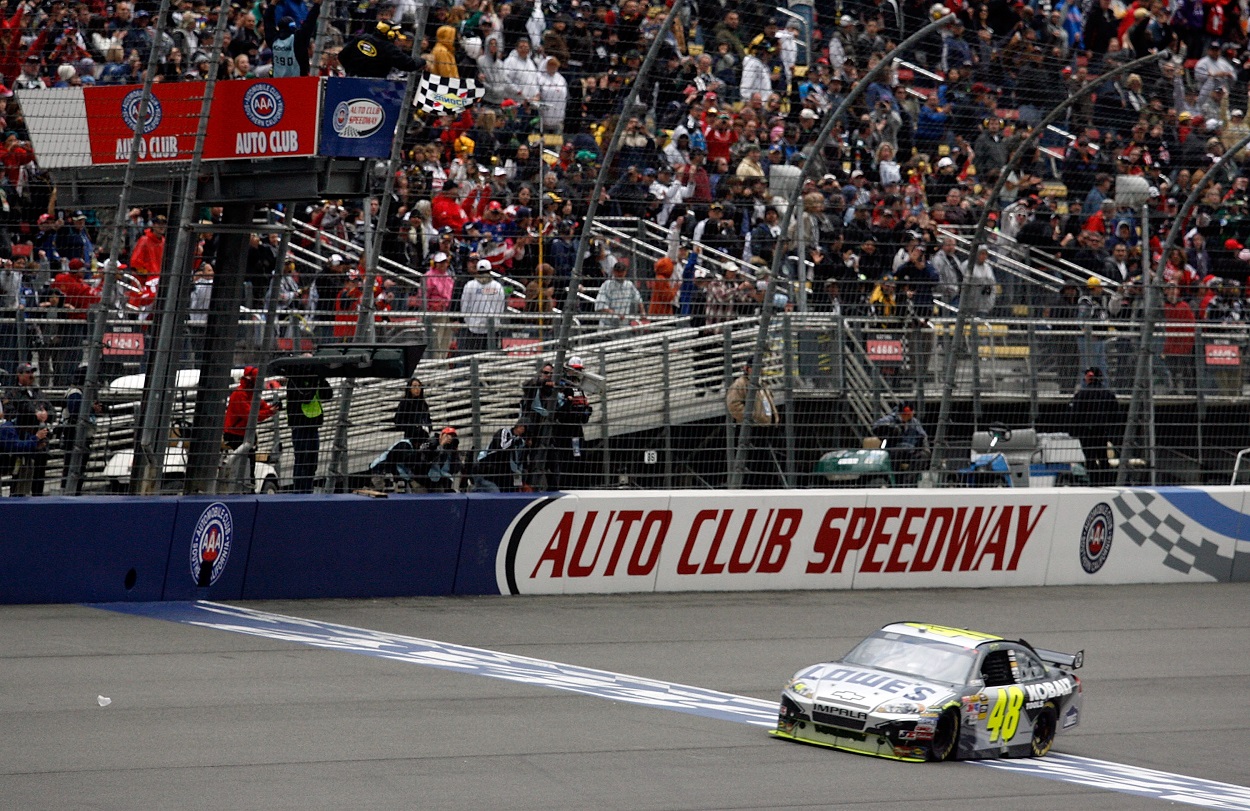 Here's a quick look at every NASCAR Cup Series winner at Auto Club Speedway.
Jimmie Johnson: 6
Kyle Busch: 5
Jeff Gordon: 3
Matt Kenseth: 3
Tony Stewart: 2
Kyle Larson: 2
Kurt Busch: 1
Kevin Harvick: 1
Mark Martin: 1
Kasey Kahne: 1
Greg Biffle: 1
Martin Truex Jr.: 1
Carl Edwards: 1
Elliott Sadler: 1
Jeremy Mayfield: 1
Brad Keselowski: 1
Rusty Wallace: 1
Alex Bowman: 1