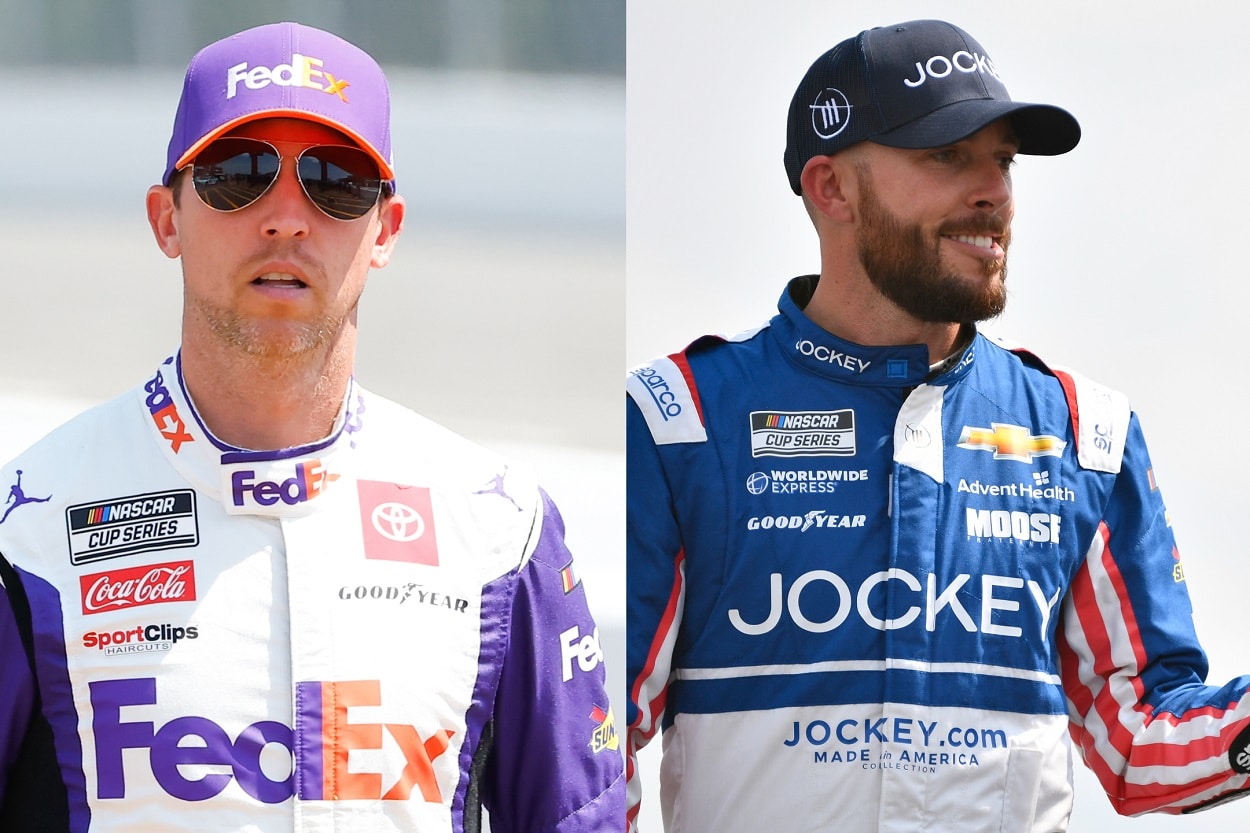 Denny Hamlin's Vow to Ruin Ross Chastain's Season Kicked in at Pocono and Should Continue for the Rest of the Cup Series Season
Denny Hamlin finally had a chance to race Ross Chastain hard at Pocono Raceway and did just that.
The premier feud of the 2022 NASCAR Cup Series season added another chapter Sunday at Pocono Raceway, and it shouldn't have to end there.
Denny Hamlin and Ross Chastain lined up side by side on the front row for a restart with 18 laps remaining in Sunday's event. Hamlin started inside Chastain, and the two rivals maintained those positions through the first turn.
Hamlin then squeezed Chastain up toward the wall as they exited the turn, which left Chastain with a black-and-white choice. He could either back out and try to catch Hamlin again later in the run or stay on the gas and hope there was enough room to remain alongside Hamlin.
Chastain chose the latter, smacked the outside wall, and spun in front of the rest of the field, collecting playoff-bubble driver Kevin Harvick in the process.
Denny Hamlin and Ross Chastain have had season-long issues with one another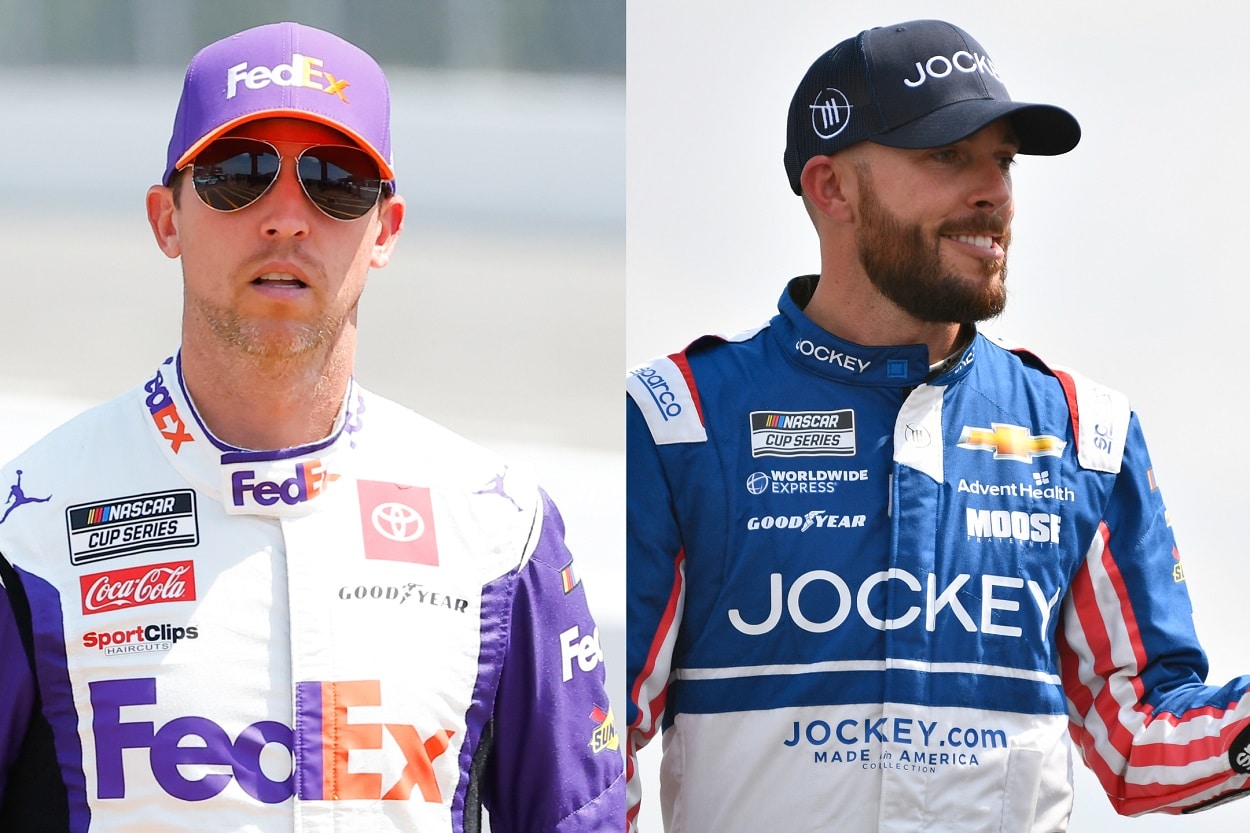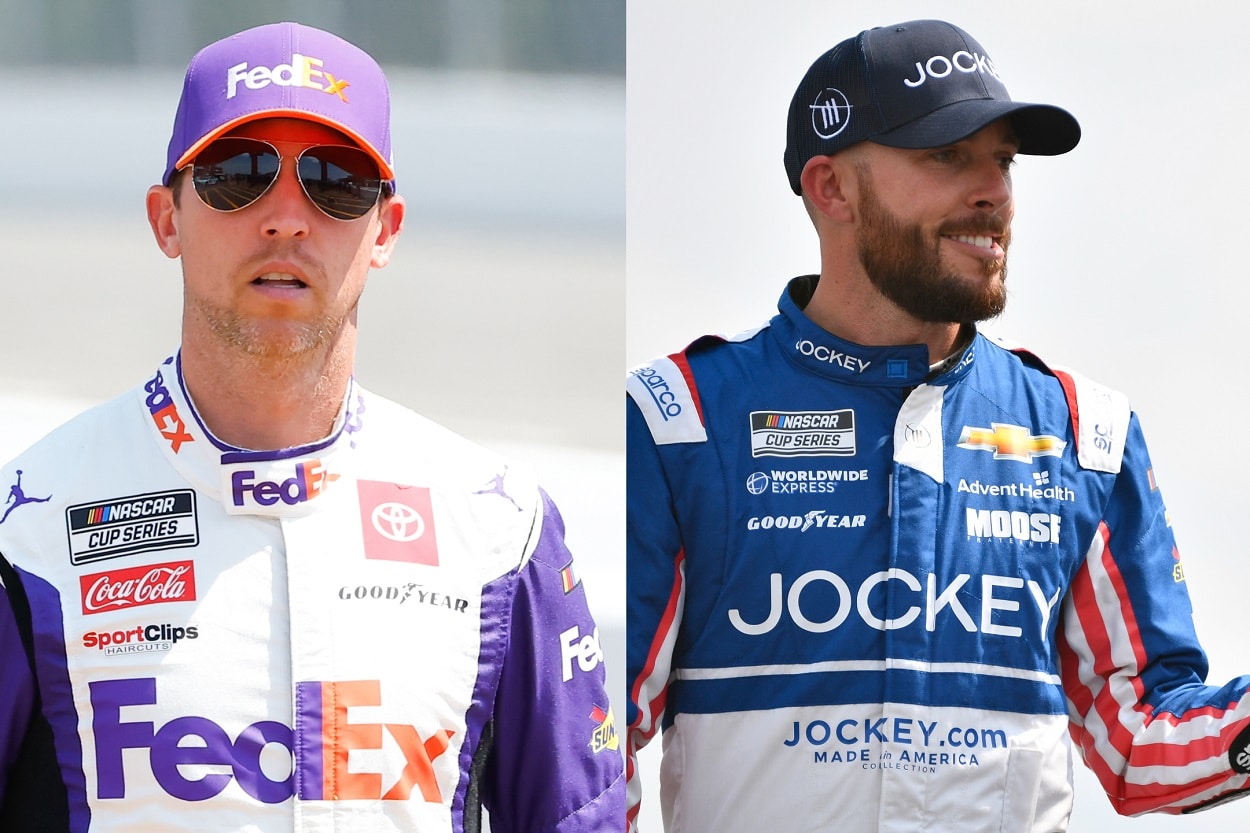 That incident was the latest in a series of problems the two drivers have had with each other this season. 
Chastain fired the first shot of the rivalry 66 laps into the June 5 race at World Wide Technology Raceway near St. Louis. After several attempts to pass Hamlin, Chastain drove into the back of the No. 11 car in Turn 1 and sent it up into the wall.
Hamlin's car sustained enough damage that he could not maintain a competitive speed. Still, whenever Chastain came around to lap him, Hamlin dodged and weaved in front of the No. 1 car, displaying his displeasure and attempting to negatively affect the rest of Chastain's race.
Chastain ended up finishing eighth, but Hamlin vowed payback after the race.
"We all have learned the hard way, and we've all had it come back around on us, and it will be no different," Hamlin said.
Chastain also got the second shot in four races later at Atlanta Motor Speedway. Hamlin was running fourth with 14 laps to go, and Chastain tapped him from behind, which spun the No. 11 car and relegated Hamlin to a 25th-place finish while Chastain finished second.
"Everyone has different tolerance levels, certainly, but you guys know I've reached my peak," Hamlin told reporters after the Atlanta race.
Hamlin finally got his first chance at revenge Sunday at Pocono, but he managed to do so in a non-blatant way that leaves him an opportunity to do more damage to Chastain's title hopes the rest of the season.
Hamlin was smart about how he raced Chastain at Pocono
Hamlin did not take a swipe at the No. 1 car or push him from behind into a corner. He merely raced Chastain as hard as he could and left Chastain with a choice that ended up in a wreck.
If Hamlin can find those types of moments through the rest of the season, he might not have to intentionally wreck Chastain at all. Sure, there will likely be more contact between the two drivers as the season progresses, but this does not have to be reminiscent of when Matt Kenseth drove through Joey Logano while laps down in 2015 at Martinsville Speedway.
It doesn't even have to compare to when Harvick put Chase Elliott in the wall last year at the Charlotte Roval after their battle in the Bristol Motor Speedway night race.
Hamlin doesn't necessarily need to make a drastic move that sends Chastain flying. He could simply follow what he did Sunday with more of the same. Any time Chastain gets close to Hamlin, the driver of the No. 11 car will likely race him harder than any driver in the series, and that's how it should be done.
This is a classic battle of a young, up-and-coming driver with a fast car for the first time in his Cup Series career against the older veteran who has spent many years racing at the front of the field.
Hamlin said after the race he would continue to race in a similar fashion until he felt he got respect back. If anything, that puts the onus on Chastain to drive more carefully around Hamlin for the rest of the year.
Yes, that might make it more difficult for Chastain to win the championship, but he put himself in this position with two wrecks of Hamlin that were more overt than what Hamlin did to him at Pocono.
This will likely continue to be the most fascinating feud of the rest of the season because Hamlin did not simply wipe out Chastain. He raced Chastain as hard as possible, which should be what we want to see from all drivers anyway.
Stats courtesy of Racing Reference
Like Sportscasting on Facebook. Follow us on Twitter @sportscasting19 and subscribe to our YouTube channel.