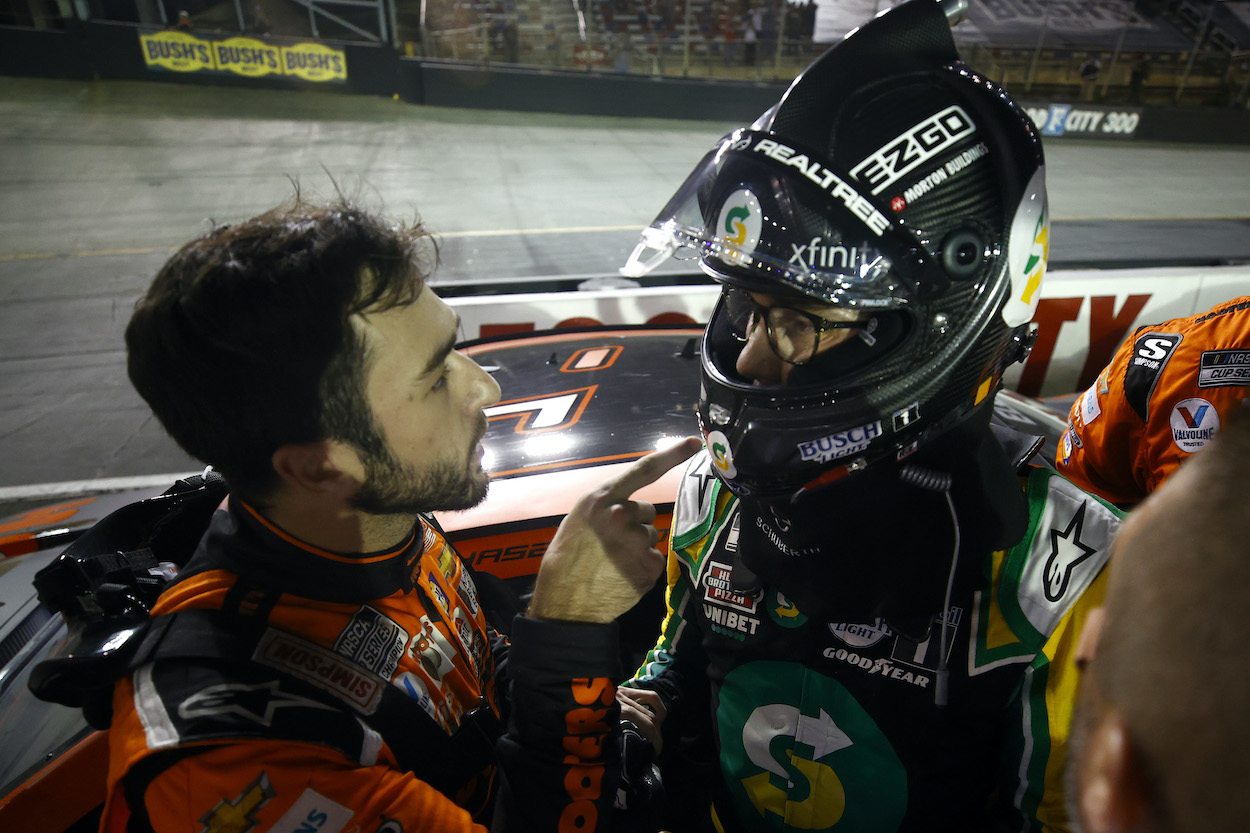 Kevin Harvick's Latest Comments Confirm Feud With Chase Elliott Isn't Over Just Yet
Kevin Harvick didn't sugarcoat his thoughts on younger drivers like Chase Elliott when the veteran driver said they don't race smart and don't care.
The months-long feud between Kevin Harvick and Chase Elliott was one of the top storylines from the 2021 NASCAR Cup Series season. It extended into the offseason, with both drivers firing their respective shots at the other. 
With the 2022 season officially underway, the 2014 champion was first to go to his holster and he didn't even wait for the season to start. During the Daytona 500 prerace show, Harvick was asked about the younger generation of drivers like Elliott. He didn't hold back. 
Kevin Harvick and Chase Elliott feud for months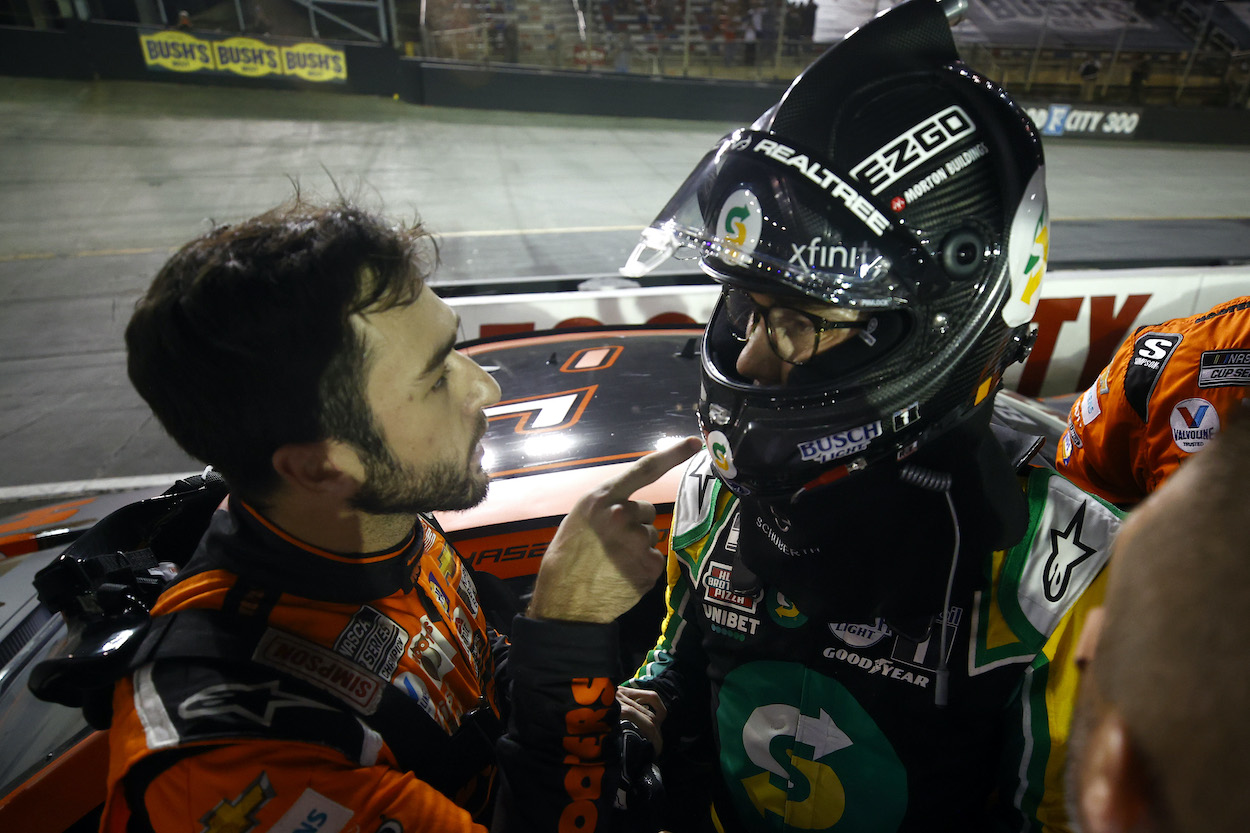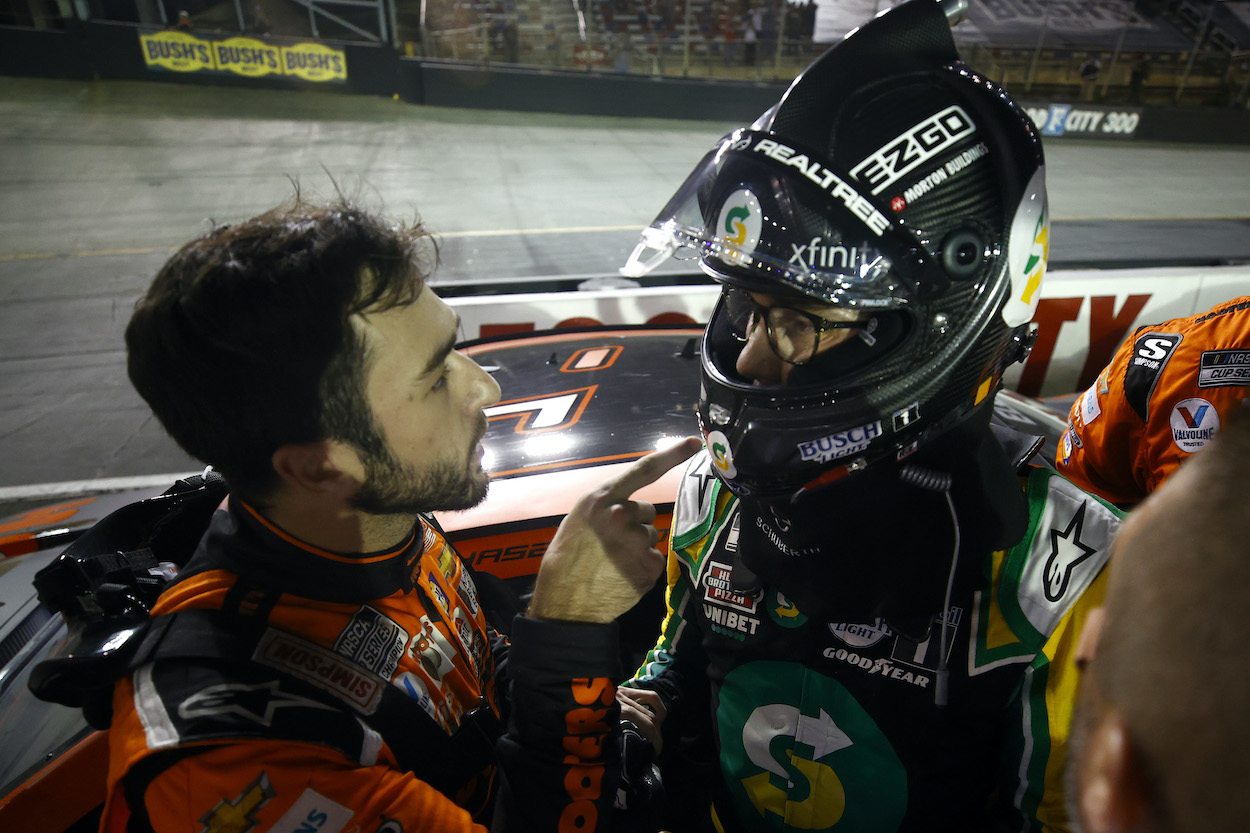 The Bristol fall night race is known for exciting short-track racing action that often ends with someone getting their feelings hurt. The 2021 version was no different. Kevin Harvick initiated contact with Chase Elliott late in the race, which cut the No. 9's tire and ended any hopes of victory. 
Minutes later, the 2020 champ responded by running into the side of Harvick before blocking him, which allowed Kyle Larson, his HMS teammate, to pass and race on to victory. 
Those aggressive moves initially produced a heated face-to-face confrontation between the drivers on pit road that carried over into a couple of tension-filled exchanges in the garage minutes later. Harvick threatened retaliation. 
He delivered on his threat several races later, dumping the No. 9 in the final stage at the Charlotte Roval. However, the HMS driver got the last laugh when his team repaired the car, got him back on the track, and he finished ahead of Harvick and advanced in the playoffs. The SHR driver crashed himself into the wall and failed to move on. Merry Offseason. 
Firing shots during offseason
After NASCAR sat down both teams and called for a cease-fire, both drivers played nice for the rest of the season on the track. However, that changed during the offseason when both drivers fired shots.
In early December, Harvick fired first when he appeared on the Dale Jr. Download and claimed that Elliott's move at Bristol cost his team hundreds of thousands of dollars. He also said they needed to have another conversation before the start of the 2022 season. 
Elliott took his shot at Harvick in a fun, holiday-celebrating kind of way in mid-December with a simple tweet from the Hendrick Motorsports account, which featured the driver giving a thumbs up and wearing one of his Merry Offseason sweatshirts.  
Harvick fires shot at Elliott on Fox before Daytona 500
All has been quiet on the feud front for two months. However, just minutes before the start of the 2022 Cup season, Harvick showed where he stood when his SHR boss Tony Stewart, moonlighting as Fox race analyst, interviewed the driver and asked his thoughts on racing between generations during the Daytona 500 prerace show.  
Harvick, never one to hold back his thoughts, didn't this time. He said the younger drivers like Elliott don't think, don't race smart, which he initially said to the younger driver in the garage after the Bristol race, and even worse, don't care. 
"I have a better perspective of that and a lot of that has probably come from Keelan," Harvick said, referring to his son. "A lot of these kids when they come through go-karts, it's hammer down. They're so focused on push-push-push, that they don't know how to think-think-think. That's been good for me to able to push myself in order to just not care because they just don't care. And I can not care, too." 
If that holds true in 2022 and Harvick takes a more care-free approach and gets more aggressive, what does that look like when he races around the No. 9 of Elliott? We'll find out soon enough. 
Like Sportscasting on Facebook. Follow us on Twitter @sportscasting19.