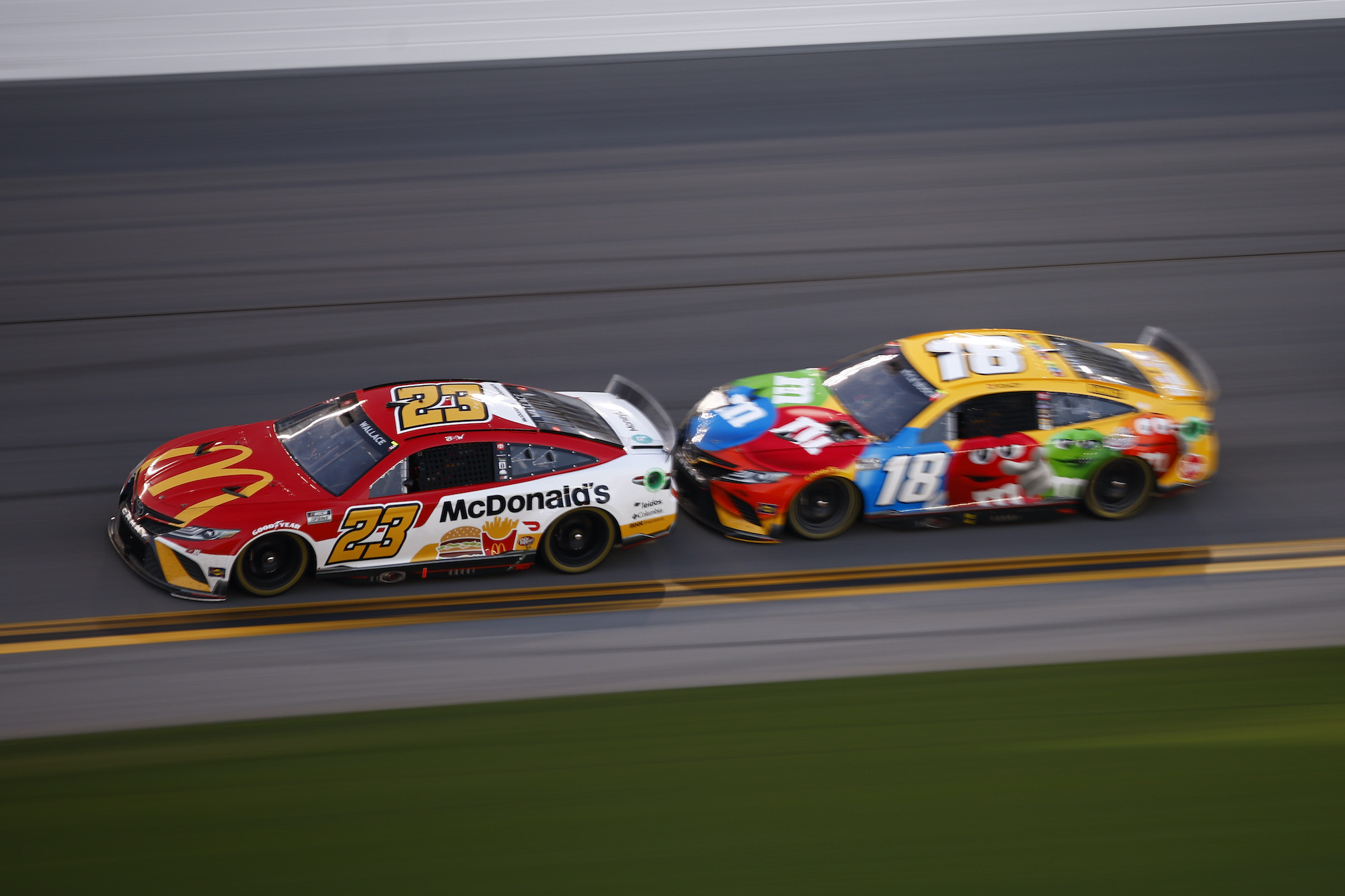 Bubba Wallace Pulled Off Impressive Late Move During Daytona 500 That No One Is Talking About and Proved Why He's 1 of the Best on Superspeedways
Bubba Wallace finished second at the 2022 Daytona 500 and proved why he's one of the best superspeedway racers with a strong late-race move.
Bubba Wallace won his first NASCAR Cup Series race at Talladega last year. It was a big moment for him personally and the sport. He had his share of detractors — for obvious reasons — and for winning a rain-shortened race.
Wallace had a chance to add a second victory to his resume on Sunday in the Daytona 500, but came up just short, ending second to Austin Cindric in a photo finish. The finish was impressive enough, but it's what happened with six laps remaining that showed why the 23XI Racing driver has undeniably become one of the best drivers on superspeedways.
Bubba Wallace has a template for racing superspeedways 
Bubba Wallace started the 2022 NASCAR Cup Series season at the Daytona 500 by following a template he has successfully employed throughout his career on superspeedways. After starting 16th, he moved around throughout the field.
Like his boss and fellow competitor, Denny Hamlin, Wallace has no problem holding up and riding toward the back of the field when he feels uneasy with the moves being made by some of the other drivers. It's a self-preservation mode of sorts.
But don't mistake that for a driver who likes to sit back in the pack, wait for others to crash, and then find his way to the front at the end of the race in a battle of attrition. Wallace also likes very much to run near the front. And with the speed in his 23XI racing car, he can.
The 2022 Daytona 500 was no different. 
Wallace pulls off impressive move by saving car late in race
While it's one thing to have speed, it's something altogether different to know how to successfully use it in navigating through the competition at speeds nearing 190 miles per hour, where a single bobble or any simple mistake can be disastrous and dangerous to numerous other drivers. 
Wallace has proven time and time again that he knows how to do it and when to do it. After finishing Stage 1 in 18th position, two spots behind where he started, the 28-year-old methodically moved his way up to the front. When Martin Truex Jr. edged out Joey Logano for the Stage 2 win, the 23XI Racing driver finished right behind. 
In the final stage, he stayed at the front and even led 12 laps. But it's what he did with six laps to go that showed why he's one of the best superspeedway drivers in the Cup Series. 
Riding third on the inside lane, behind Austin Cindric and Ryan Blaney, Wallace was focused forward when Ricky Stenhouse Jr., who was on his outside, got pushed by Brad Keselowski from behind in the corner, got loose, and slammed hard into the side of the No. 23, ripping off the right front fender and sending it into the air.
Wallace appeared to have a death grip on the wheel because, although he bobbled a little on the initial impact, and then once more, when the No. 47 hit him again, he stayed in control of the 23XI Racing car and didn't lose any positions. That single save, which would have ended the races of numerous other drivers, showed just how good of a wheelman he is at top speeds.
Impressive track record at superspeedways in career
Wallace was unaffected by the missing fender and made a late charge to win the Daytona 500 in overtime, but fell just short to the rookie Penske driver. 
Finishing runner-up in the sport's biggest race should be considered a success. Not for Wallace, who had already done that in his first Daytona 500 back in 2018 as a rookie. That was a happy moment. This time was not. 
He admitted as much after the race.
"What could have been, right?" Wallace said. "Man, it just, uh. I need to talk about some happy stuff here. Just dejected. But the thing that keeps me up is just the hard work that we put into our speedway stuff."
For those paying attention, the "speedway stuff" Wallace is referring to has translated into second-place at Daytona last summer, a win at Talladega, and now a second in the 2022 Daytona 500. Three top-twos in the last three superspeedway races.
That's a trend and don't expect it to change anytime soon.
Like Sportscasting on Facebook. Follow us on Twitter @sportscasting19.