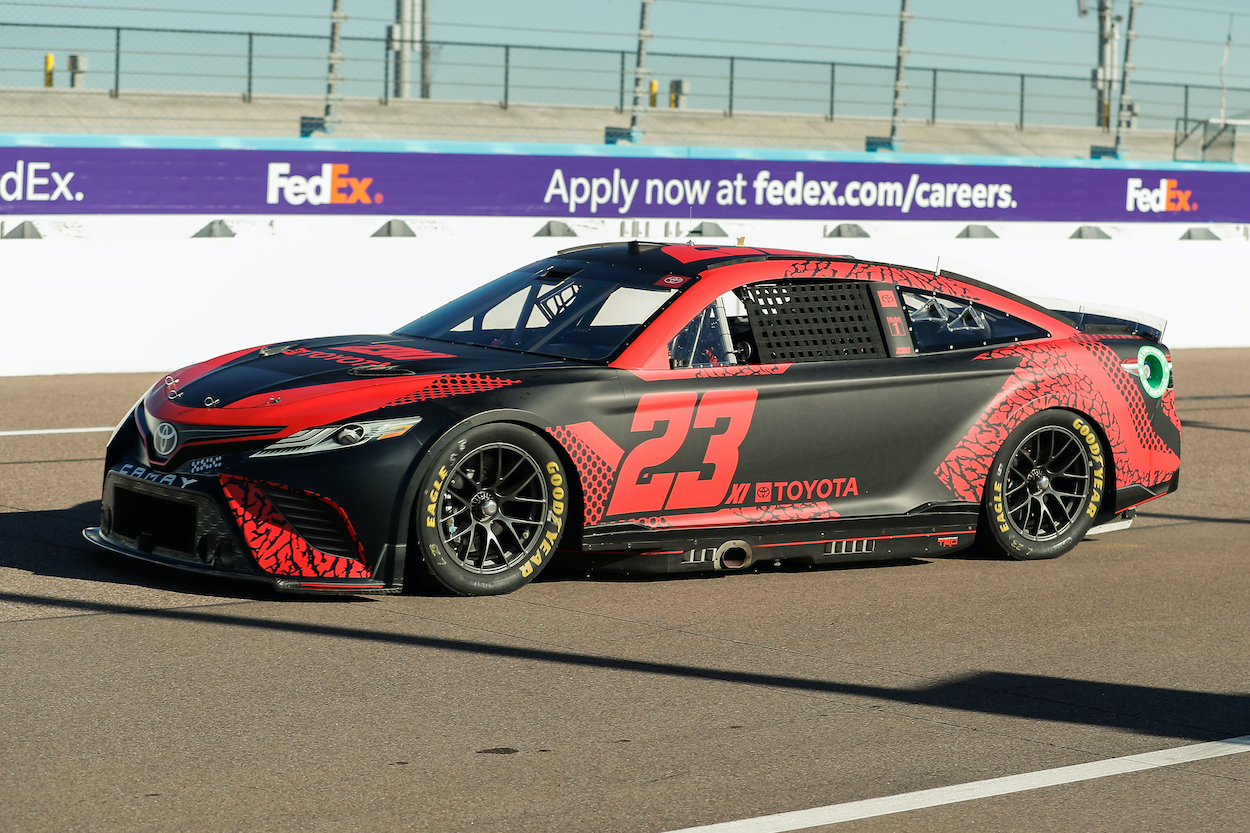 Bubba Wallace Bluntly Admits He Broke a Rule at Next Gen Testing in Phoenix, and Denny Hamlin Endorses the Risky Behavior
Bubba Wallace candidly confessed that he broke a rule during Next Gen testing at Phoenix and Denny Hamlin approved the move.
Since the close of the 2021 NASCAR Cup Series season, Bubba Wallace has been out of the spotlight while recovering from shoulder surgery. This week, the 28-year-old driver showed up in Phoenix for the final Next Gen testing session before the season-opening race at Daytona next month. Wallace made his presence known, breaking a rule, confessing to it, and then receiving an endorsement for the risky behavior from 23XI Racing boss Denny Hamlin.  
Bubba Wallace out of spotlight following surgery 
Bubba Wallace finished the 2021 season at Phoenix on a sour note, wrecking early in the race and earning his fourth DNF of the year. While many drivers were seen the following week at Charlotte for testing of the Next Gen car, Kurt Busch was the sole representative for 23XI Racing. Wallace was nowhere to be found. Instead, he was home recovering from shoulder surgery.
"Haven't been as busy this offseason," Wallace said on the Golf Channel's Beyond the Fairway podcast. "But I've got some shoulder work done. I am sore at the moment. I'm in current rehab situation. So things are definitely different but all is good. I'm on track and I'll be ready to roll when the season comes around next year." 
The winner of the second Talladega race in 2021 explained why he required the medical procedure.
"I had a torn labrum and a bone spur that needed to be taken care of, we're guessing from wear and tear because I've never had anything traumatic happen to my shoulder," he said. "So 18 years of racing I think caught up with me. It was planned from the beginning of the year so as soon as the checkered flag fell on Sunday, I was getting surgery done the following Wednesday…Just got to be kind of ginger with things that I do, all in all the most important thing is making sure I'm healed to climb back in the car for Daytona."
Wallace breaks rule at Next Gen testing, and Hamlin endorses move
Less than a month from Daytona, Bubba Wallace joined Busch and the 23XI Racing team for Next Gen testing at Phoenix. On the first day of testing, Busch made the initial laps of the day while his teammate observed. However, he didn't just watch. 
Wallace, who has taken up photography as a hobby, took photos of the action, including one interesting shot that he posted on Twitter and detailed how he broke a rule to make it happen. The photo was taken from pit road and showed Busch in the No. 23 car coming down pit road and turning toward the garage. As the case is on any track, even in testing, NASCAR is particular about individuals making their way onto the racing surface during hot laps and potentially putting themselves in harm's way.   
"May or may not have gotten a slap on the wrist for where I was to get the photo," Wallace tweeted. "No risk it, no biscuit."
"Risk it all," 23XI Racing co-owner Denny Hamlin responded.  
Hamlin knows all about taking risks
If there's any one driver who knows about taking risks, it's Hamlin. He has three Daytona 500 victories to back it up. Just a few weeks ago, the Joe Gibbs Racing driver talked about the risks he was taking during Next Gen testing at Daytona as he aggressively made his way around the track, half-expecting he might end up crashing.
"I stayed pretty aggressive. This is going to be pretty much my only practice for the 500," Hamlin told NASCAR's Alex Weaver after his session. "One where it was kind of a freebie where it was 50-50 whether we thought we were going to bring this car back in one piece or not. We just can't get that aggressive on race week with our practices. We're here. He (crew chief Chris Gabehart) just thought he'd kind of let me go and get aggressive. I was pretty happy with it all."
Hamlin's success on superspeedways like Daytona is largely a result of his aggressive style and willingness to take risks. Wallace has that same mentality and has also had some success on the larger tracks, including a runner-up finish at the 2018 Daytona 500 and his breakthrough win at Talladega last year.
Chances are whatever driver is the most aggressive and willing to take the most calculated risks late in the race at Daytona will be the victor for the first-ever race in the Next Gen car. And based on the pair's past history, no one will be surprised if it's either Hamlin or Wallace in Victory Lane.
Like Sportscasting on Facebook. Follow us on Twitter @sportscasting19.