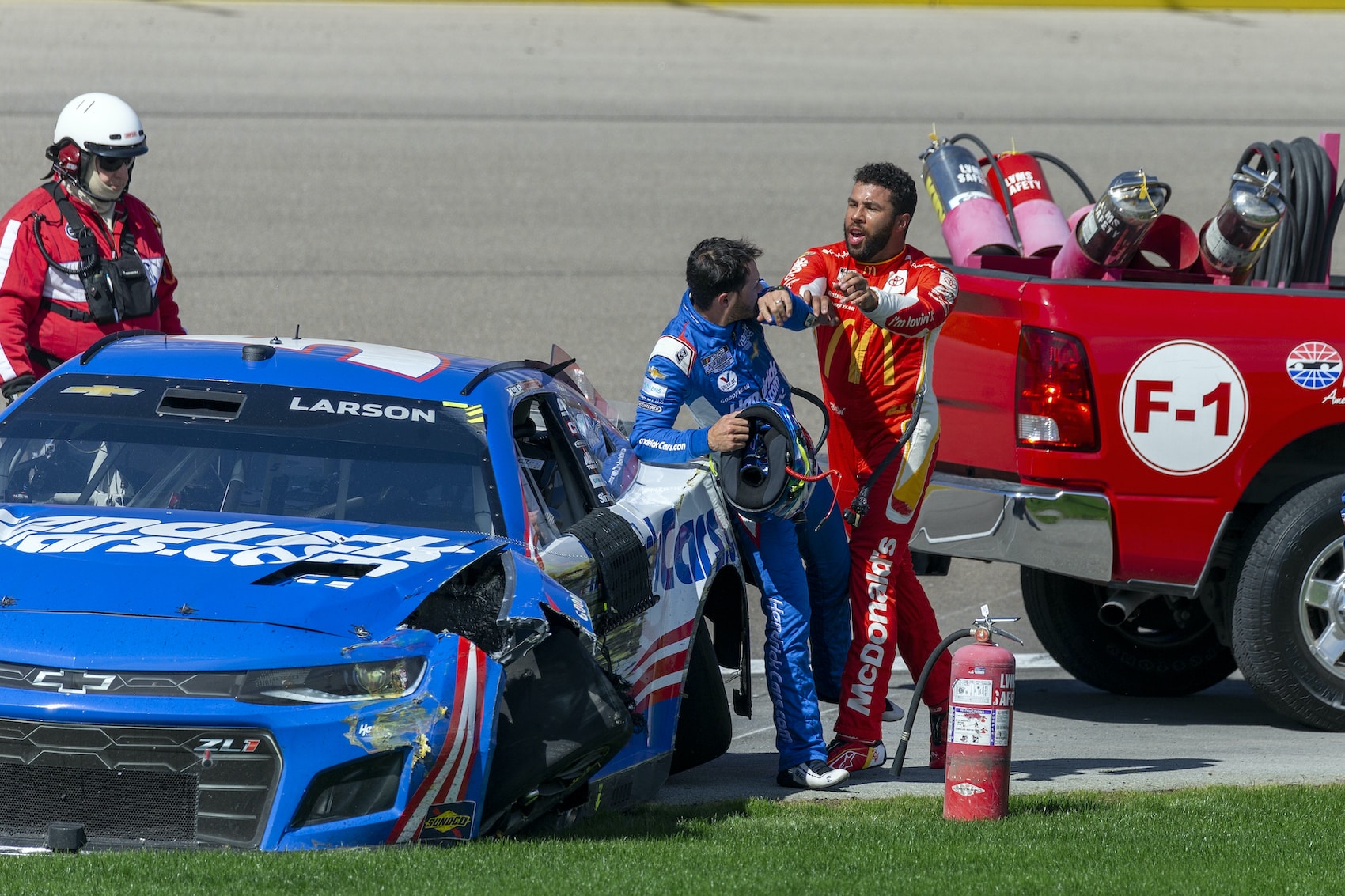 Bubba Wallace Joked on Twitter About Athletes Shoving People Around Minutes Before He Did It to Kyle Larson at Las Vegas
Bubba Wallace shoved Kyle Larson multiple times on Sunday at Las Vegas. Interestingly, the 23XI Racing driver joked about that exact behavior just moments before the start of the race.
Bubba Wallace has been in the headlines since his conflict with Kyle Larson at Las Vegas, which started with a crash that took out both cars and was followed by an altercation with the 23XI Racing driver repeatedly shoving the defending Cup Series champion.
Interestingly, minutes before the 29-year-old ever put his hands on the diminutive Hendrick Motorsports driver, he joked about a scenario with another athlete who had made headlines for the same type of action just days before. 
Bubba Wallace wrecks Kyle Larson, then shoves him repeatedly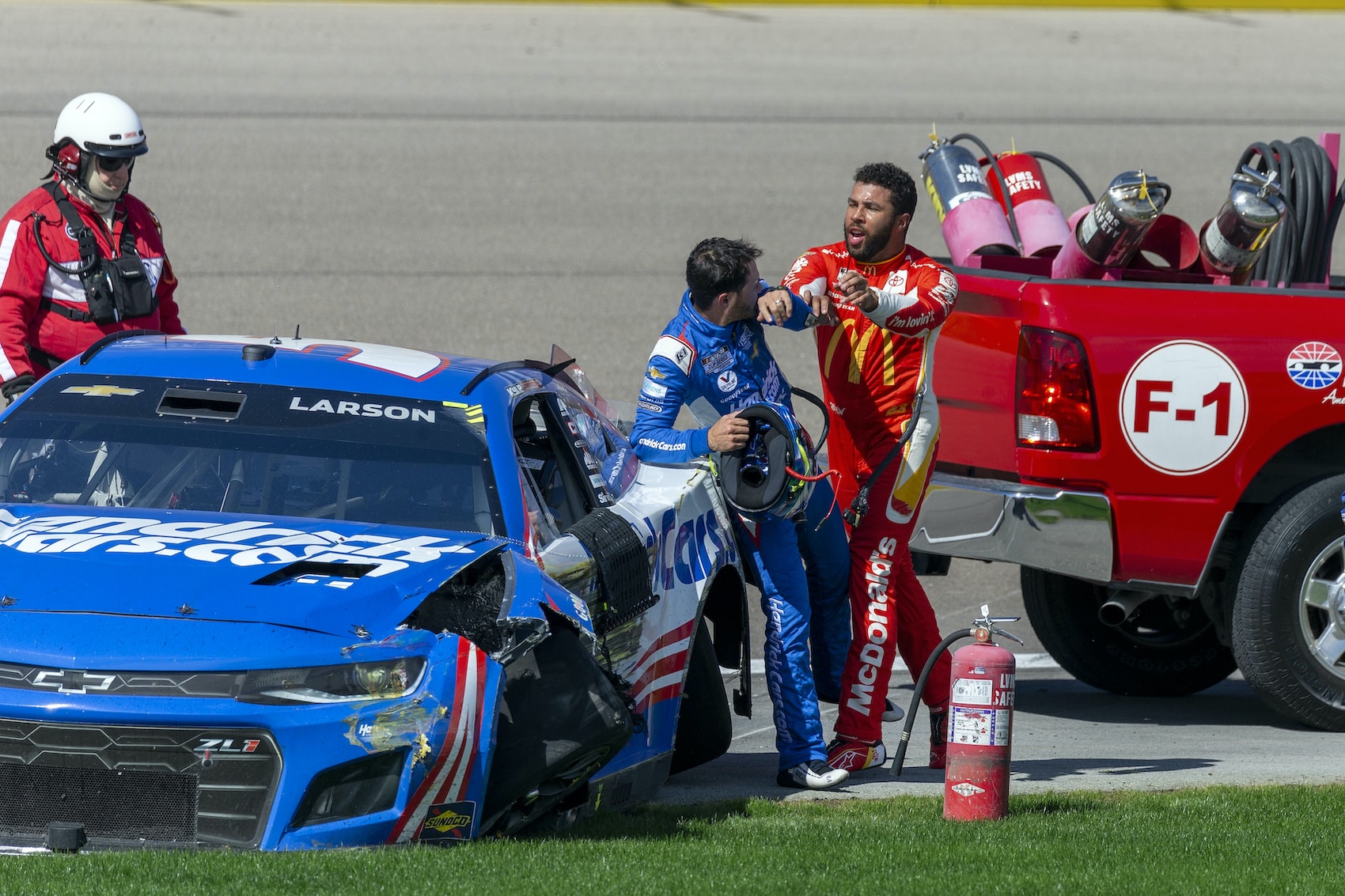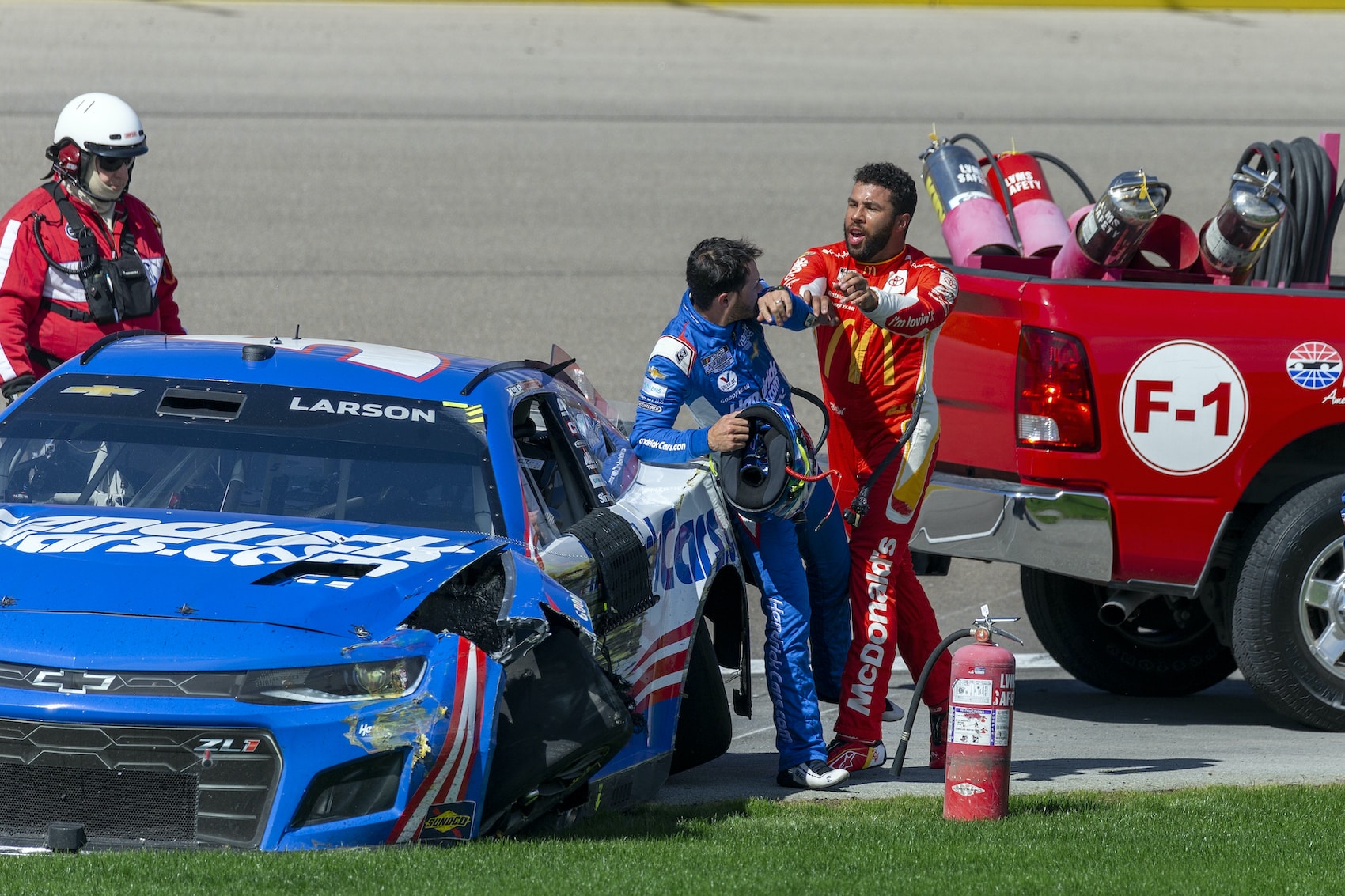 Bubba Wallace brought his race-winning car from Kansas to Las Vegas Motor Speedway on Sunday and flashed its potential winning speed early, leading 29 laps and winning Stage 1.
After dropping back to fifth on the restart, Wallace raced Kevin Harvick on his inside for position. With a run from behind, Kyle Larson dove underneath the two cars heading into Turn 3. The 2014 Cup champion backed out, allowing the reigning champion to take on Wallace. It didn't get very far.
Coming out of Turn 4, the momentum from Larson's car escorted the 23XI Racing car up the track and into the outside wall. On the rebound, Wallace drove down the track and straight into the right rear of Larson, which then sent both cars up the track, across traffic, toward the fence. 
The No. 5 spun and collected the No. 20 of Christopher Bell on the way up before a hard impact on the driver's side. A few moments later, Wallace got out of his damaged vehicle and began a purposeful walk toward the HMS car on the infield. 
Once there, the 23XI driver began repeatedly shoving Larson, who was obviously in no mood to fight. After several tense moments, Wallace begrudgingly followed the directions of the nearby medical safety worker and walked away.  
Wallace jokes about another athlete's shove just moments before Las Vegas race
Bubba Wallace may be one of the most booed drivers, but you don't ever see that on the grid before a race, as he's always surrounded by adoring fans asking for autographs, a picture, or just a couple of seconds to chat. Working for one of the most iconic sports figures of all time in 23XI Racing co-owner Michael Jordan, the driver has his sports connections and brings a unique crossover element to NASCAR. 
It's not uncommon to see him on the grid with a high-profile athlete from another sport. His past guests have included Alvin Kamara and Brandon Marshall. This past weekend at Las Vegas, he welcomed two-time first-team All-Pro wide receiver from the Raiders, Davante Adams. 
Wallace shared a photo on Twitter that someone else had taken of him taking a selfie with the receiver, with the grandstand in the background. 
"Got shoved immediately after this pic…," Wallace joked. "All love homie, thanks for stopping by @tae15adams."
Davante Adams shoves cameraman
Wallace was referring to the move by Adams that made headlines just over a week ago in a prime-time Monday Night Football matchup between the Raiders and Kansas City Chiefs. After losing 30-29 in a hard-fought contest against their division rivals, the frustrated receiver forcefully shoved a cameraman and knocked him down to the ground on the way back to the locker room.
Minutes later, Adams addressed the situation with the media. 
"Before I say anything, I want to apologize to the guy running off the field and he ran and jumped in front of me," Adams said. "I'm coming off the field and I bumped into him and pushed him. I think he ended up on the ground, so I want to say sorry to him because that was just frustration mixed with him running in front of me and I shouldn't have responded that way and that's how I initially responded."
Adams has been charged with misdemeanor assault and the NFL won't discipline the receiver until the legal process is complete. Once that case is resolved, he could face a fine, suspension, or both.
Wallace received a one-race suspension and will miss this weekend's race at Homestead. 
Have thoughts on this topic? Keep the conversation rolling in our comments section below.