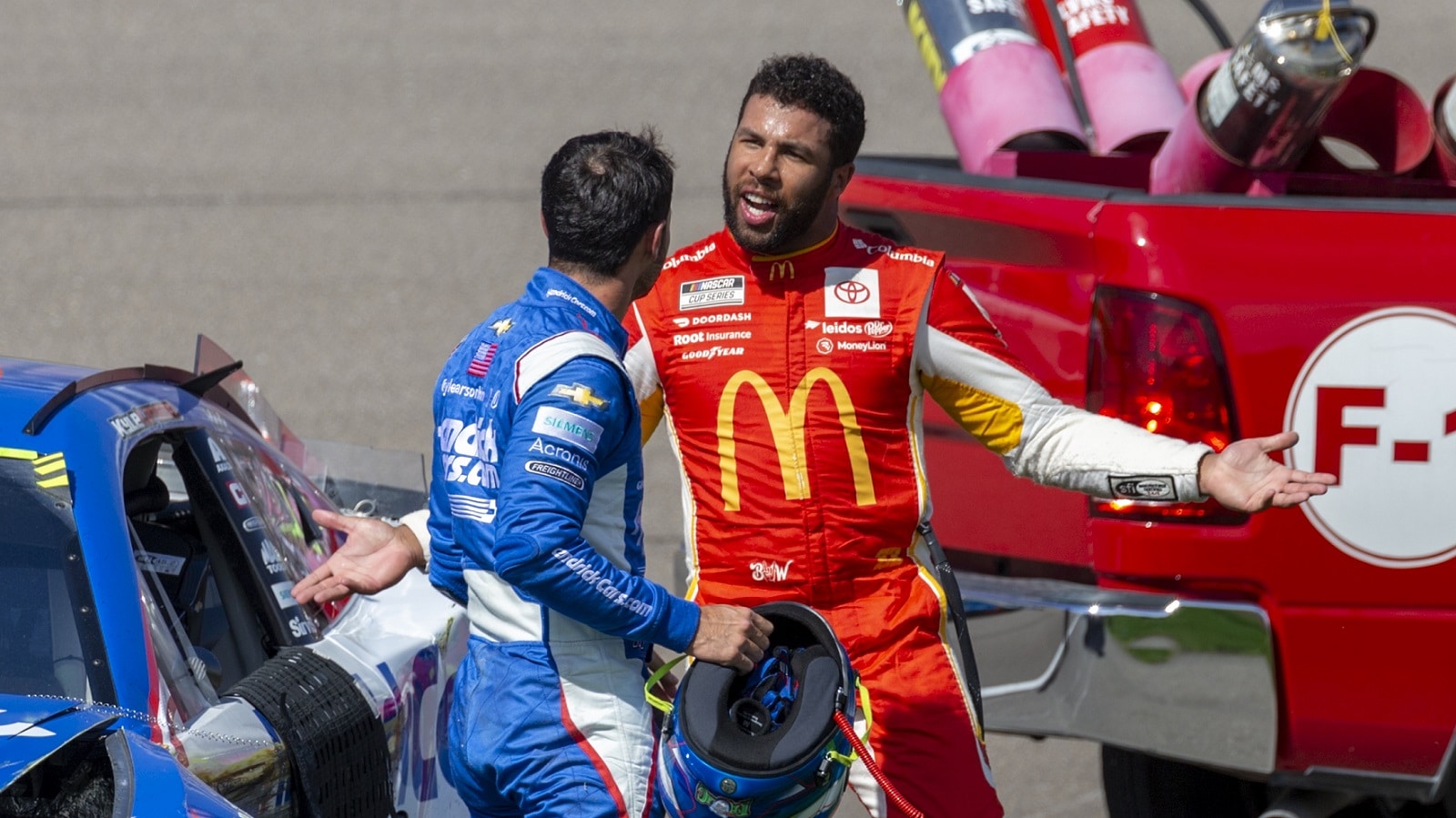 Bubba Wallace Left Someone Out of a Long List of Apologies to Mitigate His Impending NASCAR Punishment
Bubba Wallace apologized to a lengthy list of people and organizations, but not to Kyle Larson.
How is it that Bubba Wallace is at least 25 pounds heavier, yet Kyle Larson is the bigger man? It's a fair question to ask after Wallace posted a mea culpa on social media Monday evening in which he apologized to a long list of people … but not the man he rammed at 150 mph or more and then shoved repeatedly on Sunday at Las Vegas Motor Speedway.
Bubba Wallace makes a pre-emptive move ahead of his punishment
Bubba Wallace posted a graphic on Twitter early Monday evening under the heading of "Reflection." The graphic was a four-paragraph message in which he apologized for Sunday's ugly incident in the NASCAR Cup Series playoff race. Wallace appeared to intentionally ram Kyle Larson's damaged car at high speed after the two made contact, then confronted the defending series champion in the infield, shoving him several times.
"My behavior does not align with the core values that are shared by 23XI Racing and our partners, who have played a crucial role in my incredible journey to the top of this great sport," Wallace wrote.
Later, the driver of the No. 45 Toyota added, "I should have represented our partners and core team values better than I did by letting my frustrations follow me outside of the car. You live and learn, and I intend to learn from this."
Come Tuesday or Wednesday, it will be NASCAR teaching the lesson. Wallace is almost certainly facing fines for ramming Larson's car in retaliation for getting squeezed toward the outer wall moments earlier and for leaving his car before safety crews could arrive to help him exit safely.
There will likely be a points deduction for both Wallace and 23XI Racing, and a multi-month probation period is also possible.
Bubba Wallace didn't apologize to Kyle Larson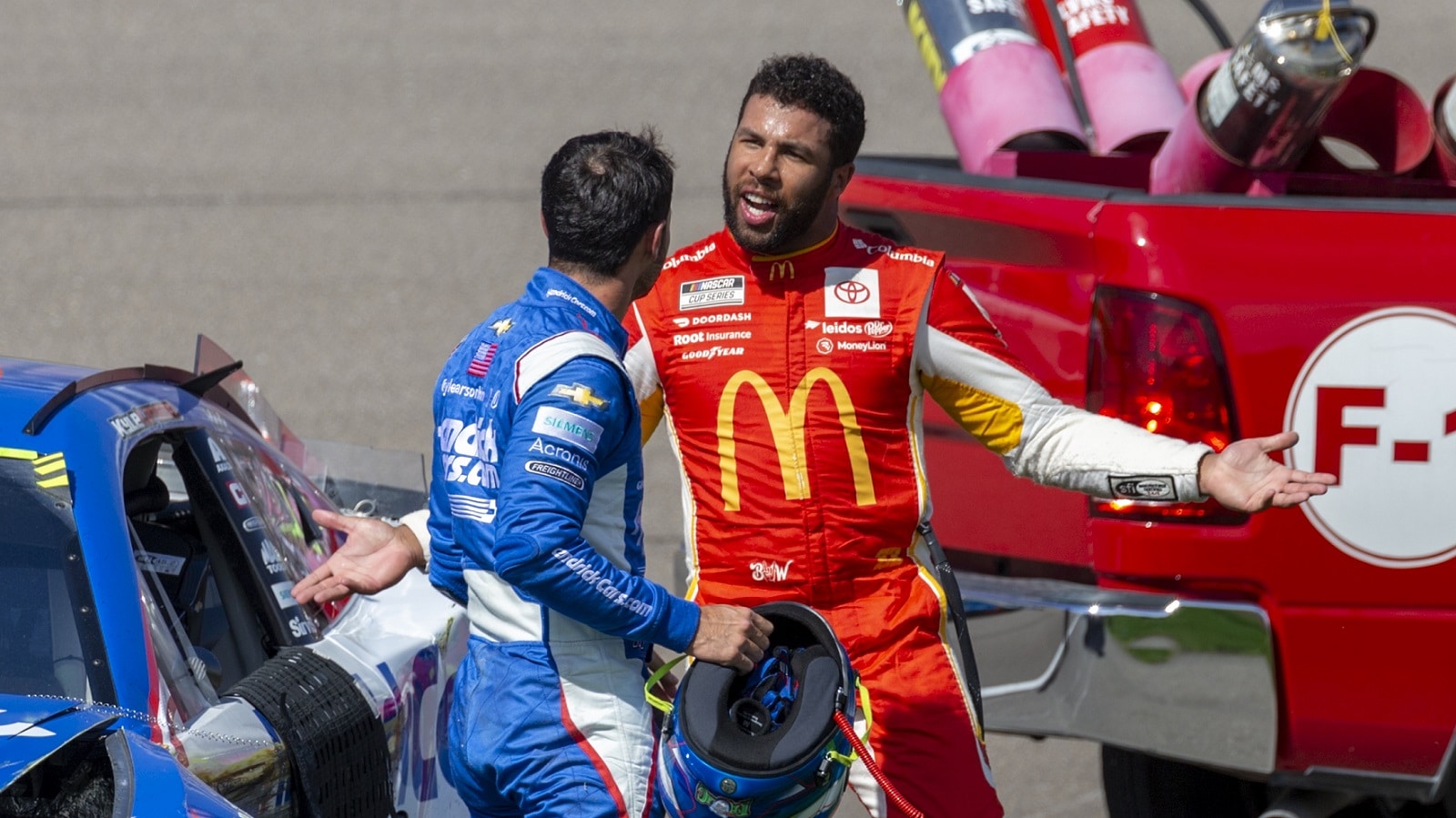 Bubba Wallace's message on social media included a paragraph of apologies addressed to specific individuals and organizations, all with good reason:
NASCAR, which already has enough image problems without taking on the appearance of the WWE.
Fans, a good number of who were there to root for Kyle Larson or playoff participant Christopher Bell, both of whom ended up too wrecked to continue.
Bell, who's probably in another must-win situation at Homestead-Miami or Martinsville.
Joe Gibbs Racing, for whom Bell drives the No. 20 Toyota.
Toyota, which wants Bell representing the brand in the Championship 4 next month in Phoenix.
Nowhere in the message does Wallace apologize to Larson, who acknowledged immediately after the race that he probably made too aggressive a move, resulting in Wallace putting himself into the wall.
If Wallace didn't feel inclined to apologize for ramming Larson's car in apparent retaliation, then he at least needed to own up to shoving the driver multiple times – even after it was apparent Larson was not fighting back.
Kyle Larson reached out two years ago after a career-altering mistake
Kyle Larson was the story of the 2021 NASCAR Cup Series season, coming back from a nearly year-long suspension following his use of a racially offensive word while competing in an iRacing event during the pandemic.
Larson did not direct the offensive epitaph at Bubba Wallace, yet he felt compelled to seek his fellow driver out almost immediately after the incident to apologize. They communicated again the next day, and Wallace went on Twitter to say, "His apology was sincere."
Larson obviously knew he was guilty of a serious lapse in judgment, and he paid a heavy price. NASCAR suspended him, Chip Ganassi Racing fired him, and the driver's public image took a hit. However, he persevered, completing NASCAR-mandated training and frequently speaking to the media and other organizations, again acknowledging he was wrong.
Wallace's inability to mention Larson in Monday's list of apologies runs his consecutive-days streak of lapses in judgment to two. It'll be three if NASCAR issues relatively mild punishment on Tuesday and the driver chooses to appeal anyway.
Got a question or observation about racing? Sportscasting's John Moriello does a mailbag column each Friday. Write to him at [email protected].
Have thoughts on this topic? Keep the conversation rolling in our comments section below.