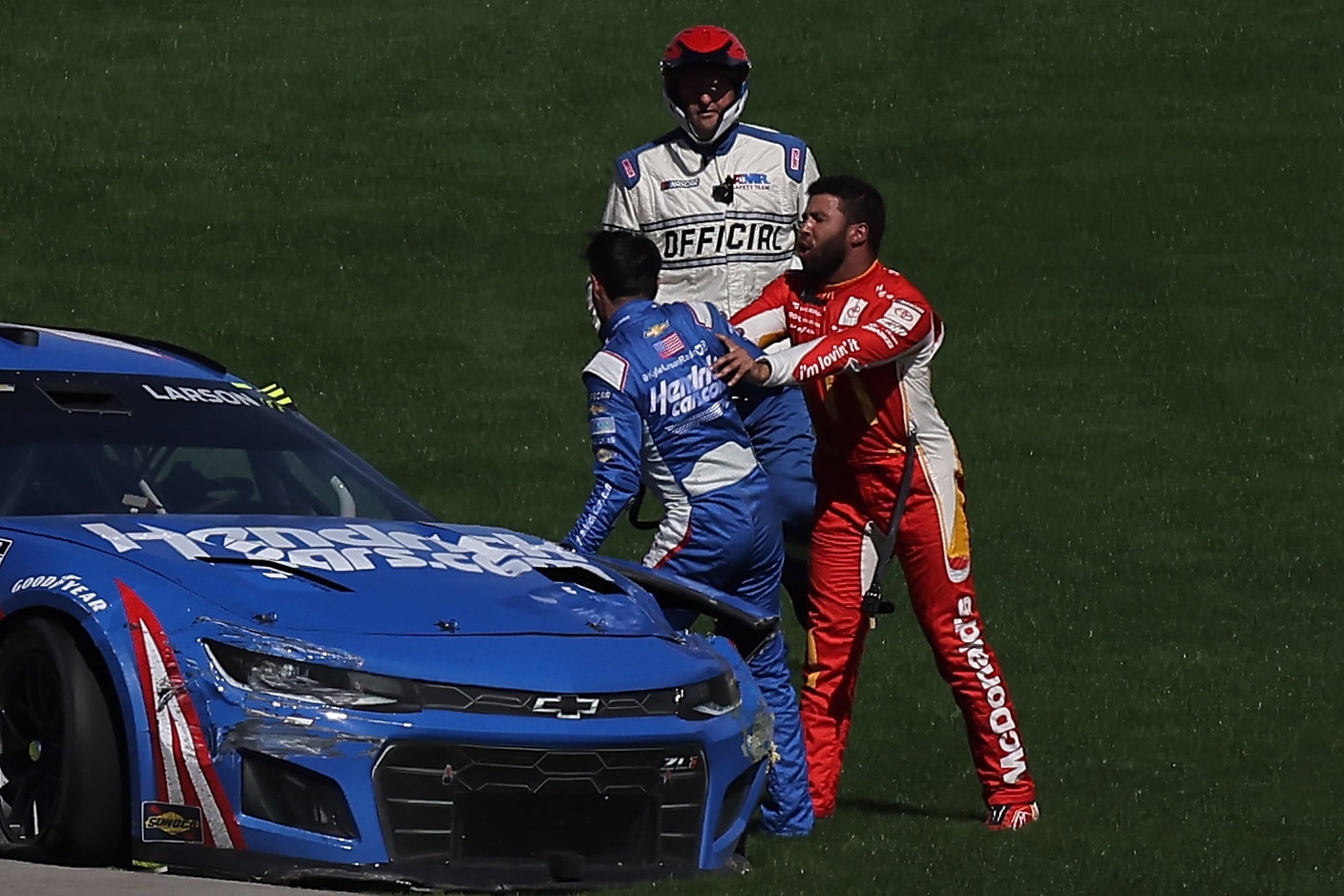 Bubba Wallace Went After Kyle Larson, but It's Christopher Bell Who Should Be Upset
Championship 4 hopeful Christopher Bell was the collateral damage in the wreck involving Bubba Wallace and Kyle Larson.
Bubba Wallace was battling for fifth place in a race. Christopher Bell is fighting for a NASCAR Cup Series championship. So, excuse the racing world if no one particularly cares about Wallace's bruised feelings over crashing out of Sunday's playoff race.
By seeking payback against Kyle Larson, Wallace turned Bell into collateral damage and potentially forced the driver of the No. 20 Toyota into another must-win situation. Wallace may not have to answer to NASCAR until mid-week, but it figures to be an uncomfortable ride on the shared charter flight home to North Carolina for the Joe Gibbs Racing and 23XI Racing teams Sunday night.
A frustrated Bubba Wallace repeatedly shoved Kyle Larson
Bubba Wallace repeatedly shoved NASCAR Cup Series counterpart Kyle Larson Sunday following a crash as they battled for fifth place early in the South Point 400, but that was not the costliest contact 95 laps into the day at Las Vegas Motor Speedway.
Wallace and Kevin Harvick were driving side-by-side when Kyle Larson moved in aggressively. Caught in the middle of a three-wide, Harvick prudently lifted. Larson took advantage of the vacated space to move up the track, but Wallace wouldn't back down. Instead, he drove himself into the outside wall, then came down the track on the frontstretch and hooked Larson. That forced Larson across the track, where he clipped Christopher Bell.
After the No. 45 Toyota and No. 5 Chevy rolled to a stop, the drivers exited their respective cars. Wallace walked toward Larson to shove his counterpart several times before being separated from the defending Cup Series champion. Larson did not retaliate.
A potentially devastating development for Christopher Bell
Christopher Bell came through with a clutch performance a week ago, winning the NASCAR Cup Series playoff race on the Charlotte Roval to transfer into the semifinal round. Now, he faces the prospect of having to do it again at Homestead-Miami or Martinsville.
He came to Las Vegas as the fourth seed, three points above the cut line. With his car undrivable as the 10-minute Damaged Vehicle Policy (DVP) clock expired, Bell retreated to the garage with a 34th-place finish that left him eighth in points and 23 points below the cut line.
"The good thing is I feel better about winning one of those two races than I did winning (on) the Roval," Bell said in an NBC Sports interview. "We've just had really, really strong Camrys, really all year long. We'll see if we can go pull another rabbit out of the hat."
Asked about the wreck that started with Kyle Larson and Bubba Wallace, Bell was fairly non-committal.
"Bubba got run into the wall and then he retaliated on (Larson) and wiped us out," he said.
Bubba Wallace will likely have to answer to NASCAR this week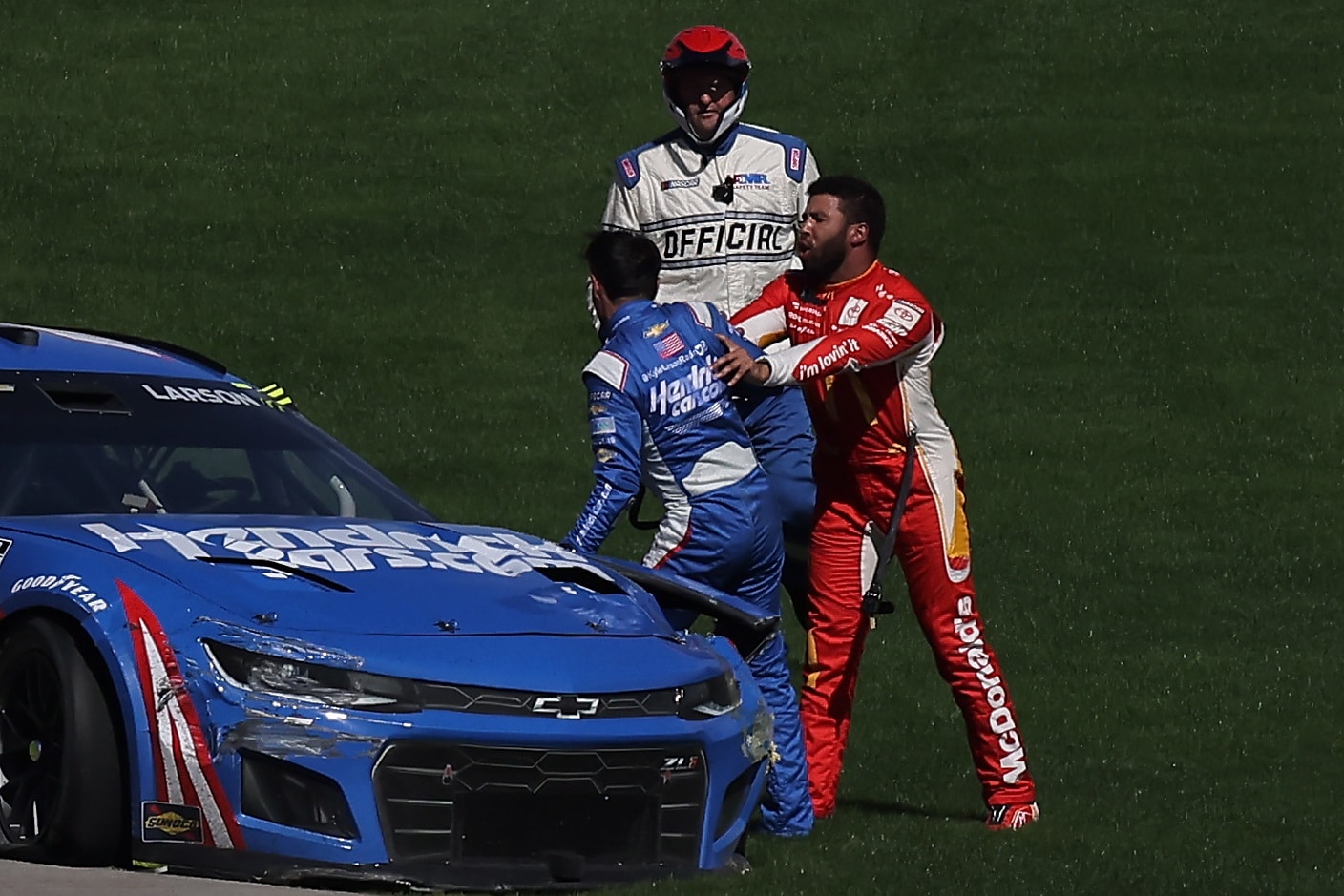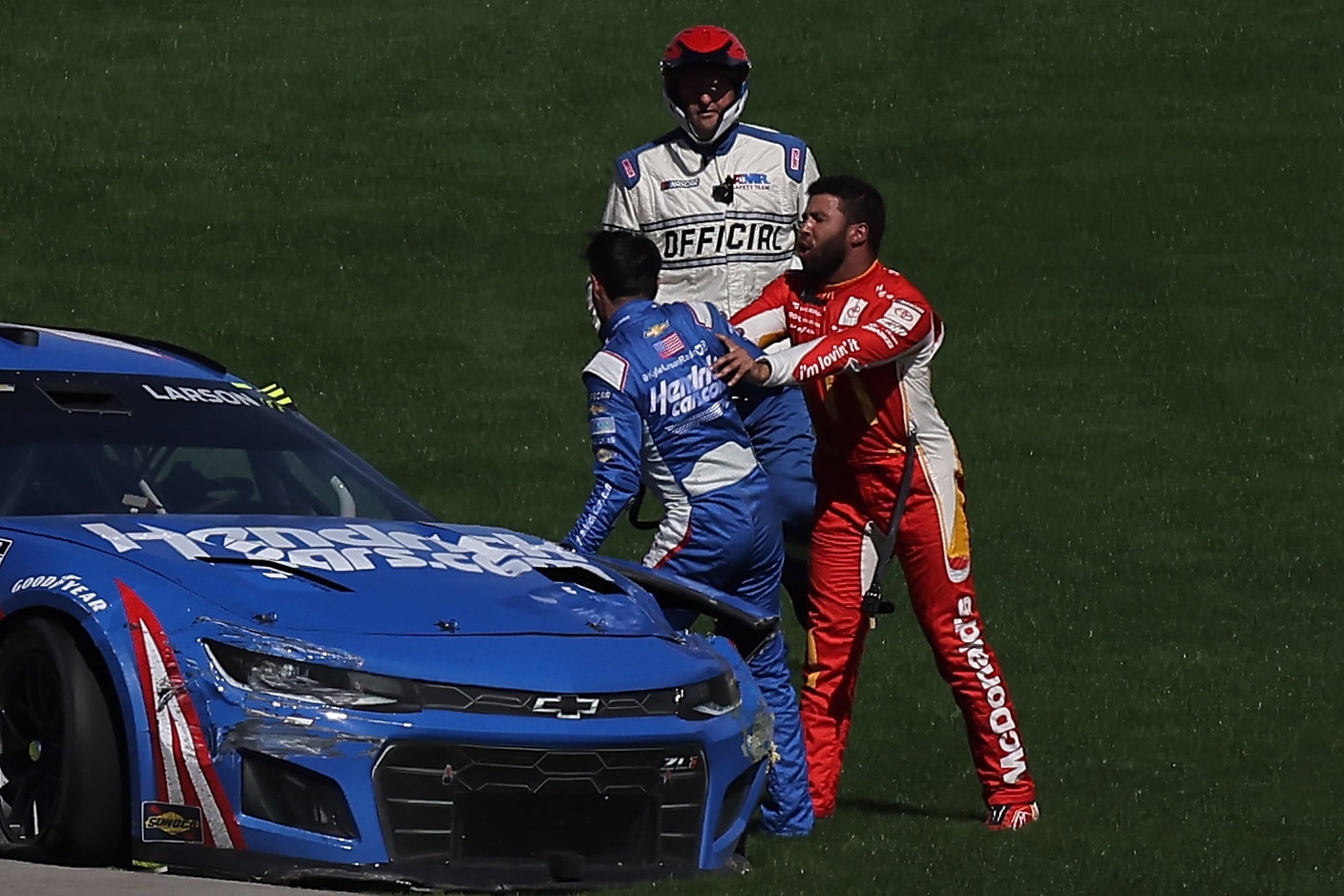 Though NBC Sports reported NASCAR did not call Bubba Wallace to the hauler after the race, that does not mean there won't be repercussions. By all appearances, he came down the track to run his car into Kyle Larson's at high speed. Then he doubled down by shoving Larson repeatedly.
Wallace's biggest problem, however, might be the fact he exited his Toyota, which stopped near the outer wall, before safety vehicles arrived. He then walked across the track to get to Larson. While the caution was out, that still had the potential to put Wallace in the path of moving cars. NASCAR's always had a "have at it, boys" mindset when it comes to drivers settling differences, but what Wallace did was a flat-out safety hazard.
For his part, Wallace maintained he did not intentionally steer his car down the track to ram Larson's Chevy.
"When you get shoved into the fence like deliberately like he did, trying to force me to lift, the steering was gone." Wallace said, adding that the initial move by Larson amounted to "a p***-poor move on his execution."
Said Larson, who conceded he didn't leave Wallace enough room to continue running at full speed: "I knew he was going to retaliate. He had a reason to be mad. His race wasn't over until he retaliated. It is what it is. Just aggression turned into frustration, and he retaliated."
All things considered, it mattered little to Wallace, who didn't make the playoffs, or Larson, who was eliminated last week in Charlotte. For Christopher Bell, however, it was a disaster of someone else's making.
Got a question or observation about racing? Sportscasting's John Moriello does a mailbag column each Friday. Write to him at [email protected].
Have thoughts on this topic? Keep the conversation rolling in our comments section below.