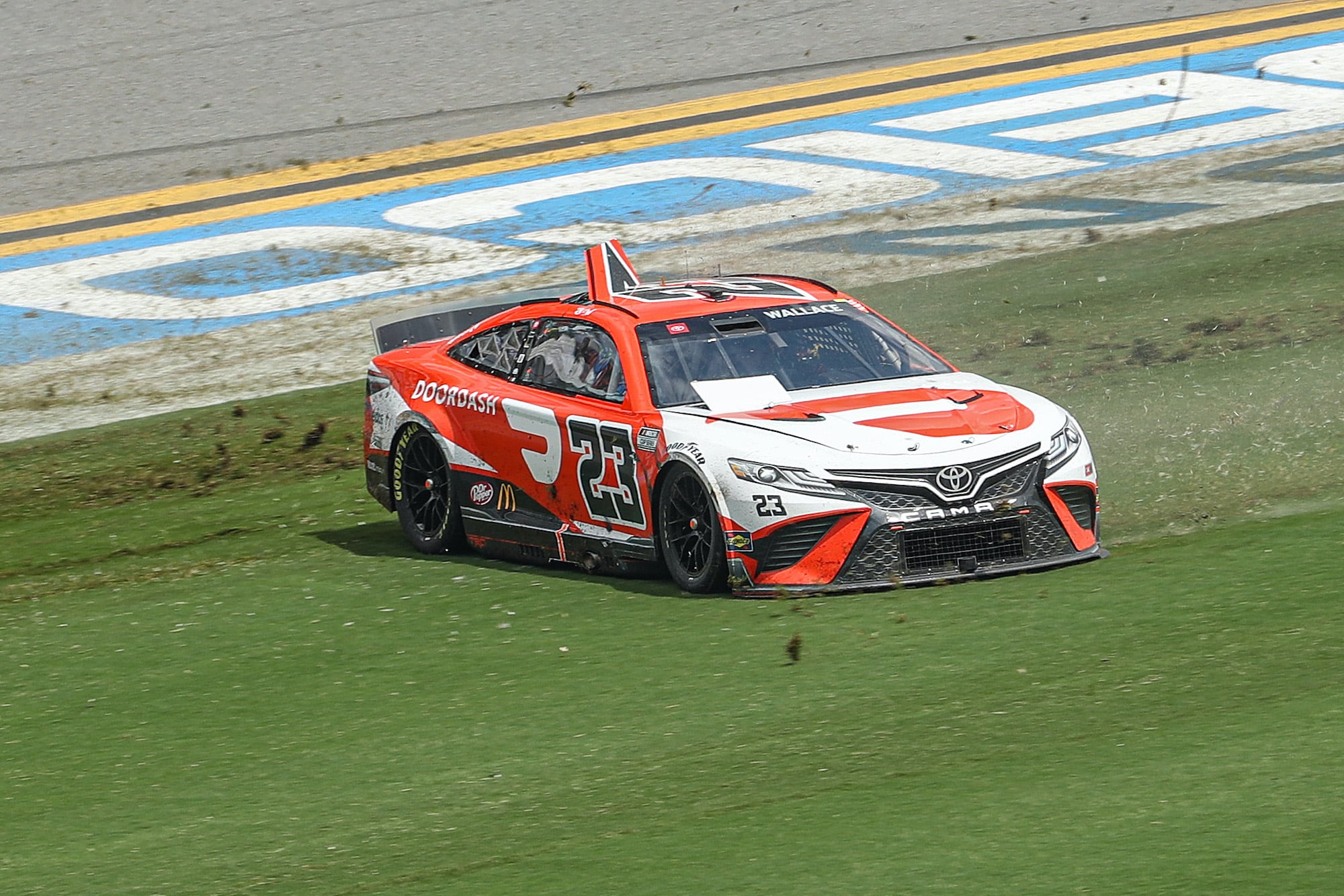 Bubba Wallace Goes Ballistic and Rips NASCAR With F-Bombs for Driving a 'Joke' of a Car
Bubba Wallace didn't sugarcoat his anger on Sunday at Daytona after being involved in the big crash near the end of the race.
Bubba Wallace has been one of many drivers this season who has been outspoken about the impacts of the Next Gen car and how it feels to the driver. On Sunday at Daytona, Wallace and his boss, Denny Hamlin, were involved in one of several big accidents during the race, including a massive pileup that took out numerous cars with just over 20 laps remaining.
Moments after that crash, the 23XI Racing driver keyed up his radio and didn't hold back how he felt about the new car and what he had just experienced. 
Bubba Wallace goes ballistic after Daytona accident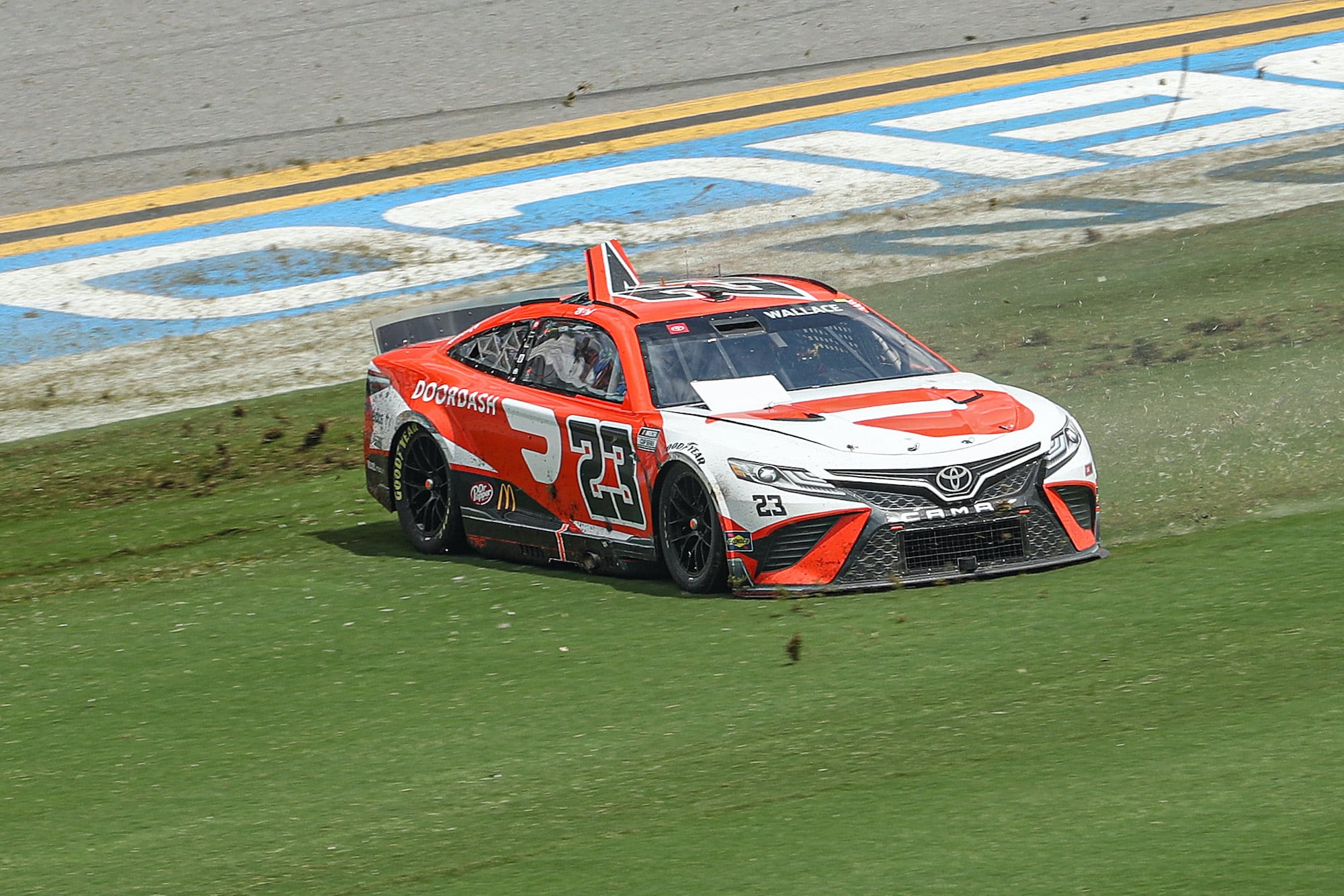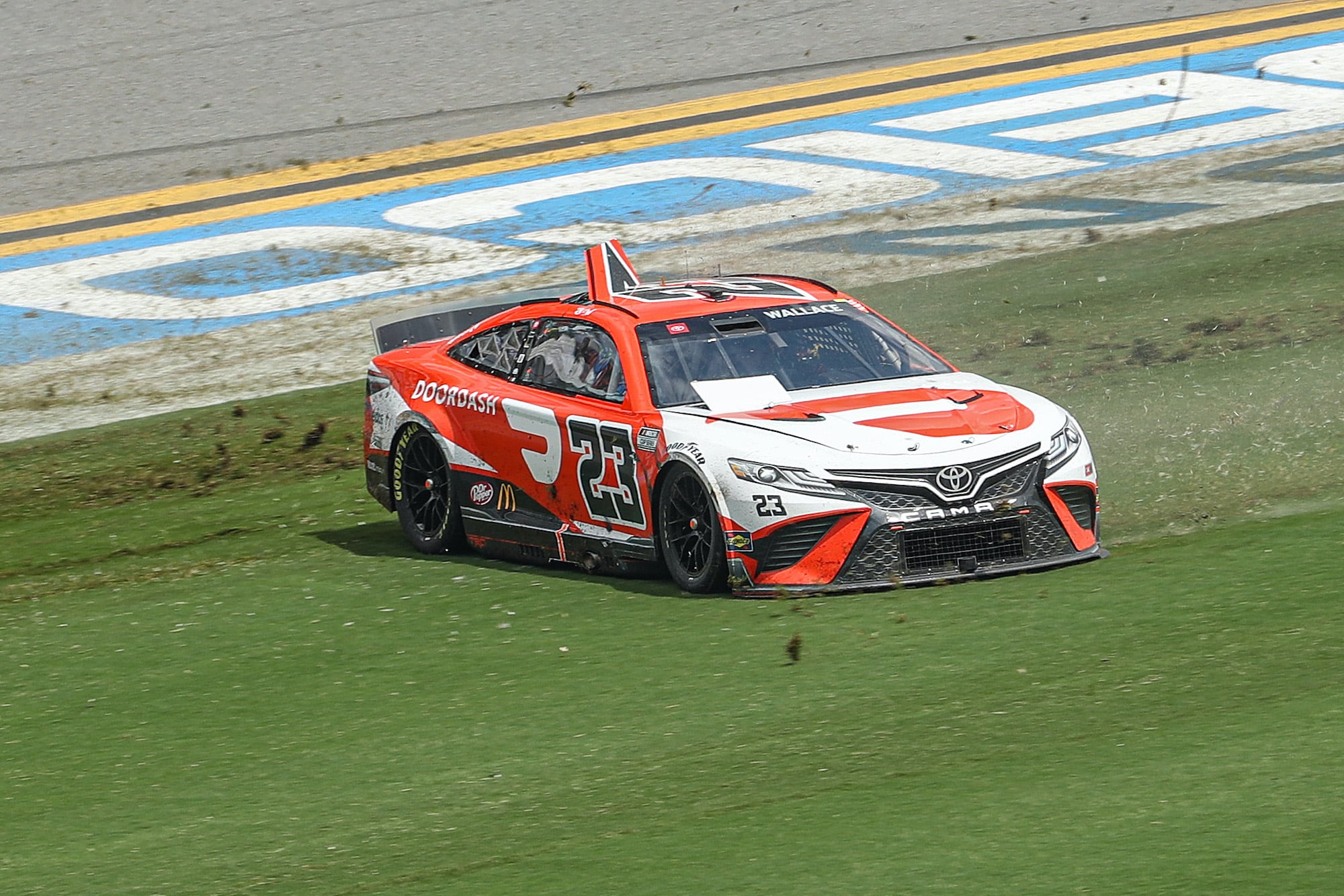 Bubba Wallace, like every other driver, expects to get caught up in some kind of accident when racing at Daytona International Speedway. During Sunday's rain-delayed race, he had options. 
There were several multi-car accidents throughout the race, but it's the one in the final stage that everyone is talking about because it was caused by rain on the track. Unfortunately, NASCAR didn't react in time, and the leaders went into the turn, where they immediately lost grip and made hard right turns into the outside wall. Wallace was among the pack. 
When the accident started, the No. 23 dropped to the apron to avoid the cars wrecking to his outside. However, with so much chaos and cars going all different directions, he was hit by Harrison Burton and Ricky Stenhouse Jr. in the rear of his car before he eventually came to a stop in the grass. 
"NASCAR these cars f****** suck when you get hit in the rear," the angry driver said loudly over his radio. "Never thought I'd get the breath knocked out of me getting hit in the rear. What a f****** joke we drive." 
Hamlin experienced first big hit of season
While Wallace was involved in the big crash, it was 23XI Racing co-owner Denny Hamlin who was the first to hit the wet portion of the track and turn right for a violent impact into the fence. After the race, the three-time Daytona 500 winner spoke with reporters about the incident and was asked how it felt.
"Just my whole body," he said. "My jaw hurts. I feel like my jaw was one of those boxers that gets his face demolished. That was certainly the first real big one I've had in this car. Everything they've been telling us, all the other drivers, is true. It's legit."
Wallace one of first to raise issue of big impacts earlier this year
Bubba Wallace was one of the first drivers to call attention to the big impacts in March at Atlanta in a hit that happened just yards from the finish line. 
"All good. That was the hardest hit I've had," Wallace surprisingly admitted to Fox's Bob Pockrass after the race. "I think that was harder than Pocono."
The driver's words were striking because his 2018 crash at Pocono was frightening after his car lost its brakes, got sideways, and violently slammed into the outside wall. His window net remained up for more than 30 seconds. 
It was hard to believe that impact at Atlanta could top Pocono. Now, months later, after Wallace and so many other drivers have talked about the bigger impacts in the Next Gen car this year, unfortunately, it makes sense.  
Like Sportscasting on Facebook. Follow us on Twitter @sportscasting19 and subscribe to our YouTube channel.