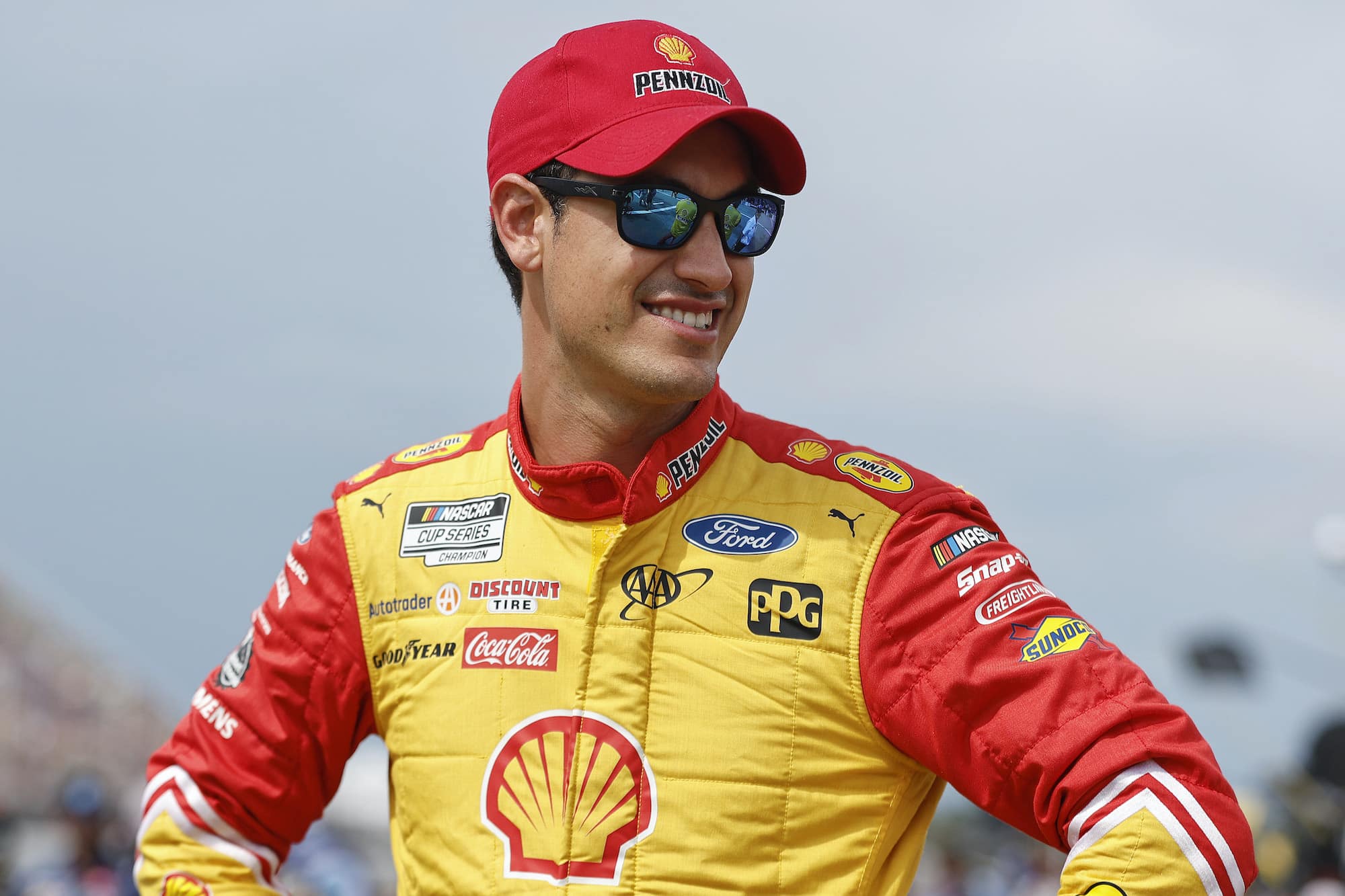 Joey Logano Reveals He Had Conversation With Bubba Wallace After Michigan, and 23XI Racing Driver Didn't Have Most Flattering Words to Say About Him
Joey Logano revealed this week on SiriusXM NASCAR Radio that he heard from Bubba Wallace after their late-race battle at Michigan and the 23XI Racing driver didn't have the most flattering words to say about him.
Joey Logano didn't have the fastest car at Michigan International Speedway. He knew that. The Toyotas were better. However, somehow the 2018 Cup Series champion found himself up front in the top three following a late-race restart, where he battled Bubba Wallace for the second position.
After more than a dozen laps of holding off and frustrating the 23XI Racing driver, the No. 22 could no maintain his position, and Wallace made the pass. That move was the difference between victory and defeat, and allowed another Ford in Kevin Harvick to end his 65-race winless streak. Following the race, a disappointed Wallace specifically brought up Logano's maneuvers in the postrace interview. 
This week on SiriusXM NASCAR Radio, the Team Penske driver revealed that the pair had a text conversation, and the driver of the No. 23 didn't have the most flattering words to say about him.
Joey Logano battles Bubba Wallace late at Michigan
Bubba Wallace was easily one of the best cars at Michigan, which he showed early in the weekend, earning his first career pole. Joey Logano had a solid qualifying run as well and started fourth. 
Both cars stayed up front for most of the race and, with 34 laps to go, sat in the top five on a late restart. Harvick started on the outside of Row 1 next to Wallace, and got a good push from Kyle Larson and Logano when action resumed. It was enough to propel the No. 4 out to the lead by several car lengths.
That lead only increased when Logano made it three-wide, managed to get past Wallace, and maintained his position, which tested the patience of the No. 23 driver. After 16 laps of frustration, Wallace finally got past and moved into second position. But it was too late. Harvick was out to an insurmountable lead and held on to win.  
A disappointed Wallace mentioned the Team Penske driver and what happened in that final stage during his postrace interview.  
"Replaying everything I could have done. Took the top there on the restart," Wallace said. "Thought I could hang with the 4 and just got to racing the 5 and the 22. The 22 did a good job of getting another Ford contract, helping a Ford win. All in all an incredible weekend. Appreciate my team. Wish we could have got Toyota in Victory Lane. Wish we could have got McDonald's back in Victory Lane. She was fast all week. I'll wear this one on my heart for a while. I failed everybody."
Logano reveals the pair had text conversation after race
This week Logano made one of his regular guest appearances on The Morning Drive on SiriusXM NASCAR Radio, where he talked about the weekend's race at Michigan. Not surprisingly, the final stage battle with Wallace was one of the topics of discussion. The 32-year-old talked about his strategy and revealed that he heard from the 23XI Racing driver after the race.
"Defensive player of the year, over here again," Logano said of his defensive moves against the No. 23 car. "Well, Bubba texted me after the race, and he said, 'You're like the modern-day Ryan Newman.' And I said, 'Little longer neck.' And he said, 'But squintier and douchier eyes' is what he came back with. 'Okay,' I said. 'Well, that's fair.' We had a fun exchange of texts after the race. So there's that.
"It's tough. He had a fast car. I made his life hard, obviously," Logano admitted. "But that's also my job. I didn't do anything that hurt his car. We never even touched. Listen, when there's 20 laps to go and you're running P2, you got a front-row restart. You have a chance to win the race. You can't give up spots anymore. You can't do it."
While Wallace was understandably dissatisfied with his runner-up finish, he can be grateful he got the defensive version of Logano. The offensive version is much more aggressive. Just ask William Byron.
Like Sportscasting on Facebook. Follow us on Twitter @sportscasting19 and subscribe to our YouTube channel.