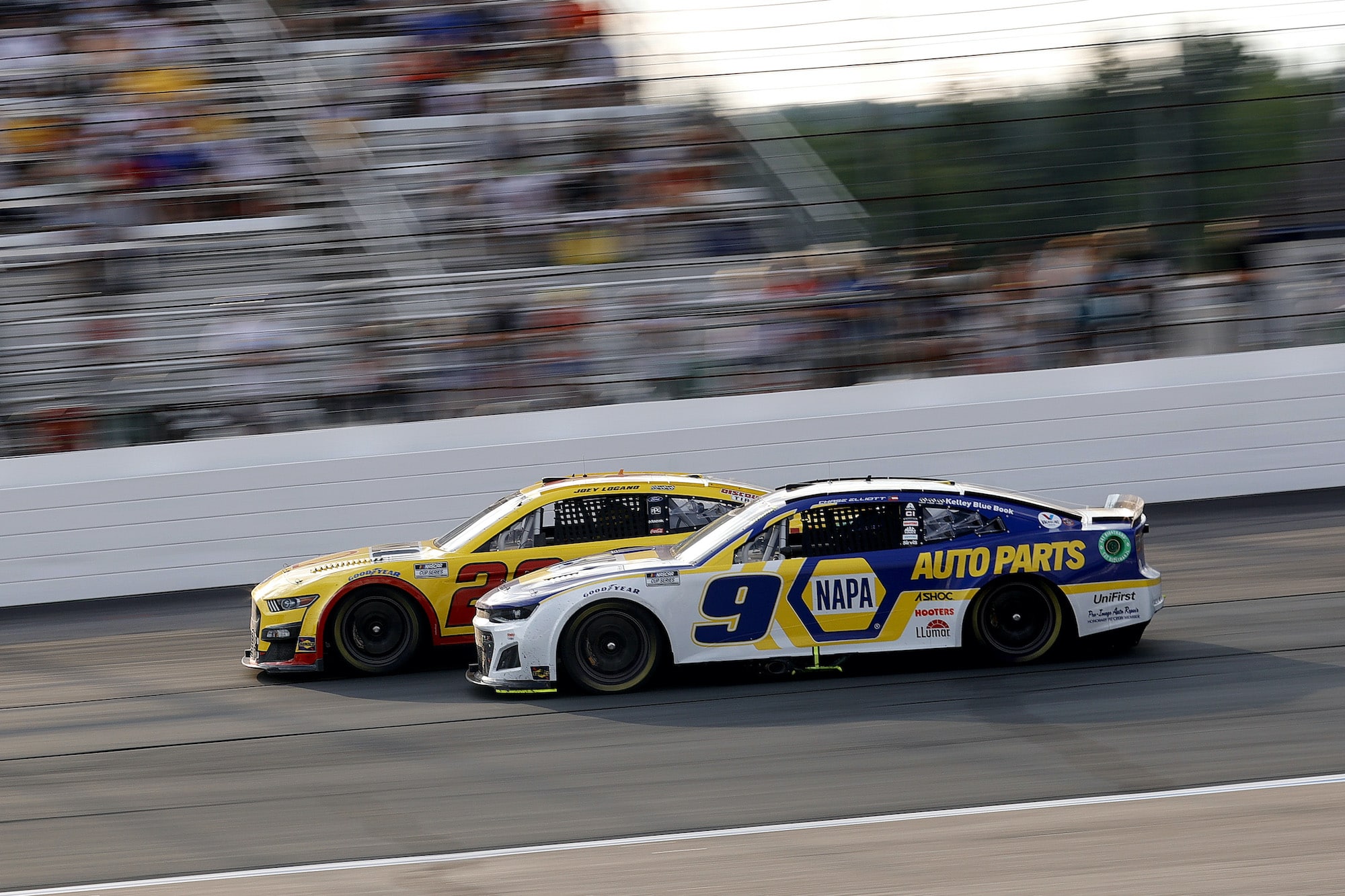 Chase Elliott Writes New Chapter With Joey Logano at New Hampshire, and the Team Penske Driver Hints at Retaliation
Joey Logano and Chase Elliott had an incident during Sunday's race at New Hampshire. Afterward, the Team Penske driver said it wasn't a "good move," hinting that it wasn't over.
While Ross Chastain is getting all the publicity this season for his aggressive driving, he's got a long ways to go before he catches Joey Logano, who has been driving like that for years. On Sunday at New Hampshire, there was a role reversal later in the race when the Team Penske driver was on the receiving end of an assertive move by Chase Elliott.
After the race, the 2018 Cup champion talked about his day and addressed the final stage incident with the 2020 champ. Based on what he had to say, this isn't over.    
Joey Logano gets run into by Chase Elliott at New Hampshire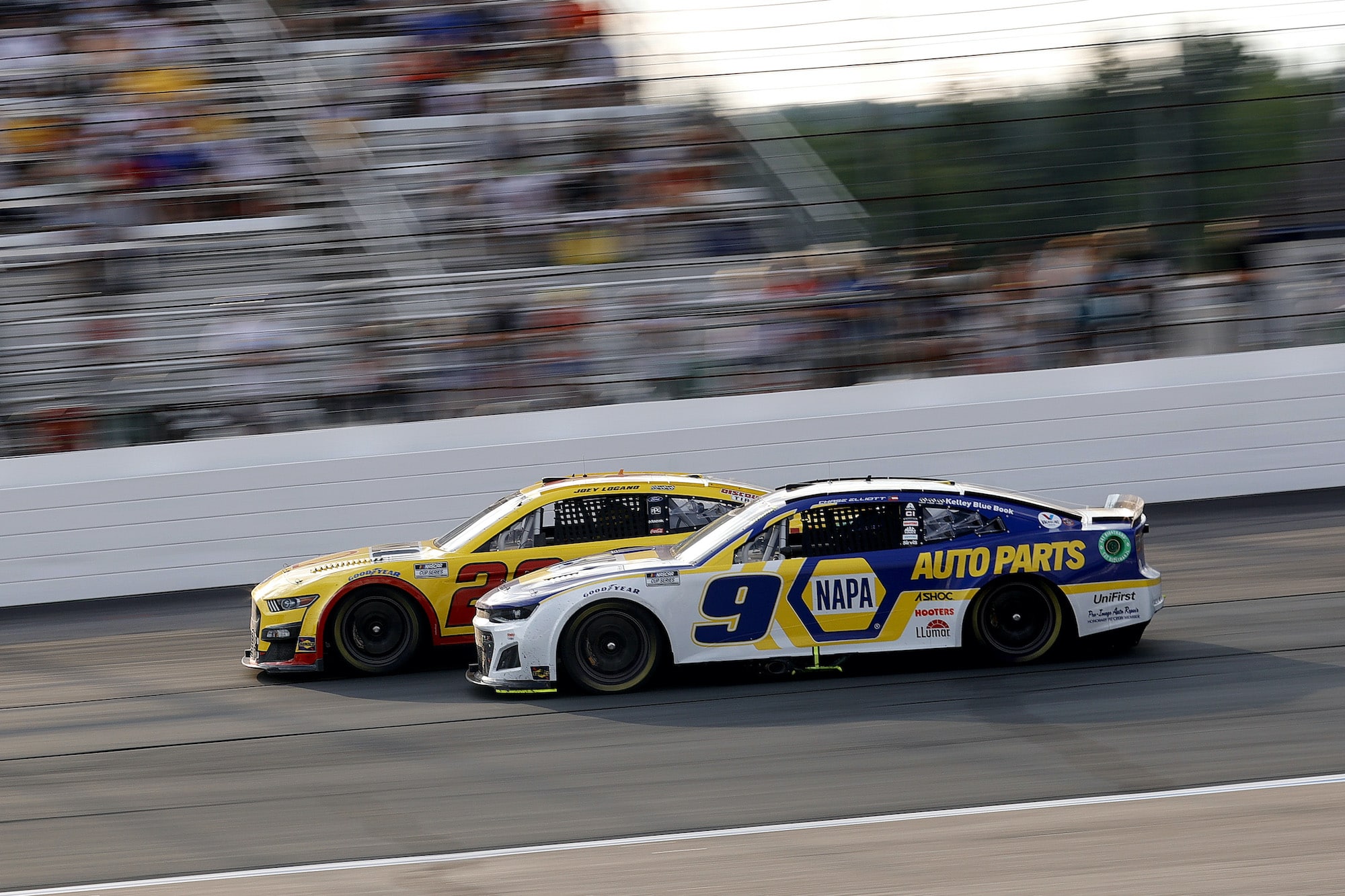 Late in the race at New Hampshire, all the teams were faced with making a critical pit strategy call. Joey Logano, Kurt Busch, and Cole Custer all stayed out. Everyone else headed to pit road. 
On the subsequent restart, Busch took the lead with Logano and Custer in close pursuit. However, as the laps passed, those cars that had pitted and taken four fresh tires began to make their way through the field. Leading the charge was Chase Elliott. Once the No. 9 passed the No. 41 Stewart-Haas Racing car, he set his sights on the No. 22 of Logano.
After pursuing the Penske car for 25 laps and being unable to make the pass, Elliott finally got close enough on Lap 244 and made his move coming out of Turn 4. But instead of passing cleanly, Elliott drove up the race track and into the left rear of Logano, temporarily getting both cars slightly sideways.   
The HMS car made the pass and moved into second place. Just a lap later, he did the same thing and got into the left rear of Busch.  
Joey Logano hints at retaliation
Elliott passed Busch a couple of laps later and moved into first, before he was passed by eventual race winner Christopher Bell. The HMS car finished second while Logano dropped back and finished 24th. 
After the race, the 2015 Daytona 500 winner talked about the pit strategy call and what transpired with the No. 9 car.
"Live by the sword, die by the sword," Logano said. "We did it in the second stage to get track position and it worked. Then we did it again to get track position and the race ran long and it didn't work. 
"I thought we were pretty decent once we got up there and had a shot at taking the lead from Kurt (Busch), but then the 9 (Chase Elliott) missed the mark by a mile and knocked our toe out or camber or something in the left rear suspension. I don't know why he had to do that, but I am pretty sure that was not a good move on his part. So, that is that."
There's a history between the two
Joey Logano and Chase Elliott have been here before. Just two years ago at Bristol, the HMS driver pulled off a similar move, sliding up the track into the side of the No. 22 with three laps to go. Except the result and timing of that move dropped both cars out of contention.
After the race, Logano confronted Elliott on pit road before talking with Fox's Matt Yocum.
"He wrecked me," Logano said. "He got loose underneath me. The part that's frustrating is afterwards a simple apology, like be a man and come up to someone and say, 'Hey, my bad.' But I had to force an apology. To me, that's just childish."
Elliott responded moments later.
"Just going for the win," he said. "Trying to get a run underneath him and got really loose in. I don't know if I had a tire going down or just got loose on entry but as soon as I turned off the wall I had zero chance of making it. I'll certainly take the blame."
This year, Chase Elliott is playoff-bound. So is Logano. A year ago the HMS driver found himself the target of a retaliatory strike by Kevin Harvick in the playoffs. No one will be surprised if something similar happens later this year with Logano taking his shot.
Like Sportscasting on Facebook. Follow us on Twitter @sportscasting19 and subscribe to our YouTube channel.