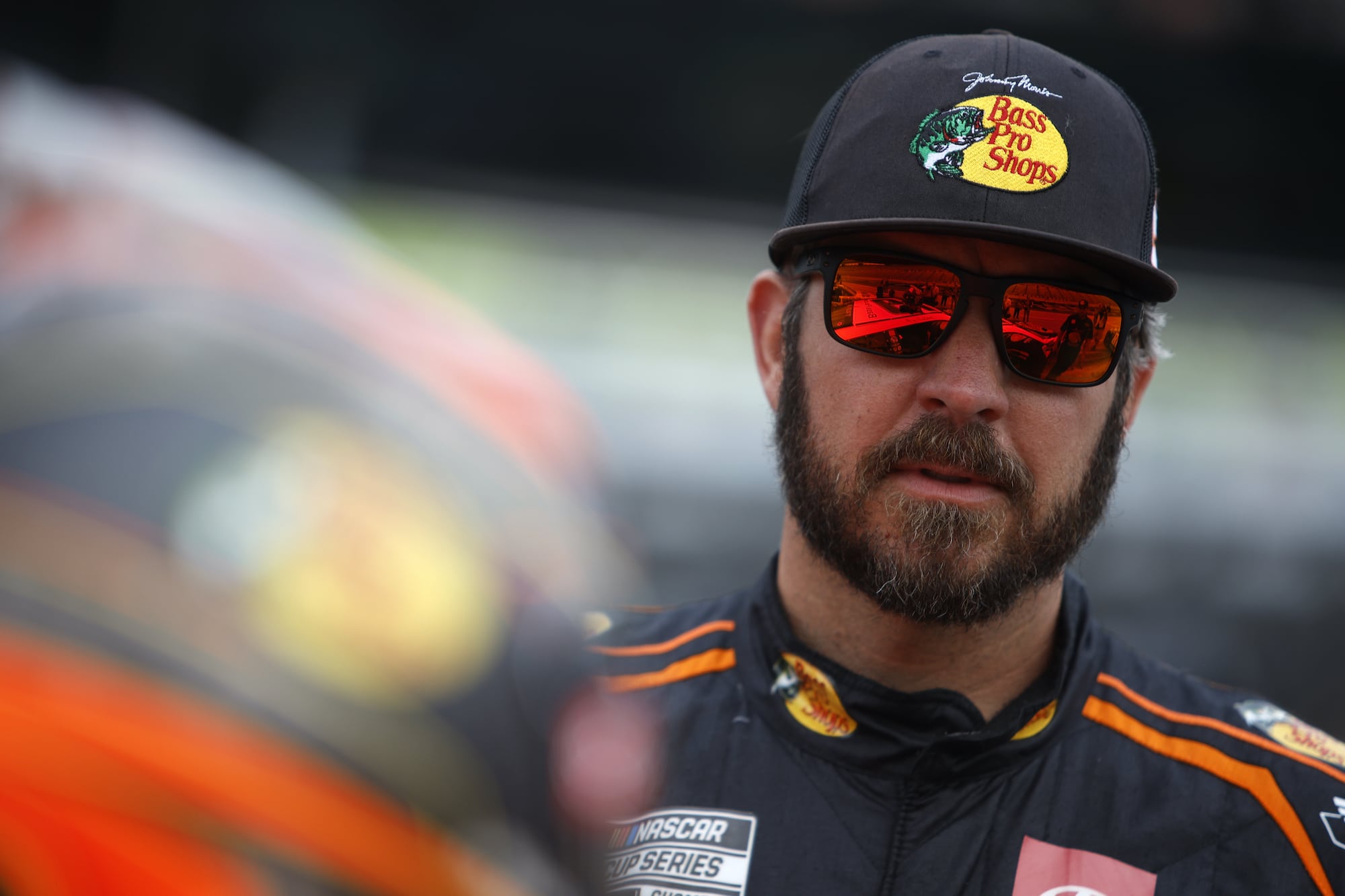 Martin Truex Jr. Sends Warning to Ross Chastain About 'Making a Bunch of Enemies' and How He Should Expect Retaliation
Martin Truex Jr. didn't sugarcoat what he thought about Ross Chastain this week, suggesting he's "making enemies" and should expect payback this season.
Martin Truex Jr. is a man of few words. Look no further than his brief statement just a few weeks ago announcing his return to Joe Gibbs Racing in 2023. That's who he is. 
This week, however, Truex opened up during an interview on SiriusXM NASCAR Radio when talking about this season, and in particular, his thoughts on Ross Chastain. The 2017 Cup Series champion candidly admitted that the Trackhouse Racing driver is "making a bunch of enemies" and, as a result, should expect payback at some point this year.   
Martin Truex Jr. has issue with Ross Chastain at Dover
Martin Truex Jr. and Ross Chastain were regularly shown together during the Fox broadcast at Dover earlier this year because they were running up front and doing it close to each other. 
That continued to the white-flag lap when the No. 19 trailed the No. 1 in third position. Truex wanted the spot and made one final attempt to pass. As had happened throughout the race, Chastain denied him once again. Except this time, the JGR car got sideways and slid down into the inside wall. 
Moments after the race, Truex, who finished 12th, confronted the third-place finishing Chastain, and the pair had a heated exchange on pit road, with the veteran doing most of the talking. When it was over, Truex walked away and left the track, avoiding reporters. Chastain talked about what happened and accepted responsibility for that last-lap move.
"I crowded him up and should have left him more of a lane," he told reporters.
Martin Truex Jr. and Ross Chastain have another incident at Atlanta
Martin Truex Jr. had stayed clear of Ross Chastain since Dover, while other drivers, including his JGR teammate Denny Hamlin, have had multiple run-ins with the driver. 
That changed for Truex last weekend early at Atlanta when he was running near the front with the No. 1 car on his rear bumper, got loose, and lifted. Chastain didn't. Instead, he got into the rear of the No. 19, which got sideways and caused a massive pileup, including Joey Logano getting airborne. 
The Trackhouse driver was involved in another incident later in the race with Hamlin and the guys in the NBC broadcast booth called him out, suggesting that he has to clean up the mistakes. 
Warns Chastain about retaliation
This week Truex appeared on SiriusXM NASCAR Radio and talked about his race at Atlanta. Naturally, what happened early in the race with Chastain was a topic of conversation. The JGR driver didn't sugarcoat what many drivers are thinking.
"It seems to be occurring pretty regularly so I think with him down the road, he's going to face those repercussions, and he's going to have to learn the hard way, I guess," Truex said. "I think what happened between us on Sunday wasn't necessarily anything he did wrong. My car was loose. I got loose, checked up, and he hit me, and the spin and the crash was on. I talked to Ross after the race and told him it wasn't 100 percent your fault, but it could have been avoided. 
"I don't know. It is what it is. Some guys have to learn different ways. We'll just see how it all plays out but he's obviously fast and he's up front. He's running good. He's making a bunch of enemies and people tend to remember that stuff when the playoffs come around and things get heated. So we'll see how it all plays out." 
Everyone else can't wait to see how it all plays out. Everyone except Ross Chastain. 
Like Sportscasting on Facebook. Follow us on Twitter @sportscasting19 and subscribe to our YouTube channel.