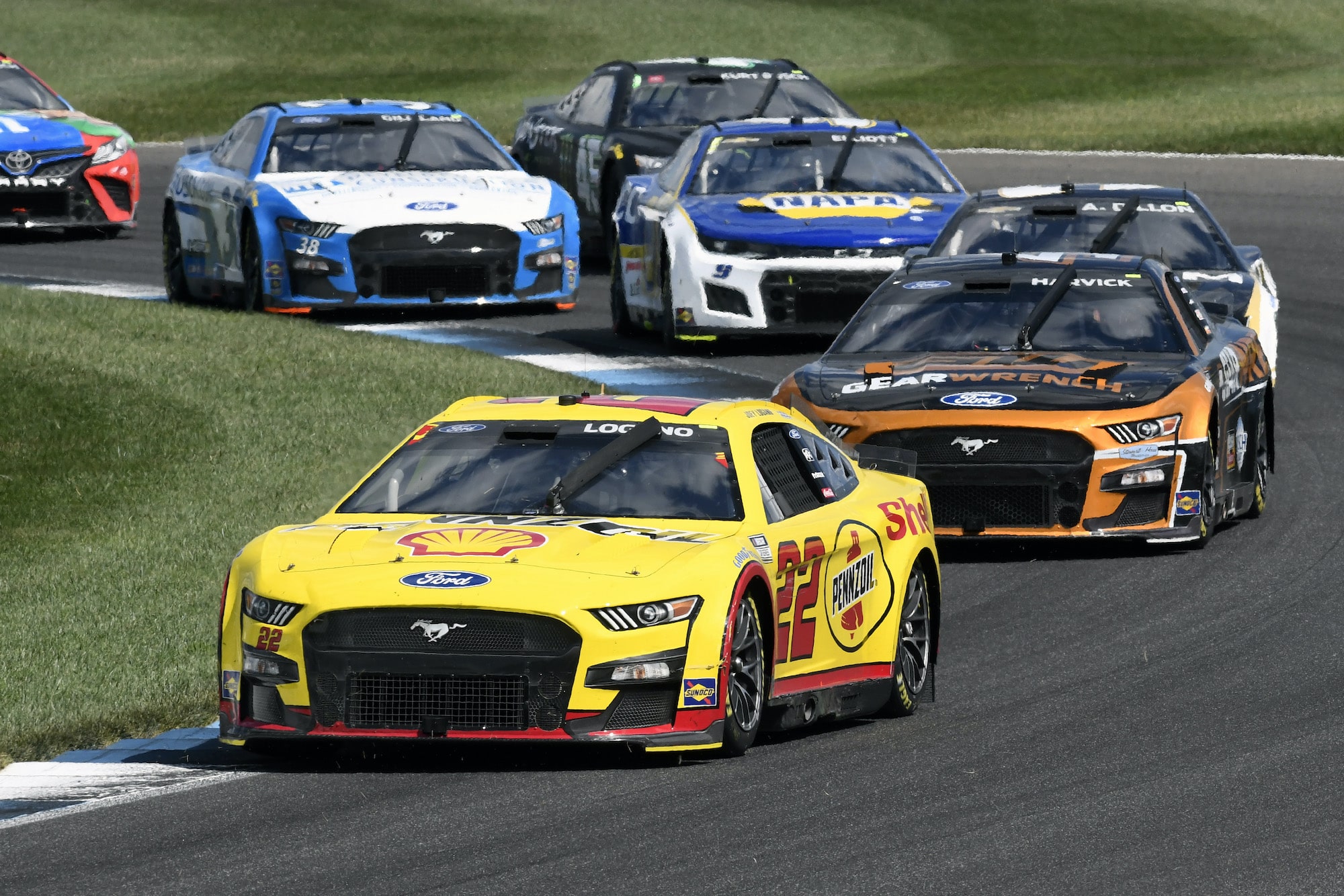 Joey Logano Defends Driving Like an 'Idiot' and Being 'Forced to Make Bad Decisions' on Indy Road Course
Joey Logano isn't going to make a lot of drivers happy with his latest remarks, suggesting that his late move at Indy was because he is being "forced to make bad decisions" and drive like an "idiot."
On Sunday at the Indianapolis Road Course, Joey Logano made an aggressive move on a late restart going into Turn 1 and what NBC announcers dubbed "Calamity Corner." Unsurprisingly, the Team Penske driver's action proved to be disastrous for several cars that were spun and knocked out of contention.
Since the race, Logano has been on the receiving end of stinging criticism from both drivers and fans. This week during an appearance on SiriusXM NASCAR Radio, the 2018 Cup Series champion defended racing like an "idiot," suggested that he was "being forced to make bad decisions," and said fans are always going to find something to complain about. 
Joey Logano called out by Denny Hamlin and others
With three laps remaining on the Indy Road Course, Joey Logano and the field restarted and headed down the long straightaway toward the first corner, a 90-degree turn to the right. From the overhead helicopter shot, the bright yellow No. 22 moved out to the right, crossed over the white line, and made it five-wide, going into the tight corner.  
The aggressive move and subsequent chain reaction caused Kyle Busch to spin and several other cars to go off track. Jeff Burton and Steve Letarte called out Logano's move on the broadcast. Denny Hamlin called out the driver for the move a few days later on the Door Bumper Clear podcast.
"I watched the 22 and the 2 (Austin Cindric) and the 14 (Chase Briscoe)," Hamlin said. "They just pile in five-wide when they know they can't make it and they know the person in front of them can't, so they hit them to then cause a wreck, so they go around it. It's just a bad look. It's just terrible."
A frustrated Ryan Blaney called out his Penske teammate's action after the race without using his name.
"It's a case of just getting wrecked," Blaney said. "That's all people do at the end of these things, just dive in and wreck you."
Logano defends move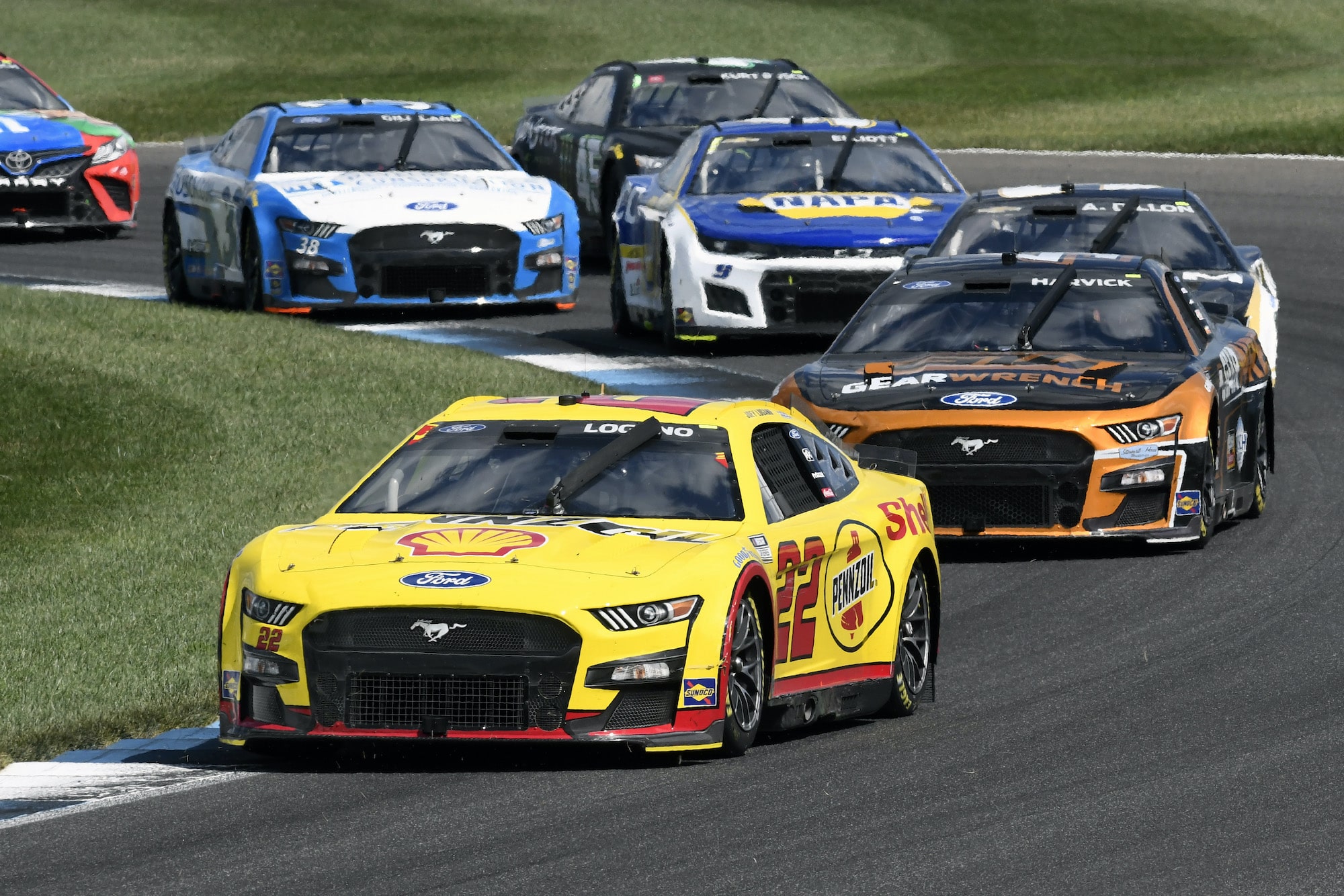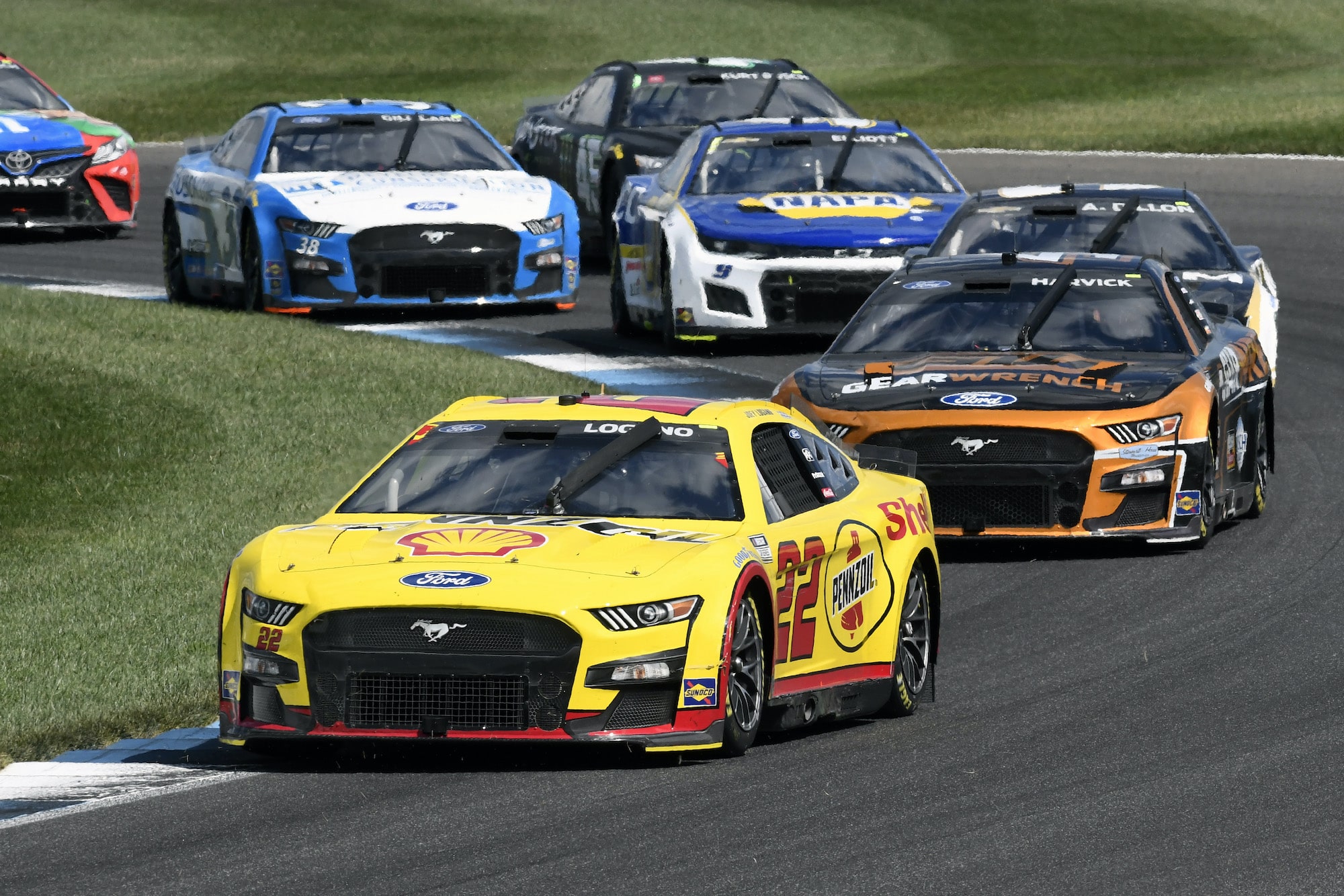 This week Logano made his regular appearance on The Morning Drive on SiriusXM NASCAR Radio where he talked about the chaos at Indy and, unprompted, brought up the first turn.
"Turn 1 there is, on a restart, is just asking for it," Logano said. "You have a wide entry that funnels down in the first two turns to like two-wide; maybe you can go three-wide if you're feeling extra crazy. If you're not the aggressor in that situation, the move's being put on you, and then you're getting dumped. You really have one option. And everybody knows it, and everybody does the same thing, so everyone just tries to move forward, and then it all funnels when you get to Turn 1, and then it's 'bang-boom.' Last year there was a lot more penalty for damage on your car. You had the steel bodies. They'd cut into your tires. You'd have fender rubs. Lose downforce. All that stuff."
"This composite body is tough as nails, man. Everyone just keeps running into each other and tires aren't getting cut down for the most part. So everybody is just ultra-aggressive, like a rental go-kart. You go to the GoPro (Motorplex) here in Mooresville, you got a bumper all the way around this thing and everyone drives like a bunch of idiots. And if you don't drive like that, you're going to get used up. And so you're forced to make bad decisions. You have to. It's a thing now."
Was his move disrespectful?
Several minutes later, Mike Bagley brought up the subject of disrespectful driving and how it's a conversation with fans as well as crew chiefs and drivers in the garage. Logano offered an interesting response. 
"I feel like some people are just going to complain," he said. "And no matter what, there's going to be somebody complain about something. You just can't make everybody happy. If everyone races too clean, and it's just a gentleman's race, no one is going to want to watch that. Oh I just let him go and he let him go. What's that?
"Fans want to see drivers hate each other. That's just what it is. There is a level of respect out there, and give and take, and eye for an eye, and those types of things out there, but I don't think fans want to see everybody hold hands and sing Kumbaya together. We're not doing that. That's not going to happen. And I don't think anybody wants that to happen. So I think there's a balance. Maybe it was a little extreme this week. It was probably a little extreme. But everyone is pushing hard."
Logano went on to explain with the Next Gen car, everyone is racing in similar equipment, which makes it harder to pass. As a result, drivers have to take full advantage of passing opportunities whenever they can.  
"You know you got to get around them so you make these big moves," he said. "Oh, I'm going to try and out brake him here, and I'm going to really send it in there because I got to pass him. And I've got a car that's more durable. I got to get by him unless I'm going to stay behind this car and finish 15th. I got to move forward. And you send it down in the corner and you get out of control. You just go too fast. And that's what you see happen in Turn 1 not just on restarts but other times, too. That was the big passing zone. If I don't pass him here, I'm stuck behind him for Lord knows how long. So I got to go. That's what those mistakes are.
"Is it disrespect? I don't know if it's disrespect as much as it is guys driving over their head to make a pass because that's the only way to do it unless you're just going to ride behind them forever and that's frustrating as all get out."
Joey Logano has always had a reputation as an aggressive driver. Based on his latest comments, that won't be changing anytime soon.
Like Sportscasting on Facebook. Follow us on Twitter @sportscasting19 and subscribe to our YouTube channel.