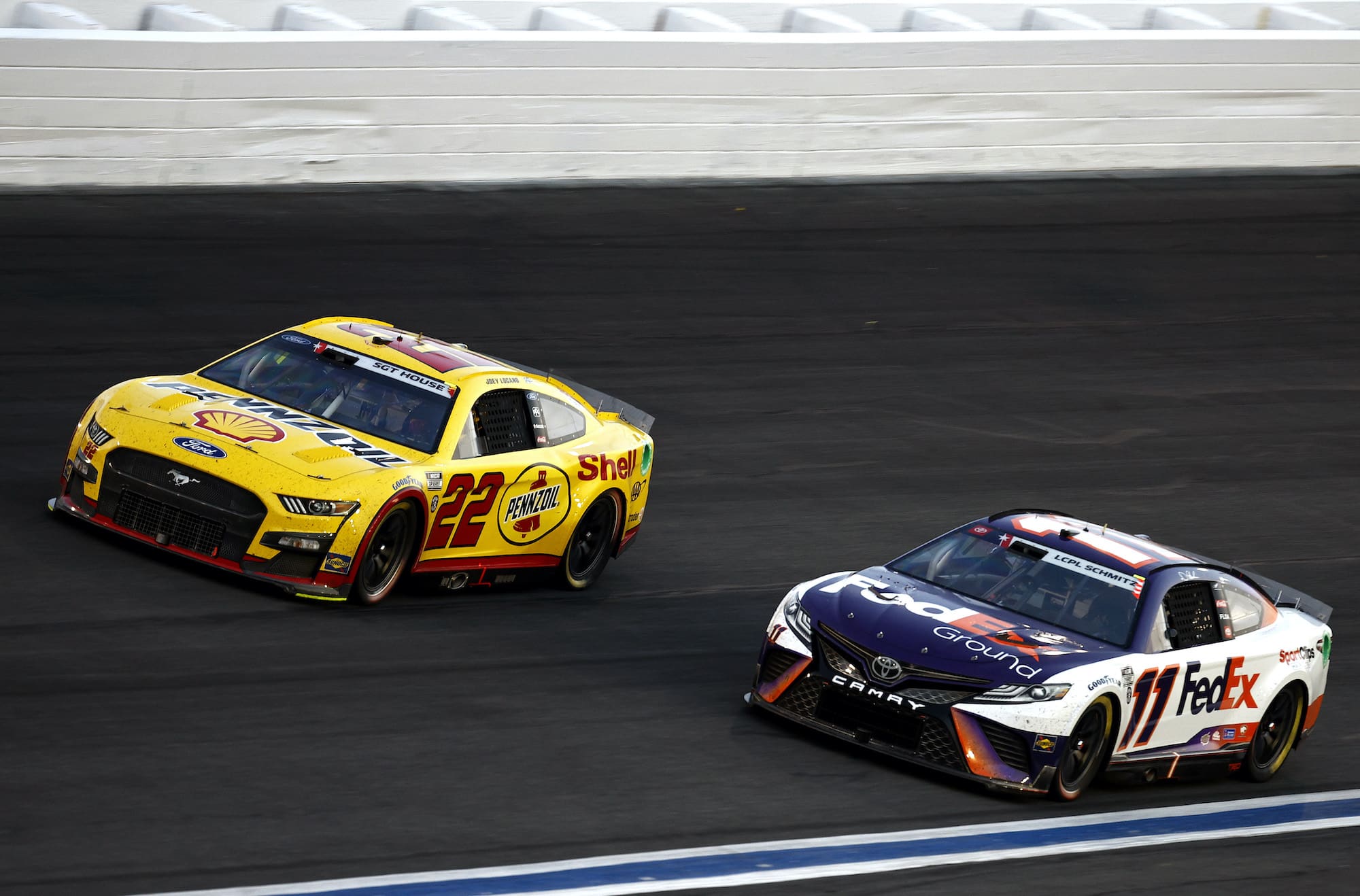 Denny Hamlin Apologizes After Joey Logano Called Out His 'Dirty' Move and Penske Pit Crew Member Referred to JGR Crew as 'P*****'
Joey Logano called out Denny Hamlin for a "dirty" move at Charlotte. Logano's crew member had even harsher words for the JGR driver who dismissed the claims before later apologizing.
Denny Hamlin and his team will remember the 2022 Coca-Cola 600 for his first-ever win in the crown jewel race. Joey Logano and his team will remember Hamlin's race, but not because the Joe Gibbs Racing driver collected his second win of the season. 
The Team Penske crew will remember it for what the three-time Daytona 500 winner did a couple of times on pit road, including a scary injury to one of the pit crew members and how Hamlin's team seemingly didn't care that it happened.   
Denny Hamlin runs over Joey Logano pit crew member
Denny Hamlin had the first stall on pit road at Charlotte Motor Speedway. That's an advantageous spot on the track known for its tight pit boxes because the No. 11 car had plenty of space to work with in front of him. Behind Hamlin was Logano.
With 45 laps to go in Stage 3, the two teams had their first incident when Hamlin hit Logano's tire carrier Jeremy Ogles, slightly knocking him off balance. Unfortunately, it was the first of two incidents, with the second one much more serious. 
During pit stops closing out Stage 3, Hamlin once again came in tight to the yellow Penske car, except this time, he ran over the leg of crew member Tanner Andrews, which the Fox broadcast talked about when showing a replay.
"What a contender," Clint Bowyer said after the broadcast showed Andrews getting back to his feet and removing the tire. "Got right back in the game. Got that air wrench right. Hits it right there. Gets the lug nut on. Yeah, you can see him hobbling on it. I think he got run over." 
Regan Smith provided an update from pit road and said they were checking on Andrews' condition to see if he could continue for the remainder of the race.  
Denny Hamlin and team called out by Penske pit crew member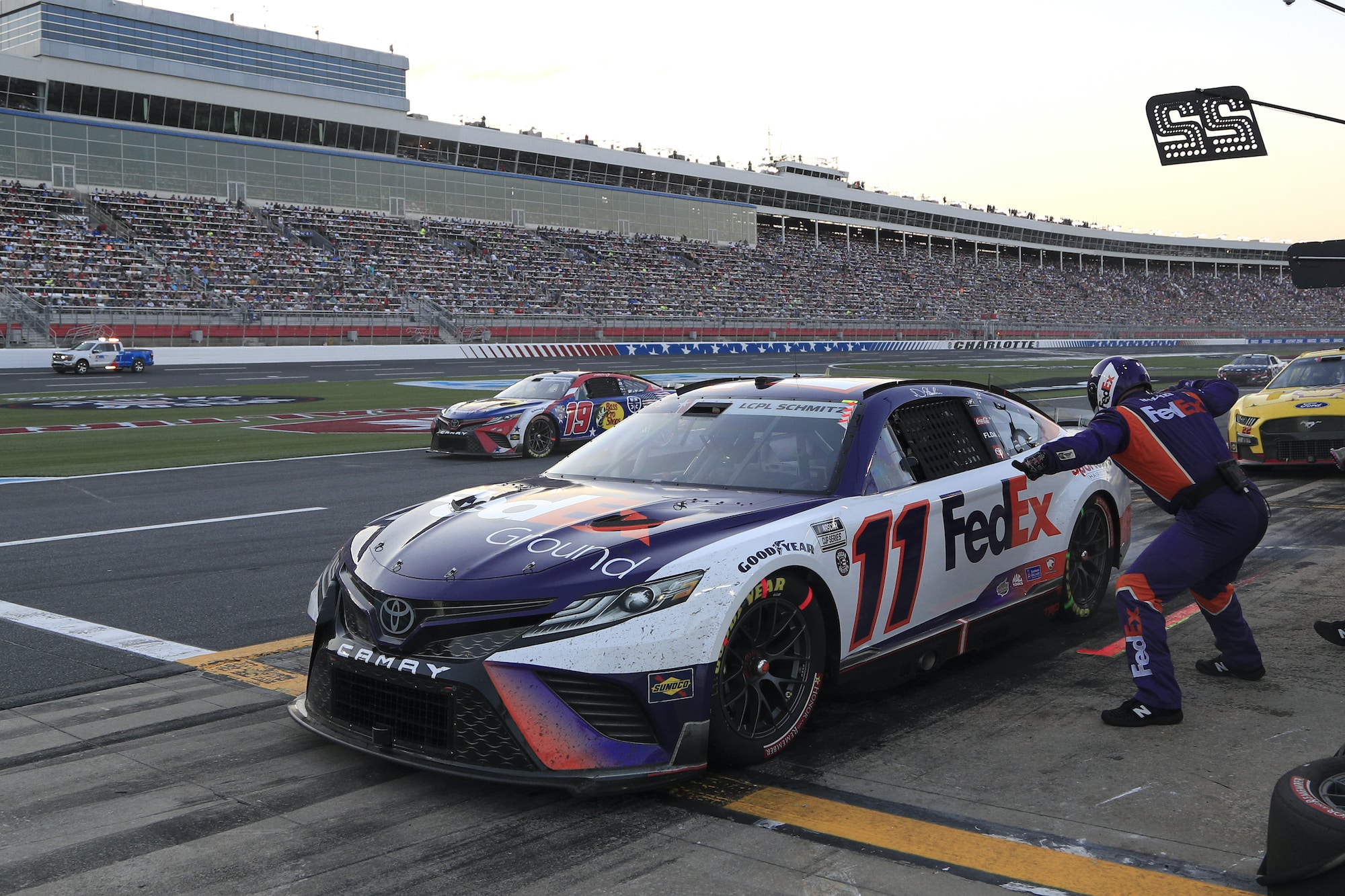 This week on the Stacking Pennies podcast, Ryan "Skip" Flores visited with Corey LaJoie about the incident, and the driver asked if Hamlin's car ran over the Andrews' leg.
"I haven't seen a great angle but yes, it went under the left rear, and it sprained his MCL," Flores said. "He finished the race. I was standing there watching. It's the tightest pit boxes of anywhere we go and the pit road speed is still pretty high because it's a mile and a half. But that is the place that is very conducive to getting hit and pit stall 2 there is very challenging to pit in."
Flores said running over his teammate was upsetting enough, but the No. 11 team's reaction, or lack thereof didn't sit right with him. 
"I was mad at Denny, but I was also upset with like the way they handled themselves," Flores said. "If my guy hit somebody, I'm over there like, 'Hey man, you alright?' Checking on them. Granted, those guys are all young. They got two guys on there that are suspended. Sam McAulay, who we know well, is crew chiefing because (Chris) Gabehart is out. 
"Like, 'Yeah man, we ran him over.' Nobody even said anything. They weren't trying to stop long. I don't if they were pissed off that Joey picked that pit stall too but he qualified 23rd. It's not like he qualified fifth and picked it. They were just kind of p***** about the whole deal. There's no better way to put it. Like, wait a minute. We're all working together here." 
Hypocrisy of NASCAR penalties pointed out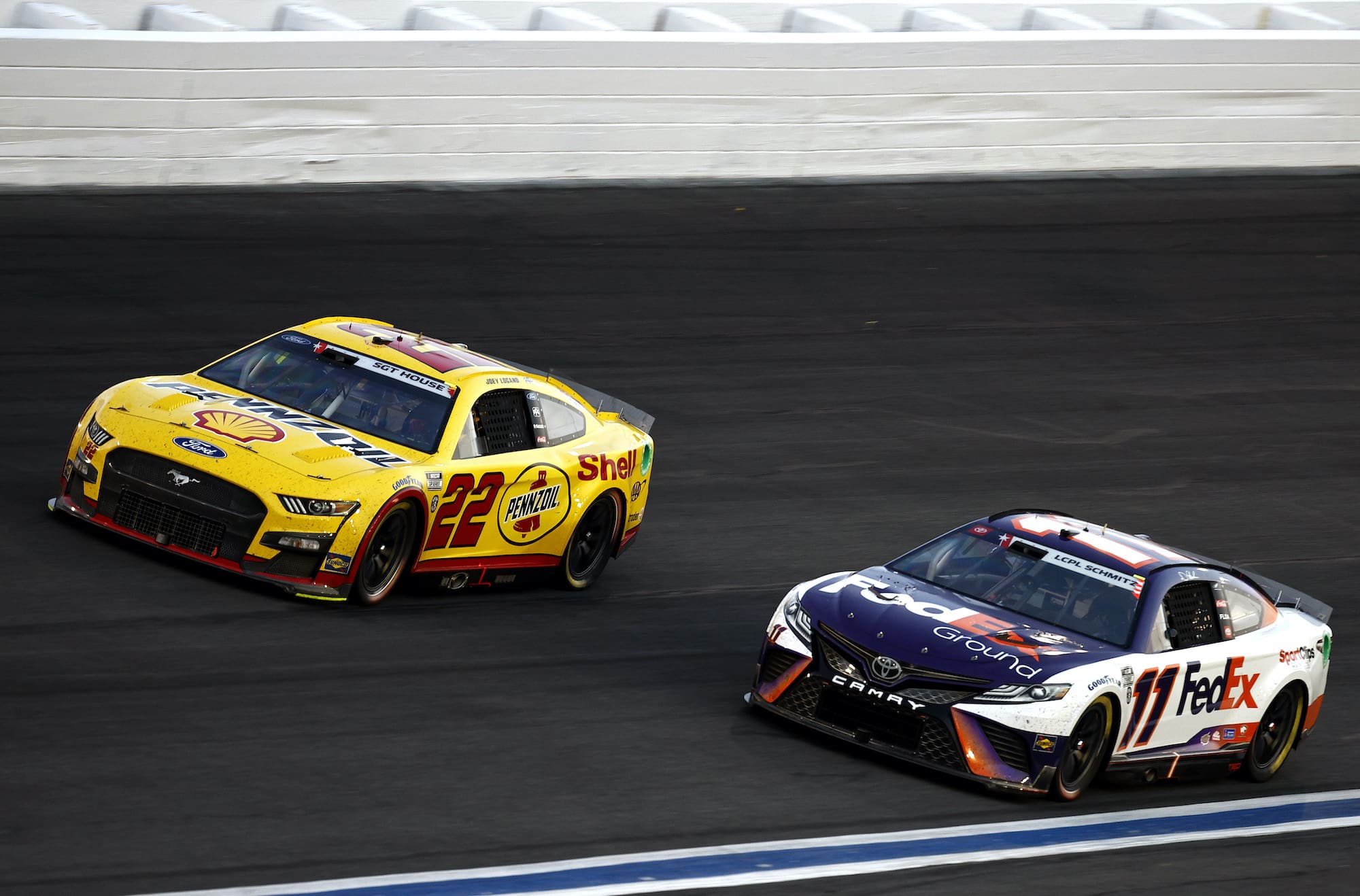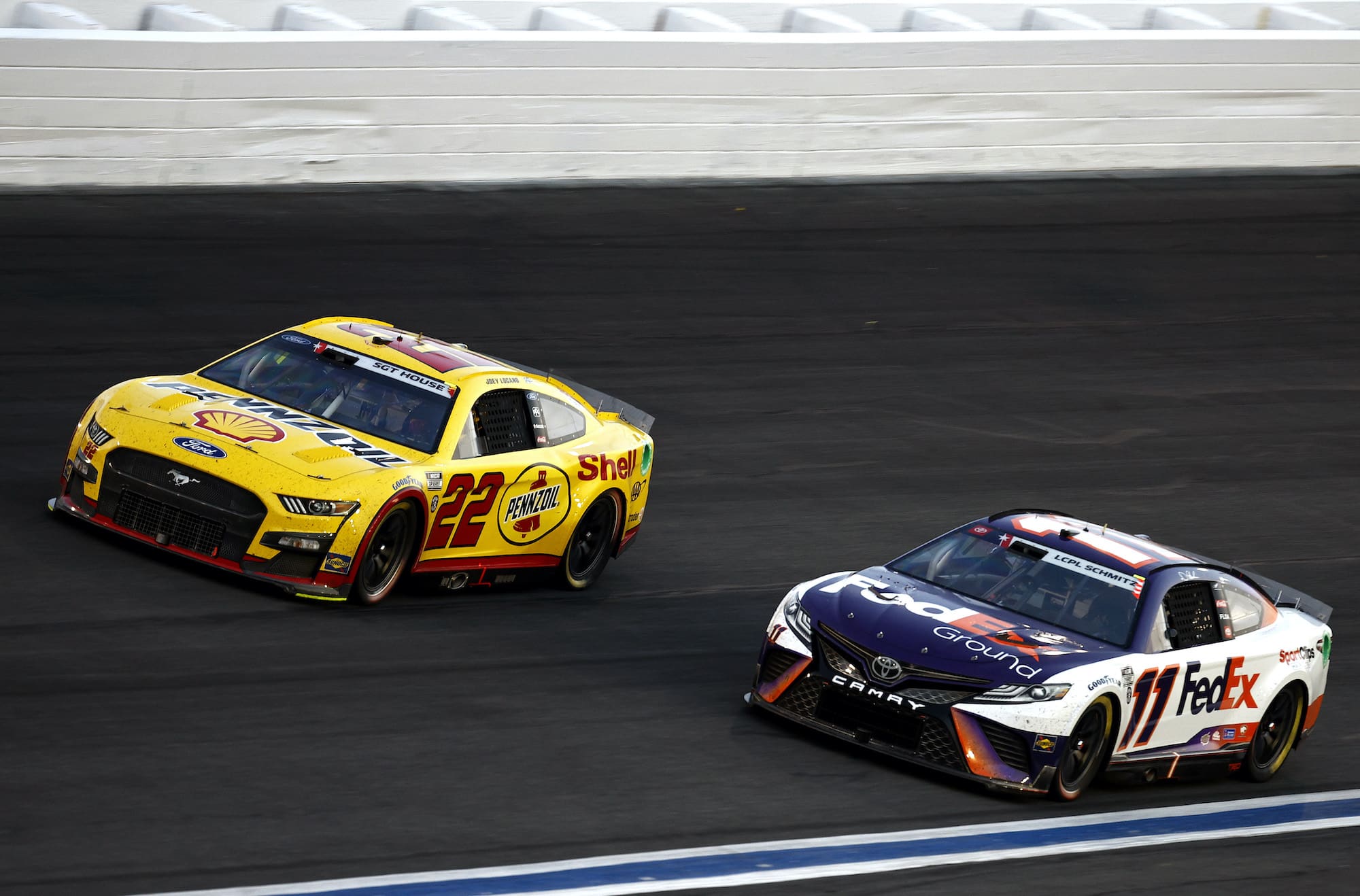 After listening to Flores detail what happened, LaJoie explained how it's hard to see and gauge where the other teams are because you want to get as tight as you can to the car's right front when pulling in the box. The Penske member said he understood, and then pointed out the hypocrisy of NASCAR's rules. 
"But if you're in pit stall 1 and you have all the opening out you can take more and they weren't taking it," he said. "They weren't moving his sign for it. They weren't doing any of that. I understand the game. I understand how it's played. What I'm frustrated with is if I roll my right front tire into their pit box, it's a penalty impeding their pit stop. But if he drives over me, it's not."
Joey Logano calls out Hamlin for 'dirty' move
This week in Illinois, Logano met with reporters and offered his thoughts on the situation. He placed the blame solely on the driver who he's had a few run-ins with in the past.
"We changed the way we did our pit stop to try to allow (Hamlin) to not clip our guys," Logano said. "The carriers get out there pretty far. We brought the tires around the back knowing that's an issue. The changer is down on the ground with his back to a car and gets his heels run over. For one, I don't think there was any reason for it because he had an opening out, so I think that's just a dirty move.
"But the facts are, I think, there needs to be a penalty for it. There needs to be a rule made for it to protect our pit crew. If you're outside your box you're on your own, I get that, but I think if you're inside your box, you're in your house, you should be protected in your home. I think we should just explore it."
When Hamlin was asked to respond to Logano's comments, he was initially dismissive of the remarks, suggesting that the No. 22 had likely run over someone before. However, the JGR driver later admitted on Twitter that it was his fault. "I have since reviewed the video. I was wrong," Hamlin admitted. "Definitely my fault. I cut in 22 box way too far."
Denny Hamlin and Joey Logano have a history. This is yet another chapter. It'll be interesting to see if Logano chooses to write another one in the near future.
Like Sportscasting on Facebook. Follow us on Twitter @sportscasting19 and subscribe to our YouTube channel.