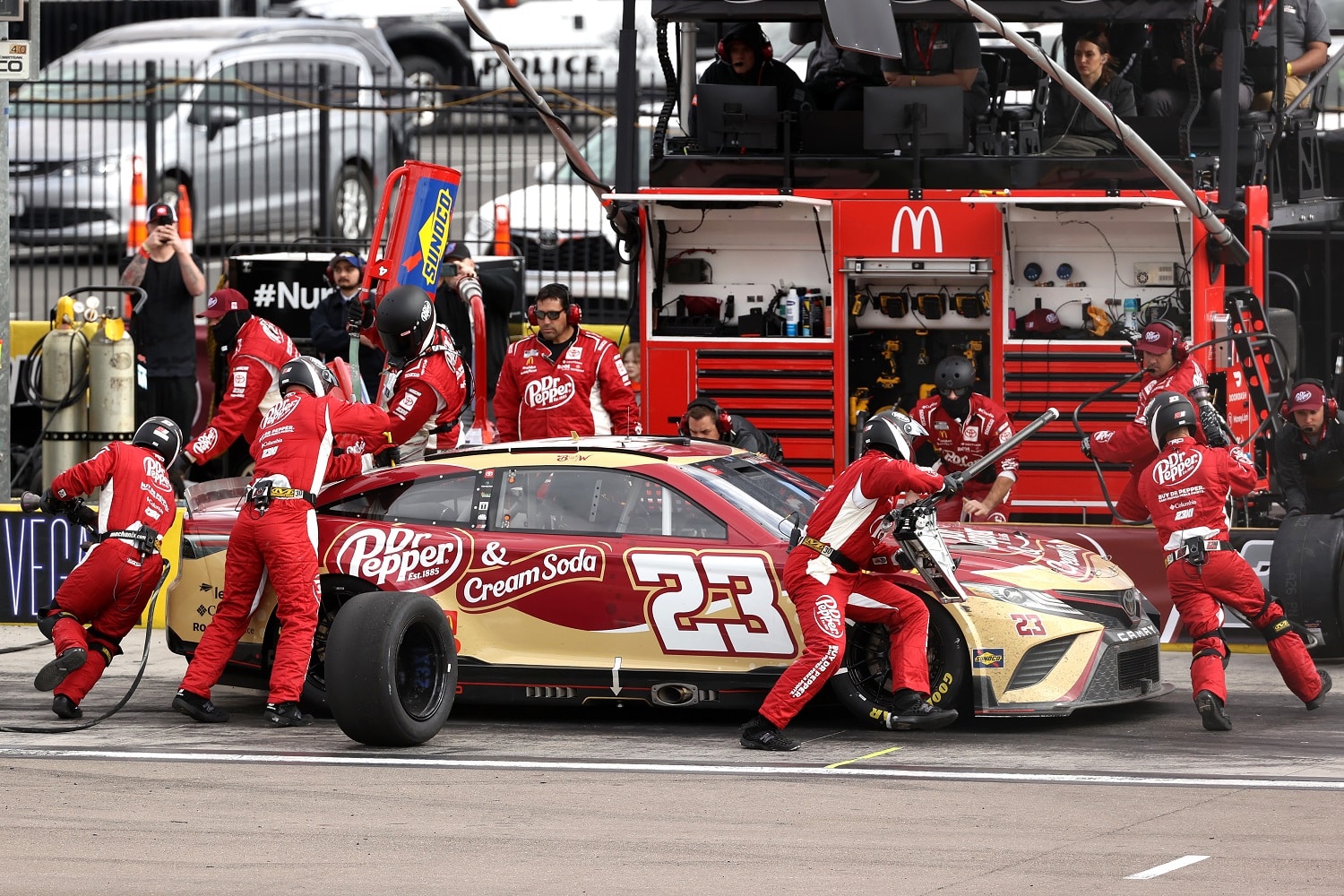 Joe Gibbs Racing Is Feeling the Pressure to Fix a Major Problem Affecting Another Team
Joe Gibbs Racing and 23XI combined to put six cars in the top 10 at Kansas, but the head of Toyota's racing division says it could have been better.
It used to be said you couldn't win a NASCAR race in the pits, but you could absolutely lose one there. That became debatable years ago, and Kyle Larson concluded his magical 2021 season by winning the Championship 4 off a flawless final stop.
As for losing a race in the pits, that will always hold true. Joe Gibbs Racing is already dealing with the suspension of Denny Hamlin's crew chief and two team members to start the second half of the regular season, plus resolving Kyle Busch's uncertain status. Now, JGR is under pressure to clean up its pit stops.
It's an interesting mandate for a team possessing the Cup Series' record-setting crew.
The Kansas race was nearly all good news for JGR, 23XI, and Toyota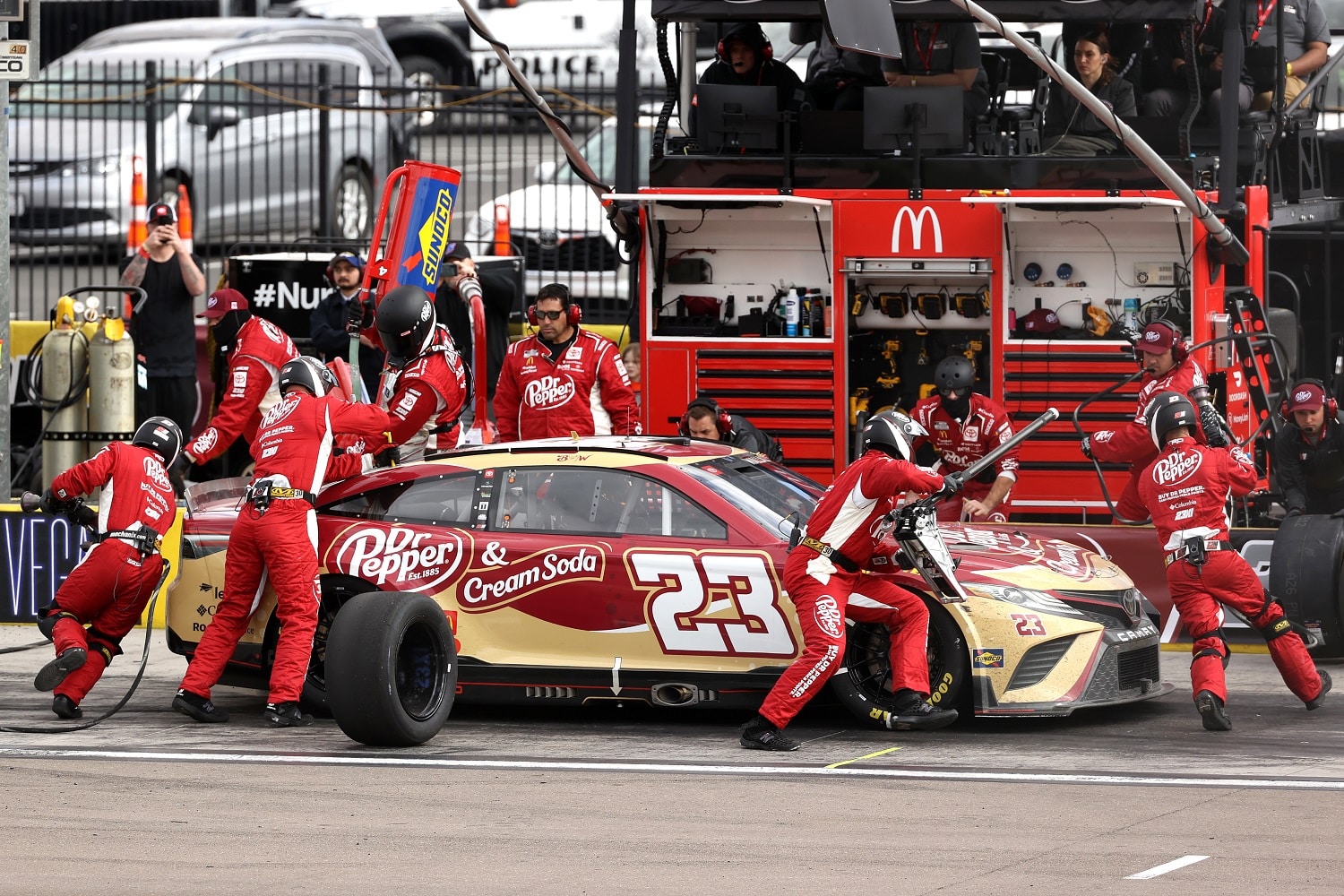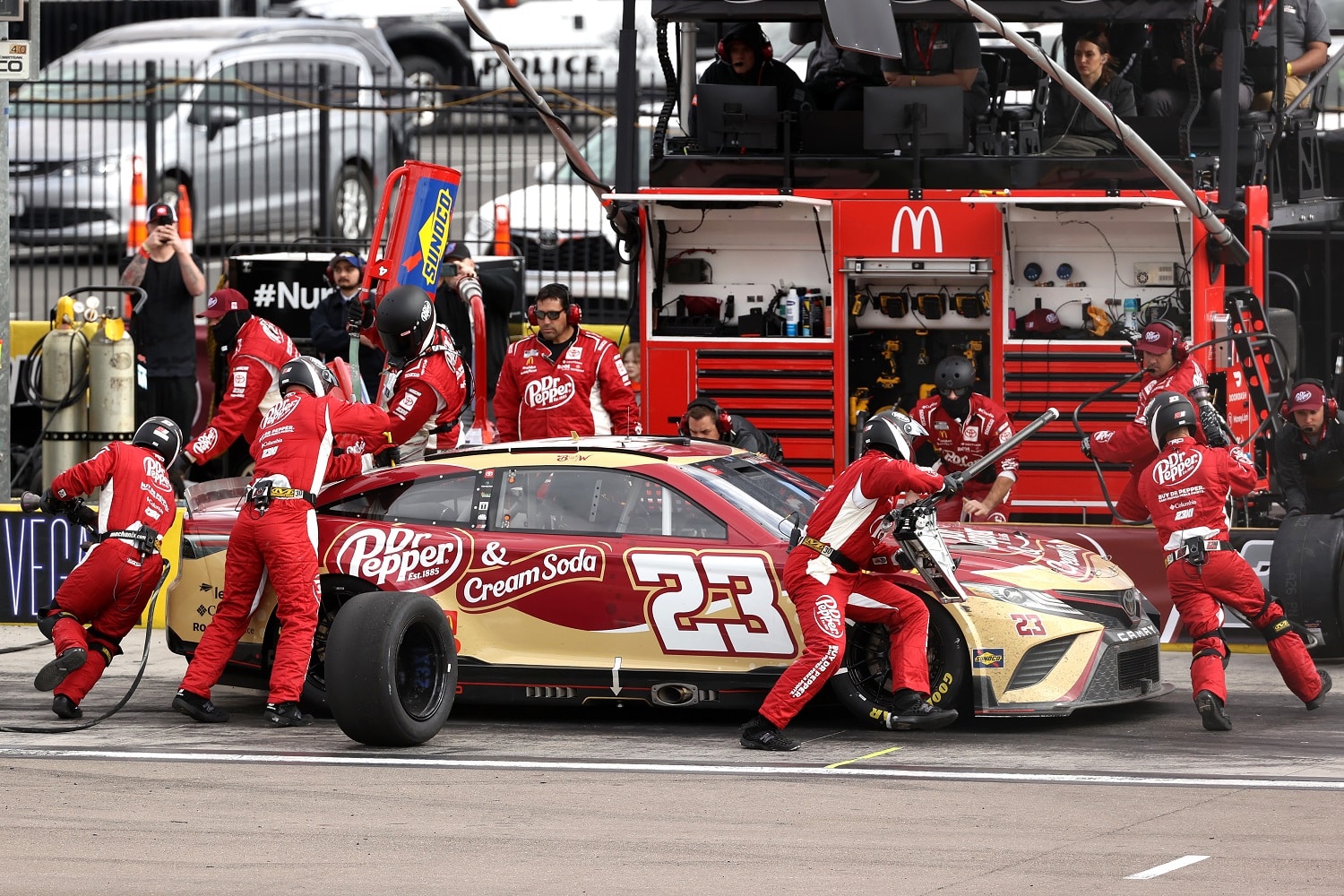 There are only two Toyota teams in the NASCAR Cup Series. Given how they thundered across the finish line last weekend at Kansas Speedway, one might have thought the whole field consisted of Toyotas. Led by winner Kurt Busch of 23XI Racing, all six Toyotas cracked the top 10. The four Joe Gibbs Racing cars placed in the first six.
Though Denny Hamlin of JGR had previously won, it was still the season's best showing as a whole for Toyota's teams, both of which started slowly in the rollout of the Next Gen car. How the rest of the season plays out remains to be seen. However briefly, though, the manufacturer has closed the gap on Chevrolet.
There was one concern at Kansas Speedway: Problems in the pits continued. Officials hit Hamlin's team with two penalties for equipment interference. They nicked Bubba Wallace once for a tire going astray and for a crew member going over the pit wall too soon.
Wallace finished 10th, which didn't sit well with David Wilson, president of Toyota Racing Development.
"He was going to finish top-three I'm convinced, and he had to restart 18th because he had a ridiculous pit stop," Wilson said, according to NBC Sports. "In spite of all of that, he had the speed to drive back to the front." 
Joe Gibbs Racing has room for improvement
As the older and larger of the Toyota teams in the NASCAR Cup Series, Joe Gibbs Racing has more resources than 23XI and more duties. One of its responsibilities on behalf of the manufacturer is to train and operate all six pit crews.
Kyle Busch's crew at Kansas broke the nine-second barrier on a four-tire pit stop, but the feat was overshadowed by the problems on the Denny Hamlin and Bubba Wallace stops.  
Before that, Kurt Busch's team barely stopped him from returning to the Darlington track with a wheel that was coming off, and his brother's team took a penalty for removing equipment from the Talladega pit box. Crew members for Wallace and Christopher Bell went over the wall too soon at Martinsville.
And, of course, Hamlin's car lost a wheel at Dover. Crew chief Chris Gabehart and two team members will begin serving their four-week suspension after the All-Star Race.
Other teams have struggled in the pits, too, but that's of no consolation.
Toyota boss wants to see teams clean up the mistakes
"We're sitting on three wins in 13 starts versus how many does Chevrolet have?" Toyota Racing Development president David Wilson said, according to Motorsport.com. "They have more than we do (seven). A lot more. "So, that's what gets the headlines – 'Toyota has only won three times in 13 races.' And that's true, and that's unacceptable."
The Kansas performance showed Toyota has the potential to compete on speed on the intermediates. It's what happens when cars are standing still for 10 seconds at a time that concerns Wilson. His message to Joe Gibbs Racing is clear: Fix it.
"What's truly been amazing is the fact that we had six cars finish in the top-10 with as many mistakes as were made in pit lane," Wilson said. "In order to win, you have to execute not just behind the seat, but underneath the hood and on pit lane."
The work doesn't need to be done with record-setting speed. It just needs to be done well.
"My biggest thing is I just don't need 'Hail Mary' passes every day," said Denny Hamlin, who drives for JGR and owns a piece of 23XI. "I'm OK with just running the ball sometimes. That's how you win races, is you manage your risk. When you've got the fastest car, just keep me in the game."
Like Sportscasting on Facebook. Follow us on Twitter @sportscasting19 and subscribe to our YouTube channel.