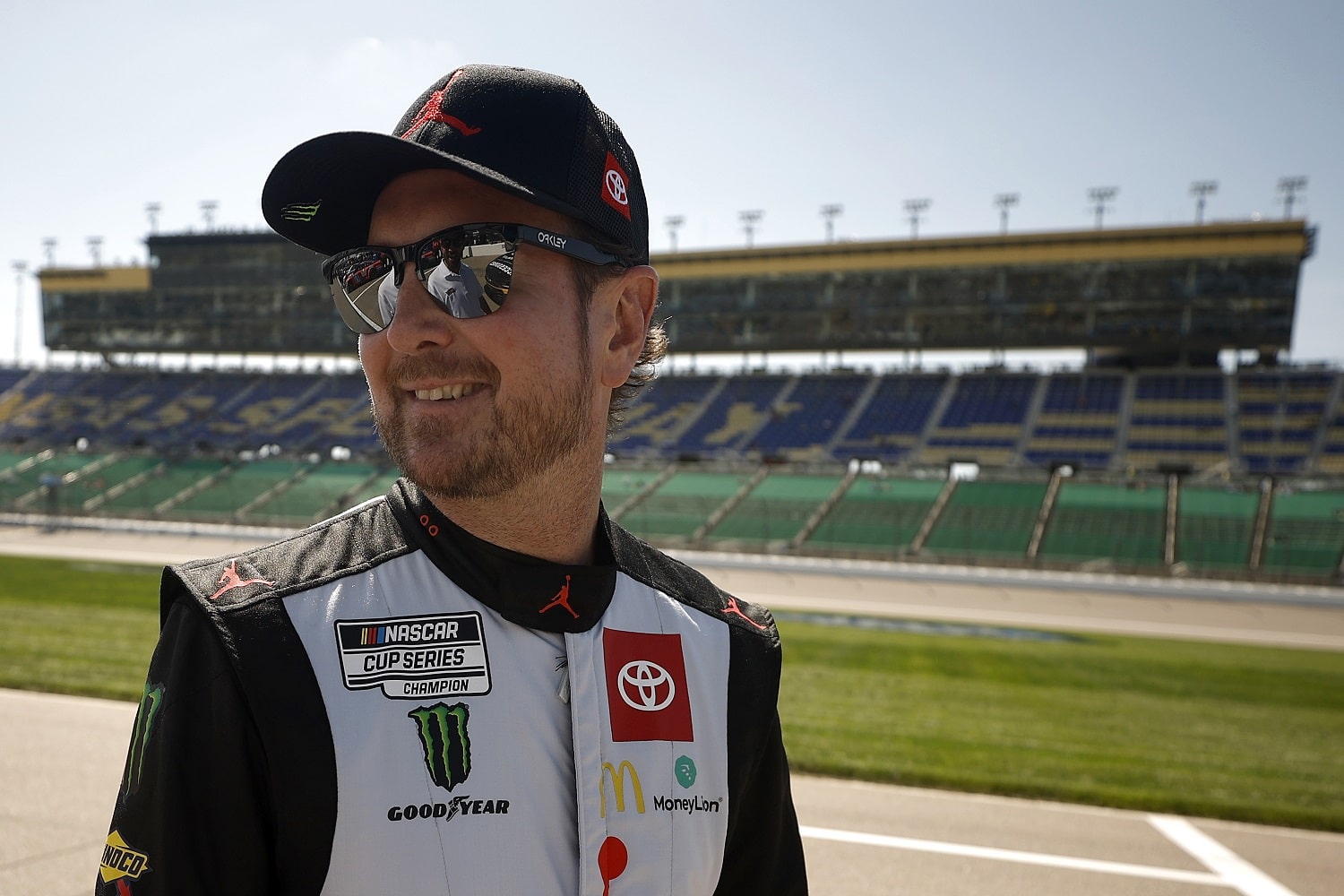 Kurt Busch Completes a Grand Slam Almost Impossible for His Peers to Match
Kurt Busch has added to his list of accomplishments by winning in cars from four manufacturers during his NASCAR Cup Series career.
The second-best aspect of Kurt Busch becoming the season's 11th NASCAR Cup Series race winner last weekend at Kansas is that he has made some other drivers who've also won a bit nervous. Ditto for winless drivers who are piling up points. They'll all have to drive that much harder after the All-Star Race to lock down one of the 16 playoff spots.
But what we should appreciate more is that a veteran driver who was at least as likely to retire last year as he was to move on to a new team keeps plugging away. The persistent, focused Kurt Busch is easier to like than the cantankerous, off-putting version from his younger days.
And at 43 years old, he's doing stuff that others can never match.
Look for a competitive Kurt Busch down the stretch run
One of the predictions about the Next Gen car in the NASCAR Cup Series has been accurate: The outnumbered Toyota teams have struggled. Joe Gibbs Racing and 23XI Racing account for just six of the 36 chartered cars, so the Toyota Racing Division has had a small pool of data to share compared to the feedback that Chevy and Ford have provided their teams through the first 13 points races.
The tide may be shifting. Kurt Busch won a Kansas Speedway duel down the stretch with defending series champ Kyle Larson and led a Toyota sweep of five of the first six places. Even the sixth Toyota made it into the top 10.
That must be exciting for the drivers at JGR and 23XI, and Busch is one of the veteran drivers who can put subsequent technical feedback to work. Though the victory probably assures him a playoff spot, Busch is only 18th in points. He'll need to get to 16th to be absolutely safe and higher to accumulate additional playoff points that will make surviving the first and second transfers easier.
In that context, it isn't difficult to imagine the newly invigorated and incentivized Busch pushing even harder for the next three months, which can only make the racing better for fans.
Kurt Busch has completed a grand slam almost impossible for peers to match
Much was made earlier of all the younger drivers who were collecting checkered flags since the last half-dozen races of the 2021 season. But when 27- and 28-year-olds are making their presence felt, it means they made it to the NASCAR Cup Series after an important player left: And that player was Chrysler.
Once American Motors dropped its Cup Series program after the 1978 season, it left General Motors, Ford, and Chrysler as the only manufacturers in NASCAR's top level. Toyota made it a foursome beginning in 2007, but Chrysler's Dodge division bowed out in 2012.
That's where we've been since. Though rumors have rekindled about another manufacturer coming aboard in 2024 or '25, the current teams can only align with Ford, Chevy, or Toyota.
Drivers change teams frequently, and Busch did it again last season after Chip Ganassi Racing exited NASCAR. Teams even occasionally change manufacturers. Ryan Newman, who doesn't have a Cup Series ride this year, managed to win in Dodges, Fords, and Chevys from 2002-2017 but never drove a Toyota.
But no one currently in the Cup Series had hit a grand slam until Busch last weekend at Kansas.
He added another line to his Hall of Fame plaque
Kurt Busch will enter the NASCAR Hall of Fame, with the only question being whether it's on the first ballot. The last remaining full-time driver to have raced against Dale Earnhardt has won 34 races and the 2004 Cup Series championship, and the triumph in the 23XI Racing No. 45 Toyota added another achievement to be noted at his induction ceremony.
Busch has now won races in cars from four manufacturers. His first victories came in 2002 in a Roush Racing Ford.  He moved to Penske Racing in 2006 and began winning in the No. 2 Dodge. Then, Busch landed on a trio of different Chevy teams in three years. The third time was the charm as he won in the Stewart-Haas Racing No. 41 Chevy in 2014.
And now, he's added Toyota to the list of winning manufacturers, completing the grand slam.
All stats courtesy of Racing Reference.
Like Sportscasting on Facebook. Follow us on Twitter @sportscasting19 and subscribe to our YouTube channel.