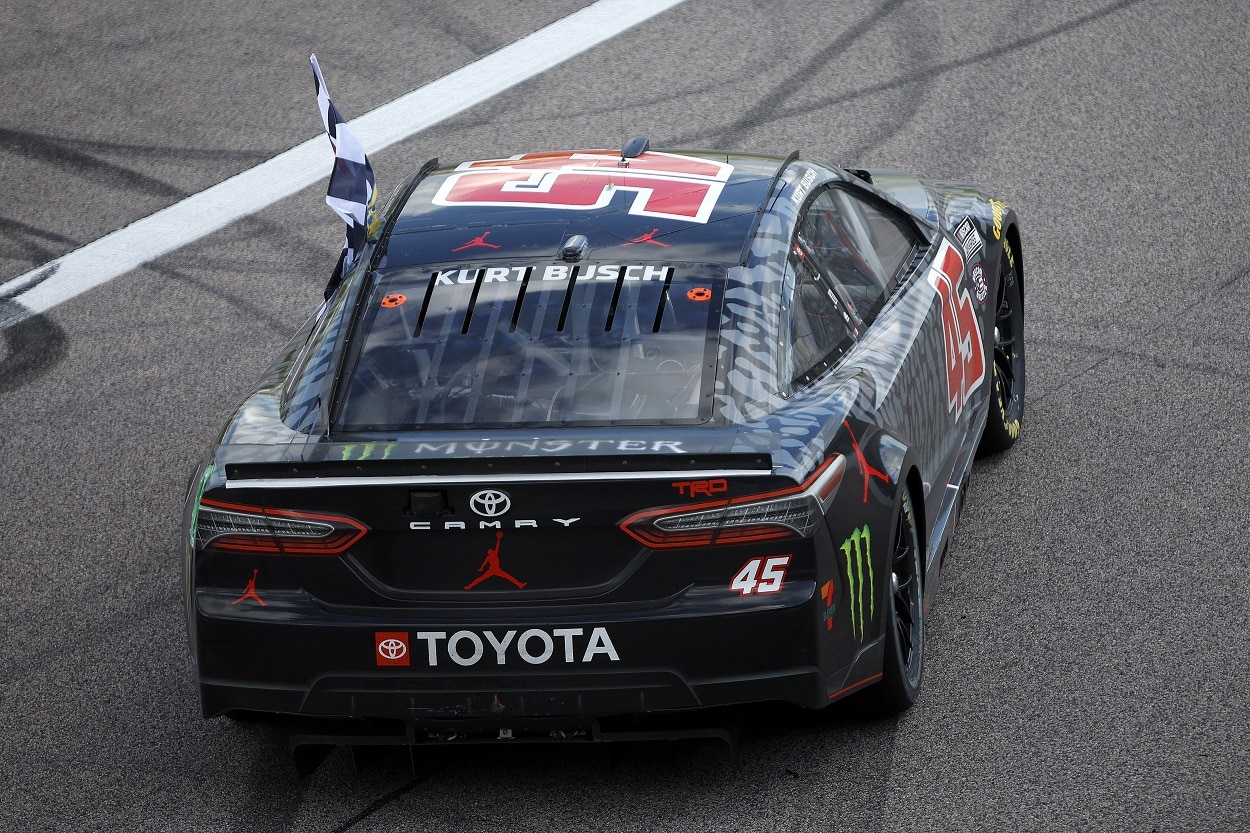 Toyota Is Changing the Entire Dynamic of the 2022 NASCAR Cup Series Season
Toyota's showing at Kansas Speedway could make the rest of the 2022 NASCAR Cup Series much more interesting.
Toyota teams lagged behind their counterparts who drove Chevrolets and Fords to begin the 2022 NASCAR Cup Series season. Still, all six Toyota teams finished inside the top 10 this past Sunday at Kansas Speedway to set themselves up for a much more competitive second half of the regular season.
The NASCAR Cup Series season began with four Chevrolet wins and two Ford victories before Denny Hamlin won in his No. 11 Toyota at Richmond Raceway on a pit strategy call. Joe Gibbs Racing teammate Kyle Busch then backed into a win in the dirt race at Bristol Motor Speedway when Chase Briscoe and Tyler Reddick crashed in the final corner before the checkered flag.
Kurt Busch didn't need strategy or someone else's crash to win Sunday at Kansas, and the manufacturer's overall success offered a look at how competitive the rest of the regular season could be.
Busch led 116 laps for his first win of the season and first with 23XI Racing, which is co-owned by Hamlin and affiliated with the four-car Toyota powerhouse of JGR. Busch's teammate, Bubba Wallace, registered his first top-10 finish since he ran runner-up in the Daytona 500, and all four JGR cars finished third through sixth.
Toyota struggled initially with the NASCAR Next Gen car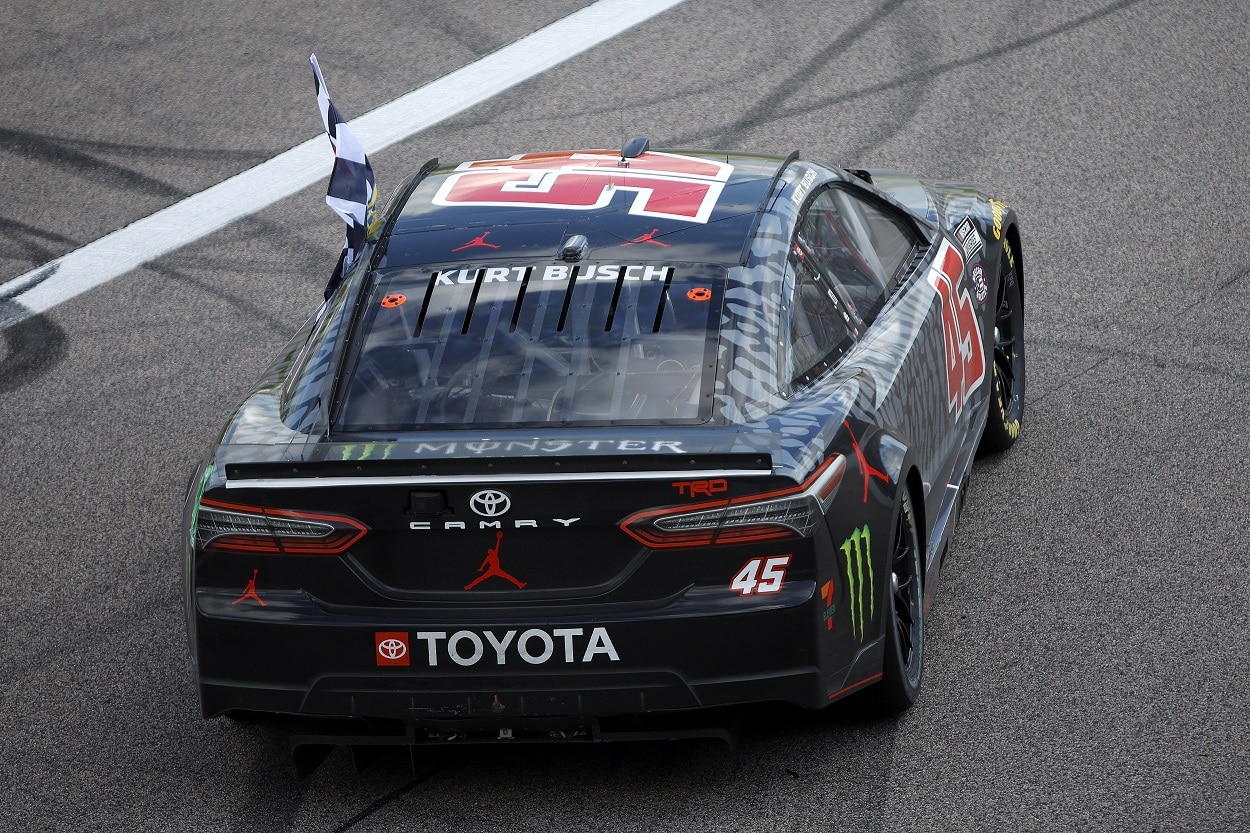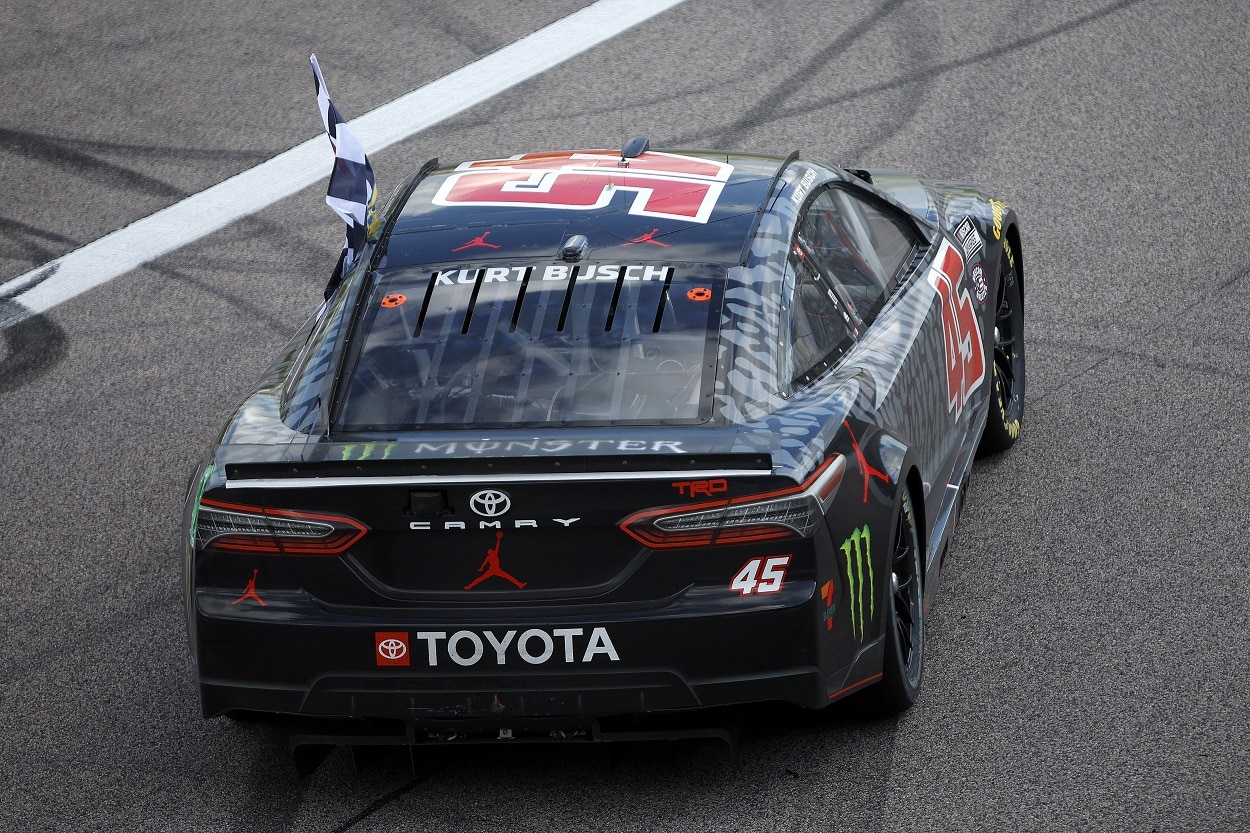 Despite Wallace's run at Daytona, the Toyota teams generally struggled through the first half of the regular season. All six Toyota cars between 23XI and JGR had overheating issues in the second race of the year at Auto Club Speedway. JGR teammates Kyle Busch and Martin Truex Jr. battled for the lead the following week at Las Vegas Motor Speedway but ultimately lost to a pair of Hendrick Motorsports Chevrolets after a late caution and pit-stop cycle.
Even after Hamlin won at Richmond, he looked at the leaderboard and shook his head at the results his 23XI drivers produced. Wallace was 26th, and Kurt Busch finished 35th after mechanical problems early in the event.
"I was really excited (after the win) until you get out of the car and you look down the pylon and say 'What the f***?' What's going on?" Hamlin said in a press conference the next week before racing at Martinsville Speedway. "It's agitating because it's different things on different teams. … In a meeting with Joe Gibbs Racing, I thank them for everything they do for me, and then we walk out of that meeting into another, and I'm cussing them out. Just not doing a good enough job over there." 
Busch ran sixth that week at Martinsville but did not crack the top-15 again until his win at Kansas. Wallace didn't finish better than 16th in the five races between Richmond and Kansas.
However, Kansas was the first true 1.5-mile intermediate track race since the third week of the season at Las Vegas. Teams have had more than three months to learn from the races at Fontana and Las Vegas, and it appears the Toyota teams applied those lessons well at Kansas.
The upcoming NASCAR Cup Series schedule could be favorable to Toyota
Those lessons could be particularly helpful during the next five weeks, as the Cup Series visits three D-shaped intermediate ovals. The All-Star Race this coming week is at Texas Motor Speedway, the Coca-Cola 600 follows at Charlotte Motor Speedway, and the 1.33-mile oval at Nashville Superspeedway awaits three weeks later.
Toyota could suddenly go from the third of three manufacturers to potentially the best by the end of the Nashville race to complete the month of June.
HMS drivers won five of the first 11 races this season, and the Trackhouse Racing Chevrolet driven by Ross Chastain won two others. Obviously, Chevrolet teams had a grasp of what it took to make the new Next Gen car model go faster than everybody else. It now appears that Toyota has caught up.
That could make for quite the showdown between Chevrolet and Toyota as the second half of the 26-race regular season begins. Eight of the top 10 drivers in the points standings drive either an HMS Chevrolet or a JGR Toyota, and all of those drivers, aside from Christopher Bell in 10th (one career win), have won multiple Cup Series races in their careers.
The top Ford teams of Team Penske and Stewart-Haas Racing have each won one race with Joey Logano and Briscoe, respectively, but those organizations have a tall task ahead to keep pace with what could be a fun back-and-forth summer between two of the largest and most storied organizations in the sport's history.
All stats courtesy of Racing Reference.
Like Sportscasting on Facebook. Follow us on Twitter @sportscasting19 and subscribe to our YouTube channel.