JGR's Appeal of the Denny Hamlin NASCAR Penalty Is Hopeless, but There's a Method to the Madness
The decision by Joe Gibbs Racing to appeal the penalty from Dover is a ploy calculated to possibly help Denny Hamlin win at Darlington.
One of two things will happen early next week: Either Joe Gibbs Racing will call NASCAR on behalf of Denny Hamlin to say never mind, or the No. 11 Toyota team will proceed with an appeal hearing in which the best excuse it can offer is that the dog ate its lug nut.
Either way, Wednesday's disclosure that the organization is fighting four-week suspensions for crew chief Chris Gabehart and two team members is an obvious ploy, albeit completely legal.
Wheels have been falling off cars at a prolific pace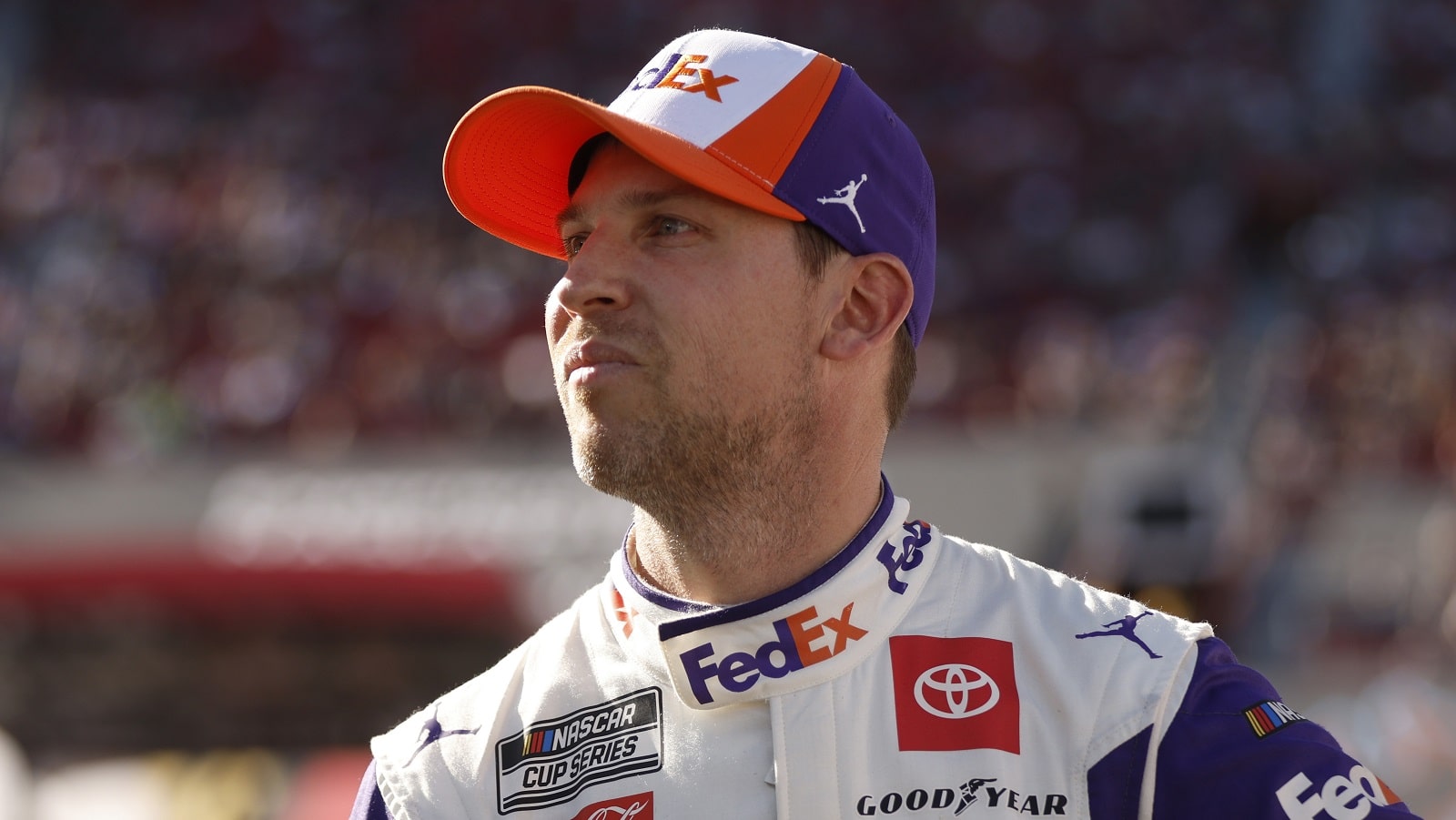 As it does each Tuesday, NASCAR released its penalty report from the weekend. The update from Dover Motor Speedway listed the three infractions that everyone expected since they involved wheels breaking free from cars shortly after pit stops for tire changes.
The incident that had everyone buzzing was the No. 11 Toyota of Denny Hamlin losing its left-front tire coming out of the pits just minutes after the car won the opening stage of the Cup Series race. NASCAR announced crew chief Chris Gabehart and team members Derrell Edwards and Blake Houston must miss the next four NASCAR Cup Series events, one of which is the All-Star Race.
The No. 16 Kaulig Racing Chevy of AJ Allmendinger also lost a wheel, sending crew chief Matt Swiderski and crew members Keiston France and Jonathan Willard off on a similar suspension.
Saturday's Xfinity Series race had an incident, too. Sam Mayer's No. 1 Chevy for JR Motorsports team lost a wheel. Crew chief Taylor Moyer and crew members Orane Ossowski and Markus Pierce-Brewster will serve the penalty.
The Cup Series, in its first season using the Next Gen car, has seen the same issue repeatedly. The previous suspensions were:
Justin Haley and Kaz Grala at the Daytona 500.
Todd Gilliland at Fontana.
Corey LaJoie at Phoenix.
Bubba Wallace at Circuit of the Americas.
BJ McLeod at Talladega.
JCG's appeal of the Denny Hamlin NASCAR penalty is hopeless
The penalty for a wheel coming loose during competition may seem harsh, but it's absolutely necessary. A tire on the track struck by a car traveling at a high speed becomes a projectile that could be launched at a NASCAR pit crew, spectators in the infield, or even over the catchfence and into the grandstand.
Kaulig Racing and Front Row Motorsports, the team owners for Justin Haley and Gilliland, respectively, appealed their penalties for wheels coming loose, but both lost. The Money Team didn't bother appealing Grala's penalty since it didn't plan to enter the next four races.
However, all the affected teams since have recognized that they stood little or no chance and declined to appeal. Certainly, the Kaulig team is unlikely to go back for a second bite of the apple following AJ Allmendinger's misfortune.
On the other hand, Joe Gibbs Racing announced on Wednesday that it will appeal on behalf of Denny Hamlin's team. Surely, they know there's a better chance of Joe Gibbs winning another Super Bowl with 72-year-old Joe Theismann at quarterback than of overturning the penalty.
But that's not JGR's objective.
Denny Hamlin stands a chance of winning at Darlington
Appealing the suspension of Denny Hamlin's crew chief and two crew members is solely about buying time so that the No. 11 Toyota team remains intact this weekend at Darlington for the Goodyear 400.
Hamlin has scored 47 victories in his Cup Series career, and Darlington is near and dear to his heart. He has won there four times, including once in each of the past two seasons. It's part of his history of 11 top-five finishes in 19 starts there.
Understandably, then, the driver and the team think he has more than a remote chance of winning again. To do so, however, he'll want every possible advantage. That includes using his regular pit crew, which can't happen minus his jackman and a tire changer.
They're undoubtedly going to end up serving the suspension, but it won't kick in until the now-delayed appeal is dropped or lost next week. It may feel as though JGR is gaming the system … probably because JGR is gaming the system. But they're within the rules.
Ordinarily, a driver who's already won this season wouldn't resort to such chicanery. But Hamlin is only 23rd in points despite the victory at Richmond. As such, it's plausible that more than 16 drivers will win races this year. The playoff field would then consist of the 16 winning drivers with the most points, so Hamlin and JGR are taking no chances.
Like Sportscasting on Facebook. Follow us on Twitter @sportscasting19.