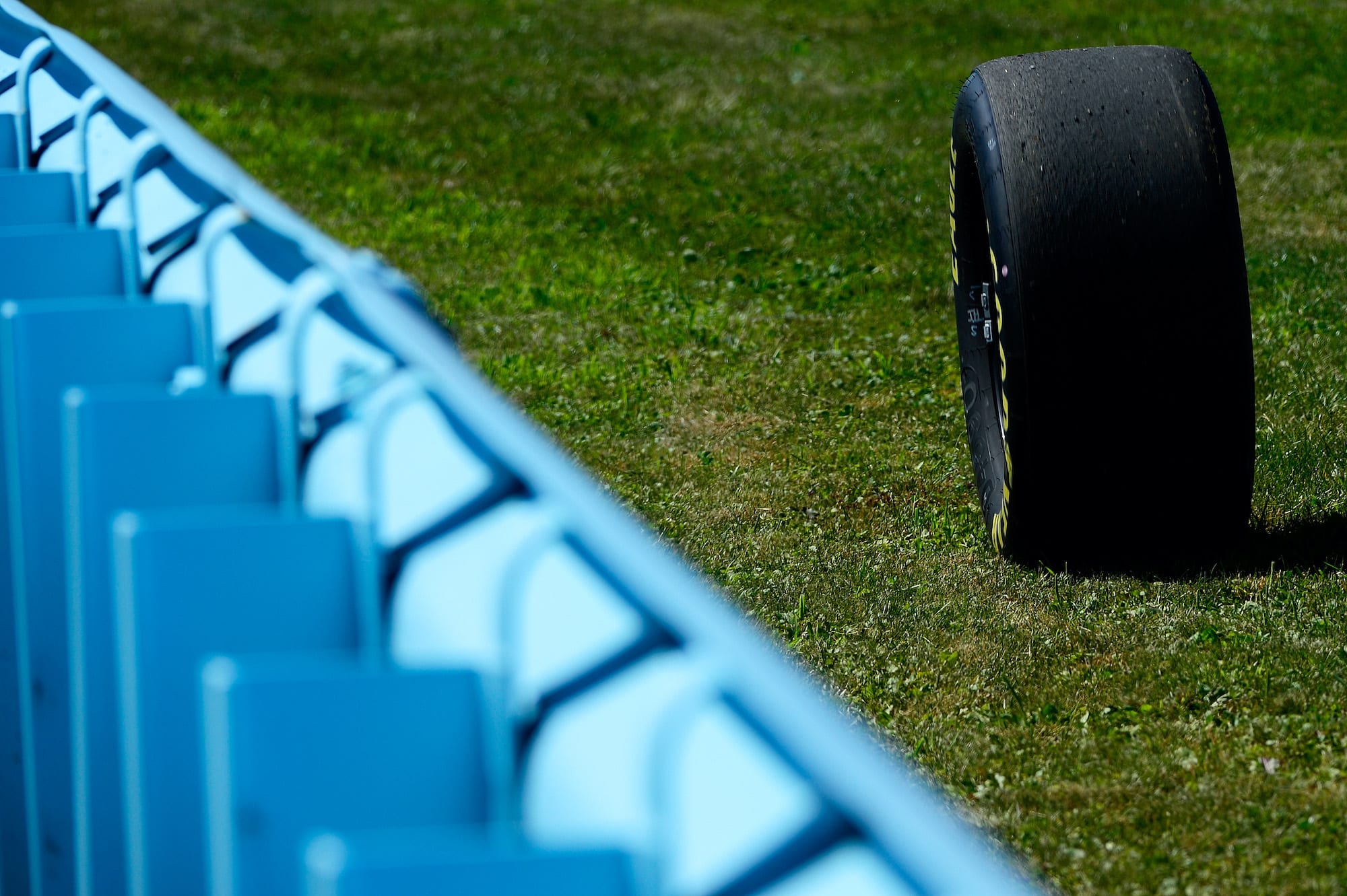 NASCAR Cup Series Tire Changer Provides Behind-the-Scenes Look Why Wheels Are Coming Off Cars This Year
Loose wheels have been a major problem in the 2022 NASCAR Cup Series season and one tire changer went on Twitter and explained in great detail why it's happening.
NASCAR, the teams, and fans have watched the Next Gen car consistently deliver exciting racing action this season with cars hard to handle, lots of passing, and plenty of last-lap drama.
The one thing all parties involved would like to change about the new car this year is unquestionably the wheels. They've been coming off cars at an alarming rate, including a couple times this past weekend at Dover. This week, one Cup Series tire changer took to Twitter and provided an in-depth analysis on his own experiences and what he views as the solution moving forward.
Numerous loose wheels to start NASCAR Cup Series season
It started right out of the gates at the season-opening Daytona 500 when Kaz Grala, in The Money Team No. 50 car, lost a wheel that went bounding down the track, forcing numerous cars to take last-second measures to avoid hitting the wheel and converting it into a dangerous projectile. 
In 11 races, it's happened multiple times, including twice this past weekend at Dover. It happened once on pit road when Denny Hamlin's wheel almost beat him to the pit road timing line before harmlessly stopping on the inside wall. The other occurred when AJ Allmendinger lost a wheel similar to Daytona but worse because of a delayed caution which meant multiple cars zipped by the wheel traveling at speeds of more than 150 miles an hour.
Fortunately, none of the wheels have been hit by another speeding car. Unfortunately, it feels like it's a matter of time before it happens.  
Cup Series tire changer provides behind-the-scenes look at what's happening
The single lug nut has dramatically changed the pit road game. Faster stops are the result. But Hamlin proved at Dover even the best teams in the business continue to struggle with the new lug nut. Erik Jones' tire changer Justin Fiedler posted an informative thread on Twitter this week providing great detail on what the stops are like and how he expects teams will continue improving on them in the future.
"Right now we are seeing a few big challenges. The first is changers, I think especially less experienced changers, understanding when a nut is tight," he tweeted with a video showing his helmet-cam view of a tire change this weekend at Dover on the No. 43 car. "From the time I'm engaged on the nut, to the swap of tires, to the nut being tight again is about 2.5 seconds. As a comparison, that is probably 2 seconds faster than a 5 lug stop. So there is much less time to make decisions. You better be confident it's tight before you leave."
Fiedler said the feedback from the gun is different than the previous one, and it's easy to get confused by the sound and feel. He admitted that he has erred on the conservative side so far this season.
"This confusion or misunderstanding of what a tight wheel is, I believe, is what has caught a lot of less experienced changers out," he said. "They think it's good, the car leaves, and now there is no margin for error. It's either tight, or it's most likely coming off."
He said another issue is the communication between the crew chief and the driver because if there is an issue on the left side, the information has to be quickly communicated to the driver by the crew chief, who is not only watching the stop but checking to see if it's clear for the driver to leave his box. 
In the end, Fiedler said it's all a learning process, but it is getting better.
"But as has been the case with every pit stop change we've been thrown the last decade, we will figure it out," he said. "We just need time and reps to adjust to all the corner cases. In the meantime though, there will be some failures and some screwups."
Cliff Daniels critical of equipment not crews
As teams and fans have grown accustomed to this season, NASCAR delivers a four-race suspension to the crew chief and two crew members any time a team loses a wheel. Last month, Kyle Larson's championship-winning crew chief Cliff Daniels appeared on SiriusXM NASCAR Radio and talked about the loose wheel situation and didn't necessarily accept Fiedler's assessment that it's the crew members creating the problems.
"I hate that I'm going to have to say it but it's the truth, the razor-thin line that we're on right now from having a fast pit stop and having a potential issue is smaller than it has ever been," Daniels said. "And believe it or not, there is more complexity and nuance in the single-lug pit stop than there was in the five-lug pit stop. And I know that's really hard to believe, but a lot of it does boil down to limitations that we have with the current pit gun. 
"A few things that I'm going to say are inadequate with the safety mechanisms that are supposed to keep the wheel nut from falling off that I don't believe you can blame the teams, and the tire changers, the pit performers every single time for what we've seen this year. I would say that NASCAR needs to step up, and NASCAR needs to improve the pit guns. NASCAR needs to improve the stuff that we're using."
Daniels said that in early April. There have been multiple loose wheels since. There's obviously still a serious problem and whether it's human error or mechanical failure is a matter of debate. Whatever the cause, NASCAR needs to promptly come up with a resolution before it becomes tragic. 
Like Sportscasting on Facebook. Follow us on Twitter @sportscasting19.