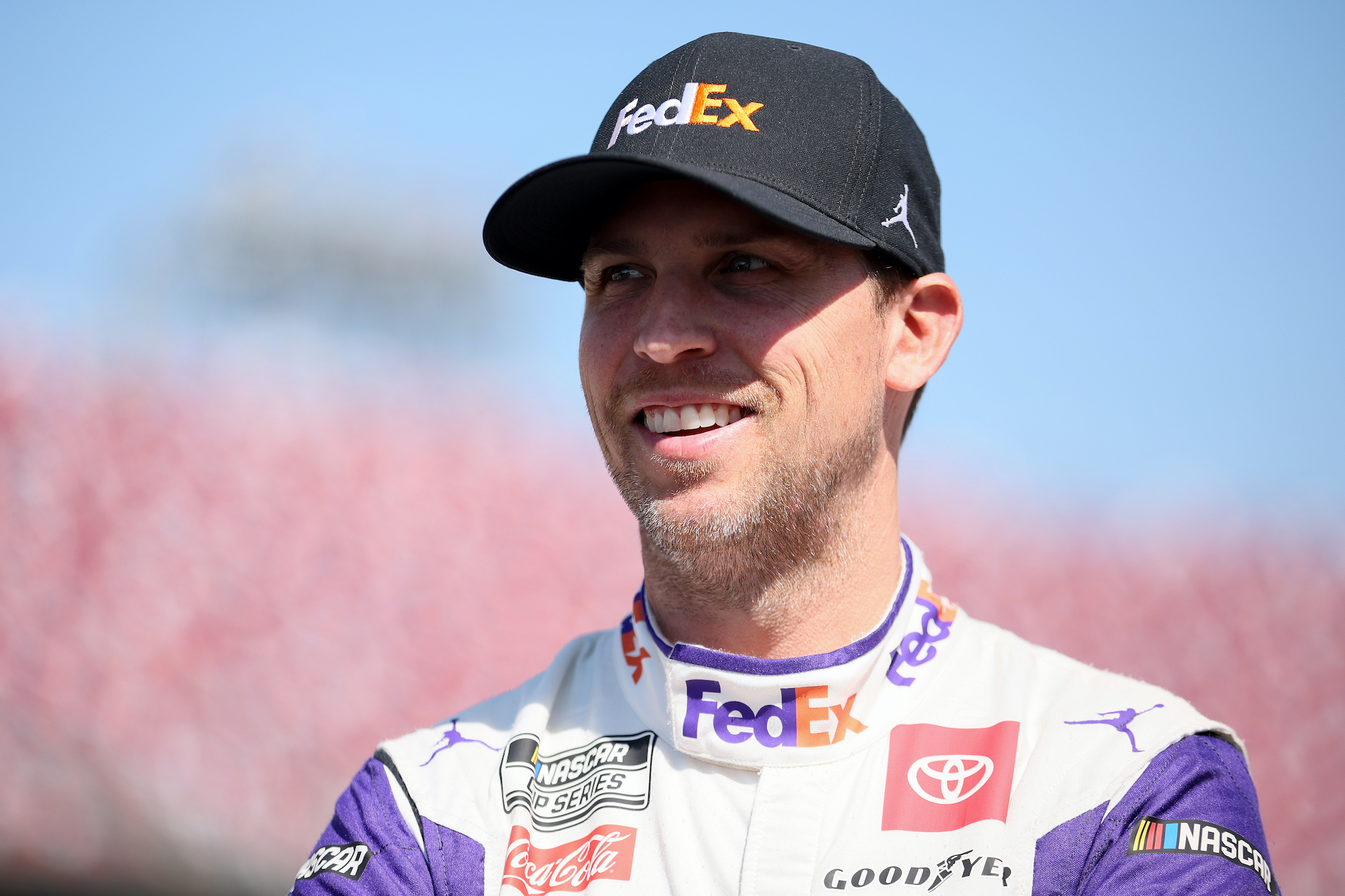 Denny Hamlin Insists Headline-Making Tweet Was 'Hilarious' and Surprisingly Reveals How Chaotic Week Has Been a Good Thing
Denny Hamlin visited with reporters at Dover and addressed his tweet, insisting that it was "hilarious" and it's turned into a positive for him and he's expecting more good from it this weekend.
Despite a win, 2022 has been a year Denny Hamlin will remember years from now for all the wrong reasons, with one mistake after another costing him on the track. This past week that black cloud carried over into his personal life when he attempted to be funny in a tweet calling out Kyle Larson, but instead got serious blowback for its insensitive nature and offending a lot of people.
This week before the race at Dover, the three-time Daytona 500 winner visited with the media, and, as expected, reporters asked his thoughts on the events of this past week. The always candid driver didn't disappoint. 
Denny Hamlin calls out Kyle Larson with offensive tweet
After watching both of his 23XI Racing cars crash on the final lap at Talladega due to a miscalculated move by Kyle Larson, Denny Hamlin took to Twitter 24 hours later to call out the HMS driver for his mistake. The Joe Gibbs Racing driver used a meme that featured a Family Guy clip that stereotypically portrayed Asian women as bad drivers, comparing it to Larson, whose mom is Japanese American. 
The response was immediate, and a lot of it was understandably negative. After initially trying to defend his tweet with a pair of comments, he later removed it and posted an apology.
NASCAR announced that he would be required to attend sensitivity training. 
Hamlin reveals how what happened is a good thing
This week before the race at Dover, Hamlin met with reporters and was peppered with questions about the subject. He still insisted the principle of his tweet was "hilarious" but also acknowledged its insensitive nature and how some found it offensive. He said the incident isn't going to change who he is but also understands it's an opportunity for personal growth.
"I'll always continue to be me, and it's not always going to be the most popular thing, but I am who I am," Hamlin said. "Certainly, I never will stop continuing to grow. I always want to be a better person, better dad, better partner, better team owner, better driver. I always strive to try and be better, and I work really hard at it." 
Record of good results after distractions in the past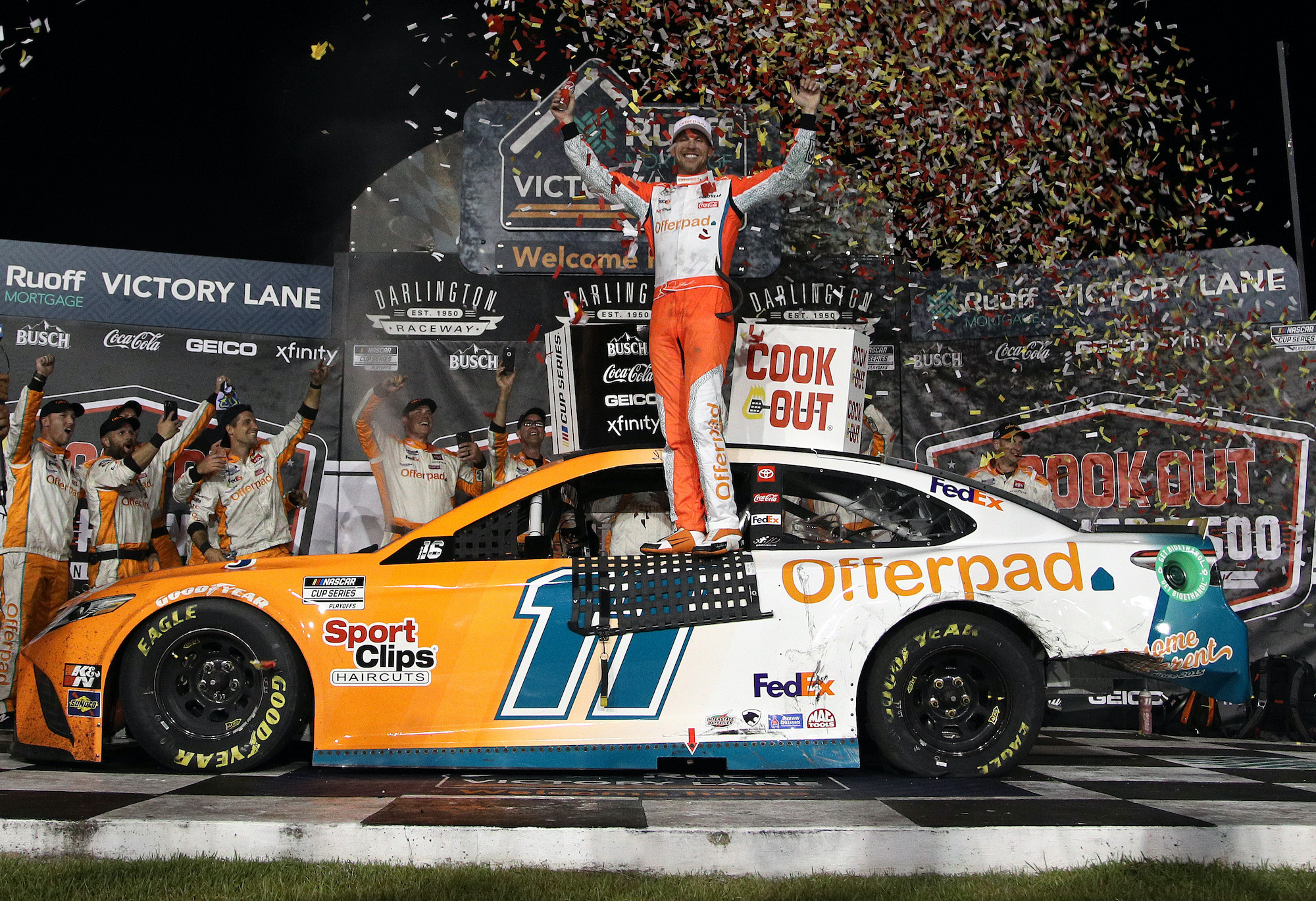 Hamlin said all the chaos and distractions from the past week not only have provided him with a chance to become a better person, but he also thinks they might have another positive effect. In the past, the 41-year-old has faced other off-track distractions and turned right around and performed well, including last year when he and his longtime partner reportedly broke up, and he went out and won his first race of the year at Darlington a few days later.  
"You historically look back at my performance to distraction, and it typically correlates to a pretty good weekend," he said. "I'd probably bet on us if I were you."
It's certainly an odd way to find motivation. Interestingly, Hamlin's 23XI Racing co-owner, Michael Jordan, was notorious for strange motivational tactics, including making up fictional stories about others talking smack to him.
Whatever works.
Like Sportscasting on Facebook. Follow us on Twitter @sportscasting19.