Denny Hamlin Called Out for Racist Tweet Directed at Kyle Larson, Apologizes, and Receives Discipline From NASCAR
Denny Hamlin is feeling the heat after his tweet directed at Kyle Larson resulted in many fans calling him a racist and caught the attention of NASCAR officials.
Denny Hamlin already has one win in the 2022 NASCAR Cup Series season and is bound for the playoffs. But make no mistake; this year has been a massive struggle for the three-time Daytona 500 winner and his 23XI Racing team. 
On Sunday at Talladega, the 41-year-old came up short because of a miscalculated fuel strategy, and watched helplessly as both of his cars dashed for the finish line, only to be wrecked by Kyle Larson just yards from the checkered flag. 
A day later, Hamlin took to Twitter and called out the Hendrick Motorsports driver in a racially insensitive tweet. The blowback was immense. He later removed the tweet and apologized, before NASCAR disciplined him for the action
Denny Hamlin's day at Talladega ends in disaster
Denny Hamlin was running inside the top 10 in the final laps at Talladega before having to make a pit stop for fuel with two laps to go. He finished 18th. He held out hope for his 23XI Racing drivers, Kurt Busch and Bubba Wallace, who were both running in the top 10 as the pack of cars headed toward the finish line. 
However, Kyle Larson ended any chances of victory for both cars, escorting the No. 45 into the outside wall, where it bounced off and hooked Wallace, who then made a hard right turn into the same fence. 
Larson finished fourth. Busch finished 16th. Wallace finished one place behind. 
Hamlin makes offensive comment and defends it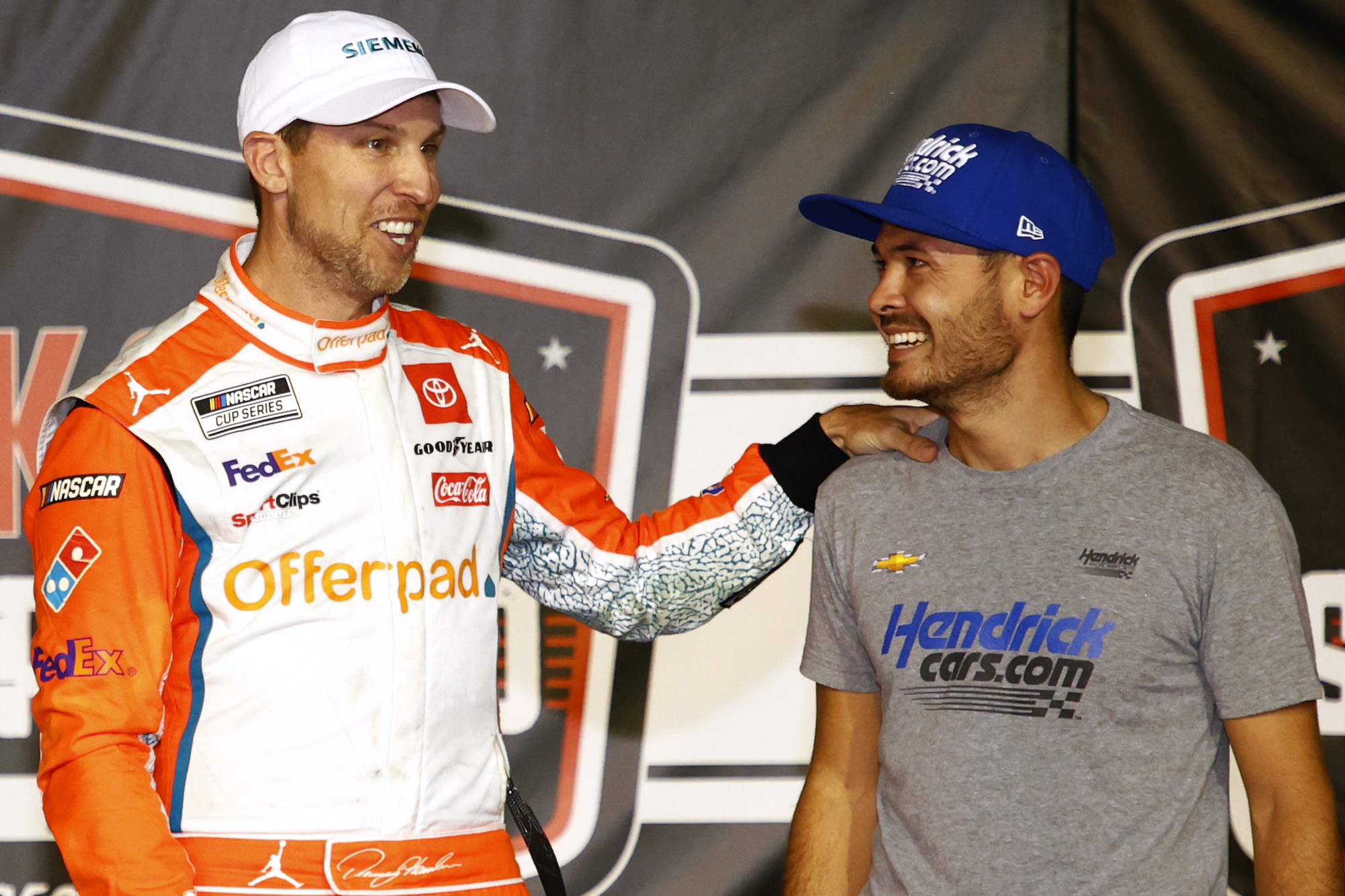 A day after the race, Hamlin, who is known for his social media presence, took to Twitter and called out Larson for the last-lap move that wiped out both of his cars. The JGR driver did so by posting a clip from a Family Guy episode that stereotypically portrayed Asian women as bad drivers and overlaid Larson's name on the clip. The HMS driver's mom is Japanese American. 
After initially writing, "I leave this here without comment," the driver couldn't help but comment and attempted to justify his tweet when he received a less-than-favorable response by a number of followers. 
"Let me say this. I tweet because A it's funny as s***. B because we're friends," he wrote. A few minutes later, he added a third comment. "Oh and C. Yes I'm aware I wrecked him at Atanta…lighten up people!!! Have a laugh and enjoy the day."
NASCAR mandates sensitivity training
The powers that be were justifiably unpleased with Hamlin's tweet and communicated as much to the driver. Later in the evening, he had a dramatic change in tune, and offered an apology. 
"I took down a post I made earlier today after reading some of the comments," he wrote. "It was a poor choice of memes and I saw how it was offensive. It came across totally wrong. I apologize."
The apology wasn't enough. NASCAR later announced the driver would be required to attend sensitivity training.
"This morning, we alerted Hamlin that he must complete sensitivity training and the process must be started by the end of this week," the statement said. 
Denny Hamlin will one day look back on the 2022 season and remember it for numerous things that went wrong, especially the self-inflicted mistakes he made on and off the track. 
Like Sportscasting on Facebook. Follow us on Twitter @sportscasting19.