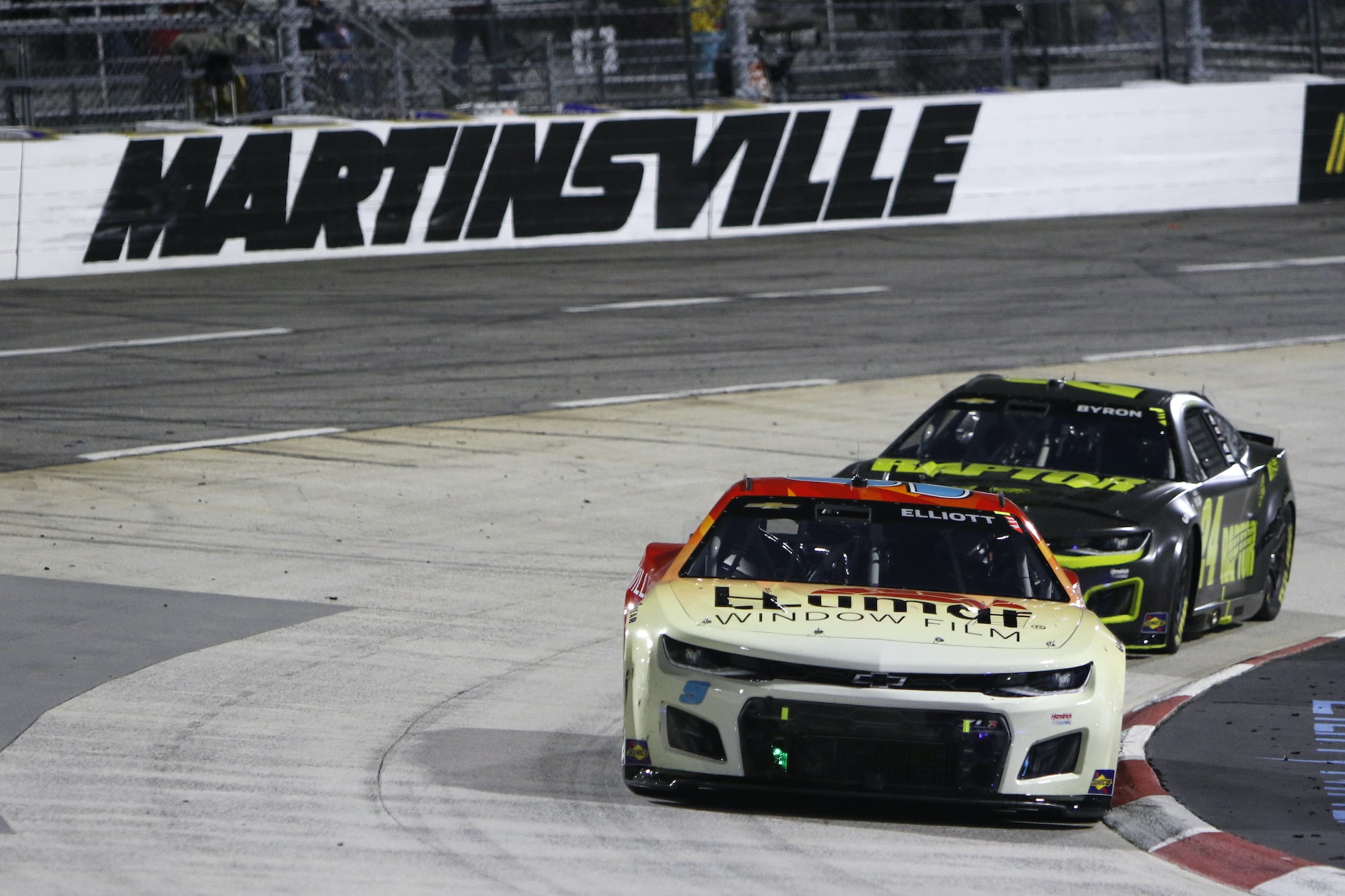 Corey LaJoie Reveals Why NASCAR Is Making a Major Change to Next Gen Car
Corey LaJoie revealed this week on the Stacking Pennies podcast why NASCAR is making a major change to the Next Gen car and how it will improve racing at certain tracks.
After years of talk about the Next Gen car, it debuted this year with great anticipation. More than halfway through the regular season, it's more than delivered, consistently providing entertaining racing action, especially on intermediate tracks.
This week on the Stacking Pennies podcast, Corey LaJoie responded to a fan's question on what he thinks can be done to improve the car's performance on short tracks like Richmond and Martinsville, which were disappointing compared to the other tracks because they weren't nearly as a racy. The Spire Motorsports driver provided an interesting answer. 
Next Gen car has performed well with one exception
The Next Gen car has exceeded expectations from the drop of the green flag to start the season at Daytona. The season-opening race that ended with a photo finish and multiple cars vying for the win was a precursor of things to come. 
This year, race after race has included the key ingredients that produce an entertaining event: consistent passing (comers and goers) and finishes where the outcome is unknown until the final laps. 
Daytona, Fontana, Las Vegas, Phoenix, Atlanta, and COTA all had it. Then Richmond and Martinsville happened. Richmond wasn't a complete disappointment as Denny Hamlin won on a tire strategy call and erased the five-second lead of William Byron. But the fact that Byron got out to such a significant lead said it all.
Martinsville was more of the same. This time, however, Byron won after surviving an overtime restart and holding off Joey Logano. Before that finish, the No. 24 car led 212 of the 403 laps. His Hendrick Motorsports teammate Chase Elliott led 185. Dominance by a couple of cars does not make for an entertaining race.
Corey LaJoie reveals NASCAR making major change to Next Gen car
This week Corey LaJoie talked about a variety of topics on the Stacking Pennies podcast, including the Coca-Cola 600, which was the longest race in NASCAR Cup Series history but still proved exciting because it had plenty of passing and Denny Hamlin holding off Kyle Busch for the win. During the Q&A segment of the podcast, one fan asked LaJoie what he thought needed to happen to make the short tracks better racing and more exciting for the fans. 
"I think that NASCAR is working on getting rid of the (rear) diffuser," he said. "Taking a little more downforce off these cars when we go back to Richmond and Martinsville. If we keep the cars a little less stuck to the the race track because now we have 25% more rubber on the ground due to wider wheels. I think if we took some downforce off to match, you'll have some comers and goers and should make the short tracks a little bit more as we're accustom to seeing. Nobody wants the short tracks to be more racy than this guy and I know that NASCAR is certainly working on it." 
NASCAR deserves credit for adapting to change
NASCAR has been accused in the past of being slow to change. That's clearly not the case here. To its credit, the governing body has not only transitioned to a new car, but it has worked closely with the teams before its debut and since in trying to make changes that improve overall performance.
Remember those flat tires regularly requiring a tow early in the season? We haven't seen that lately because NASCAR addressed it.
The hope is, as LaJoie suggested, NASCAR will make the necessary adjustments to improve racing on the short tracks. And if it happens, it will be an improvement on a season that didn't need a whole lot of improving and continue a year that is already destined to be remembered as one of the best in Cup Series history. 
Like Sportscasting on Facebook. Follow us on Twitter @sportscasting19 and subscribe to our YouTube channel.