Corey LaJoie Fires a NASCAR Cup Series Salvo: 'In 2022, We're Collecting'
This could be the season for Corey LaJoie to move up the ranks. More to the point, LaJoie turned 30 in the fall and potentially needs this to be the season that he advances in the NASCAR Cup Series driver hierarchy.
Corey LaJoie is entering his second season with Spire Motorsports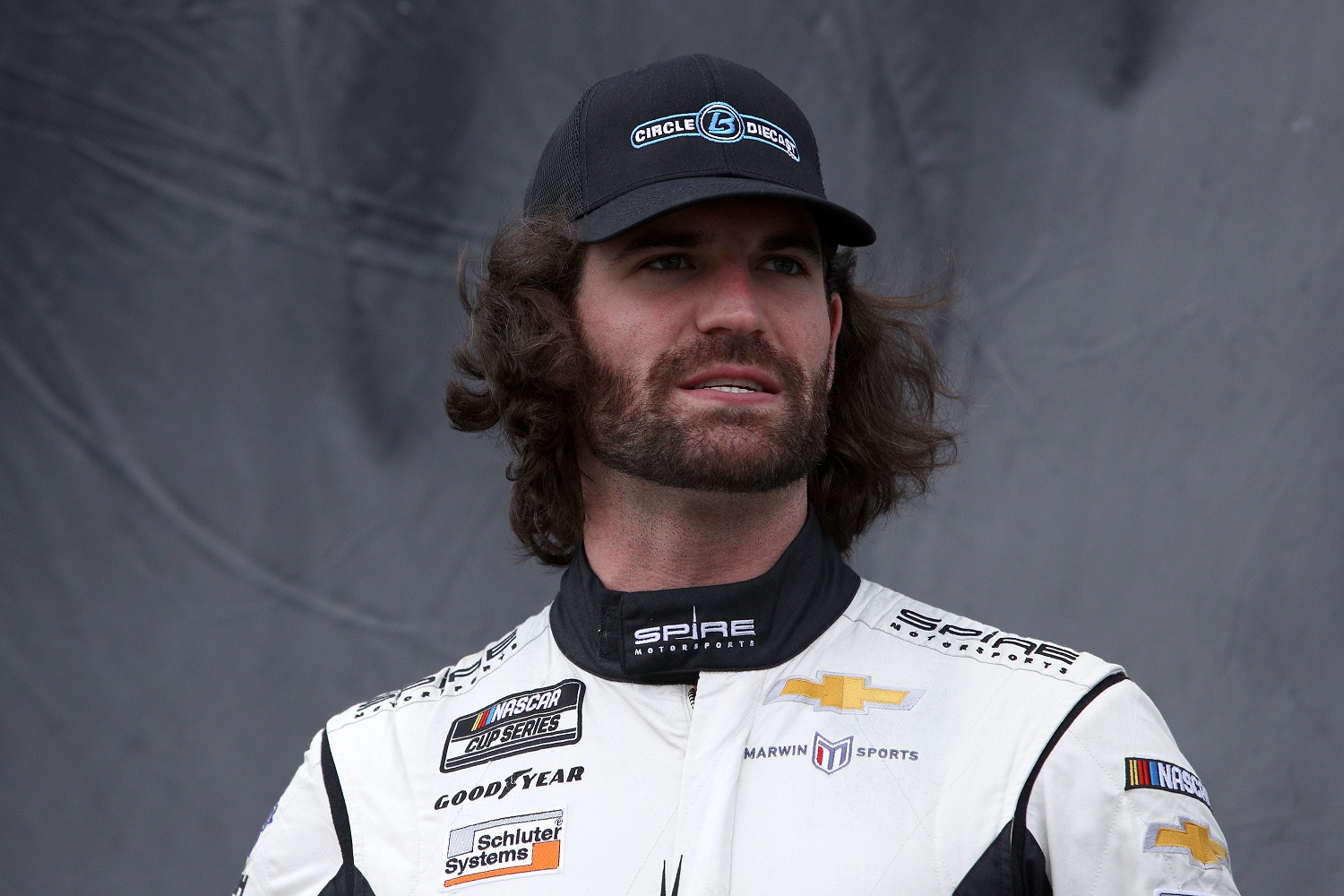 LaJoie's NASCAR Cup Series team made an offseason transition that left him unscathed for now. Spire Motorsports sold two of its three charters to newcomer Kaulig Racing last summer. They leased one to Trackhouse Racing for Daniel Suarez's No. 99 Chevy and the other was for Justin Haley's No. 77 Chevy.
Kaulig's deal with Spire included bringing Haley over as its first full-time Cup Series driver (he'd been driving for the Kaulig Xfinity team), leaving LaJoie behind in a one-car operation. Spire is believed to be interested in returning to a two-car team, but that isn't an easy move without obtaining a second charter, which could still happen.
For now, however, LaJoie is all they have. He'll be in his second season with Spire and sixth as a full-time Cup Series competitor.
Corey LaJoie: 'In 2022, we're collecting'
Corey LaJoie closed out 2021 with big plans for 2022.
"A thought keeps crossing my mind about the last couple years," he tweeted on New Year's Eve. "We've been stacking, grinding and paying the dues for a while ……. in 2022 we're collecting."
"Stacking" was a quasi-reference to LaJoie's Stacking Pennies weekly podcast since the start of the 2021 season. The grinding and paying dues sum up his career to date.
Since landing two Cup Series starts with Randy Humphrey Racing in 2014, LaJoie has driven for BK Racing, TriStar Motorsports, Go Fas Racing, and Spire Motorsports. All he has to show for it is four top-10 finishes in 164 starts. However, none of those teams are a match for Hendrick Motorsports or Joe Gibbs Racing, so grading LaJoie on top-10 finishes is unfair.
LaJoie did some of his best work last season on the superspeedways, starting with ninth place at the Daytona 500. In the second Daytona race of the year, which closed out the regular season, he scored stage points and was still running in the top 10 until the last-lap crash that also took out Kyle Larson and four others.
LaJoie finished 16th that day, then followed up with 15th place in the Southern 500 at Darlington the following week.
That's a confidence-builder, but it's also a long way from "collecting" in 2022. After all, he finished 29th, 30th, and 29th in points the last three seasons.
This shapes up as an important year
Not only is Corey LaJoie the primary focus of the Spire Motorsports' NASCAR Cup Series in 2022, but he is also the focus, period. Barring a late development, that should translate into more resources available for the No. 7 Chevy.
No less an authority than Mark Martin showed support for LaJoie's work late last season. However, it will be up to the Charlotte, North Carolina, native to keep making progress in 2022. No one is suggesting it's a win-or-else-year, but there are always more drivers than cars in the Cup Series.
Ryan Newman, Ryan Preece, and Matt DiBenedetto all lost Cup series rides after last season, and their varied circumstances show how any driver can be vulnerable.
Newman scored the first of his 18 victories in 2002 and has made 725 Cup Series starts, but Roush Fenway Keselowski Racing eased him out at the end of the season. DiBenedetto, 30, is winless in 248 starts and headed to the Camping World Truck Series, which makes a quick return to the top circuit iffy at best.
Preece is 31 years old and winless in 113 starts, but taking on a "reserve" role at Stewart-Haas Racing gives him a potential pathway back to a full-time Cup Series ride next season. That makes him both a model and a cautionary tale for LaJoie if Year 1 in the Next Gen car doesn't pan out.
All stats courtesy of Racing Reference.