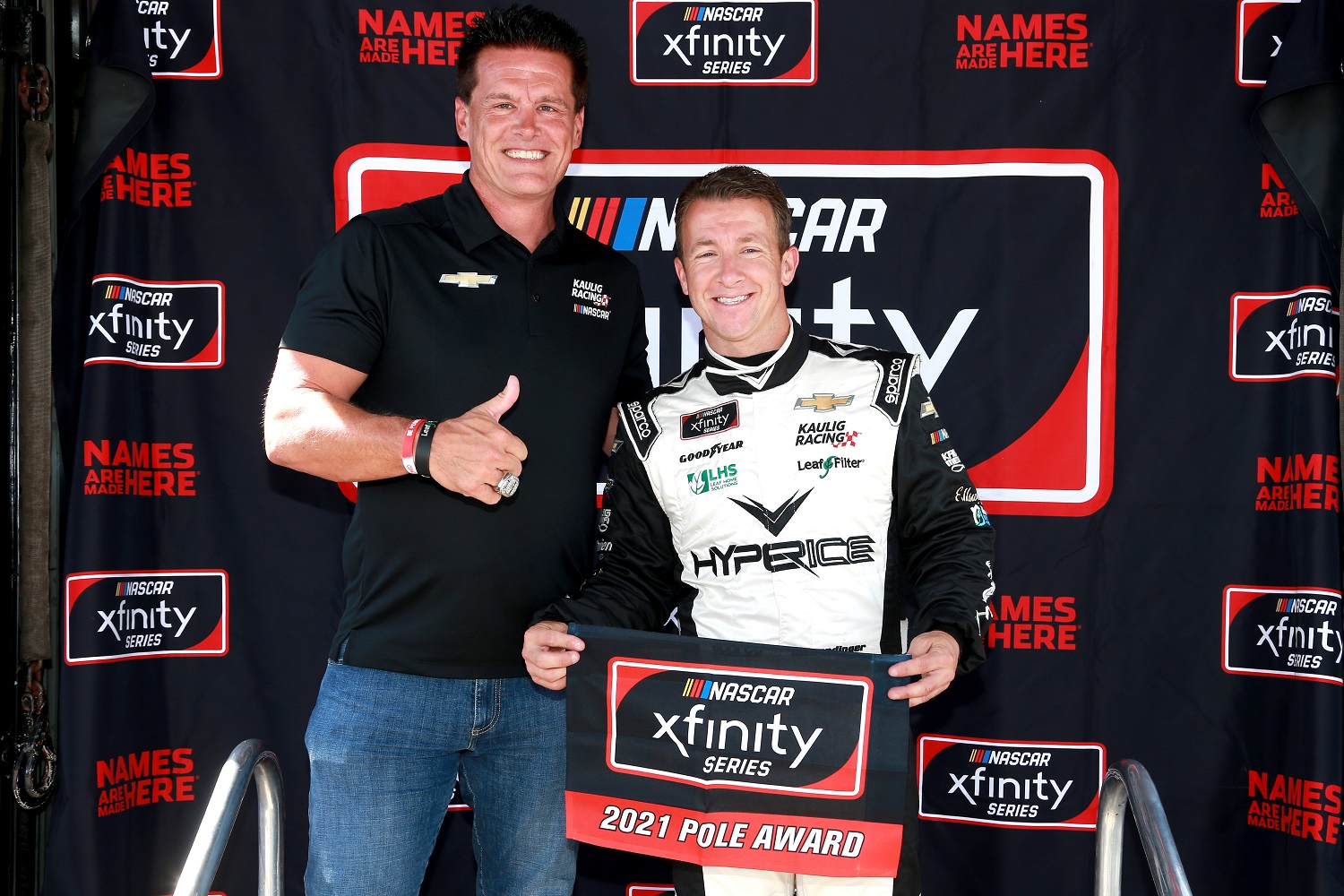 What Can Kaulig Racing Accomplish in Its NASCAR Cup Series Debut?
Kaulig Racing is breaking into the NASCAR Cup Series in 2022 after establishing itself as a top Xfinity Series team since starting up in 2016.
The 2022 NASCAR Cup Series Rookie of the Year might just be a team rather than an individual. Michael Jordan, Denny Hamlin, Bubba Wallace, and 23XI Racing went all-in all at once a year ago and came away with a breakthrough victory at Talladega. Kaulig Racing took a more deliberate approach to its Cup Series debut. Consequently, prospects for 2022 look encouraging, and the team even has its first victory in the bank.
Kaulig Racing has revealed an ambitious list of New Year's resolutions
Making New Year's resolutions is one thing and keeping them quite another. Nevertheless, Kaulig Racing opened 2022 with some ambitious goals that look attainable:
Learn more about cryptocurrency.
Get Landon Cassill his first NASCAR Xfinity Series victory.
Place multiple drivers in the Xfinity Series Championship 4.
Exceed everyone's expectations.
Tackling them in order:
Everyone wants to learn about cryptocurrency if for no other reason than to understand why the value of a single Bitcoin bounced around between $28,893 and $68,789 in 2021 last year, often with big single-day swings.
The urgency to learn seemingly soared in recent days after NASCAR nuked Brandon Brown's sponsorship by a cryptocurrency business looking to cash in on the "Let's go Brandon" phenomenon, but Kaulig's actual motivation is the Voyager Digital sponsorship of Cassill's car.
Getting Cassill his first Xfinity victory sounds ambitious for a driver winless in 326 Cup Series and 176 Xfinity starts. However, Kaulig Racing might be the best team Cassill has worked with aside from JD Motorsports. While the spotlight will be on its Cup Series program, Kaulig Racing is approaching best of breed in Xfinity Racing.
Thus, placing multiple drivers in the Xfinity Championship 4 might not be a heavy lift. Kaulig drivers held down four of the top 11 positions last season, and AJ Allmendinger led the regular-season points race. The lineup of Allmendinger, Cassill, and defending series champion Daniel Hemric figures to be highly competitive in 2022.
As for exceeding everyone's expectations? Consider that to be a sly bit of under-promising and over-delivering.
There was something missing from the Kaulig Racing New Year's resolutions
Kaulig Racing began building its NASCAR program with Blake Koch driving the No. 11 car in the 2016 Xfinity Series. The team added a second full-time car in 2018 and a third last season.
Kaulig entered cars in some Cup Series superspeedway races in 2020, then turned AJ Allmendinger loose in five races on road courses in 2021. Allmendinger finished in the top seven three times, including a stunning win at Indianapolis Motor Speedway for the organization's maiden Cup Series title.
Given that Kaulig is running two cars full-time in the Cup Series beginning next month at Daytona, it would only seem natural that the New Year's resolutions would have suggested building on Allmendinger's victory.
However, that's not their style. When they tweeted about exceeding expectations, they undoubtedly were talking about the Cup Series. Keeping those expectations in check makes the objective easier to accomplish, kind of like when owner Matt Kaulig landed two charters while no one was even thinking about his team.
What can Kaulig Racing accomplish in its NASCAR Cup Series debut?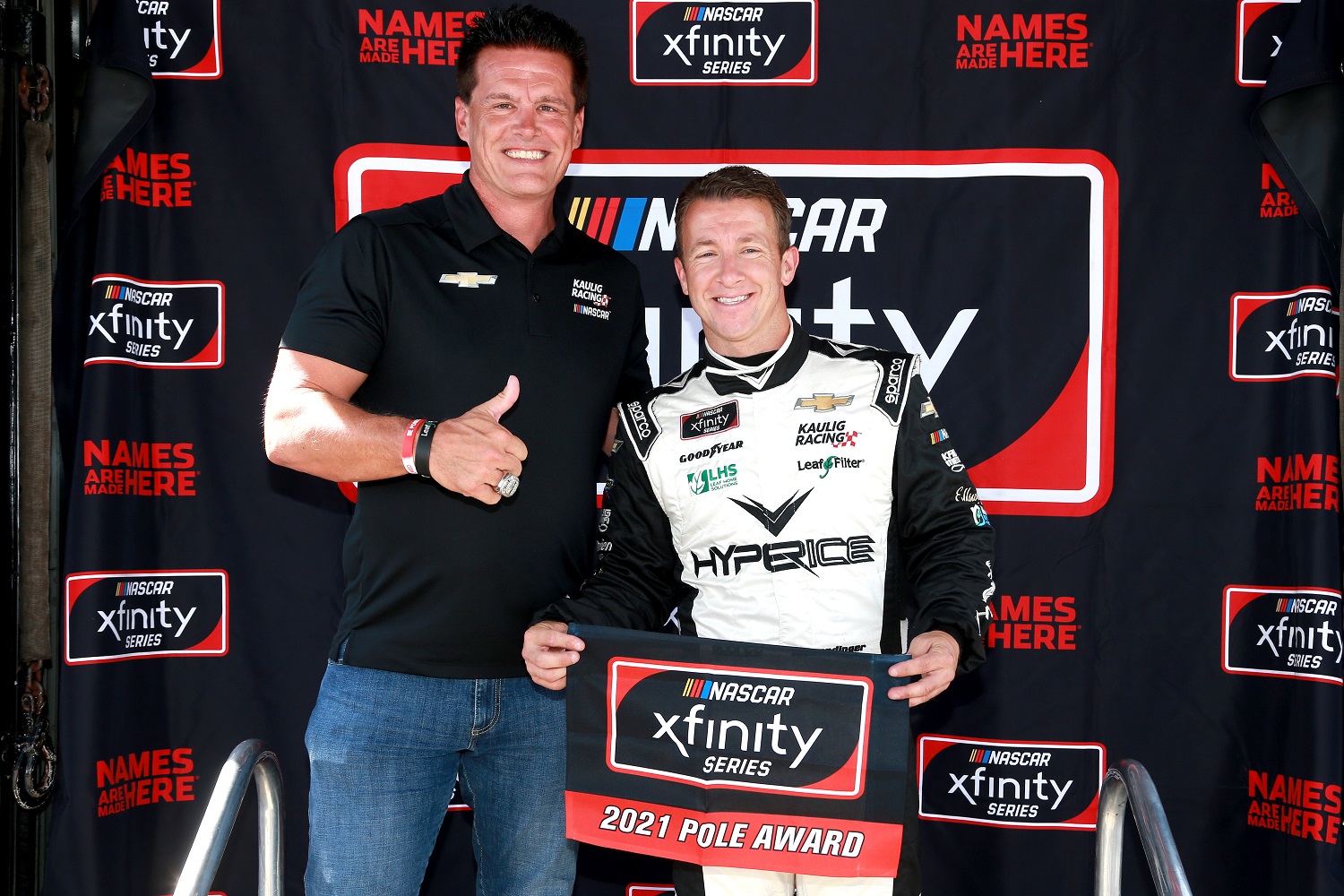 Diving into NASCAR all at once worked for 23XI Racing last season as Bubba Wallace scored his first Cup Series victory. The team has added Kurt Busch for 2022 but still has no trucks or Xfinity program. That's not a bad thing, but it just made pulling the pieces together for the debut season a little more chaotic.
Kaulig Racing has been both methodical and successful in building its racing operation, scoring 14 Xfinity race victories and 169 top-10 finishes in its first six seasons. There will be a learning curve in the Cup Series, but it won't be steep.
While Allmendinger will remain a full-time Xfinity Series driver, he's a veteran of 376 Cup Series races and is strong on road courses. He'll share the No. 16 Chevy with Daniel Hemric, 30, and Noah Gragson, 23.
Meanwhile, Justin Haley will drive the No. 31 Chevy full-time. Haley, just 22, has already won Cup, Xfinity, and truck races. He managed just two top-10s in his rookie season with Spire Motorsports last year, but the experience will help. Kaulig sees Haley as a long-term investment and recognizes he's probably a longshot to win this season. Then again, Bubba Wallace's odds were also long when he moved over to 23XI a year ago.
On the other hand, everyone in the sport knows Allmendinger can run road courses with the best of them. Given half a dozen cracks at those tracks and a comparable number on ovals, he's a candidate to win at least once and maybe even more.
Because Allmendinger is only driving part-time, that won't get the team into the Cup Series playoffs, but it will get Kaulig Racing noticed. That would make the team a major success right out of the gate.
All stats courtesy of Racing Reference.