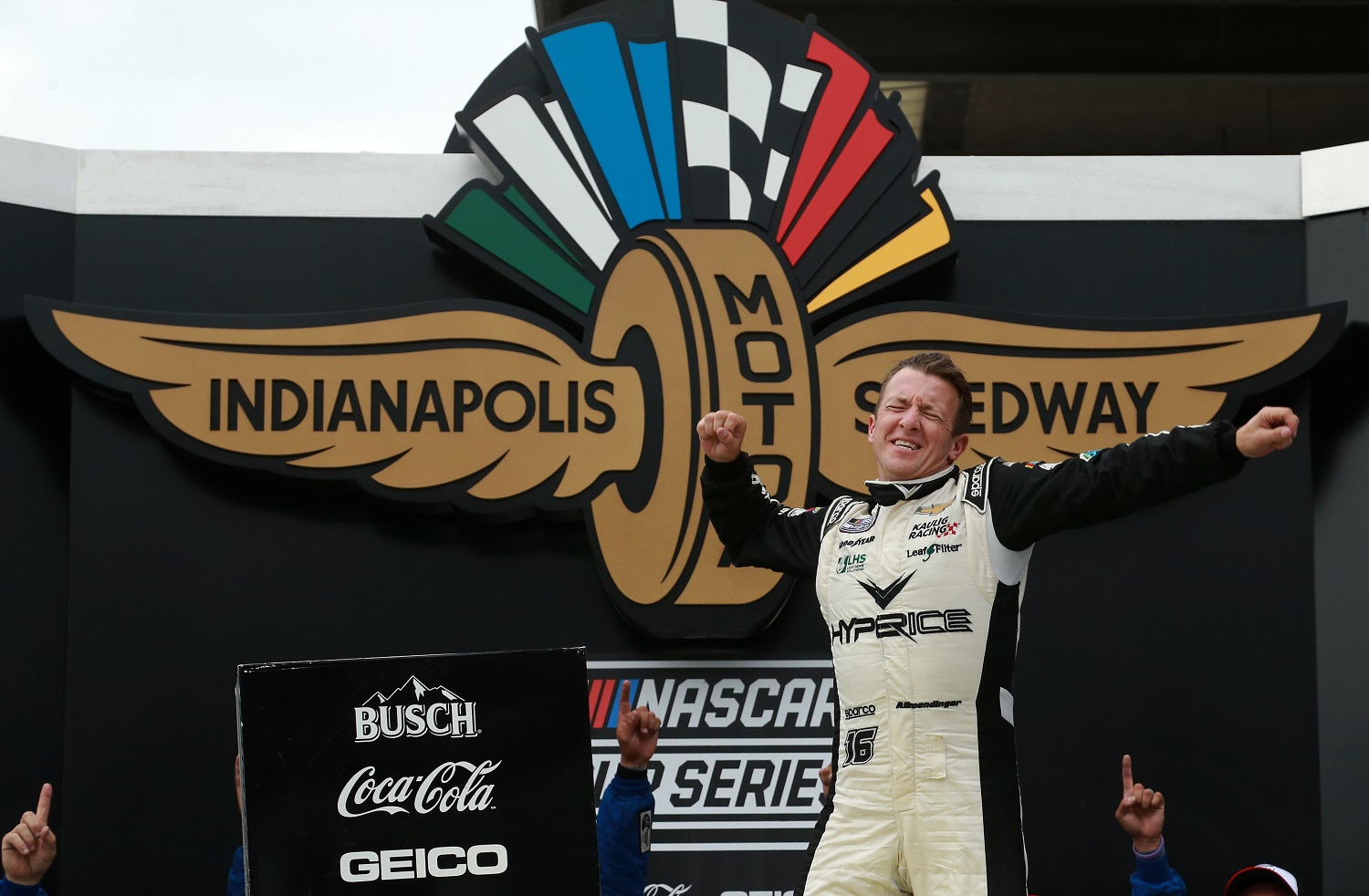 AJ Allmendinger's Surprising Win Shouldn't Sway a NASCAR Cup Series Team Into a Rookie Mistake
AJ Allmendinger is confirmed as a full-time Xfinity Series driver for 2022, and Kaulig Racing needs to resist the temptation to given him a full season of NASCAR Cup Series starts to go with it.
Kyle Larson's monster season following his disastrous 2020 misstep easily rates as the NASCAR Cup Series story of the year. Michael McDowell and his improbable Daytona 500 victory qualified as the feel-good story until AJ Allmendinger came along last week.
Allmendinger's victory on the road course at Indianapolis Motor Speedway is a shot of adrenaline for someone who had already found his second wind, but it also poses a dilemma for his boss.
Kaulig Racing has done everything right thus far, and now would be a terrible time to mess up its introduction to the most popular series in American motorsports by jumping the gun with 'Dinger.
Good things happen for those who wait
Since joining Kaulig Racing in 2019, Allmendinger has won six Xfinity Series races and finished in the top five 22 times. One of his victories this season came at Kaulig's home track of Mid-Ohio Sports Car Course, a nice moment for the organization as it prepares to make the leap into the NASCAR Cup Series in 2022.
Kaulig Racing has bought two charters from Spire Motorsports and will apply one of them to the car driven by Justin Haley, who has been splitting time between a Kaulig Xfinity car and Spire's Cup Series team.
Kaulig has not committed to a full 2022 schedule for its second charter, but Allmendinger, 39, will drive the road-course races. The door remains open to letting him race on some ovals if sufficient sponsorship money rolls in, but there is also a possibility that the team will put a different driver into the car for those events.
Regardless, the announcement earlier this summer was a vote of confidence for Allmendinger, who raced in the Cup Series from 2007-18 with just one victory and 11 top-fives, never finishing better than 13th in points.
His bosses are rewarding Almendinger for solid work on the Xfinity team (he'll remain there full-time), which has contributed to Kaulig being able to take that bold step into the top series beginning at Daytona next February.
AJ Allmendinger pulled off a surprise on the Indianapolis road course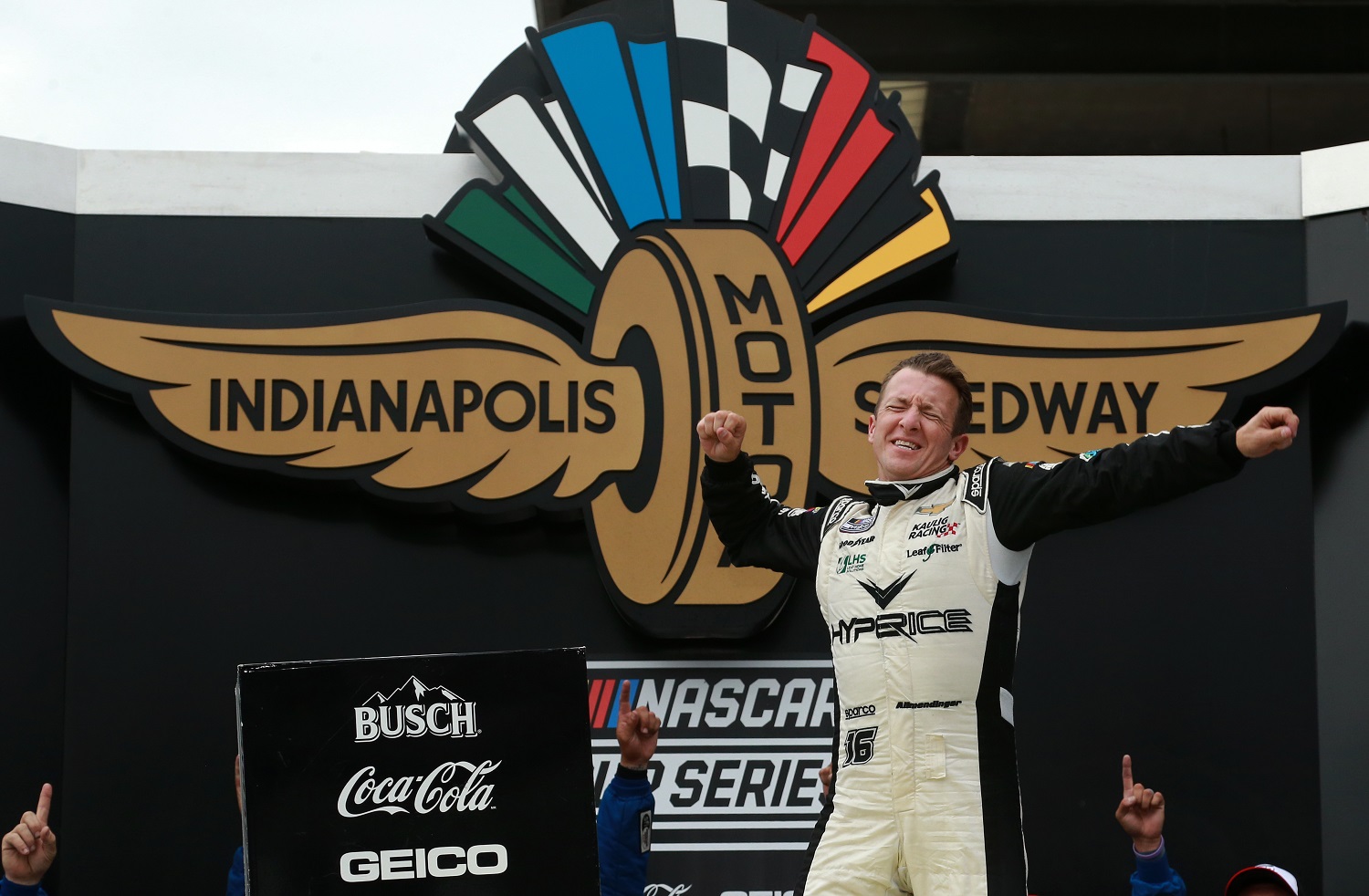 Regardless of what happens in the future, Allmendinger will go into the books as the first driver to score a NASCAR Cup Series victory under the Kaulig Racing banner. Though he's long been proficient on road courses, the victory at Indy – with an unwitting (or was that half-witted?) assist by Chase Briscoe – still rated as a surprise.
As the euphoria wore off this week, observers understandably began wondering what the development might mean for Allmendinger's future. In short, it's tempting to suggest that the Los Gatos, California, native has earned a full-time ride in the top series.
It's not a knee-jerk reaction either. Before the headline-grabbing win, Allmendinger finished seventh on the Daytona road course and fifth at the circuit of the Americas. Combine that road resume with the added experience he has picked up on ovals while racing Xfinity cars, and there is a reasonable case for full-time status next season.
Here's why Kaulig Racing should pump the brakes
Kaulig Racing is jumping into the NASCAR Cup Series full-time just in time for the introduction of the Next Gen car. Despite all the testing, the car is still an unknown. Every team from Hendrick Motorsports and Joe Gibbs Racing right down to the newcomers will be starting over to a certain degree.
Allmendinger is definitely qualified to be the driver who helps Kaulig figure out what does and doesn't work on road courses in the new car. But if the team is going to commit to 36 races in the second car, then they should consider hiring one or more drivers who've been out on the ovals on a regular basis against the top drivers, which would help the first-year team form a better baseline.
If Matt DiBenedetto, for instance, finishes half a dozen places better or worse than in the 2021 season, then that's valuable information. He would be able to offer relevant feedback on how the new car handles on superspeedways, short tracks, and everything in between compared to now, which constitutes valuable data for both crew chiefs.
That becomes doubly important considering that Haley only has two dozen Cup Series starts under his belt.
Kaulig Racing had a sensible development plan in place and should stick with it. Allmendinger's been a good soldier for the organization, can help immensely on road courses next summer, and makes for a solid Plan B should problems arise in Kaulig's debut season.
There's no need to rush into a drastic change.
All stats courtesy of Racing Reference.