23XI Racing President Gets Salty and Fires Back at Fans Suggesting Joe Gibbs Racing Wanted Bubba Wallace to Return to Race and Eliminate Kyle Busch From Playoffs
Kyle Busch entered Saturday night's Bristol race as an eight-time winner on the half-mile track, including his lone victory of the 2022 Cup Series season back in the spring on the dirt. Unfortunately, there would be no trip to Victory Lane this time around for the No. 18 car. 
Instead, engine trouble sent the Joe Gibbs Racing car to the garage just past the midway point of the race and forced the team to wait and see how things played out on whether or not they would advance to the next round of the playoffs. They didn't. 
However, before that happened, when things were still in the balance, some fans took to Twitter and questioned why JGR would allow Bubba Wallace to return to the track after experiencing steering issues and move ahead of Busch, potentially costing the two-time champion valuable points and preventing him from moving on in the postseason. The next morning, 23XI Racing President Steve Lauletta replied with a salty response. 
Kyle Busch out early at Bristol due to engine failure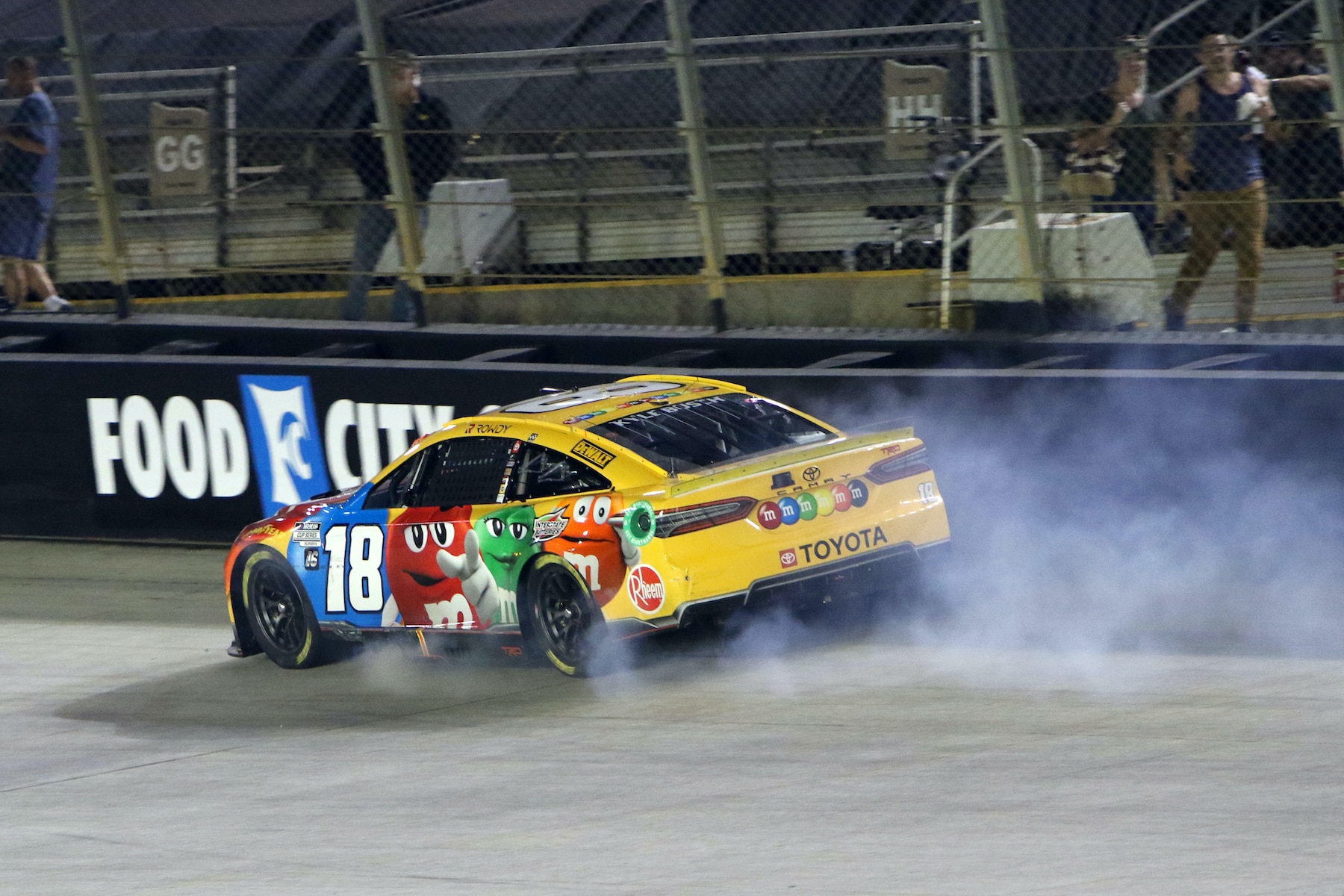 While Kyle Busch has experienced considerable success throughout his career at Bristol, even he admitted last week before the race that he had doubts his team could replicate its successful efforts from previous years simply because fortune hadn't been on its side most of this season.
He was right. With less than 300 of the 500 laps complete at The Last Great Colosseum, the No. 18 started smoking. It was eerily similar to what happened just a few weeks ago at Darlington. Engine failure for the second time in three weeks.
When Busch pulled into the garage and exited his car, the standings showed that he was a point above the playoff cutoff line. 
Bubba Wallace returned to track after steering issues
On a restart and less than a dozen laps after Busch's exit, Dale Earnhardt Jr. noted on the broadcast how Bubba Wallace had returned to the track after suffering steering issues earlier in the race. The 23XI Racing driver's return was noteworthy because, with Busch out of the race, any drivers finishing ahead of him would take away points and jeopardize his chances of advancing to the next round.
"Interesting to know, Bubba Wallace is on the race track, 90 laps down. He, too, could pass Kyle Busch as well," Earnhardt said.
"You know that's a good point. I'd be running down there, 'Hey man, you sure you want to keep running? You're into the next round. You just come on. I'll buy you lunch,'" Steve Letarte replied, suggesting that someone from the No. 18 team would be talking with the No. 45 team and encouraging them not to return with the hopes that it might help Busch make the cut.
23XI Racing President fires back at fans
In the end, it didn't matter. Busch finished 34th in the race and, more importantly, finished behind Tyler Reddick in the playoff standings and didn't advance, along with Reddick, Austin Dillon, and Kevin Harvick. However, before the results were final, some fans watching the broadcast took their cue from the conversation between Earnhardt and Letarte and questioned why JGR would allow Wallace to return to the track. 
"23XI cars going back on track and taking points away from Kyle Busch. Joe Gibbs trying hard to get KB eliminated," one fan tweeted.
The next morning, 23XI Racing President Steve Lauletta saw the tweet and couldn't help but respond. 
"Joe Gibbs does not run @23XIRacing," he replied. "We do and while in an Owners Championship fight we gonna take points from anyone we can with the 45 while the 23 finished behind the 18 so there's that."
Lauletta correctly pointed out how the fan's tweet was inaccurate. Ty Gibbs didn't return to the track after Busch's engine failure and finished 35th, one spot behind the M&M's car. 
As the president also indicated, the No. 45 car, which Wallace took over for Kurt Busch several weeks ago, is still in the battle for the owners' championship, and while the team had already advanced after winning the previous weekend in Kansas, any points gained will still be counted toward the final standings. 
In other words, NASCAR isn't like F1. Team orders aren't a thing where one team is forced to subvert its plans to benefit another. And that's a good thing.  
Like Sportscasting on Facebook. Follow us on Twitter @sportscasting19 and subscribe to our YouTube channel.
RELATED: Denny Hamlin Speaks Glowingly of Kyle Busch's Influence on His Career, and Details Why His JGR Teammate Rejected Potential Ride at 23XI Racing