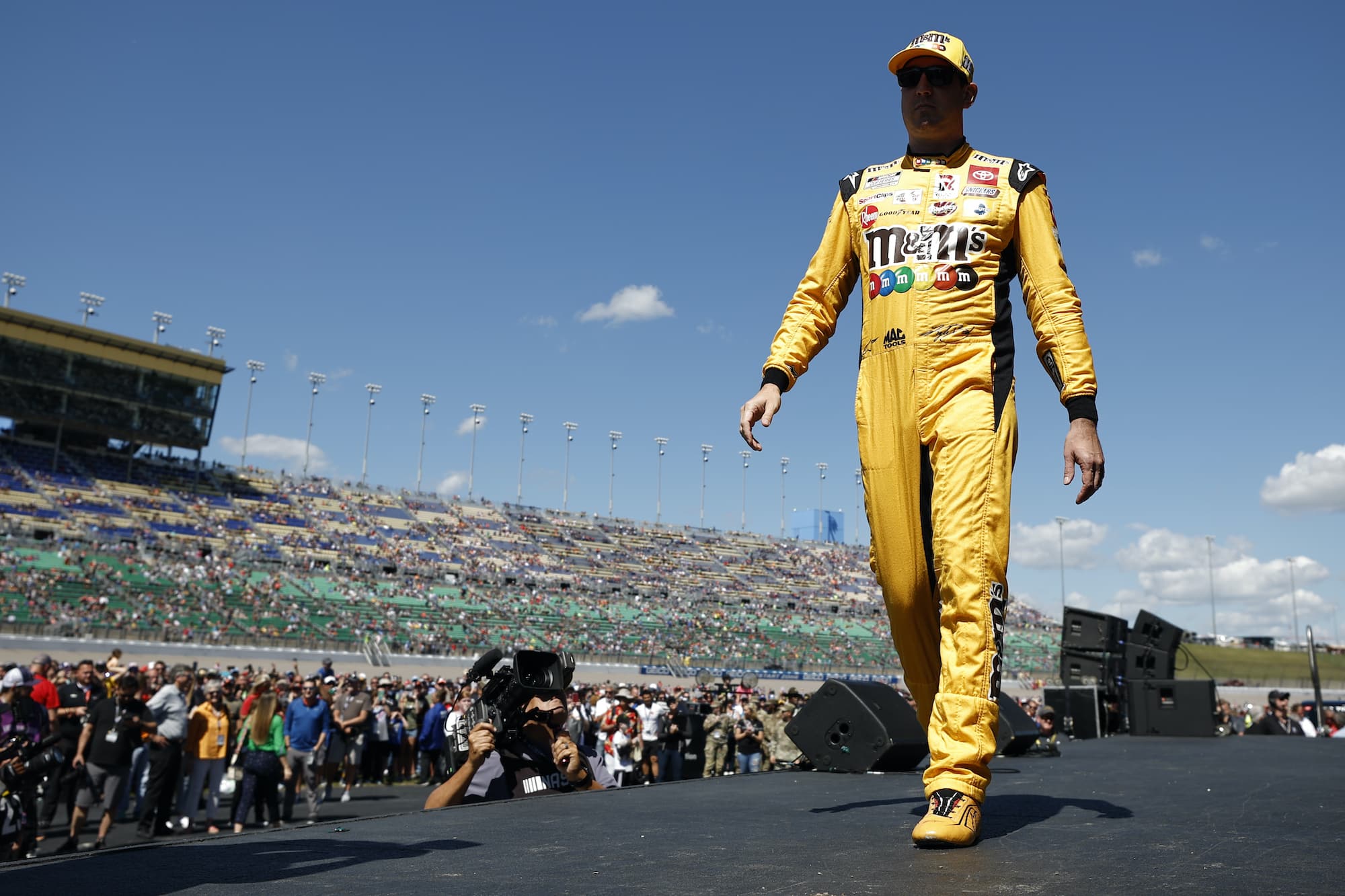 Kyle Busch Makes Eye-Opening Statement After Kansas About Feeling Alone, and Hints of a Strained Relationship at Joe Gibbs Racing
Kyle Busch was dejected after finishing 26th at Kansas and made some eye-opening remarks after the race that hinted of a strained relationship at Joe Gibbs Racing.
Kyle Busch will look back on his career one day and definitely remember the 2022 Cup Series season. And it won't be for the best of reasons. For starters, this year on the track has been a challenge. He's recorded a single win, which made him playoff-eligible, but it was one that he backed into on the Bristol dirt.
In all honesty, he's been in the headlines in 2022 much more for his uncertain future at Joe Gibbs Racing than any of his on-track achievements. The last two months of the season have been disastrous for the No. 18 team, finishing 20th or worse in nine out of 13 races.     
Following Sunday's race at Kansas, where the JGR car finished 26th after multiple mistakes set the team back, the future NASCAR Hall of Famer was dejected, and didn't try to hide it in his postrace interview, bluntly admitting how he's feeling alone, and no one around is offering him support during this difficult time in his career.  
Kyle Busch race at Kansas is microcosm of season
Since being disqualified from his second-place finish at Pocono in July, Kyle Busch has been on the struggle bus. One race after another, something has come up and prevented the JGR car from a good finish. Sunday at Kansas was no different.
The first mistake occurred on Lap 111 during a pit stop when Busch's pit crew let a rear tire get away, and it rolled into the pit box behind him, resulting in a penalty that sent him to the tail end.
Unfortunately, the driver added to the team's troubles a couple of dozen laps later when he got loose and spun down into the infield grass. Those costly mistakes resulted in him finishing 26th and a third race in the last four where he's finished 25th or worse. 
Makes surprising comments about being without support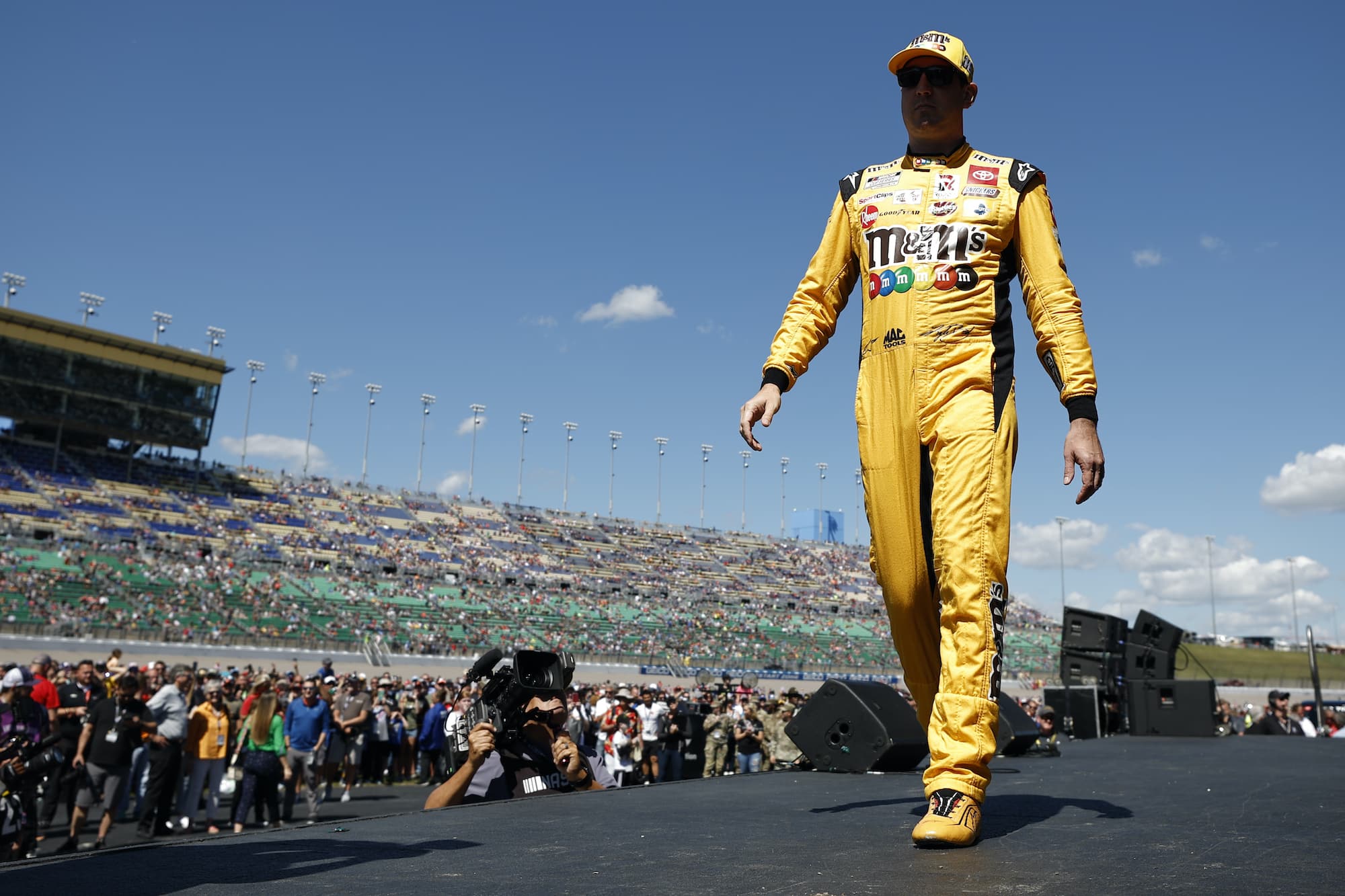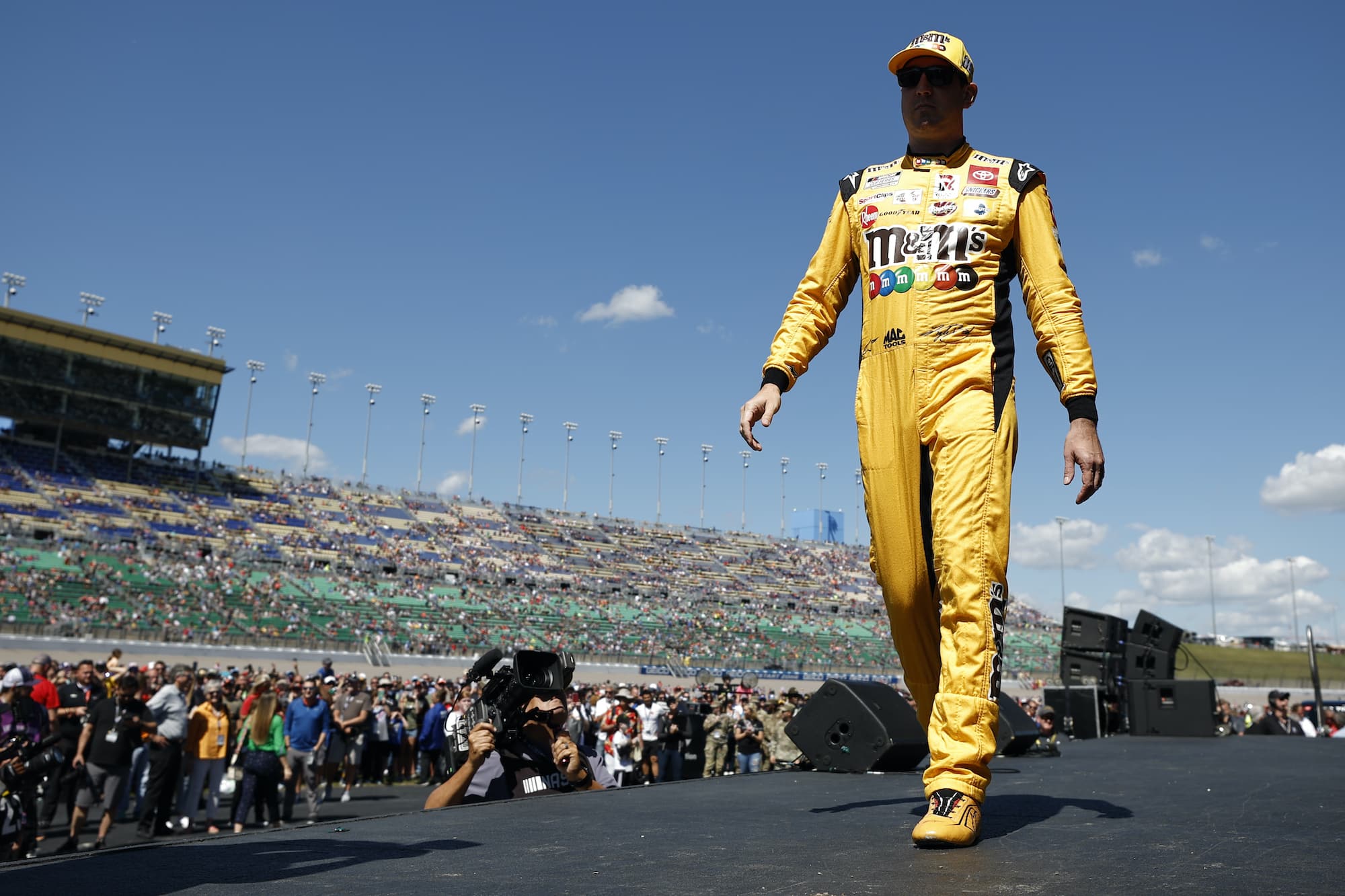 After the race, SiriusXM NASCAR's Claire B. Lang caught up with the driver to talk about his day. With his recent run of lackluster results, the reporter suggested to the driver that it feels like he's been snake-bit of late.
"It's very frustrating," Busch admitted. "You even hate to say it, 'Alright, we'll go to next week,' because next week is the same thing over and over again. We got Groundhogs Day."
The reporter proposed his luck might change in the next race because it's Bristol, where he's had considerable success in the past, including his lone win there earlier this year. 
"If I can have past Bristol results be Bristol next week, we'll be fine," the driver said. "But if I have this year carry over into Bristol again, we're screwed. So we'll see what happens."
When Lang asked how the driver keeps moving forward and stays motivated with so many issues, he offered a surprising response.
"I don't know. I don't have anybody around me right now helping me do that so it's tough," he said.
"What do you mean?" Lang countered.
Busch laughed. "Moving on," he said, and the interview ended. 
What does this mean for the rest of the season?
Kyle Busch has found stability at JGR for 15 seasons. In that time, he's won a couple of Cup titles. However, according to a report by The Athletic's Jordan Bianchi, that is all coming to an end as the driver is expected to announce this week that he's leaving for Richard Childress Racing in 2023. 
That huge decision has put the veteran driver in a tough spot. And based on his postrace remarks, the organization that has stood beside him through thick and thin for the last 15 years has obviously pulled back in supporting him. 
It's an incredibly strange turn of events that no one could have imagined at the start of the year. Now that it's here, the reality is setting in for all parties. What happens in the final few months of the season could be interesting to watch and see how it plays out. It just might be a Groundhog Day Busch wants to put behind him as soon as possible.
Like Sportscasting on Facebook. Follow us on Twitter @sportscasting19 and subscribe to our YouTube channel.