NASCAR Hall of Famer, Cup Champion and FOX Sports Analyst Bobby Labonte Discusses Brush with 'Aggressive' Cancer
Bobby Labone is a NASCAR fixture, but he recently shared an important update that had nothing to do with racing.
A NASCAR Hall of Famer and former NASCAR Cup Series champion turned FOX NASCAR analyst, Bobby Labonte has spent virtually all of his adult life driving fast or offering commentary on those who do.
But upon learning in the fall of 2021 that he would need surgery to remove a growing tumor on one of his kidneys, Labonte was forced to slow down and consider just how fragile life can be. That was also true about two weeks after undergoing a successful operation at Johns Hopkins Medicine in Baltimore, Maryland, when Labonte's biopsy results showed that his tumor was a highly dangerous form of cancer known as renal cell carcinoma.
"One-third of the patients that are diagnosed with this don't make it," Labonte said in a prerecorded video segment that aired on a recent edition of FS1's NASCAR Race Hub and was later shared online. "I'm usually not the 'share' type of guy. You won't know a lot of things about me, but it didn't take me long to figure out: If we can help one person [because of this]. Just one person, man."
Surgery to remove a deadly mass was the only option for Bobby Labonte
The year after making his 729th and final start in NASCAR's premier division, Bobby Labonte joined the crew of FS1's NASCAR Race Hub and embarked on a new broadcasting career that kept him busy and closely connected to the sport in which he won 21 Cup Series races, the 2000 Cup championship and the 1991 championship in what is now the NASCAR Xfinity Series.
Labonte – who married his now-wife Kristin in 2016 – was enjoying life both personally and professionally when he started feeling unwell late in 2019, and a visit to his local doctor revealed a small spot on one of his kidneys. At the time, the Labontes tried not to think too much about the possibilities.
"We don't know at that point what it is, so I don't want him to worry about the what-ifs," Kristin said on the NASCAR Race Hub special segment. "[We decided], 'Let's just live life.'"
And so they did. Until the fall of 2021, when medical testing showed that the mass had tripled in size. "They're like, 'Well, it's time to take it out,'" Labonte said. On October 26, 2021, the NASCAR veteran went under the knife at Johns Hopkins' Brady Urological Institute, where surgeons performed a partial nephrectomy to remove the tumor while preserving 90 percent of his kidney function.
It was only later – after the biopsy – that Labonte's surgeon delivered the news that the mass was renal cell carcinoma.
"He called and said, 'It was cancer.' Of course, the key word was 'was,'" Labonte said in a video published to the Johns Hopkins Medicine YouTube page on August 16. "He was like, 'I got it all. I feel great about it. But it was aggressive. And we're glad that we got it.'"
Bobby Labonte's future looks promising after his major health scare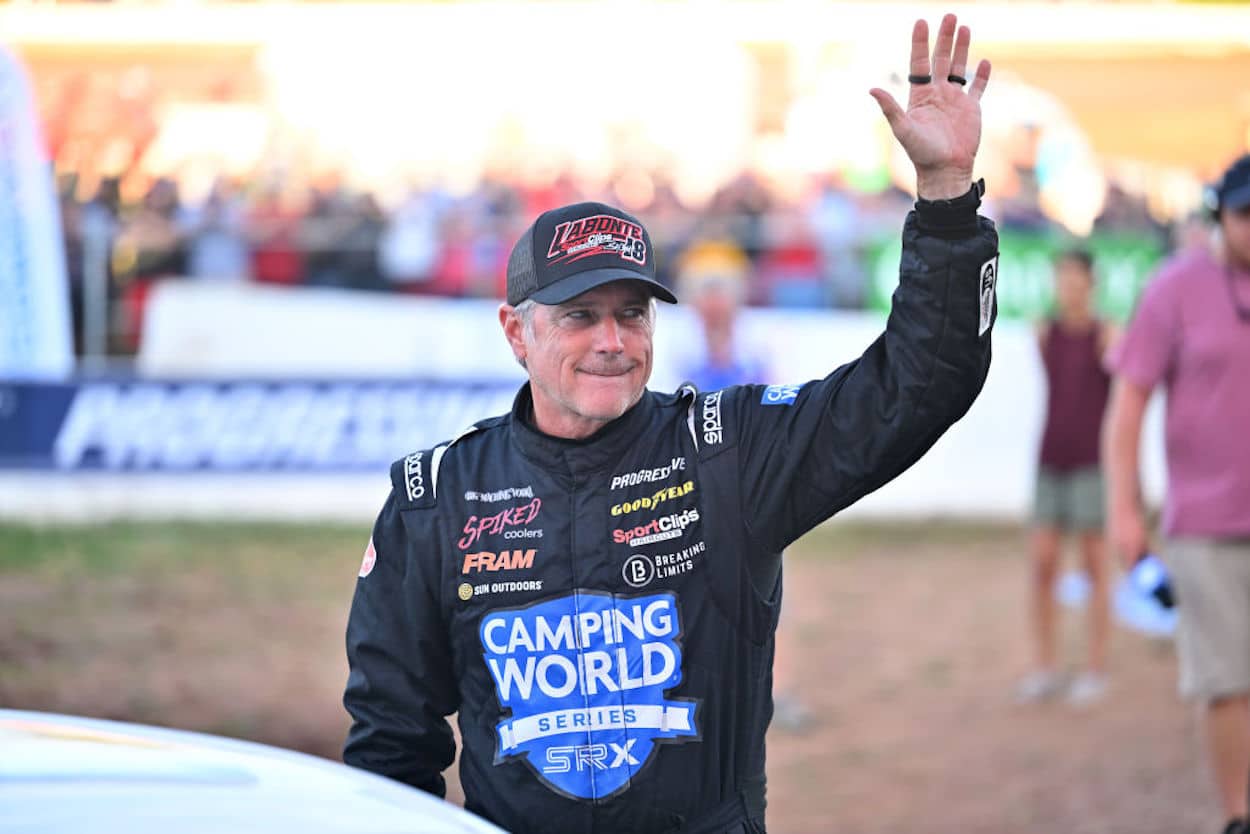 Within just a few weeks of Bobby Labonte's surgery, life had all but returned to normal for the Corpus Christi, Texas native. He turned 58 in May and has been competing in the Superstar Racing Experience (SRX) – a made-for-TV short-track series that has its races aired live on CBS and features several retired NASCAR legends going toe-to-toe in equally prepared cars.
Labonte won an SRX race at Nashville Fairgrounds Speedway in early July.
"Getting back to normal life for Bobby and for us means he'll race 20 or more times in a race car this year," Kristin Labonte said on the Johns Hopkins YouTube video. "Six months out from the procedure and being back in a race car almost like nothing ever happened is pretty remarkable. He could have gotten back in the race car three months after the surgery, to be honest, because in about two-and-a-half months, we were on the ski slopes."
With a clean bill of health and plans for lots of racing and broadcasting in his future, Labonte couldn't be more thankful.
"There's a ton of cancers out there that can be treatable, for sure, and this was one that [was treatable] if you catch it early like we did," Labonte said. "We were fortunate enough to be able to take care of it."
Like Sportscasting on Facebook. Follow us on Twitter @sportscasting19 and subscribe to our YouTube channel.