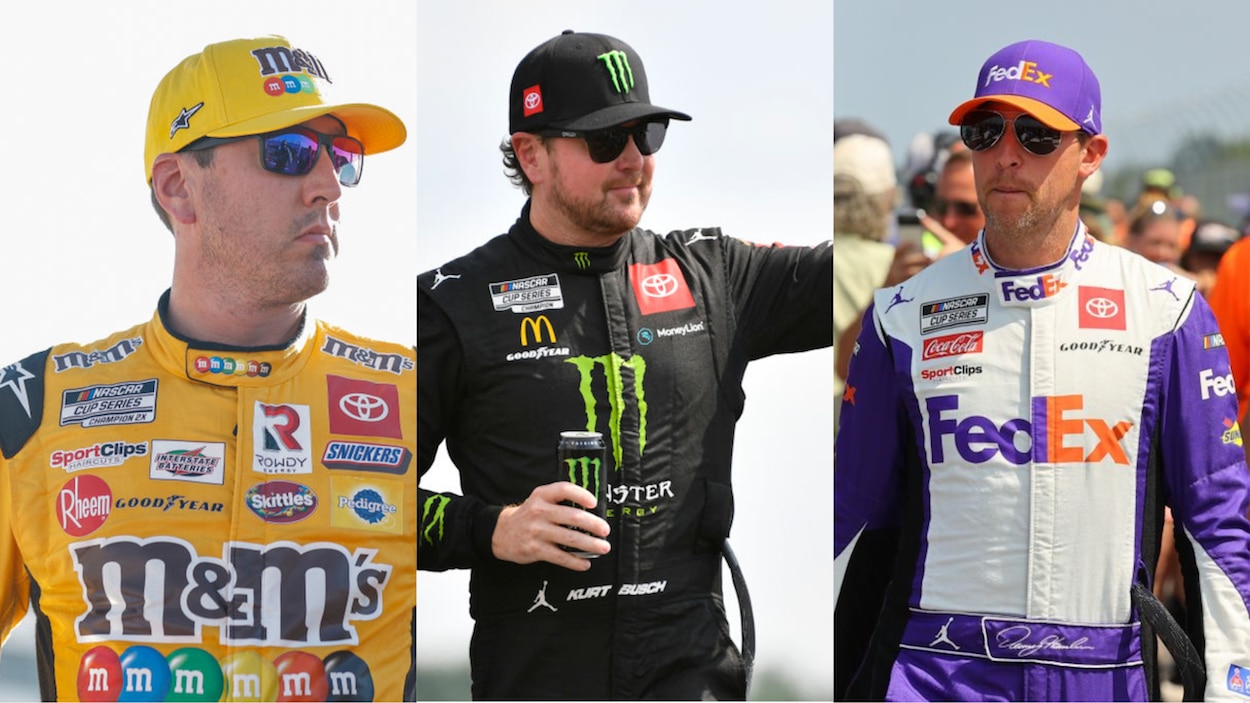 Denny Hamlin, Kyle Busch Make Stunning Concessions about Kurt Busch's Potential Comeback Plans
Can Kurt Busch return to NASCAR Cup Series stage? Denny Hamlin and Kyle Busch weighted in on that very topic and painted a grim picture.
Up until this past week, all signs pointed toward Kurt Busch returning to his 23XI Racing Toyota in the relatively near future. Busch, who has been sidelined since suffering a concussion in a qualifying crash at Pocono Raceway on July 23, was widely assumed to be making progress day by day.
Then this past Wednesday rolled around, and the 2004 NASCAR Cup Series champion tweeted that he would be out of the car for yet another week – his fourth in a row – as substitute driver Ty Gibbs once again served as a fill-in for the No. 45 car. Busch also noted in his tweet that "brain injury recovery doesn't always take a linear path," making it clear that his progress had at the very least slowed a bit, if not taken a turn for the worse.
Now, it's anyone's guess when Busch will be back – or if he'll be back – this season. In fact, based on some comments over the weekend at Richmond Raceway from younger brother Kyle Busch and 23XI Racing co-owner Denny Hamlin, it seems possible that he might not return at all.
Denny Hamlin refuses to sugarcoat the seriousness of Kurt Busch's situation
Asked during his media availability on Saturday at Richmond Raceway about his concern for Kurt Busch, Denny Hamlin made no attempt to hide his true feelings. To sum them up: He's worried.
"I mean, it's concerning, for sure," said Hamlin, who, along with NBA legend Michael Jordan co-owns Busch's 23XI Racing Toyota. "You know, I'm mostly concerned for his health and not really for the race team. We want to give him all the time he needs [to recover], and this is proof that he's doing right by his body and making sure he's back to 100 percent. 
"I think that other drivers maybe in the past probably maybe would have just kind of been able to get some tests passed and gone out there and raced, but he wants to be 100 percent, because no one race or season or whatever it might be is as important as your overall health in the long-term."
From those comments, it's fair to surmise that Hamlin seems at least somewhat hopeful that Busch will be back at some point – even if not this season. But when asked if the team had a contingency plan for 2023 if Busch can't race, Hamlin conceded in stunning fashion that discussions along those lines have taken place.
"I mean, we're always thinking about it," he said at Richmond. "We're as forward-thinking as you can possibly be as a race team. But ultimately we're not, and we can't rush Kurt's health. But we're always trying to come up with contingency plans based off of any other scenario that might get thrown our way."
The scenario Hamlin was referring to, of course, is the scenario that Busch's concussion – or the fear of more concussions in the future – might force him to retire sometime soon, as opposed to at the end of his contract with 23XI, which runs through next season.
Kyle Busch sounds less than certain that his older sibling will race again
Over the weekend, Denny Hamlin wasn't the only one who gave legs to the possibility that Kurt Busch's concussion could force the 44-year-old to call it a career earlier than planned.
Kurt's younger brother, two-time NASCAR Cup Series champion Kyle Busch, admitted that he and his sibling had actually talked about the possibility that the Pocono crash could end up being Kurt's last time behind the wheel of a race car.
"I want him to be able to do what he wants to do and go out the way he wants to go out," Kyle said during his Saturday media availability at Richmond. "… He and I just had a conversation where he's like, 'A Pocono qualifying crash isn't necessarily the best way of going out.' I'm like, 'You're 1,000 percent right.' So I just wish him the best that he can continue to get better and feel better and get through the processes of what this is."
Kyle Busch – who missed the first third of the 2015 Cup Series season with a major leg and foot injury suffered in the NASCAR Xfinity Series race held on the eve of the Daytona 500 – believes his brother's injury is of an entirely different nature.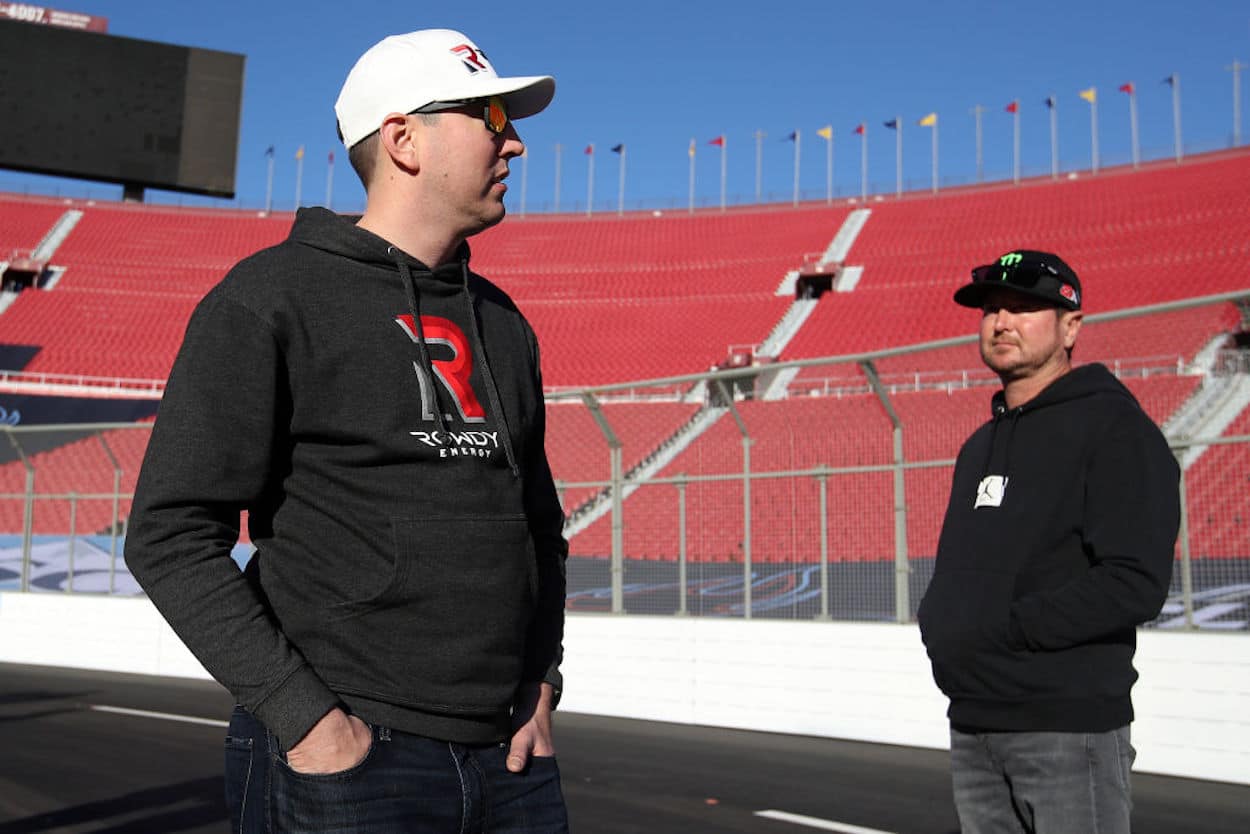 "It's nothing like breaking a bone and being out with an arm injury or leg injury, foot injury, anything like that," Kyle Busch said. "Obviously, it's the melon [brain] on top of your head that's very important to your well-being going forward. And so I just hope that all of that can go well for Kurt and he can get back as soon and as safely as possible."
The possibility of Kurt Busch not returning presents an intriguing scenario for Kyle, who is in a contract year with Joe Gibbs Racing and has recently been in conversations with other teams about opportunities for 2023. As has been well-documented, JGR wants to re-up with Busch but may be forced to look elsewhere if a replacement for the driver's departing longtime primary sponsor isn't found soon.
If JGR is ultimately unable to keep Busch, a logical landing place for the 37-year-old would be 23XI Racing. Not only does 23XI have a close technical alliance with JGR, but a Busch move to that organization would allow him to remain in the Toyota camp – a key component of keeping his Kyle Busch Motorsports organization afloat. KBM competes in the NASCAR Camping World Truck Series with major financial backing from Toyota and could be doomed without the manufacturer's support. So in choosing a Cup ride for 2023, Busch has to consider the best interests of not only his personal driving career but also the team he owns.
"It's at the forefront in the discussions," Busch said of KBM during the same Saturday media availability. "It's high up there, for sure. And that's probably why it's taking a little bit longer than what it should [to sign with a team]. And so we're just working through those pieces. The puzzle is not as easy and as simple as it may seem from the outside."
Does Kurt Busch's 23XI ride present Kyle Busch with an option for next year if Kurt ultimately can't return to competition?
"I mean, I guess it could," Kyle said at Richmond. "I don't know that it's necessarily been a prospect."
With that, Kyle Busch clearly left the door open to replacing his brother at 23XI next season. And like Hamlin's remark about "contingency plans" if Kurt Busch can't return, Kyle Busch's comment reveals a lot about the potential reality his older sibling is facing with his concussion recovery.
Kurt Busch may need more than a doctor's blessing for Denny Hamlin to approve return
Perhaps just as shocking as Denny Hamlin's admission at Richmond Raceway that 23XI Racing is exploring contingency plans for Kurt Busch's ride next season was Hamlin's admission that he might not want Busch to drive in the Cup Series event at Daytona on August 27 regardless of whether he gets the medical green light to compete.
"Even if he is clear, I'm really not sure, to be honest with you," Hamlin said during the same media availability as his other remarks at Richmond.
NASCAR has granted Busch a medical waiver for each of the four races he's missed since his concussion diagnosis. As a result, Busch – who won earlier this season at Kansas Speedway – remains in the Cup Series playoff hunt despite missing a race. 
Without the waiver, he would be ineligible for the playoffs since NASCAR rules state that participation in all 26 regular season races is a requirement for the playoff field.
"I'm not really sure what the [NASCAR] protocols will be on that once he's cleared, and whether he continues to get waivers," Hamlin said.
The fact that Hamlin seems reluctant to approve of Busch racing at Daytona even if he's medically cleared speaks volumes of how dire the concern is for the veteran driver. 
While the optimist in everyone wants to believe that Busch will be back behind the wheel of the No. 45 – and, hopefully, sooner rather than later – this past weekend's comments from both Denny Hamlin and Kyle Busch paint a potentially much grimmer picture.
Like Sportscasting on Facebook. Follow us on Twitter @sportscasting19 and subscribe to our YouTube channel.