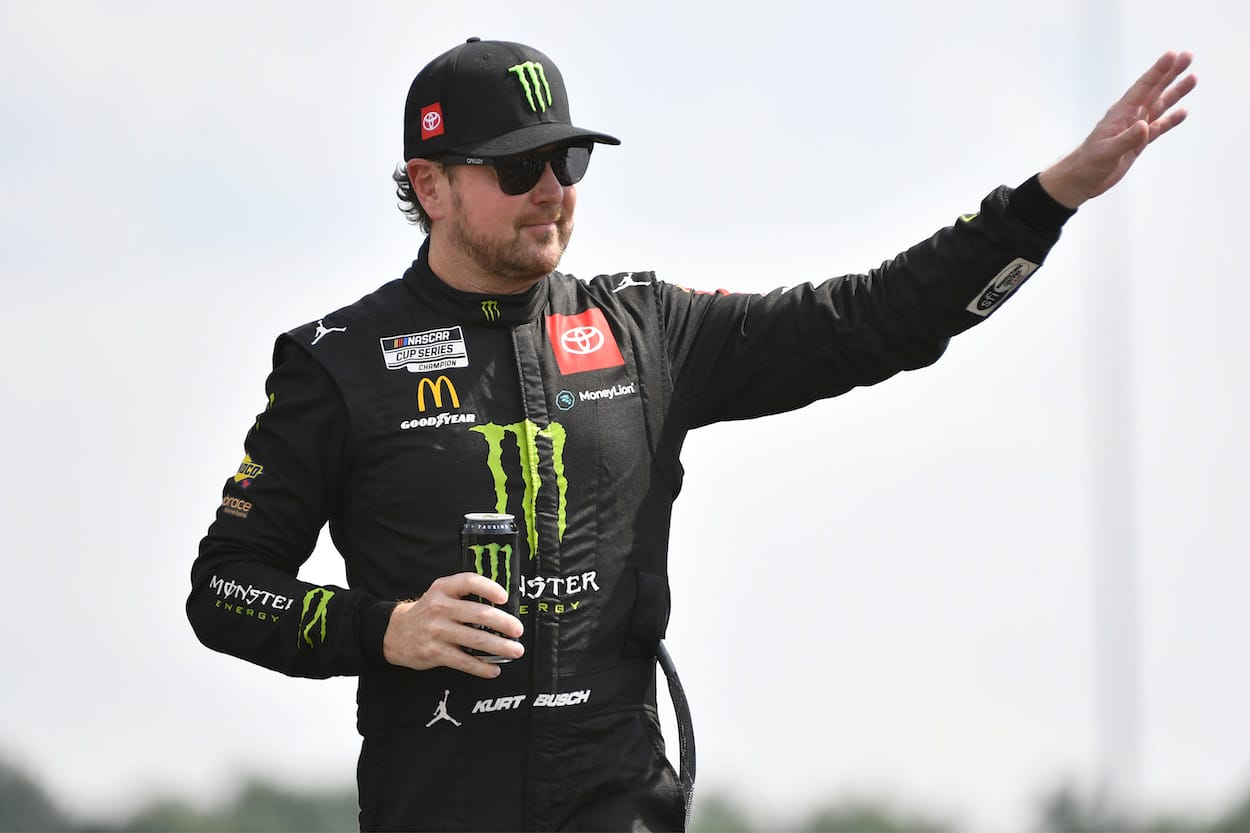 Kurt Busch Should Follow Example of Dale Earnhardt Jr. and Retire Rather than Risk Catastrophic Injury
Kurt Busch should be looking to Dale Earnhardt Jr. as an example following his latest concussion.
After suffering multiple concussions throughout his career and even missing the second half of the 2016 NASCAR Cup Series season with concussion-like symptoms, Dale Earnhardt Jr. made the difficult but pragmatic decision to retire from racing at the end of 2017. Now it's time for Kurt Busch — sidelined the past two race weekends after suffering a concussion during qualifying at Pocono Raceway — to follow that example and hang it up rather than risking another concussion or an injury far worse.
Featured on an episode of In Depth with Graham Bensinger in September 2018, Earnhardt, NASCAR's 15-time Most Popular Driver, reflected on the mindset he carried into his final season as a full-time driver.
"I wanted to go back to the well one more time and race in '17 and hopefully get through that healthy and then just say, 'Alright, let's not push our luck and keep on getting hurt,'" he said. "And what is this doing to me long-term if I keep on keeping on hitting the fence and having these little (concussion) episodes over and over and over? Is this really something I'm going to regret terribly when I'm 60 — 50 even?"
As hard as it was for Earnhardt — a winner of 26 races, including two Daytona 500s, at NASCAR's highest level — to walk away earlier than he originally planned, the third-generation driver felt a great sense of relief after making his retirement plans official in April 2017.
"I was just glad to be getting out of the car and out of the crashing," Earnhardt told Bensinger. "No more head-banging and getting hurt and getting sick."
But will Busch, who is under contract for another full season at 23XI Racing, play it safe or plow ahead?
Kurt Busch admits retirement might not be too far off but leaves door open to racing longer
Now 47 years old and several years removed from lingering health issues he experienced as a result of his concussions, Dale Earnhardt Jr. is enjoying some of the best years of his life. He's a married father of two, an accomplished NASCAR Xfinity Series team owner, a fan-favorite announcer for NASCAR on NBC, a noted philanthropist, and the owner of a cutting-edge media production company.
Had Earnhardt raced on for several more years and ignored the little voice inside him that said it was time to quit for the sake of self-preservation, who knows if he would even be around today — much less in the middle of such a fruitful season of life?
Similarly, Kurt Busch has a promising future after racing. In addition to a possible broadcasting career of his own (he's performed like a seasoned pro as a guest announcer for several Xfinity Series races on Fox Sports), Busch apparently already has a standing job offer from 23XI once he decides to hang up his driving helmet.
Clearly, the team loves having him around, regardless of the role he might be in.
"As long as Kurt wants to be a race car driver, we want to have him," Denny Hamlin, co-owner of 23XI alongside NBA legend Michael Jordan, said during a media video call last month. "So that's pretty much the end of that. And then once he's done driving, he's going to have a nice cushy office job at 23XI. So he's going to be part of our future well beyond his driving days."
Ironically, just two days before his wreck at Pocono on July 23, Busch admitted during an appearance on CBS This Morning that retirement from racing might not be too far away.
"I'm glad I'm having the chance to drive next year for the team," Busch said. "Then, I might be done driving after that."
But Busch was non-committal later on during the same interview when asked if he was ready or "kind of ready" to retire.
"Maybe not," he said.
Of course, this is hardly the first time Busch has hedged on whether to call it good on his driving career. Prior to signing with 23XI ahead of this season, Busch was widely expected to step away from the sport. So retirement buzz is nothing new to him.
"It's out there all the time," he told CBS This Morning.
There's not much left for Kurt Busch to accomplish
His recent concussion notwithstanding, Kurt Busch is nearly 44 years old. Although not as successful as younger brother Kyle, he has put together the kind of Cup career that many of his contemporaries crave.
Not also has he enjoyed great longevity as the active driver whose Cup career dates back the farthest, but his accomplishments in the sport are also numerous and far-reaching. Highlights include winning the 2004 Cup Series championship and 34 races at the sport's highest level, including the Daytona 500 and the Coca-Cola.
Busch has also competed for almost every major team in the sport and spent time driving cars of all three manufacturers: Ford, Chevrolet, and, most recently Toyota. The Las Vegas native has won multiple races in all three major NASCAR divisions — Cup, Xfinity, and the NASCAR Camping World Truck Series — and is the best-finishing Cup driver ever in the Indianapolis 500, a race he entered and came home sixth at in 2014.
Although Busch won a race earlier this season at Kansas Speedway, punching a ticket into the Cup Series playoffs, the reality is that his best driving days are behind him. Even if he decides to continue on beyond 2022. 
With so much to lose, Busch needs to proceed with caution
Kurt Busch has already experienced a drop-off in performance in recent years. You have to go all the way back to 2015 to find the last time he won multiple races in the same season. From 2002-05, by comparison, he went to Victory Lane 14 times.
"Around the age of 43, 90 or 95% of the drivers peak and nose-over," Dale Earnhardt Jr. said on a recent episode of the Dale Jr. Download podcast. "So there's an absolute peak in performance around 35 to 43. That age is really where most drivers are as good as they're ever going to be. And right around 43, for whatever reason — there's a lot: age, injury, race car, program falls apart, whatever it is — around 43 is when things sort of go sideways and nose-over quite drastically."
Busch is right there in terms of age and skillset. So why even continue on past 2022 if it means a heightened risk of a catastrophic injury? Or why even come back to race one more week, for that matter?
Sure, Busch is under contract for another season, but just like Earnhardt in 2017, he's reached the place in his career where the risk of continuing on simply outweighs the potential reward.
With an estimated $90 million in career earnings, per Celebrity Net Worth, and an executive job at 23XI waiting for him, Busch will never be scraping for pennies. And the chances of him ever seriously competing for another championship are slim to none. 
Busch grew up in Las Vegas — the gambling capital of the United States — but does he really want to gamble on his health and his future? That's a question only he can answer. But for those of us on the outside looking in, the choice is pretty clear: Get out while the getting's good and go enjoy your life.
Just like Earnhardt Jr. did. 
Like Sportscasting on Facebook. Follow us on Twitter @sportscasting19 and subscribe to our YouTube channel.