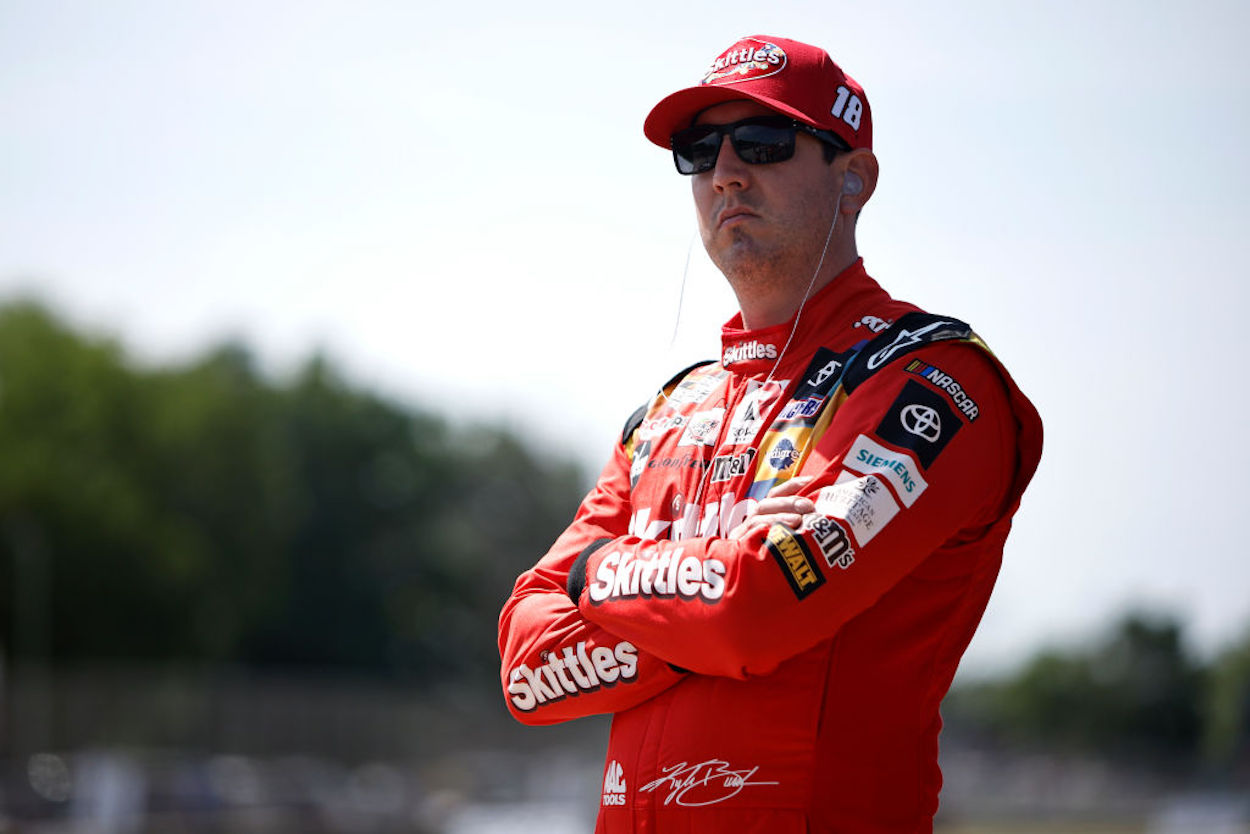 Sponsor or Not, Joe Gibbs Racing Has No Excuse for Leaving Kyle Busch in Limbo About His Future
Given his NASCAR resume, Kyle Busch has every right to feel insulted by how Joe Gibbs Racing is treating him.
Head-scratching. Shocking. Inexplicable.
Many words could describe Joe Gibbs Racing's failure – at least so far – to sign Kyle Busch to a new contract for the 2023 NASCAR Cup Series season and beyond.
The most appropriate adjective, however, is another word: inexcusable. Or, to be even more precise: completely inexcusable.
While it remains possible that JGR will ultimately work out an arrangement to retain its outspoken two-time Cup Series champion driver, all signs suggest it could take weeks or even months to finalize an agreement. And with Busch's admission over the weekend at New Hampshire Motor Speedway that he's been in touch with other teams about opportunities for next season, it seems increasingly likely that Busch and JGR won't be able to get a deal done at all.
Who would have ever thought it could come to this?
It's all about the sponsor, supposedly, but it shouldn't be
Joe Gibbs Racing executives have insisted for months now that the holdup on a new contract for Kyle Busch is a by-product of one factor and one factor alone: sponsorship.
As soon as M&M Mars – Busch's primary sponsor since he joined JGR in 2008 – announced back in December that it would end the relationship after the 2022 season, the team began looking for a new primary sponsor to come aboard the No. 18 Toyota for 2023 and perhaps beyond.
Now nearly seven months after M&M Mars made its intentions known, the search for a replacement sponsor continues.
"It's been hard," team owner Joe Gibbs said of the Busch sponsorship situation during a livestreamed postrace press conference on Sunday at New Hampshire, where one of his drivers, Christopher Bell, went to Victory Lane. "We've worked really hard to try and get things done. It is hard, though. You've got to put a lot in place to make things work out. We're working as hard as we can. We're going after a number of different directions. So yeah, I'm surprised at this point that we haven't been able to get that finished."
Speaking during a teleconference with reporters on July 7, JGR team president Dave Alpern offered a virtually identical sentiment on the sponsor search.
"Admittedly, this one's taking a little longer than we thought," Alpern said. "It's not for lack of interest. It's just trying to get everything put together. So (the sponsor announcement and new contract) will probably happen in parallel."
But why should Busch's future with JGR be completely at the mercy of a sponsor acquisition?
Joe Gibbs Racing has no good reason to wait on re-signing Kyle Busch
Although ideal, it's not necessary for a team to have a sponsorship all lined up before signing or re-signing a driver. Just last week, 23XI Racing co-owner Denny Hamlin announced that the organization had secured the services of now-Richard Childress Racing driver Tyler Reddick beginning in 2024 – but that the team didn't have a primary sponsor, or any sponsors, in place for Reddick just yet.
Similarly, when Hendrick Motorsports revealed that Kyle Larson would join the organization in 2021, the news came with the caveat that a primary sponsor wouldn't be announced until a later date.
Well, more than a year and a half later, Larson still doesn't have a traditional primary sponsor for most races. Instead, he's being "sponsored" by the Hendrick Automotive Group – the network of car dealerships owned by Hendrick Motorsports owner Rick Hendrick.
In other words, Rick Hendrick is funding the majority of Larson's races with revenue from the vehicles sold at his own dealerships.
Would Hendrick love to bring in an outside primary sponsor so he doesn't have to foot the bill essentially out of his own pocket? Of course he would. But Larson – who won the 2021 Cup title carrying the Hendrick Automotive colors on his No. 5 Chevy – is locked in through 2023 regardless of whether an outside primary sponsor comes along or not. 
Shouldn't JGR be able to do the same for Kyle Busch? One would think that Joe Gibbs – a winner of three Super Bowls as coach of the NFL team currently known as the Washington Commanders before becoming one of the most successful team owners in NASCAR history – would have large enough of a personal war chest to personally fund Busch's car for at least a season, if that's what it took to keep Busch in the fold.
So why not go ahead and get Busch re-signed for 2023, with the caveat that sponsorship news will be forthcoming? Maybe, just maybe, JGR's refusal to offer Busch a new contract isn't all about the sponsorship, as JGR's executives claim. Maybe, for some reason that defies all logic, JGR could take or leave another year with Busch in the No. 18.
Here's the reality: If Joe Gibbs wanted badly enough to get Kyle Busch locked down for 2023, he could make it happen today – with or without a new primary sponsor in tow.
Kyle Busch deserves better than a 'maybe' from Joe Gibbs Racing on next season
In case you're new to the sport or have been living in a cave for the better part of the last two decades, here's a quick "at a glance" summary of Kyle Busch's accomplishments in NASCAR:
Two Cup Series championships (most among active drivers)
60 Cup Series wins (ninth all-time)
A record 224 wins across NASCAR's three national series
102 NASCAR Xfinity Series wins (most all-time)
62 NASCAR Camping World Truck Series wins (most all-time)
The 2009 Xfinity Series championship
To put this in just a little more perspective, consider that Busch has more NASCAR national series wins than seven-time Cup champions Jimmie Johnson and Dale Earnhardt – combined. And he's only 37 years old. If Busch races another five to eight years, it's very likely that he'll end up no worse than fourth on the all-time Cup Series win list.
Can you imagine Earnhardt or Johnson or Jeff Gordon, in the prime of their careers, not being offered a contract extension? Such a possibility is completely unfathomable. So how in the world could Joe Gibbs Racing even remotely entertain the possibility of letting a once-in-a-generation type of talent like Busch walk out the door?
If I'm Kyle Busch, I'm insulted that it's taken this long to be offered a new contract. And I'm even more put off by the fact that JGR executives aren't even willing to guarantee that it will eventually happen. Of Busch's 60 Cup wins, all but four have come with JGR. The driver he replaced at the company – J.J. Yeley – failed to go to Victory Lane once in two full seasons in the same No. 18 car.
To even for a second consider letting Busch walk out the door is nonsensical from the powers that be at JGR. But based on the comments Busch made over the weekend at New Hampshire, it's clear that he's exploring other options for 2023. And why shouldn't he? He's too talented of a driver and too valuable to JGR to be strung along like this.
Yet the stringing continues. Inexcusable as it might be.
Like Sportscasting on Facebook. Follow us on Twitter @sportscasting19 and subscribe to our YouTube channel.