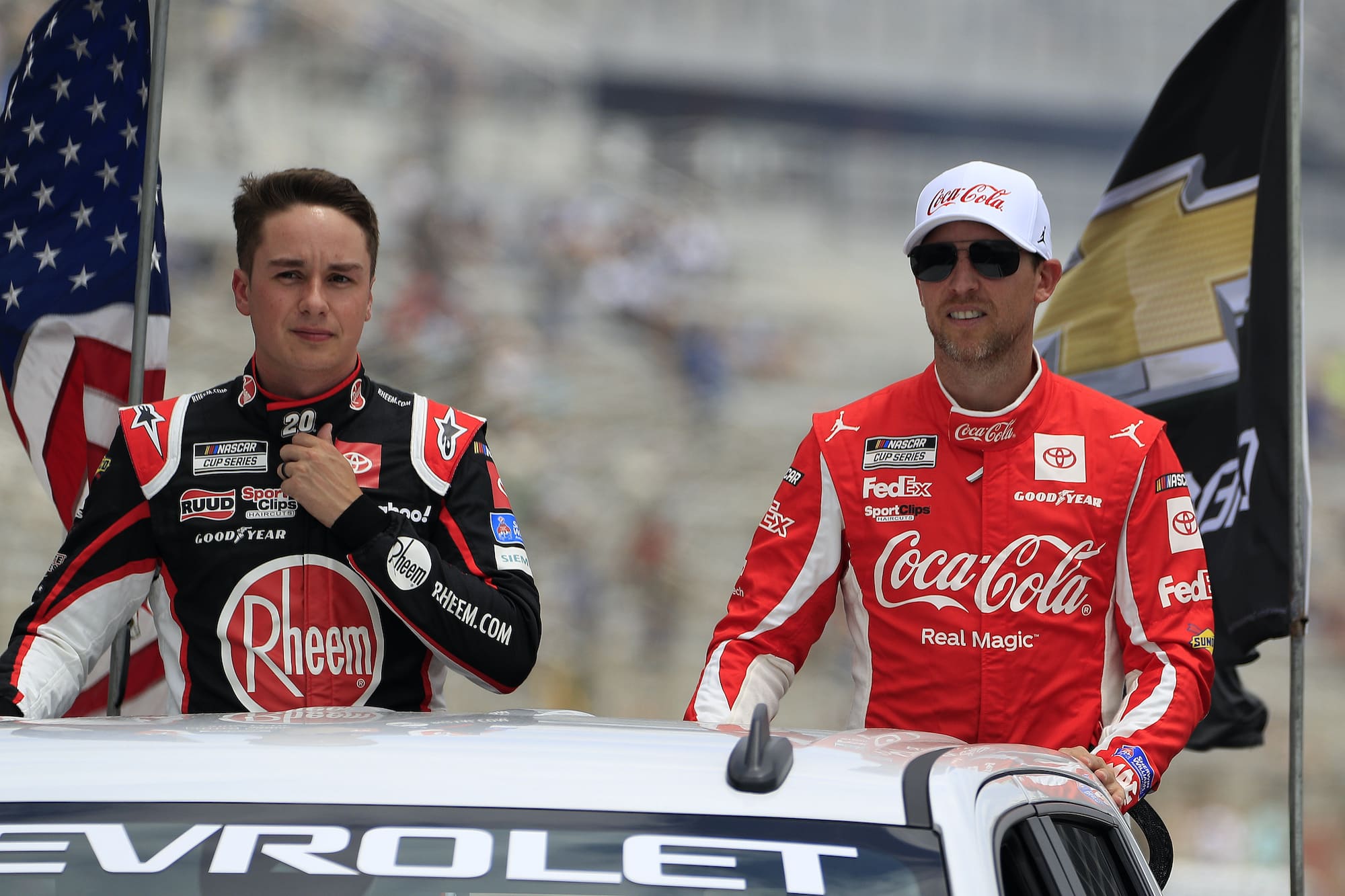 Christopher Bell Shows He's Not Happy With Joe Gibbs Racing and Teammate Denny Hamlin Via a Couple of Salty Moves at Atlanta
Christopher Bell sent a message on Sunday at Atlanta that he's not pleased with Joe Gibbs Racing, and he did so in a couple of incidents, including wrecking teammate Denny Hamlin late.
Christopher Bell started the 2022 NASCAR Cup Series season on a sour note, finishing 23rd or worse in four of the first five races. The Joe Gibbs Racing driver rebounded with a solid stretch, including eight top-10 finishes in 10 races, and propelled himself into the thick of the playoff hunt. 
Despite that marked improvement, the No. 20 team has struggled throughout the season on pit road with numerous blunders. This past week, to correct the issues, JGR officials orchestrated a swap of several members between Bell's team and Bubba Wallace's team, which has made headlines this year for its own pit road problems. 
While visiting with reporters before the race at Atlanta, the 27-year-old driver put on a good face and said all the right things about the swap. On Sunday, however, he took a different tone, and it wasn't in what he said but what he did, which included an early incident on pit road with Wallace and a wreck later in the race that resulted in Hamlin accusing his teammate of deliberately hooking him.     
Christopher Bell swaps pit crew members with Bubba Wallace
With Christopher Bell and Bubba Wallace watching their pit crews repeatedly betray them this season, Joe Gibbs Racing announced a move between the two teams last week that would swap several members from each crew.
Since the No. 23 car's problems have been on display more frequently and more publicly, with both driver and co-owner regularly discussing it in the media, it wasn't surprising that many fans believed that Bell was getting the short end of the stick. 
On Saturday in Atlanta, Bell met with reporters and offered his thoughts on the situation. 
"I think that both of us, the 23 and the 20 are looking for improvements and we've been saying that we've been looking for improvements and this is, I think maybe a first step — I don't know what the 23's gone into — but a step to hopefully improve both teams and we'll see how it plays out," Bell said. 
Bell backs out of plan and costs Wallace on pit road
While Bell sounded accepting of the pit crew change on Saturday, a day later his actions didn't necessarily match with his words, and it started early in the race. On the first pit stop during the competition caution, Bell's team communicated with Wallace's team, which was located in the pit box directly in front, that they would take two tires and allow the 23XI Racing driver to come around before Bell pulled out. 
However, that didn't happen. Instead, the No. 20 pulled out just as the No. 23 approached, which forced Wallace to go long and miss his box, and requiring him to back up into his stall. 
Wrecks Hamlin late 
Fans of Bell could defend that initial move with Wallace as a miscommunication of some sort. However, those same fans would have a much harder time explaining what happened later in the race. 
With less than 10 laps remaining, and after Bell's pit crew and its new members had produced a loose wheel on pit road, Hamlin was racing alongside Joey Logano near the rear of the field when the No. 20 approached from behind to make it three-wide. Replays show the No. 11 staying on the dotted down the straightaway when Bell made contact with the right-rear of his JGR teammate, sending his car hard to the right, collecting Logano on his way to the fence. 
"I was going dead straight and just got hooked," a frustrated Hamlin said over the team radio. 
The final few laps produced an exciting finish with underdog Corey LaJoie coming up just short of collecting his first Cup Series win, being outlasted by the hometown hero, Chase Elliott, who won his third race of the season. That finish produced a couple of compelling storylines. 
But what happened between Bell and Hamlin at the end is also noteworthy. There's already tension building in the JGR camp due to a collective lack of success this season. Now with the playoffs looming around the corner, we have teammates wrecking other, or at the very least, it is being interpreted as such.
Everyone is talking about Hamlin and Chastain but don't sleep on this brewing feud because it could potentially lead to some entertaining fireworks and result in some big decisions being made when the drama-filled season is over.
Like Sportscasting on Facebook. Follow us on Twitter @sportscasting19 and subscribe to our YouTube channel.