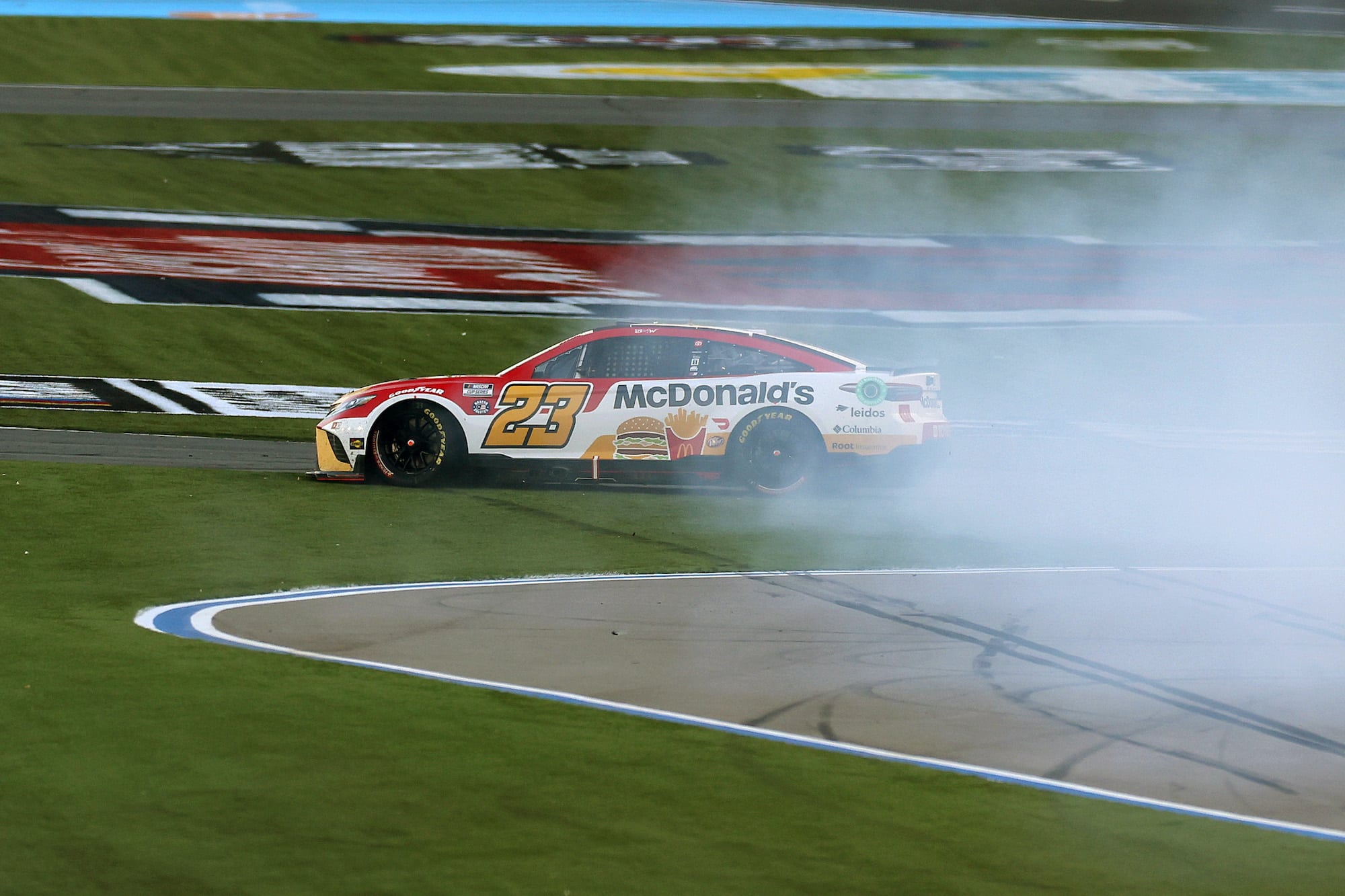 Bubba Wallace Team Takes Mistake Game Next Level With Embarrassing Blunder That Prematurely Ended Charlotte Race
Bubba Wallace's team has made one mistake after another this season. On Sunday at Charlotte, they went next level, committing an embarrassing blunder where they didn't know the rules and it prematurely ended his race.
Bubba Wallace has been down this road before. Someone on the team makes a costly mistake that sets them back and ruins what could have been a good day. It happened again Sunday at Charlotte Motor Speedway but on a bigger and much more embarrassing scale.
This blunder was inexcusable because it was a complete misunderstanding of the rules that took a fast car with minimal damage and removed it from the competition.  
Bubba Wallace involved in 12-car crash but doesn't sustain serious damage
Bubba Wallace was fast at Charlotte. After qualifying seventh, the No. 23 car took the green flag and started moving forward. The 23XI Racing car ran near the front throughout the first stage, including leading a lap, and early in the second stage before it met the fate of so many other cars and spun out. 
After recovering and getting back inside the top 15, Wallace found trouble again late in Stage 2 when he was caught up in a massive wreck started by Ryan Blaney that involved a dozen cars, including the other 23XI car of Kurt Busch.
The No. 23 didn't appear to sustain serious damage after Wallace checked up and delivered a glancing blow with his right front to the rear of Brad Keselowski. Following contact, the McDonald's-themed car spun around and slid down on the apron and into the grass, where the driver waited for the traffic to clear before backing up and driving away.  
Crew chief doesn't know the rule
According to multiple reports, the team was then put on NASCAR's Damaged Vehicle Policy clock and had six minutes to meet the race's minimum speed. With minimal damage, the car could have easily achieved the speed, but crew chief Bootie Barker instructed his driver to take it easy until they reached the stage break and could get new tires a few laps later. 
However, the rule states if you don't make minimum speed in three green-flap laps, regardless of how much time remains on the clock, the car is parked, and the race is over.  
Barker later explained to reporters what happened.
"NASCAR said we didn't make speed in three laps, but I think we had time on the clock," he said. "The first lap we just laid back on the initial restart to make sure we didn't get caught up in anything … I'm not sure without looking at it. By the letter of the rule, I guess that's what happened."
Barker admitted it was a mistake on the team's part and acknowledged the car could have continued.
"Very little (damage)," he said. "That's why I didn't pay any mind. We were really OK… It's on us."
Wallace called out team last week
The error is just another in a laundry list of blunders that have dogged Wallace all year. It was just a few weeks ago that Barker and two pit crew members returned to the track after serving a four-race suspension because of a loose wheel at Circuit of the Americas. 
At Kansas, the pit crew committed a couple of infractions, including a driver over the wall too soon and a loose tire, forcing Wallace to drive from the back of the field twice en route to earning a 10th-place finish.
Last week before the All-Star Race at Texas, Wallace admitted he had called out his team members for the numerous mistakes this season and offered advice on how to overcome them.  
"They're young. Some of them, it's their first year in Cup," Wallace said. "There's a lot of potential there with our group, and they have to realize that, in the moment, you're going to make mistakes, but you got to forget and move on. No matter who says what or what's thrown at you, you've got to erase the bad and be ready to show up again. You have multiple times when it's your opportunity to shine and compete every time. I look at that as an opportunity. For me, it's an opportunity to showcase what you have."
Wallace's philosophy of moving on after making a mistake is a good approach. Unfortunately, on Sunday, there was nothing to move on to because the team had unbelievably taken itself out of a race due to not knowing the rules.
The team will move on to the next race at St. Louis, but after what's happened thus far this season, you can't blame the driver for expecting another mistake at any point because he thought he had seen it all, and then Sunday happened.  
Like Sportscasting on Facebook. Follow us on Twitter @sportscasting19 and subscribe to our YouTube channel.