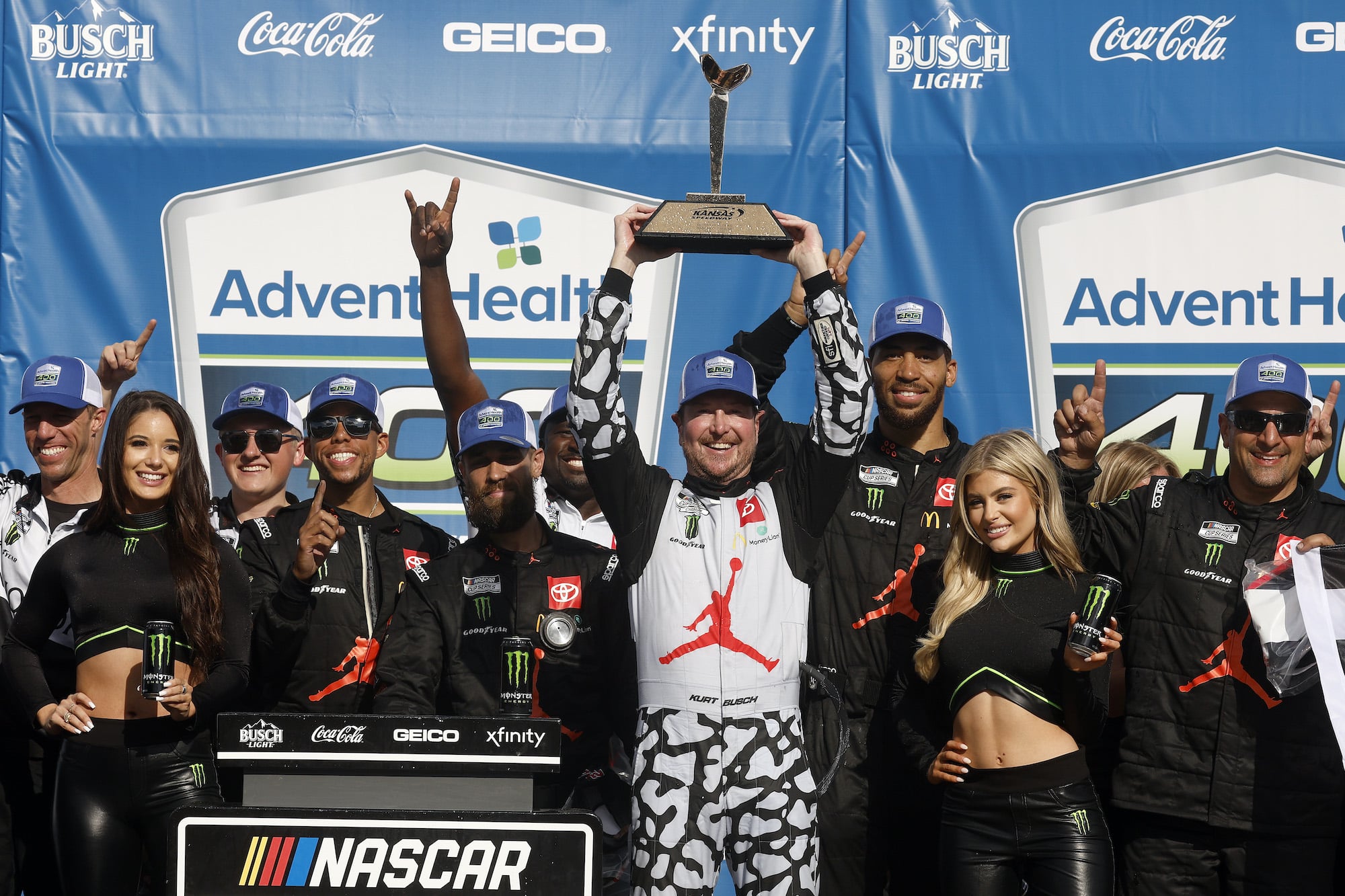 Kurt Busch Confirms Painful Personal News Less Than 48 Hours After Earning First Win With 23XI Racing
Kurt Busch has had an up-and-down year and it continued this past week. After winning at Kansas, he confirmed some painful personal news less than 48 hours later.
Kurt Busch has had an up-and-down start to his first year with 23XI Racing. On Sunday at Kansas, the 2004 Cup Series champion recorded this season's highlight for the second-year organization, earning his first win in the No. 45 car. The 43-year-old was understandably happy after recording his 34th career win.
Unfortunately, less than 48 hours after celebrating in Victory Lane, Busch made headlines for some off-the-track and painful personal news.  
Kurt Busch wins for first time with 23XI Racing
Heading into Kansas, Kurt Busch wasn't exactly feeling confident and understandably so. Over the last seven races, he had finished 28th or worse in five of them, including a couple of DNFs. 
As has been the case in recent weeks, Busch showed speed on the 1.5-mile track and qualified fifth. When the race started, the veteran driver piloted one of the dominant cars and raced near the front for much of the race, including winning the second stage.
Unlike previous races where something has inevitably gone wrong, at Kansas, the entire No. 45 team, including the pit crew, managed a clean race. In the closing laps, Busch showed why he will one day be in the NASCAR Hall of Fame, out-dueling both Kyles (his brother and Larson) for his first win of 2022, extending his streak to nine consecutive years when he's won at least one time in a season.  
Wife files for divorce
With such a big win, it came as a surprise to many that Busch's wife Ashley wasn't at the track to celebrate with him and she didn't post anything online about the victory. On Tuesday, TMZ revealed why. 
According to court documents obtained by the publication, his wife filed for divorce in Florida last week, declaring that the marriage is "irretrievably broken" and alleged that the driver "committed a tortious act."
The documents also indicated that Busch cut off his wife's access to their joint banking account and credit cards last month and requested that she leave the family home by the first week of June.
According to Fox's Bob Pockrass, Busch confirmed the news.
"Upon inquiry by various press outlets today, I am heartbroken to confirm that my wife Ashley and I are working to dissolve our marriage," he said. "Divorce is a personal and private matter and I hope our privacy will be respected."
Kurt Busch's previous relationship took a twisted turn
While the news of Busch's divorce is unfortunate and headline-worthy simply because of his celebrity status, it's pedestrian compared to what happened in his previous relationship. 
Before Ashley, the driver was in a relationship with Patricia Driscoll, who he met while she was working as executive director and president of the non-profit Armed Forces Foundation.
The pair dated for several years but it ended bizarrely in 2014 and made headlines in 2015 when Busch faced Driscoll in court after she filed for a protective order alleging he had assaulted her in his motorhome several months earlier. Although the alleged abusive incident was the focus of the four-day hearing, Busch made headlines with explosive charges that Driscoll was a trained assassin who had experience killing drug lords via long-range sniper rifles and close combat tactics—including the use of knives and poison. 
Unbelievably, the driver testified and provided specific examples of her returning from missions, including one incident in El Paso, Texas, when Driscoll left the hotel that night in camouflage and boots and returned later wearing a trench coat with an evening gown underneath splattered with blood and other matter.
Driscoll nor her attorney refuted the claims during the hearing. Busch's claims were never verified, but Driscoll's grandfather was a spy and her father worked for U.S. Customs, investigating illegal drug activities.
Kurt Busch's career accomplishments with so many different teams are enough to make an interesting movie. Including what has happened in his personal life would make it that much more interesting.
Like Sportscasting on Facebook. Follow us on Twitter @sportscasting19 and subscribe to our YouTube channel.