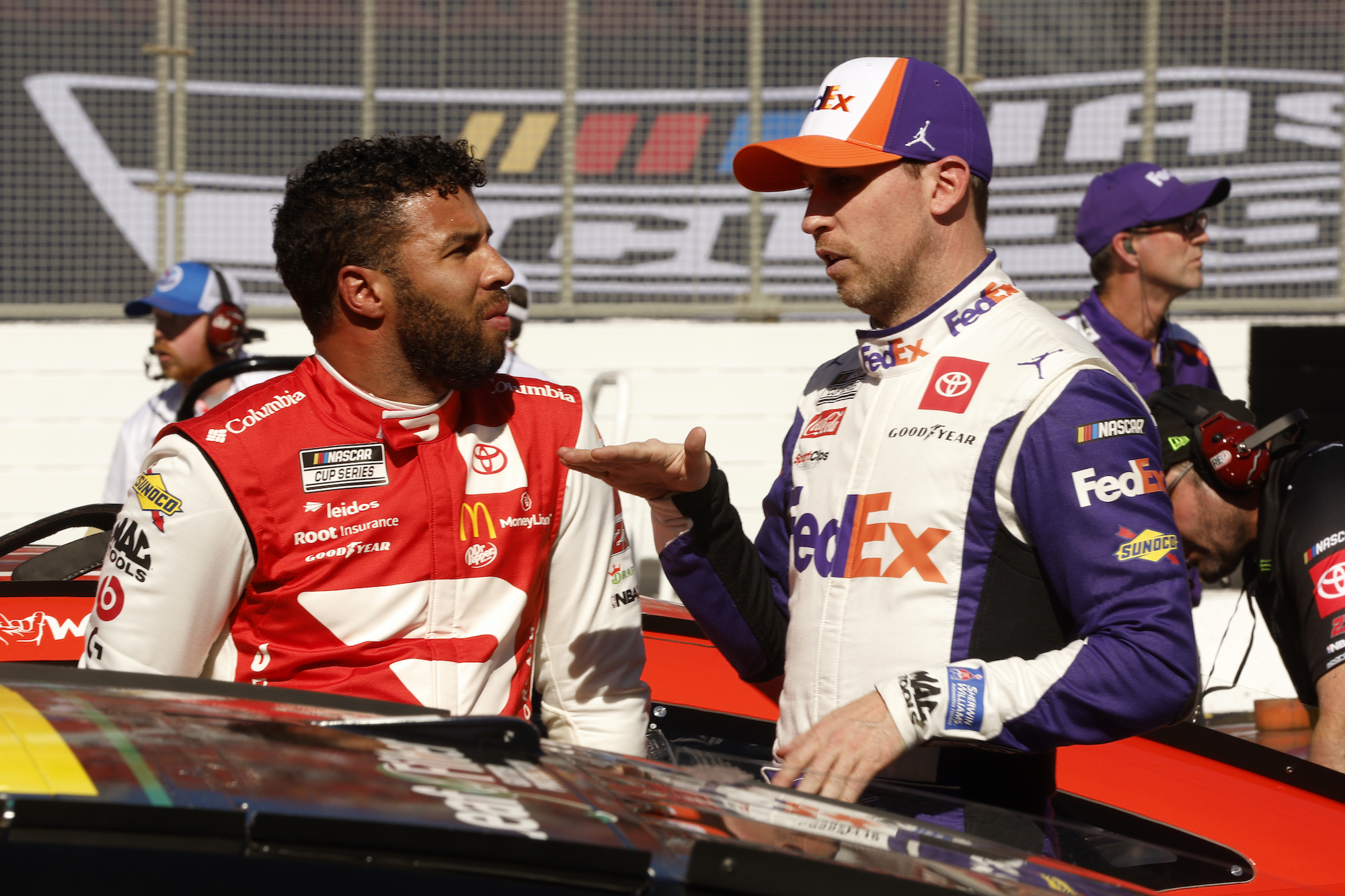 Bubba Wallace Candidly Addresses 23XI Racing Boss Denny Hamlin's Insensitive Tweet That Landed Him in Hot Water
Bubba Wallace candidly offered his thoughts on his 23XI Racing boss Denny Hamlin's tweet during an appearance on SiriusXM NASCAR Radio.
Bubba Wallace knows what it's like to be on the receiving end of racially insensitive comments. That comes with the territory of being the lone Black Cup Series driver. However, so does Denny Hamlin. He's personally experienced it as the team owner of 23XI Racing, who signs Wallace's checks. 
This week, many found it surprising that Hamlin could be so tone-deaf in a tweet directed at Kyle Larson, not only because he didn't realize he had posted something that some might find offensive, but because he defended his remarks multiple times. Wallace watched the whole situation unfold and candidly shared what he thought about it on SiriusXM NASCAR Radio. 
Denny Hamlin tweet gets him into hot water
Denny Hamlin watched his hopes of a Talladega win slip away with a miscalculation on fuel in the waning laps and then watched Bubba Wallace and Kurt Busch of his 23XI Racing team, who were both running in the top 10, get wrecked just before the checkered flag, all the result of a misguided Kyle Larson move. 
The three-time Daytona 500 winner called out Larson the next day on Twitter for the last-lap incident and did it in a tweet that included a clip from a Family Guy episode that stereotypically portrayed Asian women as bad drivers and overlaid Larson's name on the clip. The HMS driver's mom is Japanese American. 
The Joe Gibbs Racing driver initially wrote that he was leaving the meme there without comment but then, with considerable negative feedback, commented several times, trying to defend his tweet. 
"Let me say this. I tweet because A it's funny as s***. B because we're friends," he wrote. A few minutes later, he added a third comment. "Oh and C. Yes I'm aware I wrecked him at Atanta…lighten up people!!! Have a laugh and enjoy the day." 
Hamlin removed the tweet later that evening and apologized. NASCAR also announced he would be attending sensitivity training.  
Bubba Wallace talks about tweet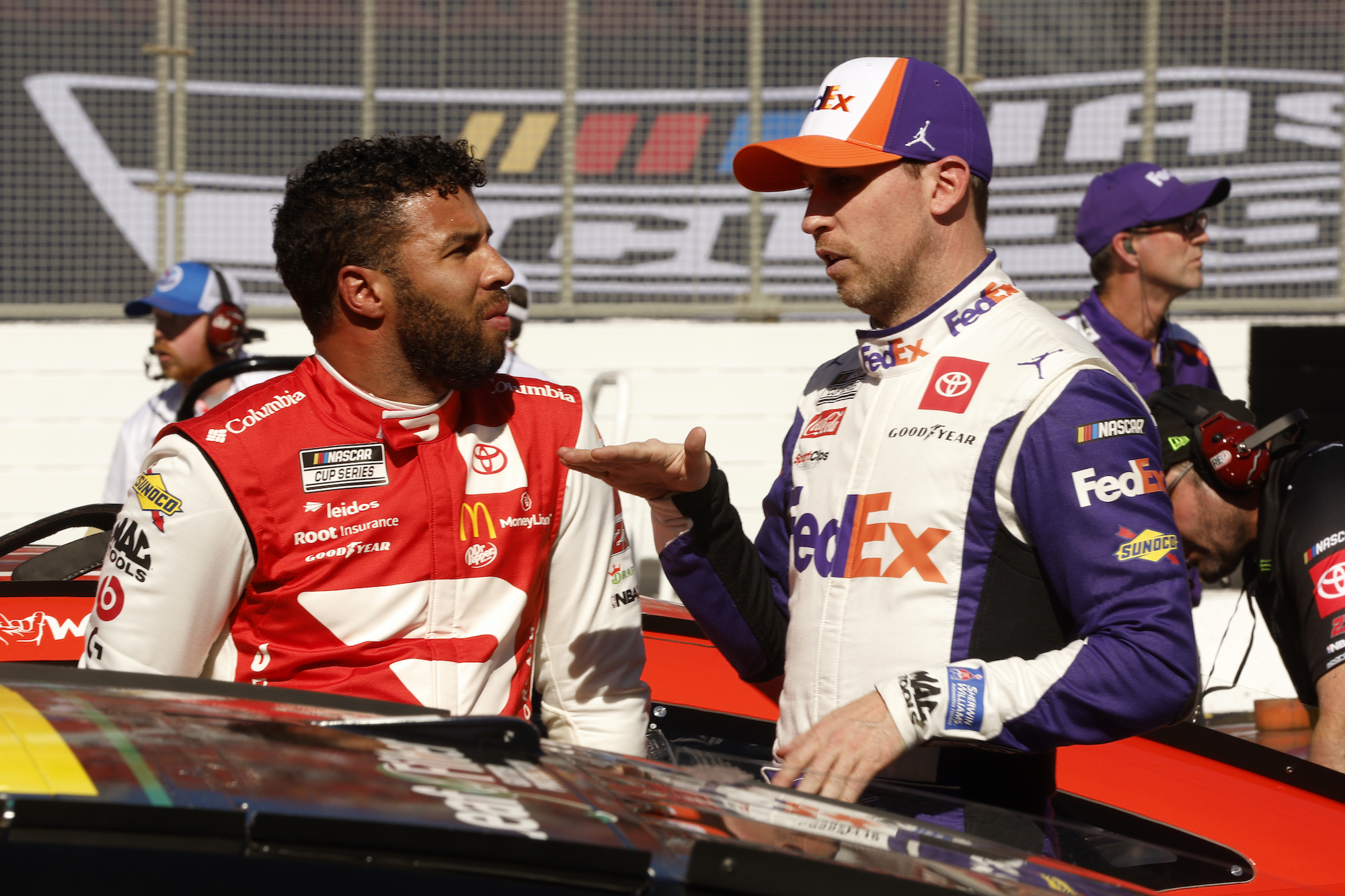 This week Bubba Wallace visited with Claire B. Lang on SiriusXM NASCAR Radio and talked about a variety of topics, including the No. 23 car's misfortune this season and what he expects with the return of crew chief Bootie Barker this weekend at Dover. When the subject turned to his boss and his tweet, Lang asked if drivers needed to be more careful on social media.
"The world has got to be careful with what they say. It's not just drivers," Wallace said. "It's every person that has access to a social media account that has a platform. There's plenty of trolls out there that say whatever they want and get away with it. 
"When you're a person that has a platform, that has a following, that has a voice; you really have to be careful on what happens, and sometimes you cross the line and step over it. It's tough, but that's the life we live, and that's the invisible dotted line we sign. You've got to learn from your mistakes and move on from it. We can all learn from that and that's it. But NASCAR is continuing to make strides and we'll have minor setbacks, but we learn from this and make things better."
Wallace and Hamlin have both seen rough side of social media 
Bubba Wallace has unsurprisingly been targeted by "trolls" throughout his career. It only amplified last fall when he won his first Cup race at Talladega. 
After the victory, Hamlin admitted he had advised his driver to take a break from social media in the past because he knows Wallace can't win with some fans.
"I get hate tweets as well because I hired him," Hamlin said. "Those people just need to grow up and appreciate the accomplishment…I think people just have a microscope on him because they want to be critical and they just are a hater, and that's all you can really say about it." 
Hamlin found himself under the microscope this week and based on his driver's comments, it's an opportunity to learn from his mistake and grow. It's funny in life how sometimes the pupil becomes the teacher.
Like Sportscasting on Facebook. Follow us on Twitter @sportscasting19.