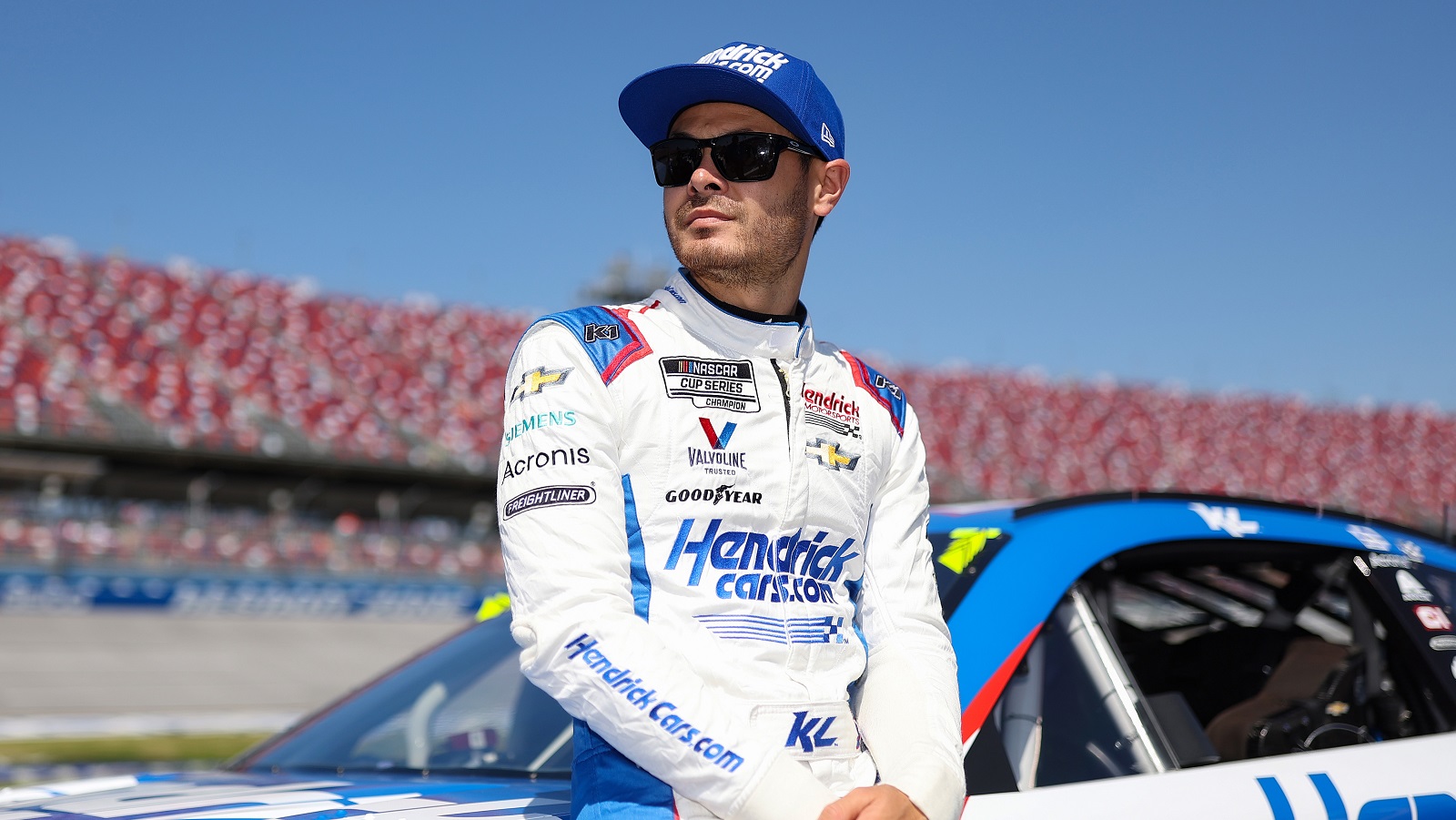 Denny Hamlin Has Taken Some Heat off Kyle Larson Until Daytona Rolls Around
For all his success elsewhere, defending NASCAR Cup Series champion Kyle Larson has not won on superspeedways.
Leave it to the guy who can't win a NASCAR Cup Series title to divert attention from the troubles of the champion who can't win on superspeedways.
Kyle Larson's body of work at Talladega and Daytona remains ripe for scrutiny and some measured second-guessing, but the racing world has moved on to Denny Hamlin's ill-advised tweet aimed at Larson.
Thus, it'll be the end of August before the discussion of Larson and superspeedways gets the scrutiny it merits.
Kyle Larson wins everywhere except Superspeedways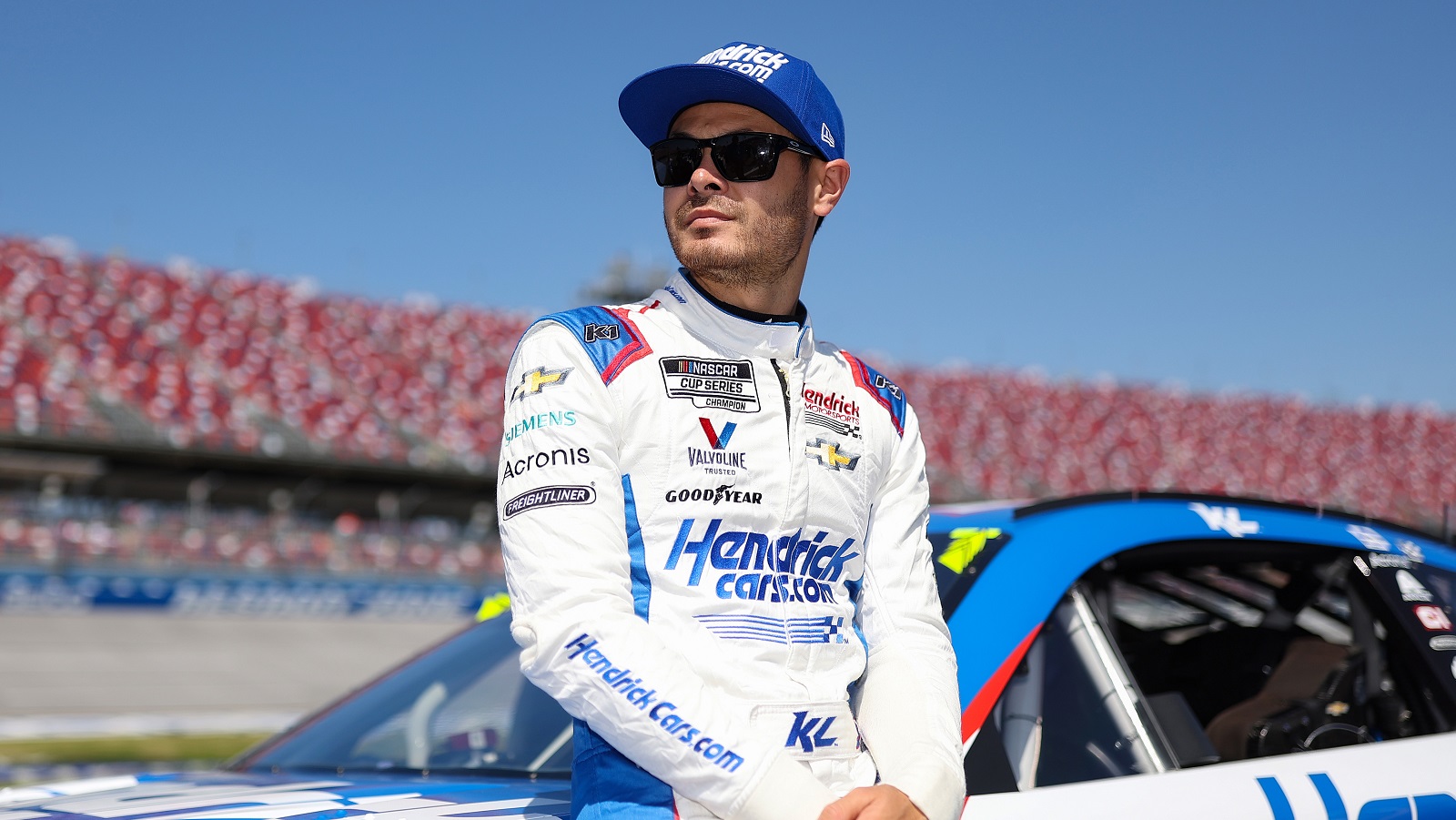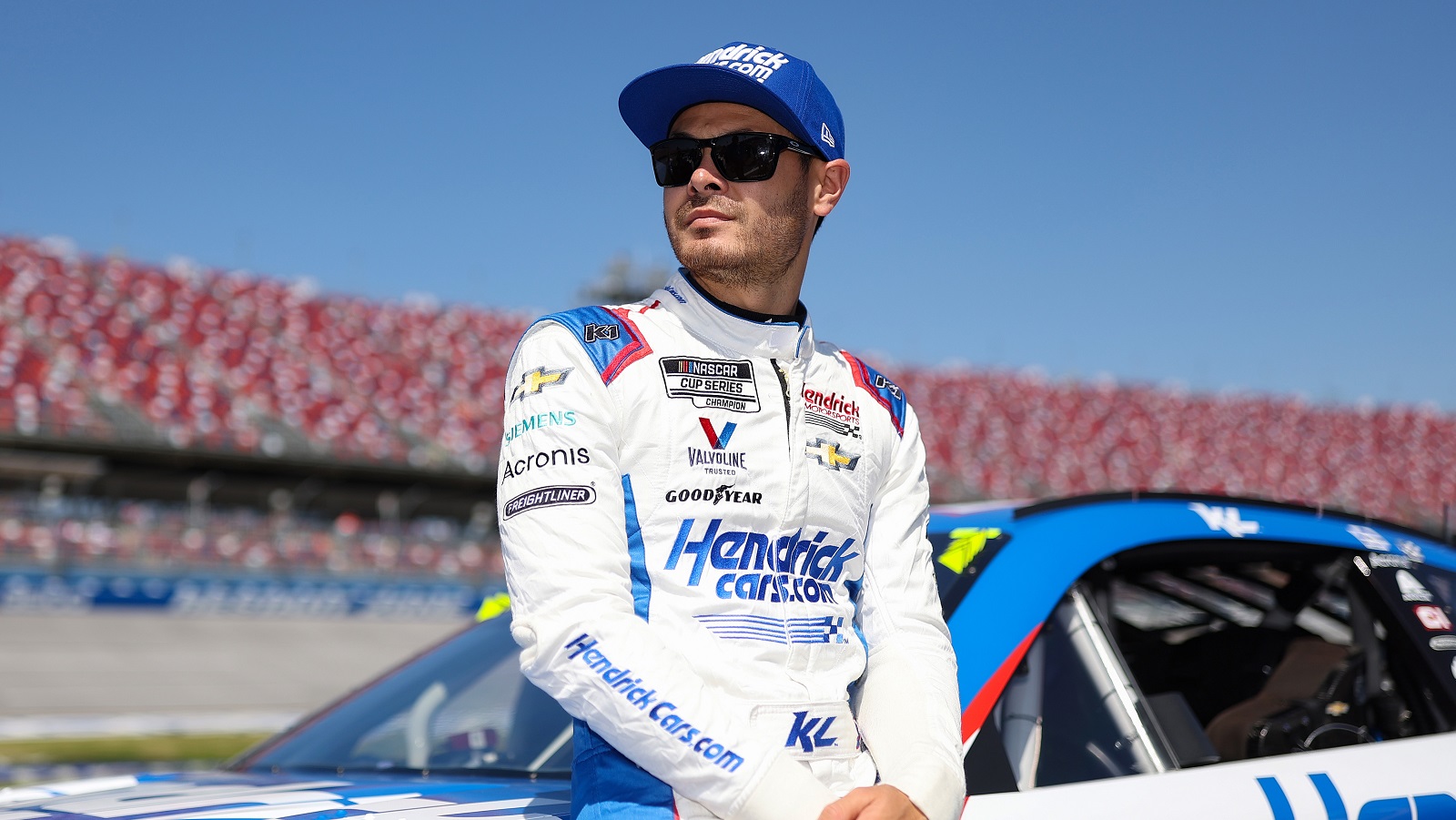 Kyle Larson's 2021 NASCAR Cup Series championship season stood out for several reasons, beginning with the sheer number of victories (10) in points races. Larson produced some genuinely dominating efforts, including leading 327 of 400 laps at Charlotte and 264 of 300 at Nashville.
In addition, the variety of tracks he won on was impressive, spanning everywhere from the short track at Bristol to intermediates like Las Vegas and road courses like Watkins Glen. He even won on the Charlotte Roval, combining a bit of oval racing with road courses.
The notable exception was the superspeedways. In a season in which he finished in the top five 20 times, Larson never finished better than 10th at Daytona or Talladega. In fact, his other results were 40th (early engine trouble) and 37th at Talladega, and 20th in the Daytona summer race.
Daytona and Talladega haven't been kind to Kyle Larson
Digging deeper into Kyle Larson's history on Superspeedways, the California native finishes 30th or worth as often as he finishes in the top 10 at Daytona, where he's never been better than sixth. Five of his 16 appearances so far have ended with crashes that don't include wipeouts amidst the chaos with the white flag flying or in overtime.
Sunday's fourth-place effort was his best result in 15 starts at Talladega, where Larson has only three top-10 results. Crashes also dot his resume there.
"We talked about that this week in our team meeting," Larson said before Sunday's race, according to Racer.com. "I come here with different game plans every time and I seem to always just crash myself or be right in the middle of a crash. I've tried a bunch of different ways, and nothing's seemed to work out to this point."
The Talladega finish almost broke his way this time
Fourth place isn't winning, but Kyle Larson can at least come out of Talladega this past weekend feeling better about superspeedways.
Erik Jones took a lead into the final lap of the GEICO 500 with Larson close behind and Ross Chastain on the bumper of the No. 5 Chevy. Coming to the line, Larson tried popping outside, and Jones reacted by moving up for the block. It left the door wide open for Chastain to take the checkered flag with a push from a train of four cars behind him.
"I felt like I did a pretty near perfect job for me at a superspeedway until the last lap there,'' Larson said. "I should have faked going high and gone back low. I had that run there."
Realistically, a fake might not have been enough to get Jones to move off his line. And giving Chastain even an instant of open space on the double-yellow line would have left Larson boxed in.
"Just that little inexperience there, probably," Larson lamented.
Bubba Wallace and Kurt Busch became collateral damage from that alleged inexperience, both taking hits after Larson's abrupt move. That was the secondary headline to Chastain's victory until 23XI Racing minority owner Denny Hamlin tweeted the Family Guy clip that got him sent to sensitivity training on Tuesday.
Count on the whole narrative getting recounted when NASCAR closes its regular season at Daytona on Aug. 17, then again in the Talladega playoff race on Oct. 2.
All stats courtesy of Racing Reference.