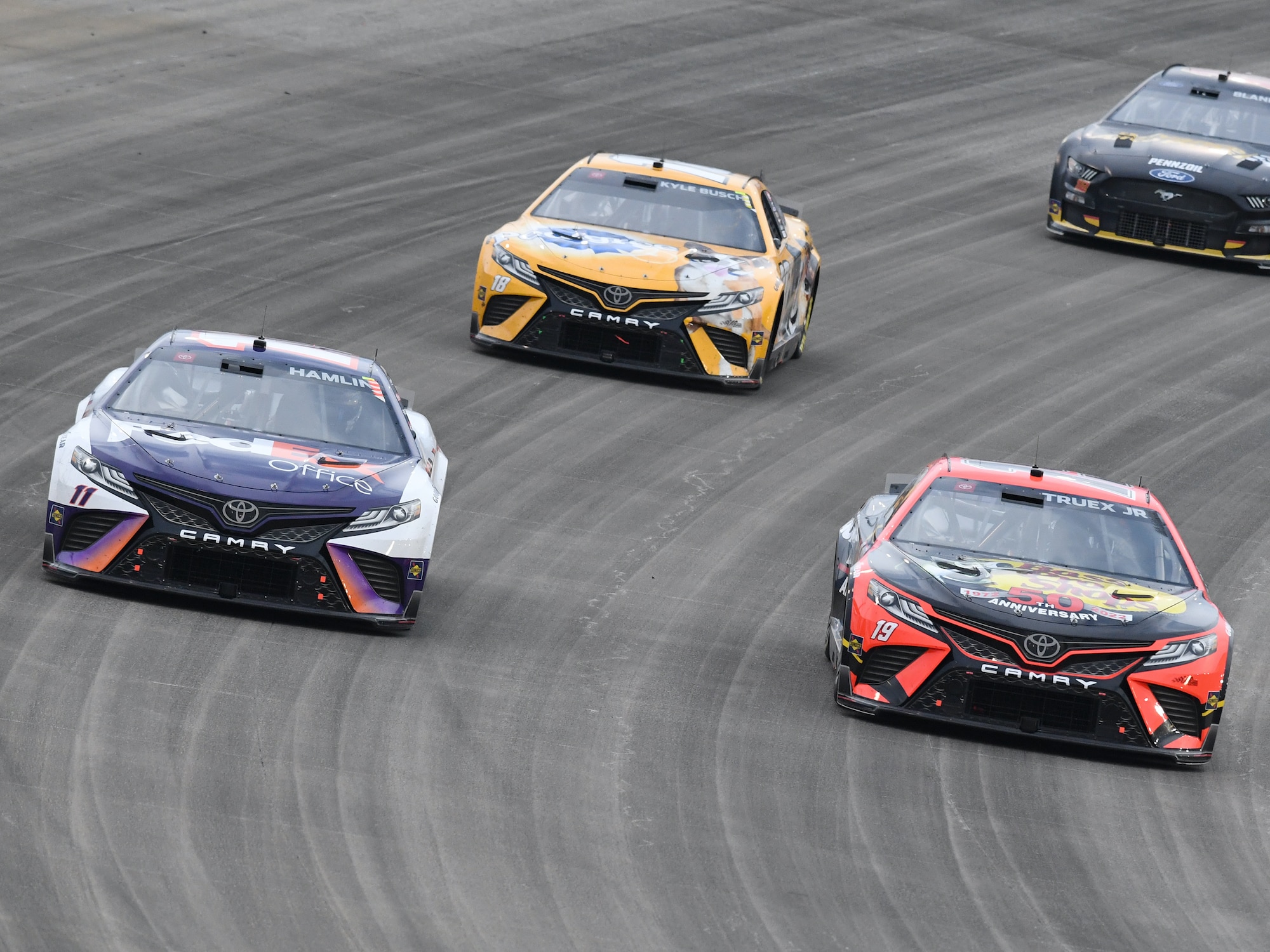 Denny Hamlin and Joe Gibbs Racing Have Major Weakness Exposed Again at Road America and Doesn't Bode Well for Second Half of Season
Denny Hamlin has a couple of wins and is playoff-bound. But he and his JGR teammates have a major weakness that was exposed yet again at Road America.
Denny Hamlin has a pair of wins to his credit in the 2022 NASCAR Cup Series season and is locked into the playoffs. But make no mistake about it, this season hasn't been a good one for the Joe Gibbs Racing driver. 
In fact, the entire JGR organization has struggled this season. Sunday at Road America was just the latest example, as Martin Truex Jr. was the top driver and he finished 13th. The final results were an embarrassment for a team that many consider one of the best in the garage, but there's been one specific issue that has repeatedly cropped up throughout the year that has significantly contributed to the poor finishes. It happened again on Sunday and with no real solution in sight, it doesn't bode well for the rest of the season. 
Joe Gibbs Racing touting new style of pit stops
Earlier this year, everyone was talking about Joe Gibbs Racing and its new style of pit stops where the entire pit crew, including the rear tire changer, go over the wall and around the front of the car. This new choreography positions the tire carriers and tire changers together, streamlining the process and allowing the gas man to access the car unimpeded.
These new moves, coupled with the single lugnut, have dramatically reduced times on pit road. Teams are now shaving more than a second off the traditional 11- or 12-second stops.
At Richmond, Denny Hamlin's team pulled off a 9.4-second stop, but that was only second-best to teammate Kyle Busch's crew, which recorded a blistering record-setting time of 9.1 seconds.  
Denny Hamlin and JGR teammates struggle on pit road at Road America
At Road America, which was the opposite of normal stops and required pit crews to start from the right side of the car, Denny Hamlin, Kyle Busch, and the rest of the JGR pit crews didn't set any record times. Instead of providing the teams with an advantage, pit road put them at a disadvantage on multiple occasions. 
Hamlin shot himself in the foot twice, driving through too many pit boxes a couple of times. Some fans of the No. 11 team might excuse the mistakes because of the reverse setup on pit road. The answer to that is only two other cars made the same mistake (Brad Keselowski and Cody Ware). More concerning, those were the 25th and 26th pit road penalties for the No. 11 team this year.  
Busch didn't fare any better, suffering two penalties of his own, including one for his crew going over the wall too soon and another self-inflicted mistake for speeding on pit road. 
While Martin Truex Jr. was mistake-free on pit road for the day, Christopher Bell joined in on the pit problems with a disastrous 22-second stop. 
Denny Hamlin and JGR organization have been inconsistent in 2022
What happened at Road America to Hamlin and his JGR teammates is a microcosm of the season. Yes, Denny Hamlin has a pair of victories this year and is playoff-bound, but those wins are exceptions rather than the rule.
Hamlin has the same number of top-10 finishes as he does DNFs with four. That's more than his total number of DNFs in the previous three seasons combined. The 41-year-old driver isn't alone in his struggles. He's got company.
Kyle Busch has a victory, which he backed into on the Bristol dirt, but he also has a pair of DNFs. More concerning, he's finished 20th or worse in his last three races. 
Martin Truex Jr. and Christopher Bell are both winless this year. The pair had four combined wins at this same point last season. 
Now, halfway through the year, all the JGR teams have failed to run well on a consistent basis. NASCAR promised the Next Gen car would change the game and it has. Teams like Trackhouse Racing have clearly benefitted from it. It's had the opposite effect on Hamlin and his teammates and if things continue trending in the same direction, JGR will struggle the rest of the year and into the postseason.
At least they can say they have the record for fastest pit stop. 
Like Sportscasting on Facebook. Follow us on Twitter @sportscasting19 and subscribe to our YouTube channel.